After three seasons, including one full year as a starter, Jonathon Cooper doesn't know quite how to define his Ohio State career.
In 33 career games, he has 10.5 tackles for loss and 5.5 sacks. As a first-time starter in 2018 opposite Nick Bosa for the first three games and across the line from Chase Young the rest of the season, he had 6.5 tackles for loss and 2.5 sacks.
Cooper wouldn't identify the first three years as disappointing. Unsatisfied, though?
"Yes, ma'am, you could say that," Cooper said after thinking for a moment.
He continued.
"I don't feel like disappointment is there," Cooper said. "I would characterize it as not disappointed but just I feel like my career isn't finished. I'm not going to be the player that was highly recruited, came in and then had an OK season. I want to make sure that I fulfill my potential here at Ohio State and give it all I've got."
At 6-foot-4, 257 pounds, Cooper looks like a natural at defensive end, and Larry Johnson believed in him enough to start him over Young at the beginning of last season. He played the third-most snaps of any defensive lineman on the team, behind just Young and Dre'Mont Jones. 
Now the veteran of the line along with a trio of senior defensive tackles – Davon Hamilton, Robert Landers and Jashon Cornell – Cooper views himself as someone who "needs to get the job done."
"More production. More being the leader," Cooper said. "More talking to my teammates and just holding myself accountable for every single play, every single game. That's about it. Make sure I'm a captain and leader of this defense."
Cooper will start for the second year in a row in the fall. And this time, as the sole rising senior defensive end, he has one final season to reach the level he hopes to play at. 
"It gives me a lot of motivation," Cooper said. "I'm very focused. I feel like I'm ready, I'm ready to take on that role and become the player that I feel like everybody expects me to be. I'm taking every day like it was my last, and I'm just very excited for my last year."
Cooper grew up in the shadows of Ohio State. He played high school football for Gahanna Lincoln, just a 15-minute drive from Ohio Stadium, where he developed into a near five-star recruit with scholarship offers from high-level programs spanning the country. The top-50 prospect chose to remain at home, though, committing to play football for the Buckeyes before the end of his junior year of high school.
By choosing Ohio State, Cooper invited expectations similar to those that now follow Zach Harrison to the state's flagship university. He admitted he hasn't been immune to them.
"I feel like it's had a huge effect on me personally just because I know what everybody expects of me," Cooper said. "I understand the pressure on myself. It's just living to that expectation. But I feel like no one holds me to a higher standard than myself, and I know what I need to get done, and I know what I need to do and how I need to play and everything like that. So I'm holding myself to a higher standard than anybody else."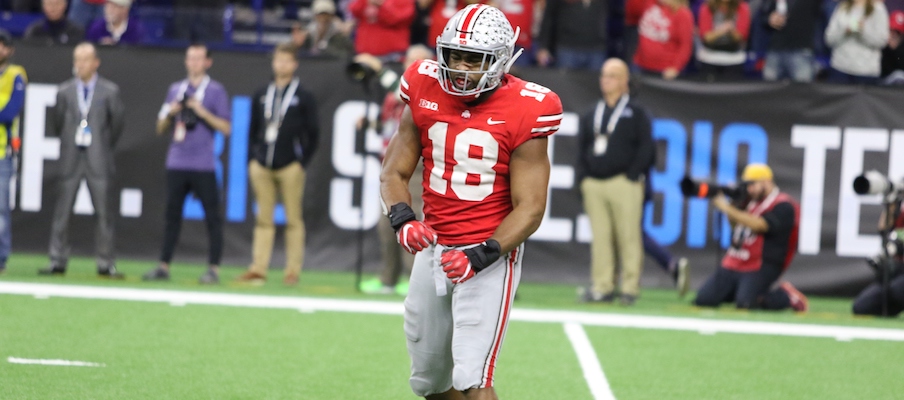 Having spent three years as a Buckeye, Cooper is now far from the shadows. As a senior, he's a beacon for the younger edge rushers to follow.
Tyreke Smith, Tyler Friday and Javontae Jean-Baptiste each spent last year developing behind Young, Cooper and Cornell. Smith and Friday each had reserve roles, and Jean-Baptiste took a redshirt season. Johnson was pleased enough with their development, along with the additions of Zach Harrison and Noah Potter, to shift Cornell back to defensive tackle.
Having only lost Bosa, who they played without for the majority of the season, the Buckeyes should have increased depth at defensive end in the fall. Still, everyone other than Cooper and Young will be either a freshman or sophomore, requiring Cooper to step into an even greater leadership role.
"I embrace it with everything I have," Cooper said. "I want to make sure that I am a role model for the young guys. I want to make sure I show them how to work, how to play, how to study the game and just kind of be that big brother and that leader and that captain. I embrace that role completely."
Ohio State needs that leadership more than ever.
Cooper will graduate and Young will almost certainly head to the NFL after next season. So while they'll likely get more snaps than any other defensive end on the team – though Smith could vault into the top two – they're also tasked with preparing the future of the defensive line, which he feels more prepared to do than a year ago.
"Last year, we had a lot of first-time starters and a relatively young team," Cooper said. "But this year, we have a lot of people coming back, and I think that helps a lot with the defense. Just people who know how the game works, know adversity and just out there having a lot of leaders."