Even though 2019 has only just begun and the first game of the season is still more than seven months away, the speculation regarding which players will step into bigger roles for the Buckeyes in the fall has already started.
Ohio State's depth chart for next season will include plenty of changes from this past season, not only because of the players who are no longer with the team – including another strong class of NFL draft prospects – but also because of the coaches who aren't.
With Urban Meyer and four of Ohio State's 2018 assistant coaches no longer with the program, new head coach Ryan Day and Ohio State's five new assistant coaches could evaluate the team's talent differently from their predecessors – which means that even the Buckeyes' returning starters aren't guaranteed to be back in the starting lineup, while the door could be open for players who were buried on the depth chart last year even if the players who were in front of them are still on the roster.
That makes it tougher to do an early depth chart projection this year than most years – especially on the defensive side of the ball, where the Buckeyes replaced every assistant coach but defensive line coach Larry Johnson – but nonetheless, one can take a best guess.
Once spring practices begin and Ohio State's new coaching staff begins to work with the Buckeyes' returning players on the field, it will start to become more clear which players could be the frontrunners to start at each position. Now that we know what Ohio State's roster for the 2018 season will look like for the most part, though, it's time to take our first shot at projecting how the two-deep could shake out.
Quarterback
1. Justin Fields
2. Matthew Baldwin
With Dwayne Haskins' departure for the NFL and Tate Martell's transfer to Miami, Ohio State will have a brand new two-deep at quarterback next season.
As long as Fields' request for immediate eligibility is granted, the starting quarterback job will be his to lose. Baldwin, meanwhile, is now the next man up after redshirting his freshman season last year. Chris Chugunov, who played just four snaps last season after graduate transferring from West Virginia, is the only other scholarship quarterback currently on the roster.
Running Back
1. J.K. Dobbins
2. Demario McCall or Master Teague
Already Ohio State's primary starter at running back for the past two seasons, Dobbins enters 2019 as the Buckeyes' clear-cut feature back now that Mike Weber is off to the NFL.
Dobbins should see the majority of carries in the Buckeyes' backfield in 2019, but McCall and Teague are also likely candidates for regular playing time. McCall was used as a third-down back in the Rose Bowl, which could be a precursor to how the Buckeyes plan to use him next season, as his explosive athleticism makes him a passing-down threat in space. If the Buckeyes opt to use McCall in a situational capacity (or play him at H-back, which is also a possibility), Teague should enter the spring as the frontrunner to be the No. 2 running back on early downs.
Wide Receiver (X)
1. Austin Mack
2. Binjimen Victor
With Mack and Victor both returning for their senior seasons, they should make up the Buckeyes' rotation at X receiver for the third straight year. Jaylen Harris is another candidate to push for playing time at the position, but he could be forced to wait his turn for one more year.
Wide Receiver (Z)
1. Chris Olave
2. Garrett Wilson
After breaking out down the stretch of the 2018 season with two touchdown catches against Michigan and another in the Big Ten Championship Game, Olave is in line to becoming the starting Z receiver in 2019 with Terry McLaurin and Johnnie Dixon now gone. Five-star recruit Wilson is likely to prove too talented to keep out of the rotation, even as a true freshman in a deep room.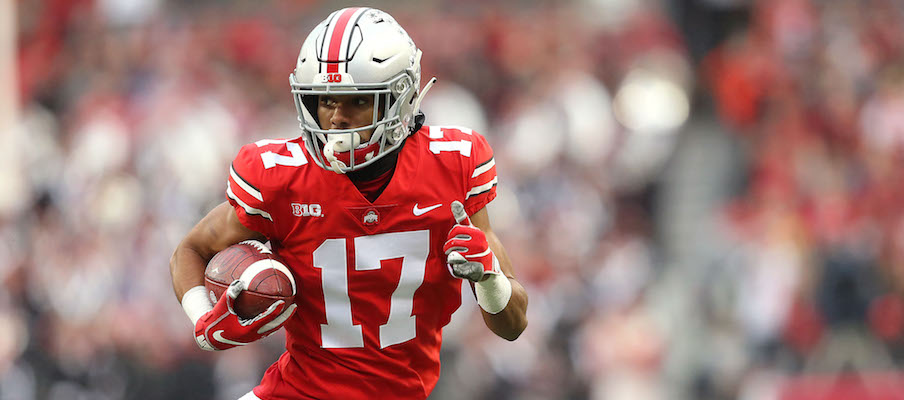 Wide Receiver (Slot)
1. K.J. Hill
2. C.J. Saunders or Jaelen Gill
As the Buckeyes' most productive returning receiver, Hill should play the majority of snaps at slot receiver after choosing to return for his fifth-year senior season. Saunders, a former walk-on who saw some playing time this past season as a secondary slot receiver, could be in line for a more regular role in the rotation in his senior season. That could depend, though, on the development of Gill, an explosive athlete with the potential to bring a true H-back element back to the position.
Tight End
1. Luke Farrell
2. Rashod Berry or Jeremy Ruckert
Farrell separated himself as Ohio State's No. 1 tight end last season and impressed his coaches with his improvement over the course of the year, so with tight ends coach and offensive coordinator Kevin Wilson back with the Buckeyes for 2019, Farrell is likely to at least enter the season as the Buckeyes' starting tight end once again.
Berry made a few big plays for the Buckeyes this past season, catching two touchdown passes and converting a key 4th-and-1 at Maryland while also making a memorable block to spring a long Binjimen Victor touchdown at Penn State, so he should still be in line for at least some playing time in the rotation.
The player to watch at the position, though, will be Ruckert, who offers the most upside as a pass-catcher among the Buckeyes' tight ends and who the Buckeyes need to find a way to get on the field more as a sophomore.
Left Tackle
1. Thayer Munford
2. Nicholas Petit-Frere
Munford, the lone returning starter on Ohio State's offensive line, should remain the starting left tackle for 2019. Even so, the Buckeyes could look to move Petit-Frere – who was the backup right tackle last season as a true freshman – over to the left side of the line to groom the five-star to be the left tackle of the future as he continues his development.
Left Guard
1. Branden Bowen
2. Gavin Cupp
Bowen hasn't played in a game since breaking his leg in Ohio State's sixth game of the season against Maryland in 2017, but he's still the Buckeyes' second-most experienced offensive lineman in number of starts after Munford, making him a strong candidate to re-emerge as a starter as a fifth-year senior. He spent much of this past season practicing at tackle, but started at right guard before his injury in 2017, and he looks like the Buckeyes' option to start at left guard in 2019 following Michael Jordan's early departure to the NFL.
Center
1. Josh Myers
2. Matthew Jones
Day said prior to the Rose Bowl that the Buckeyes were already planning for Myers to be their starting center in 2019 – even if Michael Jordan returned – so the job will be his to lose after he served as the primary backup at the position this past season. Jones will likely get the first opportunity to be the second-team center after redshirting last season, but five-star true freshman Harry Miller is also a candidate for that spot on the depth chart.
Right Guard
1. Wyatt Davis
2. Harry Miller
Davis should be in line to start at right guard next season after taking over for the final two games of this past season after Demetrius Knox suffered a season-ending injury. Whoever isn't the second-team center between Miller and Jones is likely to slide into a second-team guard spot.
Right Tackle
1. Joshua Alabi
2. Max Wray
After filling in for Munford in the Rose Bowl and performing well enough to make ESPN's All-Bowl team, Alabi will likely enter the spring as the frontrunner to start opposite Munford at right tackle. Petit-Frere and Bowen are also potential candidates to start at right tackle, but with Bowen likely needed inside and Petit-Frere still needing to add weight and continue developing, the job could be Alabi's to lose.
Defensive End
1. Chase Young
2. Jashon Cornell
3. Tyler Friday
Defensive End
1. Jonathon Cooper
2. Tyreke Smith
3. Zach Harrison
Not including Nick Bosa, Ohio State returns its entire defensive end rotation from last season, so there aren't likely to be any major changes at the top. Young and Cooper should both be second-year starters.
The top two defensive ends might not end up playing as many snaps as they did in 2018, however, because the Buckeyes should have much better depth. Smith and Friday should be in line to see more playing time as sophomores after playing occasionally as freshmen, while five-star recruit Harrison is too talented not to see some playing time as a true freshman.
Defensive line coach Larry Johnson is likely to rotate three-deep – like he did in 2017, when Young and Cooper were on the back end of the depth chart behind Tyquan Lewis, Sam Hubbard, Jalyn Holmes and Bosa – in order to get all of those players on the field and keep everyone fresh.
Defensive Tackle (Nose)
1. Robert Landers
2. Davon Hamilton
3. Tommy Togiai
Just as they did this past season, Landers and Hamilton should rotate regularly at the nose tackle position next season as fifth-year seniors. Togiai is also a candidate for an uptick in playing time after playing occasionally as a freshman, but as long as Landers and Hamilton stay healthy, Togiai will probably have to wait his turn to play a major role for one more year.
Defensive Tackle (3-Tech)
1. Taron Vincent
2. Haskell Garrett
3. Antwuan Jackson
Vincent and Garrett are both candidates to potentially start at this position next season following Dre'Mont Jones' departure to the NFL, and Garrett will likely get the first crack at winning the job entering his junior year. Vincent saw increased playing time as his freshman season progressed, though, and the highly touted recruit has the most potential of any Buckeyes defensive tackle to replicate Jones' impact as an interior penetrator.
Regardless of who starts, both Vincent and Garrett should play in regular rotation. Whether that becomes a three-deep rotation will likely depend on the development on Jackson, who was expected to compete for immediate playing time after transferring in from the junior college ranks, but ended up being a non-factor.
Weakside Linebacker
1. Malik Harrison
2. Dallas Gant
With a deep group of returning talent at the position and a new position coach (Al Washington) taking over an underperforming unit, Harrison is the only linebacker who's a safe bet to start for the Buckeyes in 2019. Harrison was the Buckeyes' best linebacker this past season, tying for the team lead with 81 tackles, and demonstrated improvement over the course of the season that sets him up for a potentially big senior year.
Keandre Jones was Harrison's backup at weakside linebacker last year, but Jones' entry into the transfer portal could open up a spot on the two-deep for Gant, who drew regular praise from his coaches for his development over the course of his freshman season.
Middle Linebacker
1. Tuf Borland
2. Teradja Mitchell
In Borland, Mitchell and Baron Browning, Ohio State has three legitimate candidates to start at middle linebacker next season, and it wouldn't be a surprise to see any of them earn the top spot on the depth chart. After Borland struggled this past season, many Ohio State fans are clamoring for either Mitchell or Browning – more highly recruited and physically gifted players – to take over Borland's spot in the lineup.
That said, Borland is a returning captain and regarded as one of the Buckeyes' best leaders. He's going to have to demonstrate improvement in spring practices and fall camp in order to keep his starting job, because the new coaching staff probably won't be as loyal to him as the previous staff was, but his stature on the team should make the starting job his to lose – at least to start – though Washington could choose to rotate his linebackers more than Bill Davis regardless of who wins the job.
Strongside Linebacker
1. Baron Browning
2. Pete Werner
Like Harrison and Borland, Werner is a returning starter from last year, but with a multitude of linebackers vying for playing time – Justin Hilliard and K'Vaughan Pope could also factor into the competition for starting spots, and there's not even room for them on the two-deep in this projection – Werner's spot is one that should be up for grabs.
Werner could still win that job, and he'll probably still see playing time in some capacity, but with Borland and Mitchell both at middle linebacker, it could make sense for the Buckeyes to move Browning – who's as talented as any linebacker on the team, and should be in line to play a bigger role in his junior year – outside. And regardless of whether Browning stays in the middle or move outside, he's one of the top candidates to seize a starting job in the linebacker corps in 2019.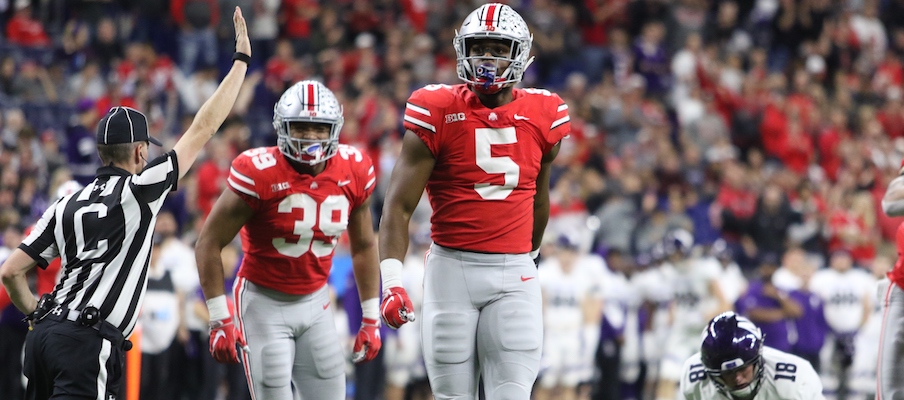 Cornerback
1. Jeffrey Okudah
2. Sevyn Banks
Cornerback
1. Damon Arnette
2. Tyreke Johnson
Nickel Cornerback
1. Shaun Wade
2. Marcus Williamson
It's uncertain whether Ohio State will continue with its three-man outside cornerback rotation under new secondary coach and co-defensive coordinator Jeff Hafley, but it would be a surprise if Okudah, Arnette and Wade don't all see regular playing time in 2019.
Okudah should move into the starting lineup following the departure of Kendall Sheffield to the NFL. Some people believe that Okudah and Wade should both start over Arnette, but it seems unlikely that Arnette would return for his fifth-year senior season – when he considered joining Sheffield in the NFL draft – unless Hafley assured him that he would have the opportunity to remain in the starting lineup, or at least that a starting job would be his to lose.
Wade is the most likely candidate to be the Buckeyes' slot cornerback in their nickel defense after filling that role this past season, but he should have more opportunities to play outside this season, too.
Among cornerbacks who didn't play regularly last season, Banks might be the most likely candidate to push for playing time after coming on strong as a special teams contributor late in his freshman year. Williamson was sidelined by injury for most of last season, but pushed for a spot in the rotation going into the year and could do so once again this upcoming offseason. Johnson didn't see the field much as a true freshman, but he was a five-star recruit and could be a prime candidate to make a big jump in his development from year one to year two.
Safety
1. Jordan Fuller
2. Josh Proctor
Safety
1. Brendon White
2. Isaiah Pryor
Fuller's decision to return for his senior season gives Ohio State a third-year starter and a second-year captain at the safety position. White, the Rose Bowl defensive player of the game, proved to be a big upgrade alongside Fuller after replacing Pryor in the starting lineup down the stretch of last season.
The most likely candidate to make a significant move up the depth chart and push for playing time is Proctor, who flashed potential on special teams as a freshman and is likely a starting safety of the Buckeyes' future.
Pryor and Jahsen Wint could be left to battle for a spot on the second-team defense after struggling in their stints as starters this past season, though they'll have competition even for that spot from Amir Riep and Marcus Hooker.
Kicker
1. Blake Haubeil
2. Dominic DiMaccio
Now that Sean Nuernberger has exhausted his eligibility, Haubeil returns as Ohio State's only scholarship kicker. DiMaccio, a walk-on, is the only other kicker listed on the spring roster.
Punter
1. Drue Chrisman
2. Jake Metzer
Chrisman returns for his third season as Ohio State's starting punter. Nuernberger was listed as the Buckeyes' backup punter last season, but Metzer – a walk-on – could hold that distinction now that Nuernberger is gone.
Long Snapper
1. Liam McCullough
2. Bradley Robinson
The Buckeyes' long snapper depth chart is likely to remain unchanged from last season, with McCullough returning for his third season as the starter at the position.
Holder
1. Drue Chrisman
2. C.J. Saunders
Chrisman should continue in his role as the Buckeyes' holder, while Saunders has also been the backup holder for the past two years.
Kickoff Returner
1. Demario McCall
2. Jaelen Gill
McCall took over as the Buckeyes' primary kickoff returner during their overtime game at Maryland and had a crucial 42-yard kickoff return that helped send that game, earning him the role for the remainder of the season and setting him up to continue in that role in 2019 as one of the Buckeyes' most explosive athletes with the ball in his hands.
C.J. Saunders served as the Buckeyes' secondary kickoff returner last year, but Gill offers more upside as a big-play threat at the position, and putting him on the return team would be one way to ensure that he gets on the field as a redshirt freshman.
Punt Returner
1. K.J. Hill
2. Jaelen Gill
In large part because of his surehandedness, Hill has been the Buckeyes' punt returner for the last two seasons, and with ball security often at a premium for that role, he's the most likely candidate to return punts again in 2019.
That said, the Buckeyes attempted to change things up at the beginning of last year by putting McCall on punt returns. That didn't work out, as McCall struggled to field punts cleanly and consistently, but Gill could be a candidate to provided an added spark in the punt return game if new special teams coordinator Matt Barnes is looking for one.