The most important decision of Ohio State's 2019 season could be one that's completely out of the Buckeyes' control.
With Dwayne Haskins' decision to enter the 2019 NFL draft and Tate Martell putting his name in the NCAA transfer portal, Justin Fields is expected to be the Buckeyes' starting quarterback next season. In order to be eligible to play this fall, though, Fields must receive what is known as a legislative relief waiver from the NCAA.
Typically, an undergraduate student-athlete who transfers from one Football Bowl Subdivision school to another is required to sit out for one year under NCAA rules. In recent years, however, it has become increasingly common for student-athletes to apply for and ultimately receive waivers that enable them to forgo that requirement.
Just last year, three players who opted to transfer from Ohio State ended up receiving waivers to play immediately at other FBS schools: Trevon Grimes (Florida), Antonio Williams (North Carolina) and Jack Wohlabaugh (Duke).
Perhaps the most prominent recent example of a player receiving a waiver for immediate eligibility was Michigan quarterback Shea Patterson, who had his request granted last year after transferring from Ole Miss, which came after the NCAA levied a two-year bowl ban against his former school.
The NCAA doesn't just hand those waivers out. The student-athlete's new school must submit a waiver request on the student-athlete's behalf to the NCAA's Committee for Legislative Relief, which then uses a set of guidelines and its judgment to ultimately determine whether to grant that waiver.
That said, Fields is believed to have a solid case for a waiver, based in part on an incident that happened this past fall at Georgia in which a baseball player, Adam Sasser, was dismissed from the team after shouting racial epithets toward Fields.
While the most obvious reason for Fields' decision to transfer to Ohio State would be the opportunity to potentially start for the Buckeyes in 2019, whereas he likely would have spent another season on the bench behind Jake Fromm at Georgia, Fields' attorney Tom Mars – who also represented Patterson in his waiver request last year – told ESPN's Dan Murphy that there is more to the situation than meets the eye.
"Nobody who's on social media would have a problem with Justin getting a waiver if they knew the whole story," Mars told Murphy.
Within the guidelines used by the NCAA's Committee for Legislative Relief, there are two that could serve as bases for Fields to receive a waiver.
In April 2018, the Division I Council approved an amendment specifying that immediate eligibility could be granted in certain situations where a student-athlete transfer is demonstrated to be "due to documented mitigating circumstances outside of the student-athlete's control and directly impacts the health, safety or well-being of the student-athlete." That amendment also stipulates that the "student-athlete's overall academic record (e.g., meeting progress-toward-degree requirements, likelihood of graduation) and the previous institution's position on the request will be evaluated."
Additionally, Fields' case could fall under the category of "assertions of egregious behavior," which stipulates that immediate eligibility may be granted "in cases where the student-athlete was a victim of objective, documented egregious behavior by a staff member or student at the previous institution and the previous institution does not oppose the waiver."
Whether Fields receives a waiver for immediate eligibility could depend in part on whether Georgia raises any objections to Ohio State's request on Fields' behalf, as Georgia will be given 10 business days to respond once presented with his request for a waiver.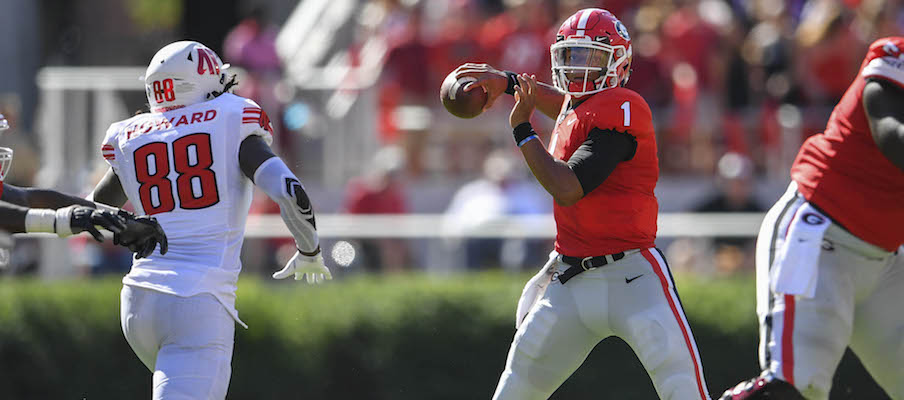 After Georgia issues its response, the NCAA's legislative relief staff will review the case and ultimately decide whether to grant or deny the waiver, a process that could take two to three weeks. If Fields' initial waiver request is denied, Ohio State will have the opportunity to make an appeal to the legislative relief committee, which could then extend the process with a hearing to potentially overturn the ruling.
Mars has expressed confidence that Fields will not only receive a waiver, but that the request will be resolved quickly enough that Ohio State could know his status by the time spring practice starts.
"My prediction would be the next six weeks," Mars told ESPN.
Regardless of how long the process takes, Fields is already eligible to participate fully in spring practices and other offseason workouts, and is already enrolled at the university and on scholarship. He just can't participate in any games this fall unless he receives a waiver, but the process should be resolved one way or the other well before then.
If Fields' waiver request remains open when spring football begins, Ohio State will likely proceed forward with the expectation that Fields will be eligible to play this fall, and conduct its starting quarterback competition accordingly. But it would certainly help the Buckeyes to have a definitive resolution rather than having to prepare for two different potential outcomes.
Ohio State seemingly has reason to be confident that Fields will be able to play for the Buckeyes this season, which makes him – the No. 2 overall recruit in the high school class of 2018 – the likely frontrunner in this spring's competition with Martell (if he is still with the team) and Matthew Baldwin. But they also have to prepare for the reality that the NCAA, which does not comment publicly on why waivers are granted or denied, could rule in either direction.
"I think there's a reasonable chance of success in this case, given what I know about the circumstances," Tim Nevius, a former NCAA investigator who now provides legal representation for athletes in cases against the NCAA, told Eleven Warriors. "But these outcomes are not guaranteed, and sometimes can be unpredictable."