Ryan Day knows exactly what he did by adding Justin Fields to a what suddenly seems like a possibly combustible quarterback room.
With Dwayne Haskins officially announcing the decision that everyone knew was coming and heading to the NFL after one year as Ohio State's starting quarterback, the Buckeyes were left with only three quarterbacks – Tate Martell, Matthew Baldwin and Chris Chugunov – on next season's roster. On Dec. 19, Day said he prefers to always have four quarterbacks, intimating that the team, which had just lost Dwan Mathis to a decommitment, might look at the transfer market if Haskins left for the NFL.
So, understanding Haskins, the likely top quarterback prospect in the draft, would probably depart, he hit the transfer market and landed a quarterback more talented than any in the 2019 recruiting cycle. Rumors of Ohio State's interest in Fields swirled for nearly a month before he announced his transfer on Friday.
Not everyone has to like it. Just five days before Fields posted a message on Twitter to say he would attend Ohio State, Martell said he doesn't understand why Fields "would think that the grass is greener on the other side" and that "this dude hasn't put a single second into Ohio State football."
Day went out and got Fields anyway, for he believes Fields is a talent worth making people unhappy. His job is one that requires him to do what's best for the program, and sometimes that means doing something that will upset someone who has put in years of time and effort into the program.
Whichever quarterback wins the starting spot in the offseason will define at least the first two years of Day's tenure as head coach. He can't afford to get this decision wrong.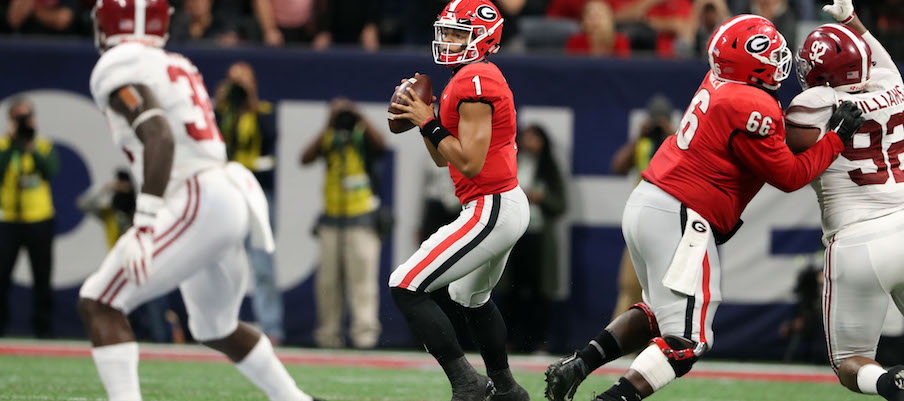 Ohio State, under Urban Meyer, went through a quarterback competition last spring, but the consequences were not as dire, and the situation wasn't a surprise to those involved.
Joe Burrow knew Dwayne Haskins would be his competition when J.T. Barrett's time as quarterback eventually ended, and Burrow was already on the roster when Haskins committed. Both Burrow and Haskins were Barrett's backups and possible Barrett replacement when Martell inked his National Letter of Intent.
When Haskins, Burrow and Martell went at it last spring, there was always the understanding that certain outcomes – including the one that happened – could satisfy most parties. Haskins became Ohio State's starter. Burrow transferred to LSU, where he immediately played and will be a two-year starter. Martell backed up Haskins and now has a chance to win the starting job again after just one season.
This year, Martell was supposed to get his reward for waiting. Rumors of him transferring – often completely unfounded – have swirled since he stepped foot on campus. He could have left after failing to beat out Haskins last year, but he didn't. He stuck around, thinking his competition would include Baldwin and a true freshman.
Instead, in came Fields to alter the field. Baldwin remains a competitor, as well.
Before the Fields transfer became official, Martell guaranteed he will start for Ohio State and said he will not transfer.
"There's no reason I should," Martell said on Dec. 30. "I know what kind of quarterback I am. I'm an elite quarterback. I know that after two years of being here, I run our offense at a very efficient level, and I know once we put the zone read back in, it will be very fun for me."
The situation became quite a bit dicier when Fields made his decision official.
There's no doubt that Martell waited his time and earned a chance to be starter. But things look more uncertain than ever before. Given his comments about Fields, it's unlikely he'd be willing to stick around to back him up. He's also talented enough to play elsewhere, which he understands.
"I love my boys," Martell said on Dec. 30. "All my guys in my class, I'd do anything for them. They know that, too. My whole team knows that. That's why I'm still here at this point. Because there's probably a ton of other schools that I could be starting for right now."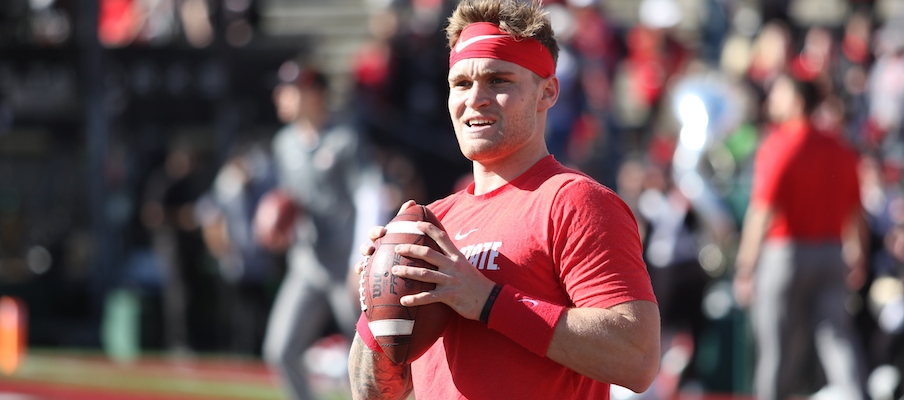 If Fields wins the job, Martell could consider a transfer, but he would have to sit out a year, unlike Burrow who played immediately. If Martell wins the job, Fields likely wouldn't be thrilled that he transferred and now might have to back someone up for at least two years. If Baldwin wins the job, likely neither Martell nor Fields will be thrilled.
Every scenario has a not-to-great outcome for at least one competitor.
Unlike last year's battle to replace Barrett, the national spotlight on this spring's competition will shine bright. Haskins, Burrow and Martell fought for the job while Tua Tagovailoa and Jalen Hurts competed to become Alabama's quarterback, stealing most of the country's attention. Plus, Kelly Bryant was trying to hold off Trevor Lawrence at Clemson and Jake Fromm was doing battle with Fields at Georgia.
With Fields, the No. 2 overall prospect in last year's recruiting cycle, transferring to try to win that job that many thought would go to Martell, who had publicly warned Fields not to transfer, the country will have its eyes on Ohio State.
Further complicating matters, neither Day nor Fields are even sure whether Fields will be eligible to play. He must apply for a hardship waiver from the NCAA in order to gain immediate eligibility in the fall, but that's not a certainty. Thomas Mars, an attorney that Shea Patterson used to play for Michigan last fall without sitting out, reportedly will be helping Fields attempt to gain eligibility to play in the fall.
Many people are optimistic that Fields will be able to play, but the waiver process takes substantial time. Jim Harbaugh's staff didn't know Patterson would be eligible until the end of April, long after spring practices had concluded. Day might not even know whether the winner of his quarterback competition can play in the fall until after the spring game.
In order to maximize the first couple years of his tenure as Ohio State head coach, Day must masterfully navigate all the uncertainty and emotions, despite never serving in the capacity full-time before.
The first spring practice ever for Day certainly won't come and go without hiccups, but by making a move that complicated the quarterback situation, he ensured the Buckeyes trot out both a talented and deserving quarterback, whether it be Fields, Martell or Baldwin.