As has become an annual tradition for the Buckeyes, Ohio State is set to put its stamp on the NFL draft in 2019.
Ohio State has had seven players selected in each of the last two NFL drafts, after having a record-setting 12 players selected in the first four rounds of the 2016 NFL draft, and the Buckeyes will go into this year's draft with a strong class of prospects once again.
Led by two players who have the potential to be the No. 1 overall pick and another projected first-rounder, Ohio State has at least 10 players that appear to have a real shot at being selected in this year's draft, along with several additional NFL hopefuls.
There's still more than three months to go until this year's NFL draft, which takes place in Nashville from April 25 to 27, but with the NFL draft declaration deadline now passed, we took a look at each of Ohio State's potential draft choices and how they could stack up as prospects.
Nick Bosa, DE
Ranked by most draft analysts as the top overall prospect in the entire 2019 class, Bosa is a virtual lock to be a top-five pick, even after undergoing core muscle surgery that cut his final season at Ohio State short after just three games. He's considered by some to be an even better prospect than his brother, Joey, who was the No. 3 overall pick in the 2016 draft.
A dominant defensive end who was a consistent force as both a pass-rusher and a run-stopper when he was on the field for the Buckeyes, Bosa has a very real chance to be Ohio State's first No. 1 overall pick since Orlando Pace in 1997. He's been projected in many mock drafts to the Arizona Cardinals, who hold the top pick in this year's draft.
Dwayne Haskins, QB
Coming off a record-setting season in which he had more passing yards (4,831) and touchdowns (50) than any other Big Ten quarterback ever had in a single season, Haskins is widely projected to be the first quarterback selected in this year's NFL draft – which makes a potential candidate to be the No. 1 overall pick, too, as a team could trade up to ensure its chance to draft the prospect of its choice at the most important position on the field.
Haskins has the size, arm strength and ability to throw to all areas of the field from the pocket that gives him the potential to be an elite NFL quarterback. He's a smart, confident quarterback who has already shown he can handle one of the biggest spotlights in college football, which should give scouts confidence that he lead an NFL franchise, too.
Oklahoma quarterback Kyler Murray could also garner consideration as a top pick because of his athleticism and dual-threat playmaking ability, but nonetheless, it would be a big surprise if Haskins doesn't end up being a top-10 pick.
Dre'Mont Jones, DT
The third Buckeye who appears to have a good chance of hearing his name called among the top 32 selections, Jones is an explosive interior penetrator with tremendous athleticism for his size (6-3, 286), giving him huge upside as an interior pass-rusher who can play as either a 3-technique defensive tackle for a 4-3 defensive scheme or as a 5-technique defensive end in a three-man front.
A three-year starter for the Buckeyes, Jones finished his career strong, recording 43 total tackles, 13 tackles for loss and 8.5 sacks in his final season in scarlet and gray.
With excellent physical tools and a proven track record of being a disruptive force on the inside of Ohio State's defensive line, Jones belongs in the first-round conversation. A draft class that's loaded with defensive line talent could push him down the board a bit, but it would be a surprise if he fell any further than the early second round.
Parris Campbell, WR
A speedy playmaker known for his ability to run away from defenses and turn short passes into big plays, Campbell is one of two Ohio State draft prospects with the potential to be among the fastest runners at this year's NFL Scouting Combine. Campbell, who took exception to being left off an NFL.com list of fastest players in college football last summer, could be a candidate to run a sub-4.4-second 40-yard dash in Indianapolis – which would certainly bolster his draft stock.
Campbell doesn't need a 40 time to show that he's fast, though, while he also enter the NFL draft with the highest of recommendations from Urban Meyer and his other Ohio State coaches for his leadership and character. How exactly he might fit into an NFL offense is unclear, as most of his catches at Ohio State came on short throws, but his big-play speed and intangible qualities make it likely that an NFL team will take a chance on him in the early to middle rounds.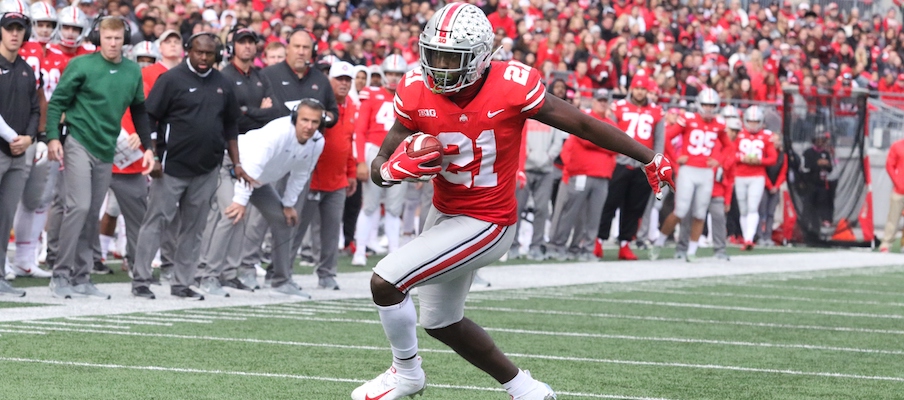 Michael Jordan, G/C
A three-year starter who never missed a game in his Ohio State career, Jordan offers multi-position versatility as an NFL draft prospect, having played center this past season – and earned first-team All-American honors – after playing his first two seasons at left guard, while he also has the size and athleticism to potentially even play tackle in a pinch.
Guard is expected to be Jordan's primary position at the next level, though, as he's demonstrated the potential to be dominant at that position, but was never quite able to master snapping the ball as a center. He offers ideal size for a guard at 6-foot-7 and 312 pounds, and is solid as both a run blocker and pass protector. He's likely to be selected somewhere between the second and fourth rounds.
Kendall Sheffield, CB
While Campbell was left off NFL.com's list of fastest players last summer, Kendall Sheffield was No. 1 on the list, and he'll probably be the betting favorite to run the fastest 40 time at the combine. Sheffield broke Ohio State's 60-meter dash record during a brief stint running indoor track last winter, and combines truly elite speed with a long frame for a cornerback (6-0, 193).
Sheffield's play on the football field at Ohio State never quite lived up to his potential, so he isn't likely to extend the Buckeyes' streak of first-round cornerbacks. But his upside is still through the roof, and his play did improve over the course of his two years in Columbus, so it's still likely that he'll be drafted no later than the middle rounds.
Mike Weber, RB
A hard-charging runner who ran for more than 2,500 yards in his three playing seasons at Ohio State, Weber projects as a likely middle-round pick after opting to enter the 2019 NFL draft.
The 5-foot-10, 214-pound running back showed a strong ability to fight through contact during his Ohio State career, and a sneaky fast second gear. He doesn't have the greatest acceleration out of the backfield, but once he gets going, he's a threat to make a house call. He's also demonstrated solid ability in the passing game as a receiver out of the backfield and as a blocker.
Weber was overshadowed a bit by J.K. Dobbins over the past two seasons, while he also battled through several injuries. But while he's not an Ezekiel Elliott-level prospect, he should make a solid addition to an NFL running back rotation.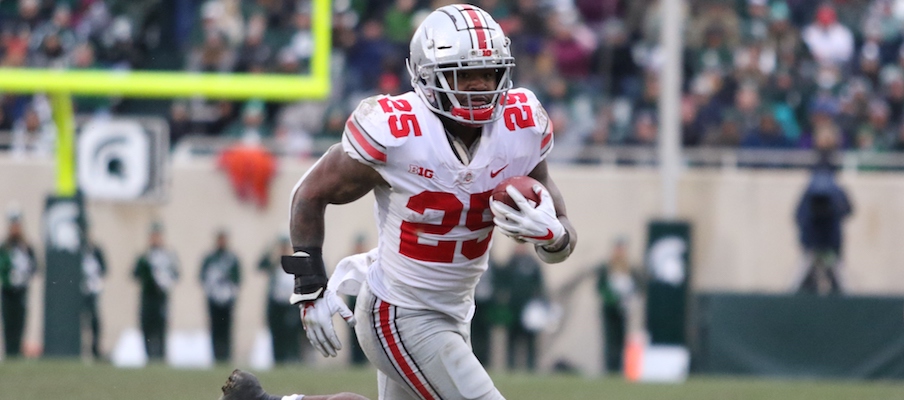 Isaiah Prince, OT
Prince enters the draft process as one of Ohio State's toughest prospects to project. He entered his senior season as a potential early-round pick after making huge strides in his junior year, but his play took a step back in 2018 (which even Prince has acknowledged himself, saying in a tweet earlier this month that he "left a lot of potential on the table.")
A three-year starter at right tackle for the Buckeyes and a captain this past season, Prince also offers ideal size for his position (6-7, 310) and has quick feet. He's a strong and powerful mauler, too, who can drive defenders away from the ball. His career was plagued, though, by inconsistent pass protection and false start penalties, which could hurt his draft stock and make him a Day 3 pick.
Terry McLaurin, WR
McLaurin legitimized himself as an NFL prospect with a strong senior season, in which he emerged as one of Ohio State's most valuable players both on and off the field.
The 6-1, 205-pound receiver had by far his best season as a pass-catcher in 2018, catching 35 passes for 701 yards and 11 touchdowns, demonstrating his ability to make plays as a deep threat. Where McLaurin should really impress NFL scouts, though, is with his ability as a perimeter blocker and as a punt gunner on special teams, two areas in which he excelled for the Buckeyes.
Like Campbell, McLaurin was also highly regarded at Ohio State for his leadership and character, which should only increase his appeal to NFL teams as a player who could prove to be a great value pick in the later rounds of the draft.
McLaurin is the only Ohio State prospect set to participate in next week's Senior Bowl.
Johnnie Dixon, WR
Like Campbell and McLaurin, Dixon was among Ohio State's top leaders this past season as a fifth-year senior wide receiver, and he should also draw some consideration from NFL scouts as a potential late-round draft pick.
With eight receiving touchdowns in each of the past two seasons, Dixon was a big-play pass-catcher for the Buckeyes. His speed doesn't stand out as much as Campbell and McLaurin, and he has a history of knee injuries that nearly forced him to give up the sport two years ago, which could alarm NFL scouts. His demonstrated character and proven perseverance, though, should at least land him an NFL contract as an undrafted free agent, if not as a draft selection.
Dixon was slated to participate in this week's NFLPA Collegiate Bowl, but was forced to drop out of the pre-draft showcase due to a battle with the flu.
Other NFL Hopefuls
Both of Ohio State's starting guards from this past season, Malcolm Pridgeon (6-7, 310) and Demetrius Knox (6-4, 312), have the size and corresponding athleticism to garner attention from NFL scouts, but neither is currently projected to be drafted. Pridgeon was inconsistent in his lone season as a starter for the Buckeyes, and Knox's pre-draft training could be hampered by his recovery from a Lisfranc foot injury that ended his season early.
Dante Booker is not likely to be drafted after playing only 77 defensive snaps as a backup linebacker this past season, but it was only a couple years ago that he was viewed as a potential breakout NFL prospect. While he never performed up to expectations at Ohio State, he should at least get the opportunity to compete for a roster spot as an undrafted free agent, especially if he performs well at Ohio State's pro day.
Offensive lineman Brady Taylor and kicker Sean Nuernberger, who were both sidelined by injuries for the majority of their senior seasons, are long shots to play in the NFL, but they'll likely both at least take their best shots at making a roster. Both should have promising off-field futures, though, if they don't make it in the NFL; Nuernberger is planning to attend law school, while Taylor has already received multiple job offers outside of football.