It all starts on Saturday.
With a new head coach and a new quarterback, Ohio State opens the season at noon against Florida Atlantic in five days and the pursuit of a College Football Playoff bid begins. In order to achieve that goal, Ryan Day and the Buckeyes have to answer plenty of questions that remain less than a week until the season kicks off. 
To kick off game week, we're taking a look at the 10 most important players who will ultimately determine how the season goes. It was tough to whittle the list down to just 10 players, though, so let's first consider some of those who just missed.
Honorable Mention
At the end of last season, Chris Olave broke out with two touchdowns and a punt block against Michigan. With three wide receivers now in the NFL – Parris Campbell, Johnnie Dixon and Terry McLaurin – Olave might be the team's best downfield threat.
Jonah Jackson transferred from Rutgers in the offseason and has slotted in as the left guard. He was an honorable mention All-Big Ten honoree last season and is expected to help solidify the interior this fall.
For the second year in a row, Pete Werner will serve as Ohio State's starting strongside linebacker. However, given the implementation of the bullet, he might have a decrease in snaps. His coaches have spoken glowingly about him in the past month, but that possibility kept him out of the top 10.
Damon Arnette nearly left Ohio State for the NFL in the offseason. He chose to remain in school for a fifth year, though, and will likely start as an outside cornerback in Jeff Hafley's defense. Expect to see him in the slot, too.
Malik Harrison was the Buckeyes' top linebacker a year ago, and he returns as a senior seeking consistency in his play that peak near the end of the 2018 season. If he can take his game to the next level, we might look back at it being a major mistake to leave him out of the top 10.
Once again likely coming off the bench, Baron Browning will play most as an inside linebacker on passing downs or it nickel packages. If he can play well enough to unseat Tuf Borland as the starting middle linebacker during the season, he could make an even larger impact.
Garrett Wilson might already be his team's most naturally talented wide receiver – teammates have continually talked about his ball skills – but he's still just a true freshman. He's a near lock to find himself in the top 10 on this list a year from now.
Thayer Munford might seem like an obvious snub from this list since he's the only returning starter on the offensive line. However, he has a quality backup at his position – Joshua Alabi – and spent a decent chunk of preseason camp repping with the second-team offense, signaling Greg Studrawa's confidence in Alabi. A healthy Munford could be an impact player, though.
It might be ridiculous to even include Gunnar Hoak in this section, but if something happens to Justin Fields, Ohio State will turn to him. He has only a couple months of experience in Day's system and less than a month of practices.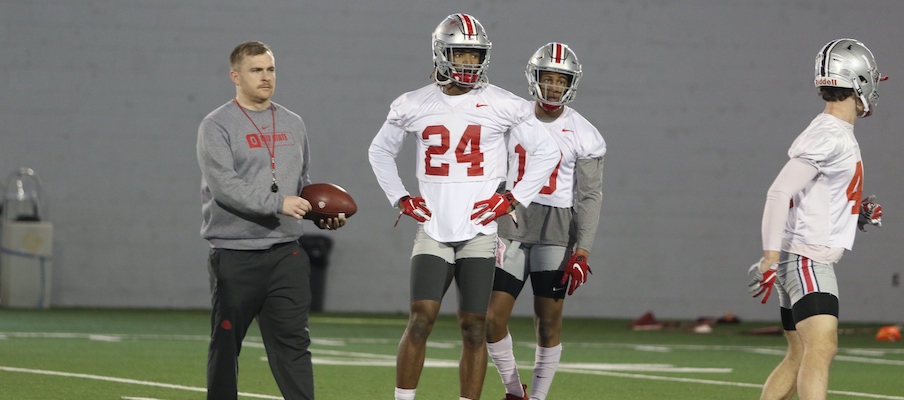 10. Shaun Wade
Good luck guessing how or where Wade will make an impact in 2019. Just know the Buckeyes are counting on him taking up a major role in Hafley's secondary.
Wade has a chance to play more snaps than any other defensive back on the team, which is largely due to his versatility. He will likely mainly play in the slot, but he also will line up as an outside cornerback and could drop back as a safety at times. 
With the presence of potential first-round pick Jeff Okudah and fifth-year senior Damon Arnette, Wade has flown a bit under the radar. But he given how much he'll be on the field, he has a chance to become one of the team's top defensive players this fall.
9. Tuf Borland
Looking just at the surface, Borland seems to have already had an excellent three years. He has two years of eligibility remaining and he has already started 20 games, and he's on pace to become just the second three-year captain in program history.
However, he didn't play up par last season, which opened him up to criticism.
With Teradja Mitchell and Browning pushing him for playing time and Al Washington entering the program as a new linebackers coach, there appeared to be a chance that Borland would lose his starting job. That seems like it hasn't happened, though, and he'll likely remain the starter.
In order to have a rebound season, the Buckeyes' defense needs improved play out of all the linebackers, but it especially needs to be able to rely on a healthy Borland at middle linebacker.
8. Brendon White
Even though White might not be on the field as much as he was at the end of last season due to his position change, he'll still have an important role in the defense.
Greg Mattison tabbed him as the Buckeyes' bullet, a hybrid safety-linebacker, soon after taking over as defensive coordinator. His new position requires him to line up at all levels of the defense, be comfortable blitzing, covering and playing the run. Basically, he's a do-everything player who has to figure out how to impact offenses from just about everywhere. Not so easy, huh?
How White plays his new position will help determine whether the Buckeyes can reclaim their "Silver Bullets" status.
7. Josh Myers
Season Previews
Any of Ohio State's five – or six, since the right tackle competition isn't finished yet – offensive linemen could slot into this top 10.
Myers, though, is arguably the most important to the Buckeyes. He hasn't started a single game in college and played just 72 offensive snaps last season with none coming after the fourth game. Nevertheless, Studrawa seemed to know late in the 2018 season that Myers had the inside edge to start at center the following season, and he was proven correct.
Beside him, Wyatt Davis and Jonah Jackson should offer stability at guard. If Myers can immediately become a quality center, the Buckeyes could have an upgraded interior. 
6. Jeff Okudah
Okudah has immense natural talent and the frame and long arms of a lockdown NFL cornerback. He produced like a top pick in the Rose Bowl, shutting down the Washington receivers he lined up against. Even though Kerry Coombs is gone, the Ohio State-to-NFL cornerback pipeline remains ongoing.
So how does a potential top-of-the-first-round cornerback who might be one of the two most talented players on the team miss the top five on this list? Depth at cornerback. That's the only reason. Okudah is special, and in all likelihood, he only has one more season remaining at Ohio State.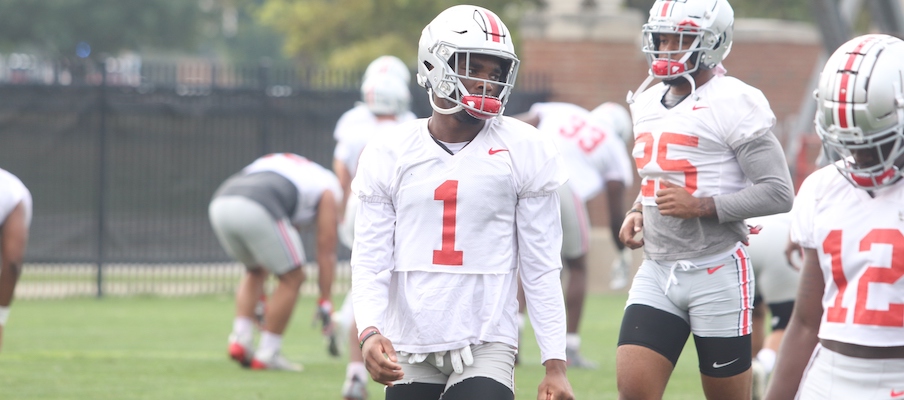 5. K.J. Hill
Only one Ohio State player – Parris Campbell – had more catches than Hill in 2018, and it would be a surprise for anybody to have more than him in 2019.
In a wide receiver room that lost a bunch of production, Hill stands out for his 70 receptions and 885 yards as a redshirt junior. The fifth-year senior and first-time team captain will likely become Fields' top option in the air. 
4. Jordan Fuller
In a secondary rife with mistakes for the majority of the 2018 season, Fuller had a solid – if unspectacular – junior campaign. He didn't make enough game-changing plays, though, which led him back to school for his senior year.
With Hafley now coaching the secondary, Fuller believes he'll have more freedom at the back end of the defense, which will allow him to make more plays and get his hands on more balls in the air. He'll also play many more snaps as the only deep safety, making it pertinent that the Buckeyes can rely on him. In his first three seasons, Fuller has shown himself to be plenty reliable, which should make him a solid fit in Hafley's defense.
3. Chase Young
He's No. 3 on this list but could go first or second in the 2020 NFL Draft.
Young had 10.5 sacks last season, and the Buckeyes are counting on him having another stupendous season before heading to the next level. If players could leave for the NFL after two seasons, he'd already be gone. He essentially has had an NFL body since stepping on campus, and he translated that to double-digit sacks last season.
Without Nick Bosa or Dre'Mont Jones, Young is the undisputed top defensive lineman on the team, which puts more pressure on him to produce.
2. J.K. Dobbins
Dating back to the spring, Dobbins has accepted all of the blame on what happened to his production in 2018, during which his yards per carry dropped to an average of 4.6.
He cut his body fat percentage from 12 to 8 in the offseason and became a team captain. Dobbins has had a singular focus on returning to his form from his freshman year, when he averaged 7.2 yards per carry.
With Fields possibly needing time to ease into the offense, the pressure will be on Dobbins to have a standout 2019 season. He also doesn't have much experienced depth behind him at running back.
1. Justin Fields
Does this even really need an explanation?
So much of how this season goes for the Buckeyes depends on the preparedness of Fields. Both his potential and flaws have been analyzed and then analyzed again throughout the offseason. It's finally just about time to see whether he's a championship-level quarterback as a sophomore.