Ohio State head coach Ryan Day and co-defensive coordinator Greg Mattison aren't ready to name starters quite yet at linebacker, but it certainly appears likely that at least two of the Buckeyes' starting linebackers will be the same as last year.
Malik Harrison has always been expected to retain his starting job at the weakside linebacker position, and nothing appears to have changed there after 11 practices of fall camp. After the linebacker unit struggled as a whole last season, however, there was reason to believe that strongside linebacker Pete Werner and middle linebacker Tuf Borland could be in jeopardy of losing their starting jobs with a new defensive coaching staff.
The Buckeyes have a deep group of linebackers who have been competing throughout the month of August, giving other linebackers the opportunity to potentially seize those jobs. Mattison made it clear on Wednesday, though, that Werner has done what he's needed to prove to Mattison – who is also his position coach – that he belongs in the lineup.
"I really believe he is a top guy at his position," Mattison said of Werner. "I've had the opportunity to see a lot of pretty good football players and I am really impressed with him. I mean, he plays extremely hard. He's very physical. He's got great size and strength and he can run. And he's got unbelievable character. There's not many other things that you need to be a good football player, and that's what he's showing."
Werner's name first came up on Wednesday when Mattison was asked about true freshman Cade Stover, who lost his black stripe on Tuesday and is also among the players competing for playing time at the Sam linebacker spot. Mattison's face lit up with a smile when he was asked about Stover, who Mattison described as a "very, very talented young man," but he indicated that Stover has been running behind Werner – a true junior – and learning from him.
"A great thing for him is he gets to watch Pete Werner every day," Mattison said in relation to Stover. "And when you're a guy behind him and you see the way Pete plays and his dedication to doing things correctly, it's been really good for him."
K'Vaughan Pope, who Mattison said has "had a very good camp so far," has also been competing for playing time at the Sam linebacker position, while the bullet – Brendon White's new position – will also take the place of the Sam linebacker in some packages. Werner has been running with the first-team defense throughout camp, though, and Mattison's comments Wednesday suggested that he's still likely be on the field for a majority of Ohio State's defensive snaps.
"We have a Sam linebacker that is very, very athletic and very, very fast," Mattison said, referencing Werner. "So the bullet position ends up being a way for us to have great depth at the Sam position."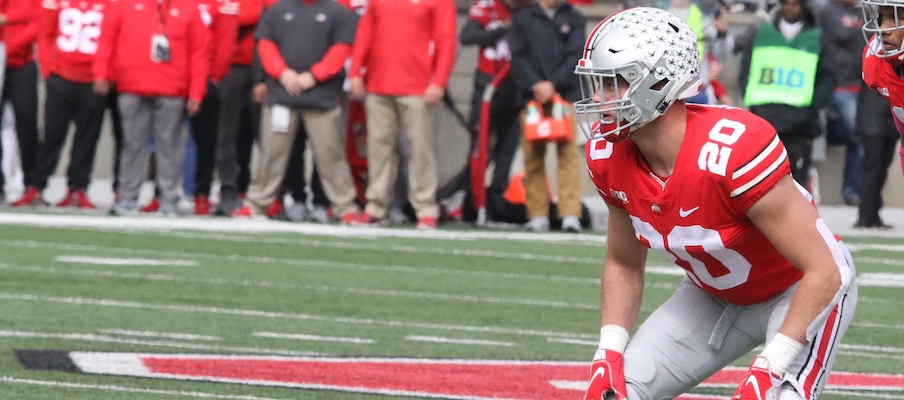 When asked whether Borland was still the top guy at middle linebacker, Mattison wasn't quite as committal. He mentioned that Baron Browning, who is also still practicing at middle linebacker, has "really, really had a good camp," and he said Teradja Mitchell has also performed well in camp.
Borland has taken most of the first-team reps at middle linebacker during portions of practice that have been open to the media, though, and Mattison – who doesn't spend as much time with the Mike and Will linebackers, who are primarily coached by Al Washington while Mattison is the primary coach for the Sam linebackers and bullets – said Wednesday that he likes "everything about Tuf Borland's game."
"Tuf Borland is another one that comes out to practice every day, extremely intelligent. Takes great pride in getting the front lined up," Mattison said. "I like his physicality. I like his intelligence."
With 17 days still to go until Ohio State's Aug. 31 season opener against Florida Atlantic, Mattison said the Buckeyes still haven't made decisions about who will start at linebacker – in part because they want to have many more than three linebackers who are playing at a starting-caliber level.
"With the tempo we're going to see, with the way teams are going to try to attack us, we'd better have a first starter or a second starter and a third starter, and that's how I look at it," Mattison said.
Mattison did say, though, that Harrison, Werner and Borland have earned the first-team reps that they have gotten.
So while Browning, Mitchell, Dallas Gant, Pope and even true freshmen like Stover and Craig Young could all potentially factor into the linebacker rotation and earn playing time in various packages, it seems more likely than not that the three linebackers who played the majority of snaps for Ohio State last season will be the first linebackers on the field in their base defense to begin this season, too.