The success of an Ohio State football coach is always measured in part by his results in the annual rivalry game against Michigan.
Half a decade into his tenure as Ohio State's coach, Urban Meyer is still batting 1.000 in that all-important category.
Ohio State has won five straight games against Michigan dating back to 2012, Meyer's first season as coach. The Buckeyes will look for their sixth straight win against the Wolverines on Nov. 25, when this year's edition of The Game will be played at Michigan Stadium in Ann Arbor.
The rivalry has been one-sided in recent years, with Ohio State winning 11 of the last 12 games (not including Ohio State's vacated win in 2010, which would make it 12 wins in 13 years for the Buckeyes). If last year's instant classic was any indication, however, the Buckeyes and Wolverines should play competitive games annually as long as Meyer is on Ohio State's sideline and Jim Harbaugh is on Michigan's.
Harbaugh will certainly have his sights set on ending Ohio State's streak of dominance in 2017, but will he have a team capable of doing so?
While the Wolverines were a top-10 team last season and took Ohio State to double overtime, Michigan had 11 players selected in the 2017 NFL draft, more than any other school. That leaves the Wolverines short on experience. They still might have enough talent to overcome that, though, and give the Buckeyes a serious challenge again, both in The Game and in the Big Ten East standings.
In the final installment of our Look Ahead at Ohio State's 2017 schedule, we take a look at how the Wolverines should stack up on each side of the ball.
OFFENSE
2017 Look Aheads
Michigan's offense was the best in the Big Ten when starting quarterback Wilton Speight was healthy last season. The Wolverines averaged 48 points per game and gained at least 349 yards in each of their first nine games, all of which they won.
Speight struggled mightily in Michigan's 10th game of the season at Iowa, then suffered a shoulder injury near the end of that game, the Wolverines' first loss of the season. While Speight returned for Michigan's final two games of the season, he wasn't able to play at the same level as before, and Michigan's offense struggled as a result. The Wolverines averaged only 23 points per game and gained 310 yards or less in each of their last four games, three of which they lost.
Although Speight wasn't consistently great, he played well enough when healthy to earn third-team All-Big Ten honors and enable the Michigan offense to be statistically prolific. He has the potential to be among the nation's top quarterbacks and the physical tools to be an NFL prospect if he continues to develop as a passer. As a returning starter on an offense that lost seven starters from last season, Speight would seemingly be a clear-cut choice to start at quarterback for the Wolverines this year.
Leading up to the 2017 season, however, Harbaugh has maintained that Speight is continuing to compete for the job with John O'Korn. O'Korn lost the starting job to Speight last season, and wasn't impressive is his only start in relief of Speight, completing just 7 of 16 passes for 59 yards against Indiana. Considering that, it would come as a surprise if O'Korn ends up starting ahead of Speight, but it's uncertain how that competition will reveal itself both at the start of the season and by the time Michigan plays Ohio State at the end of the regular season.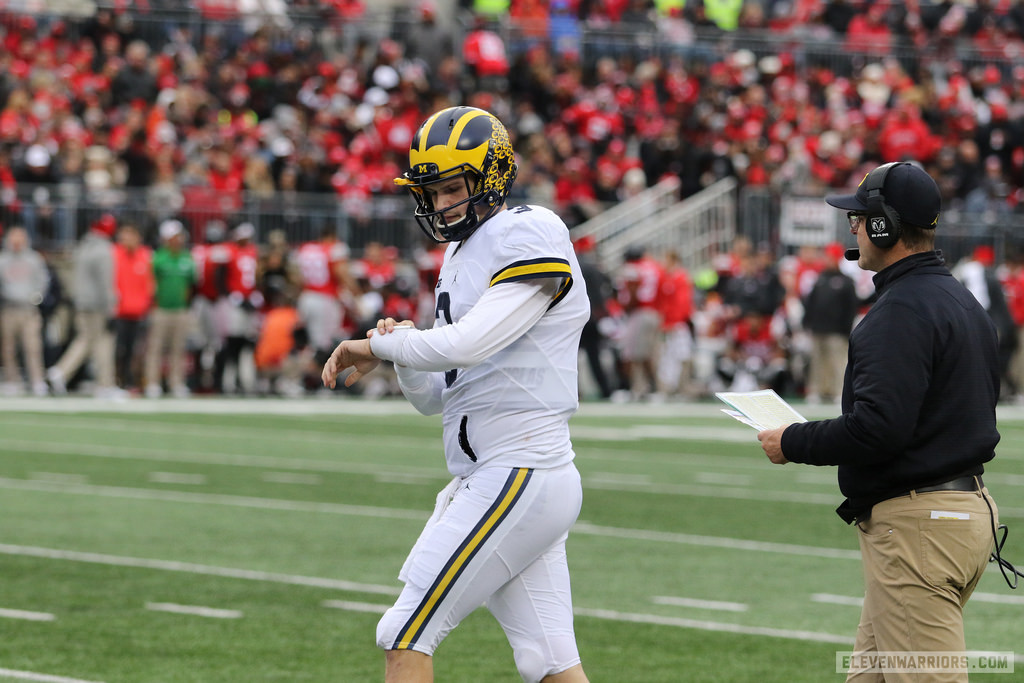 Regardless of who ends up starting at quarterback, Michigan will need some new weapons to emerge in the passing game, having lost their top two wide receivers and John Mackey Award-winning tight end Jake Butt from last season.
The leading returning receiver is Grant Perry, who was just reinstated to the Wolverines last week after pleading guilty to charges of resisting arrest and assault and battery. Michigan does not have any other returning players who caught more than six passes last season. That said, the Wolverines have numerous young pass-catchers on their roster with the potential to be breakout stars, including a pair of highly touted true freshmen in Donovan Peoples-Jones and Tarik Black.
Michigan lost its leading rusher from last season, De'Veon Smith, but returns three other running backs in Chris Evans, Karan Higdon and Ty Isaac who each had at least 72 carries, 400 rushing yards and four touchdowns last season. In addition to that trio, the Wolverines have another potential breakout player at the position in Kareem Walker, who redshirted last season but was one of the top running back recruits in the class of 2016.
Up front, the Wolverines lost one first-team All-Big Ten offensive lineman (right tackle Erik Magnuson) and two second-team All-Big Ten offensive linemen (left tackle Ben Braden, right guard Kyle Kalis) from last season. But while the Wolverines will need three new starters to emerge up front, they still have the talent to field one of the Big Ten's best offensive lines.
Mason Cole, a second-team All-Big Ten selection at center last year, could be the conference's best left tackle as a senior after moving back to the position he played as a freshman and sophomore. Ben Bredeson earned Freshman All-American honors last season after starting the Wolverines' final eight games of the year at left guard. The rest of Michigan's offensive linemen are unproven, but right guard Michael Onwenu was a highly touted recruit in 2016 while Cesar Ruiz – who has a chance to start in the middle of the line as a true freshman if he can beat out senior Patrick Kugler – was the top-ranked center in the recruiting class of 2017.
With so many young and unproven players potentially taking on big roles, it's likely the Wolverines offense will have some growing pains early in the season. If they can establish stability at quarterback and on the offensive line and new pass-catching playmakers emerge, they have the potential to have a dangerous offense by the time they play Ohio State.
DEFENSE
Michigan's defense was truly elite in 2016. In Don Brown's first season as defensive coordinator, the Wolverines trailed only Alabama among all Football Bowl Subdivision teams in points allowed per game (14.1) while tying Alabama for the national lead in yards allowed per game (261.8).
Brown might very well be the best defensive coordinator in college football – he came to Michigan from Boston College, where his defense led the nation in yards allowed per game in 2015 – but he'll have his work cut out for him in 2017.
As significant as Michigan's roster turnover is on the offensive side of the ball, it's even worse on defense, where the Wolverines lost 10 of their 11 starters from last season, including eight who were selected in the NFL draft.
MICHIGAN FILE

| | |
| --- | --- |
| Head Coach | Jim Harbaugh (20-6, 3rd season at Michigan) |
| 2016 Record | 10-3 (7-2 in Big Ten) |
| 2016 Postseason | Lost to Florida State, 33-32, in Orange Bowl |
| Biggest Losses | TE Jake Butt, DE Taco Charlton, LB Jabrill Peppers, CB Jourdan Lewis |
| Biggest Returnees | QB Wilton Speight, LT Mason Cole, DE Rashan Gary, DT Maurice Hurst |
| Summary | Wolverines will be young and inexperienced, but still talented. |
| Matchup | Nov. 25 at Michigan Stadium, Noon, FOX |
That makes it unlikely the Wolverines will have an elite defense again in 2017, but they still have enough talent to be disruptive on that side of the ball, especially up front.
While the Wolverines don't have any returning starters on their defensive line, they have two defensive linemen who might be better than anyone who did start last year. Rashan Gary, the No. 1 overall recruit in the class of 2016 according to 247Sports, is an elite talent who possesses the size, athleticism and skill to wreak havoc as both an edge defender and as an interior defensive lineman. Maurice Hurst, who had 11.5 tackles for loss off the bench last season, is a projected future NFL first-round pick with the potential to be one of college football's best interior pass-rushers in 2017.
The only returning starter on Michigan's defense is weakside linebacker Mike McCray, who recorded 75 total tackles with 13 tackles for loss last season. As a senior and the lone returning starter, McCray will certainly be expected to take on a leadership role for the Wolverines defense this year.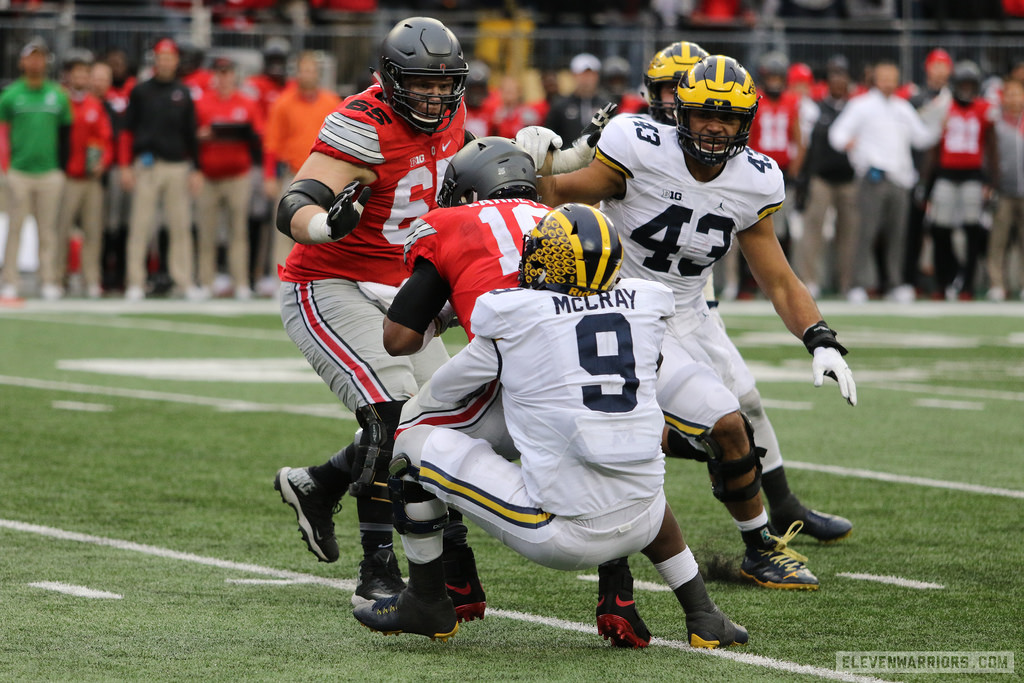 A pair of sophomores, Devin Bush and Khaleke Hudson, are expected to start at the other linebacker spots. Both players are highly regarded, but it's unlikely any of Michigan's linebackers this season will be the tackling machine that Ben Gedeon was or the versatile, all-over-the-field playmaker that Jabrill Peppers was.
The biggest area of concern for the Wolverines might be their secondary, as they do not have any returning players who have started a game at defensive back. Sophomore cornerbacks Lavert Hill and David Long, both four-star recruits in 2016, have the skills to be excellent cornerbacks but are unproven. Safeties Tyree Kinnel and Josh Metellus have shown tackling ability in backup duty and on special teams but will have to prove they can consistently hold up in coverage on the back end.
Michigan has some highly talented defensive players with huge upside and a defensive coordinator who should get the best out of them, but losing all but one starter from last season should make some level of drop-off unavoidable. Like on offense, though, the defense has the potential to be much better when it plays Ohio State in late November – when the new starters should have almost a full season of starting experience under their belts – than it will be in September.
---
Michigan enters the 2017 season in a similar situation to that which Ohio State was in entering last season. The Wolverines have one of the youngest and least experienced teams in college football, yet they could also prove to be one of the most talented teams in college football.
Given its experience advantage and recent history in the series, it makes sense that Ohio State is an eight-point preseason favorite in Vegas to win this year's rivalry game, according to SB Nation's Alex Kirshner. ESPN's Football Power Index gives the Buckeyes an 82.2 percent chance of winning The Game.
Nonetheless, it goes without saying that a trip to The Big House to play The Team Up North is a game Ohio State cannot overlook. Given the unknowns about so many of Michigan's players entering the season, we'll have a better idea in a couple months of whether the Wolverines can seriously challenge the Buckeyes this year. It's unlikely the Wolverines will be a serious championship contender, but they have some intriguing talent and will certainly be motivated to try to flip the script – whether a Big Ten East title is on the line or not – by beating the Buckeyes on their home turf.