There is no official Preseason All-Big Ten team.
Unlike most of college football's other major conferences, which conduct media polls each year and release preseason all-conference teams in conjunction with their media days, the Big Ten eschews tradition and releases a player watch list (because who doesn't want another watch list?) instead. That player watch list consists of 10 players, five from each division, and conveniently tends to favor skill-position players or less glorified positions like the offensive line.
That doesn't stop us, of course, from putting together our own Preseason All-Big Ten teams and debating who the conference's best players are at each position.
In a hypothetical scenario where there was a preseason all-conference team and I had a ballot to cast, the following players are the ones who would get my votes. My selections are based on which players I think will have the best seasons in 2017 (and therefore are the players most likely to make the postseason All-Big Team), not based on what they have done in the past. The positional designations used in this lineup are the same that are used on the postseason All-Big Ten team.
Quarterback: Trace McSorley, Penn State
Although Ohio State's J.T. Barrett earned first-team All-Big Ten honors last year, my vote would have gone to McSorley, who led the conference in passing yards (3,614), passing touchdowns (29) and total offense (3,979). McSorley is a better downfield passer than Barrett, and he seemed to get better by the game as Penn State went on a nine-game winning streak to win last season's Big Ten title.
If McSorley can build on his strong finish to last season and continue to progress, he'll likely be the Big Ten's best passer again this year, unless Barrett makes significant strides in that area under new Ohio State quarterbacks coach Ryan Day.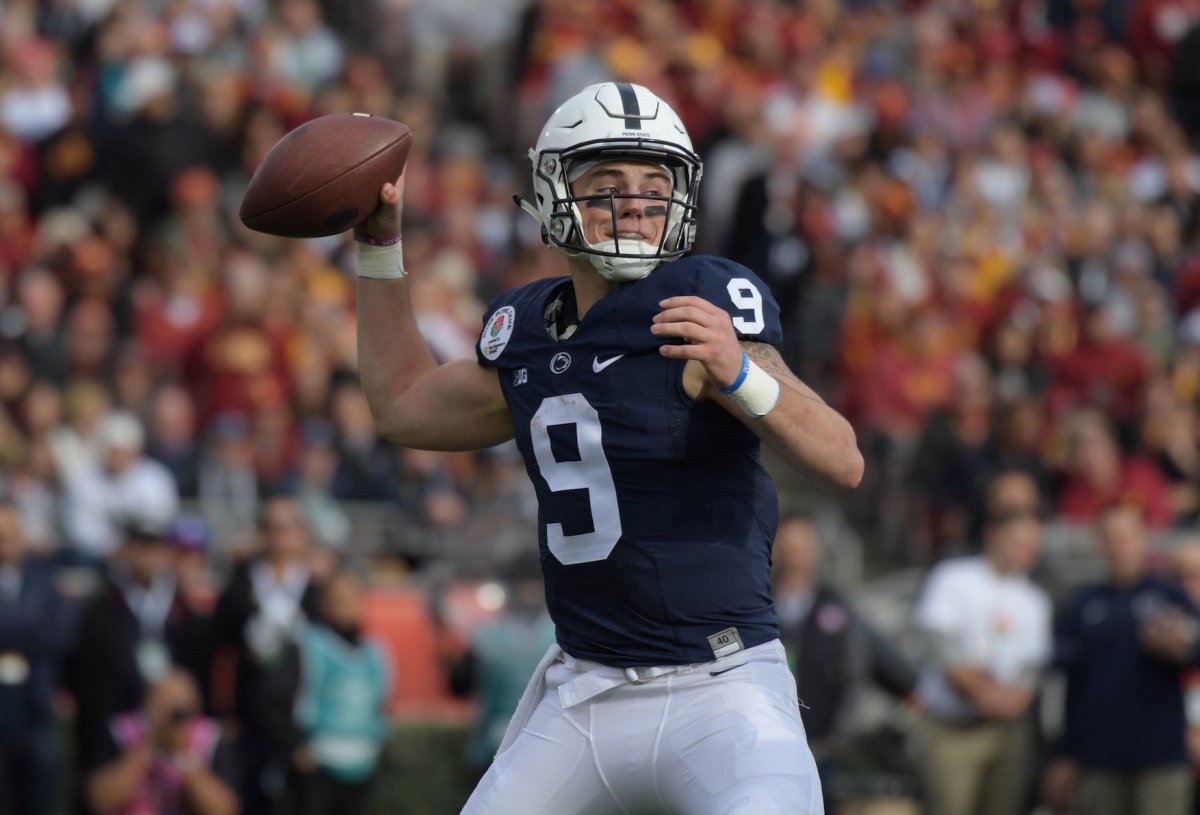 Running Back: Saquon Barkley, Penn State
Running Back: Mike Weber, Ohio State
Barkley, the Big Ten's running back of the year last season, is arguably the best running back in all of college football and likely would have been a unanimous Preseason All-Big Ten choice if such a team existed.
It's tough to leave Northwestern's Justin Jackson off this list, considering he was the Big Ten's leading rusher last season, but I'm going with the upside play in Weber, who has the potential to be Ohio State's next great between-the-tackles runner and also one of the best running backs in all of college football.
Wide Receiver: Nick Westbrook, Indiana
Wide Receiver: Donovan Peoples-Jones, Michigan
Every wide receiver who earned All-Big Ten honors last season was a senior or left early for the NFL, leaving the position wide open for a breakout star this season.
Westbrook had the most receptions, yards and touchdowns last season among all returning Big Ten receivers, so he's the favorite to be the conference's leading pass-catcher this year, but the door is open for Peoples-Jones – a five-star recruit who was ranked as the best wide receiver in the class of 2017 – to make a run at All-Big Ten honors as a true freshman.
Tight End: Mike Gesicki, Penn State
The competition to be the Big Ten's best tight end should be a tight battle between Gesicki and Wisconsin's Troy Fumagalli, who are arguably the two best tight ends in the country.
Fumagalli is the better blocker and more well-rounded tight end of the pair, but Gesicki has higher upside because of his playmaking ability as a receiver. He led all Big Ten tight ends last season in receptions, receiving yards and touchdowns, and should play an even bigger role in the Nittany Lions' passing offense this year.
Offensive Tackle: Mason Cole, Michigan
Offensive Tackle: Nick Gates, Nebraska
A fourth-year starter who earned second-team All-Big Ten honors at center last season, Cole has the athleticism and skill to be the conference's best offensive linemen and one of the nation's best left tackles as he moves back to the position he played as a freshman and sophomore.
Ohio State's Jamarco Jones warrants consideration for the second offensive tackle spot, but my vote goes to Gates. Jones and Gates are both physically gifted left tackles who need to become more consistent in pass protection, but Gates – a third-year starter who is still only a junior – has higher upside at this point in their careers.
Offensive Guard: Sean Welsh, Iowa
Offensive Guard: Beau Benzschawel, Wisconsin
Another fourth-year starter who has seen playing time at three different spots on Iowa's offensive line, Welsh is a rock-solid right guard who is a safe bet to be among the Big Ten's best blockers in 2017.
Benzschawel, who also plays right guard, looks like an All-Big Ten favorite too after earning second-team honors last season in his first year as a full-time starter.
Center: Billy Price, Ohio State
As Ohio State's starting right guard last season, Price was a first-team All-Big Ten selection and arguably the conference's best interior offensive lineman. As he moves to the middle of the line for his senior season, Price has the potential to be the best center in the country.
While playing center will be a new position for Price, he was a starting guard for every game of his first three seasons at Ohio State. He has a combination of size, power and quickness that gives him the potential to be one of college football's elite interior linemen in 2017.
Defensive Line: Nick Bosa, Ohio State
Defensive Line: Rashan Gary, Michigan
Defensive Line: Tyquan Lewis, Ohio State
Defensive Line: Maurice Hurst, Michigan
Bosa and Gary are the Big Ten's two most talented defensive linemen. Both five-star prospects in the recruiting class of 2016, they flashed their elite potential as true freshmen last season and are expected to emerge as superstars this season with a year of experience now under their belts.
Ohio State legitimately has three defensive ends with All-Big Ten talent. Lewis is the conference's reigning defensive lineman of the year, while Sam Hubbard also has all-conference potential. Hubbard just misses the cut on this projection in favor of Hurst, an explosive interior pass-rusher who projects to be a disruptive force as he moves into a full-time starting role.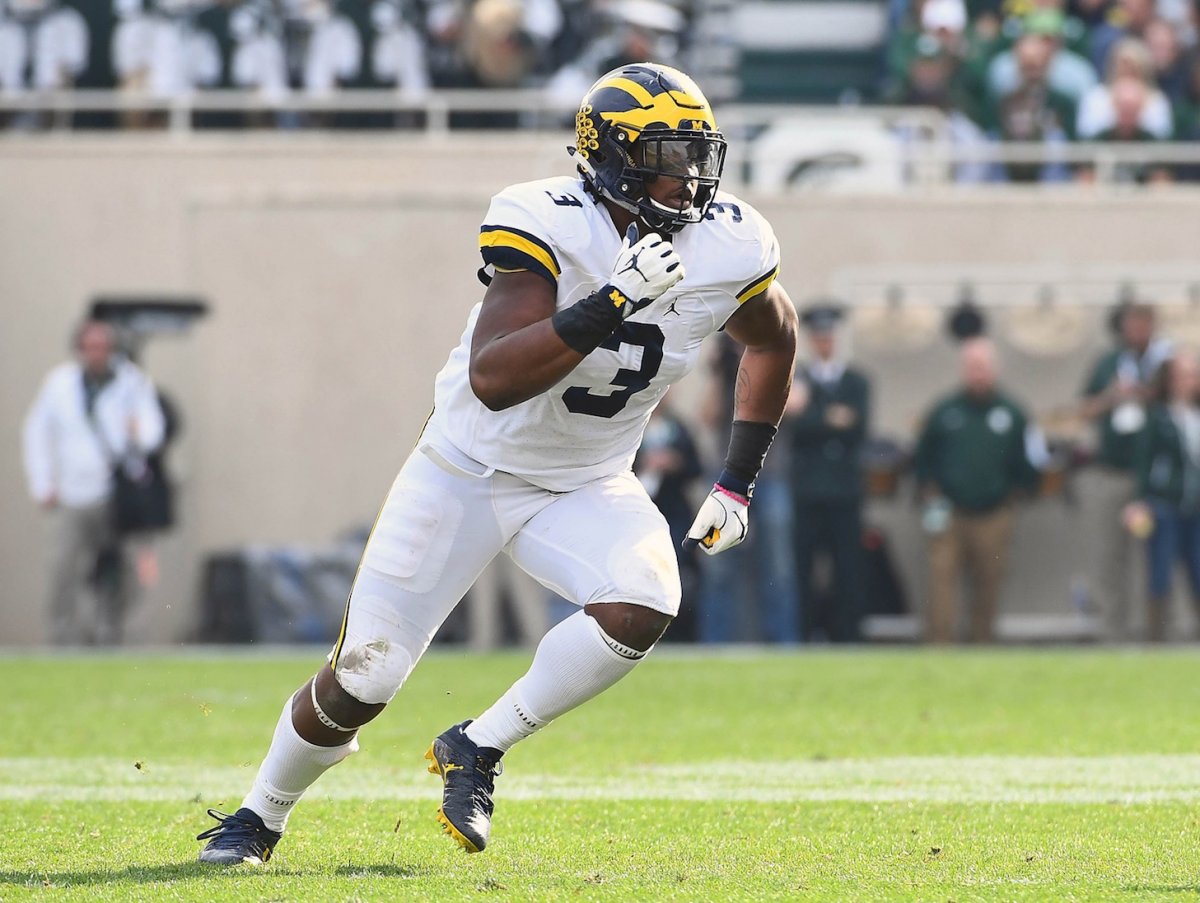 Linebacker: Jerome Baker, Ohio State
Linebacker: Tegray Scales, Indiana
Linebacker: Josey Jewell, Iowa
Although neither earned first-team All-Big Ten honors last season, Scales and Jewell were both among college football's most productive linebackers in 2016. Scales led the Football Bowl Subdivision last season with 93 total tackles and 23.5 tackles for loss, while Jewell had 124 total tackles and was a finalist for the Butkus Award.
Both will deserve All-Big Ten honors if they can continue to perform at that level this season, but the most talented linebacker in the conference might be Baker. A terrific athlete with the range to make plays all over the field, Baker should take the next step in his development and break out as the star of Ohio State's linebacker corps in 2017.
Defensive Back: Godwin Igwebuike, Northwestern
Defensive Back: Marcus Allen, Penn State
Defensive Back: Rashard Fant, Indiana
Defensive Back: Denzel Ward, Ohio State
The Big Ten's two best returning defensive backs are Igwebuike and Allen, who were also the conference's top two tacklers (Allen had 110 tackles, Igwebuike had 108) among defensive backs last season. Both are physically gifted do-it-all safeties who play key roles for their units in both run support and coverage.
Fant, who led the Big Ten with 20 passes defended last season, is an excellent coverage cornerback who stands out as the conference's best returning player at his position. By the end of the season, however, the Big Ten's best cornerback might well be Ward, a projected breakout star who could be Ohio State's next future first-round pick at the position.
Kicker: Emmit Carpenter, Minnesota
The Big Ten's reigning kicker of the year made 22 of his 24 field goal attempts last season, including all 10 of his field goal attempts from 40 yards or longer. In his first season kicking field goals for Minnesota, Carpenter was one of only two Football Bowl Subdivision kickers in 2016 to make double-digit field goals from 40+ yards while converting more than 90 percent of his overall attempts.
If Carpenter can continue to kick with that level of accuracy in 2017, he should earn All-Big Ten honors again. Carpenter also handles kickoff duties for the Golden Gophers.
Punter: Blake Gillikin, Penn State
As a true freshman last season, Gillikin averaged 42.8 yards per punt, breaking Penn State's school record for punting average by a freshman.
That was also the best punting average among Big Ten punters who are back this year. Last year's first-, second- and third-team All-Big Ten punters were all seniors last season, so the door is wide open for Gillikin to seize the crown as the conference's best punter if he can build off his impressive first collegiate season.
Return Specialist: Janarion Grant, Rutgers
Grant only played in four games last season before suffering a season-ending ankle injury, allowing Grant to take a medical redshirt and return for the 2017 season, but Grant only needed three games to return both a kickoff for a touchdown and a punt for a touchdown.
For his career, Grant has returned five kickoffs for touchdowns and three punts for touchdowns; combined, Grant's eight return touchdowns are tied for the most in NCAA history. So long as he has fully recovered from his injury, Grant should break that record and be one of college football's top return specialists once again.