If that didn't entertain you, nothing will.
Ohio State and Michigan, two storied programs itching for a shot to regain Big Ten and national supremacy, tossed haymaker after haymaker on Saturday afternoon in Ohio Stadium. One of the most memorable installments of the greatest rivalry in college sports ended with Curtis Samuel's 15-yard touchdown run in double overtime that ignited a frenzy after the Buckeyes won 30-27.
No. 2 vs. No. 3 certainly lived up to the billing. The Game, The Rivalry, after a decade of dominance by Ohio State, is back in full force.
"I've said that many, many times. I'm very humbled to be a part of it," an emotionally spent Urban Meyer said. "And you can't ask for better efforts. They have great players; we have great players. They're a very well-coached team and so are we. And it's good for the country to see the Big Ten in action like that."
For the majority of the afternoon, a result ending in pandemonium at the hands of Ohio State fans hardly looked possible. J.T. Barrett and the offense struggled to do anything against Michigan's top-ranked defense, instead relying on Malik Hooker's third pick-six of the 2016 season to even crack the scoring column in the first 30 minutes.
"First half we had good things called. We just weren't executing it, whether it myself, O-line, receivers, it was everybody played their part in that," Barrett said. "The second half, defense was doing their job. We've gotta do ours."
It didn't really happen until late in the fourth quarter when the Buckeyes stared at 82 yards trailing by 3, and under 6 minutes on the clock to either tie or win the game. A 77-yard drive ensued, complete with ups and downs like the Wolverines sacking Barrett for the seventh time in the game and the Buckeyes moving the chains off a penalty that Jim Harbaugh didn't agree with. It ended with Tyler Durbin nailing a 23-yard field goal with 1 second left on the clock to tie the game at 17.
Harbaugh showed his angst with the officiating all afternoon, particularly in the second overtime when a review determined Barrett eked out just enough inches on a fourth down run to keep Ohio State's chance at its fifth straight win in The Game on life support.
"There wasn't a first down. By that much," Harbaugh said after, holding his hands two inches apart. "I'm bitterly disappointed with the officiating today."
Michigan's head coach also broke his headset in the first half attesting a call made by the officials. Meyer then collapsed when Samuel scooted essentially untouched into the end zone to give Ohio State the victory.
Pure joy on one sideline. Pure dismay, hate, disgust and disappointment on the other. Exactly what Ohio State-Michigan is all about.
"I'm not saying it's the greatest, because that's disrespectful for the other players that have played in it. But that's an instant classic between two great teams."– Urban Meyer
"My team, we fought. We fought. It was a long game, it was a hard game," said Samuel, who finished with 86 total yards on 11 touches. "Great blocking by the running backs, great blocking by the linemen, the receivers, everybody. Without them, that play wouldn't have happened."
"Who executed most when the game came down to it. The overtime periods, you kind of get a sense where they're at stamina-wise," offensive guard Billy Price said. "And how they're feeling. Just try to continue to push and emphasize asserting your dominance."
It took that long for Ohio State's offensive line to do anything close to what could be considered dominance. Michigan's defensive line lived in the backfield all afternoon. The Wolverines ended the day with 13 tackles for loss and eight sacks. The Buckeyes averaged just 4.0 yards per play. Michigan averaged 3.9, due in large part to a woeful final quarter and overtime period where it couldn't find a first down anywhere to keep its not dead chances at competing for a Big Ten Championship alive.
"You gotta keep swinging either way, if you're up or if you're down. You have to keep playing every play like it's a tie ballgame," center Pat Elflien said. "It happens that every single play of this game mattered."
Michigan dominated statistically for the better half of three quarters but the Buckeyes finished with an advantage in total yards 330-310. Ohio State ran for 206 yards on 50 attempts. Michigan tallied 91 on 43 tries but scored mostly due to injured Wilton Speight, who went 23-of-36 for 219 passing yards and a pair of touchdowns.
The only problem is, he threw two picks and dropped the ball at the goal line when his team had a chance to take a 17-7 lead early in the third. Michigan went ahead by that margin a few minutes later, but the mistake allowed a momentum shift that kept Ohio State mentally in the game.
In the end, Ohio State willed itself to the win column behind Barrett, Meyer, the offensive line and a defense that made plays when its team absolutely needed them.
"They just keep swinging," Meyer said. "It's a very, very good defense we faced."
Meyer made the calculated decision to go for it on fourth down three times. His team converted twice, save for the fake punt deep in his own territory that Cameron Johnston missed by two yards.
This game had everything, even Meyer answering a phone call from his wife, Shelley, at postgame interviews.
"She said, bring a gallon of milk home on the way home," Meyer joked, tossing a slight at Harbaugh for his milk endorsement even if he didn't mean to.
The hate is there. The toe-to-toe affair between two of the country's best coaches and teams is there too. And it doesn't appear to be going anywhere with Meyer and Harbaugh at their respective posts. Having such an event to look forward to annually is almost not fair, as postseason implications and Big Ten Championships are sure to almost always be on the line.
"I think we're one of the top teams in the country," Meyer said when asked where his Buckeyes stand nationally at 11-1 even though a trip to the Big Ten Championship Game isn't likely. "Once again, I don't really know that. I go week to week, and I love my players."
"That's probably my most favorite win and game of all time, that I've ever been a part of," said Raekwon McMillan, who finished what could be his final game in The Horseshoe with 16 tackles. "Won a national championship, Sugar Bowl, beating Penn State on the road, my freshman year—this is the best game I've ever been in."
It felt that way when the dust settled and No. 2 Ohio State earned its share of the Big Ten East title. It felt that way when a senior-laden Michigan team did nearly everything right to beat Ohio State in Columbus and it didn't couldn't get the job done.
Just like Woody Hayes and Bo Schembechler made the rivalry better than ever, Harbaugh and Meyer appear to be next in line.
"The rivalry, this is the game that everybody, whether you're an Ohio State fan or a Team Up North fan, will be remembered for the rest of their lives," McMillan said. "Double overtime, in The Shoe, No. 2 and No. 3, it's one of those games that people look back on and say that was a great game."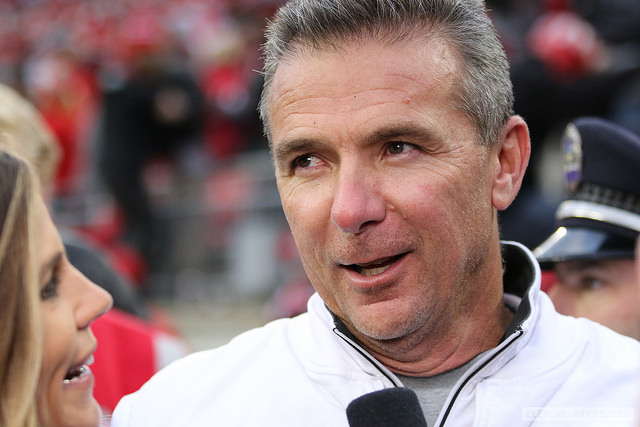 Added Elflein: "Coach Meyer said it in the locker room, this game is going down in history at Ohio State. It's crazy trying to soak it all in right now. I wouldn't want to be with anybody else by my teammates and the coaches and my family."
And Meyer, who elected to hug his pregnant daughter instead of answer questions on why he chose to call a fake punt, if Barrett actually did get the first down or where this ranks in his all-time wins case, understands the magnitude of chapter 113 in The Game.
"That is one of the classic games of this rivalry that will forever be, because I know this rivalry as well as anybody. That game is right in there," he said. "I'm not saying it's the greatest, because that's disrespectful for the other players that have played in it. But that's an instant classic between two great teams."