Since Urban Meyer became Ohio State's head coach in 2012, no Big Ten has suffered more blowout losses to the Buckeyes than Illinois.
In four meetings between the Buckeyes and the Fighting Illini from 2012 to 2015, Ohio State won every game by at least 25 points.
Even without the 2010 win that was vacated, Ohio State has a seven-game winning streak against Illinois dating back to 2007. Ohio State will look to extend that streak on Nov. 18, when the Illini come to Ohio Stadium for the Buckeyes' final home game of the year.
While his first three games against Illinois came against Tim Beckman and Bill Cubit was the Illini's interim head coach in 2015, Meyer will face a more highly qualified coaching counterpart – former NFL head coach Lovie Smith, who is in his second year coaching the Illini – in this year's matchup.
Illinois will need to make significant strides in Smith's second season, however, to pose a significant threat to the Buckeyes.
The Illini went just 3-9 last season, and they didn't even have to face Penn State or Ohio State, the two best teams in the Big Ten. Smith has the coaching chops to elevate Illinois football to new heights, but the Illini would need to make a massive leap to become a Big Ten contender in 2017.
That's unlikely, but a good step in the right direction would be to at least play competitively against Ohio State. Will the 2017 Illini be capable of doing that? The 11th installment of our Look Ahead series takes a look at what challenges the Illini could present this November.
OFFENSE

Illinois had one of the worst offenses in college football last season, ranking 123rd out of 128 Football Bowl Subdivision teams in total offense (315.1 yards per game) and 122nd in scoring offense (19.7 points per game).
2017 Look Aheads

One of the biggest reasons for that was a lack of consistent play at the quarterback position, as the Illini cycled through three starting signal-callers last year.
The most impressive of those quarterbacks in limited action was Chayce Crouch, a native of Newark, Ohio, who completed 18 of 32 passing attempts for 249 yards and had 29 rushing attempts for 176 yards. Crouch only had the opportunity to start one game, however, before suffering a season-ending shoulder injury.
Illinois was expected to get a boost from junior college transfer quarterback Dwayne Lawson, a once-highly-touted Virginia Tech recruit who would have immediately competed for the starting job, but Lawson failed to qualify academically. So the Illini are banking on Crouch to inject some life into their offense this year with his dual-threat playmaking ability.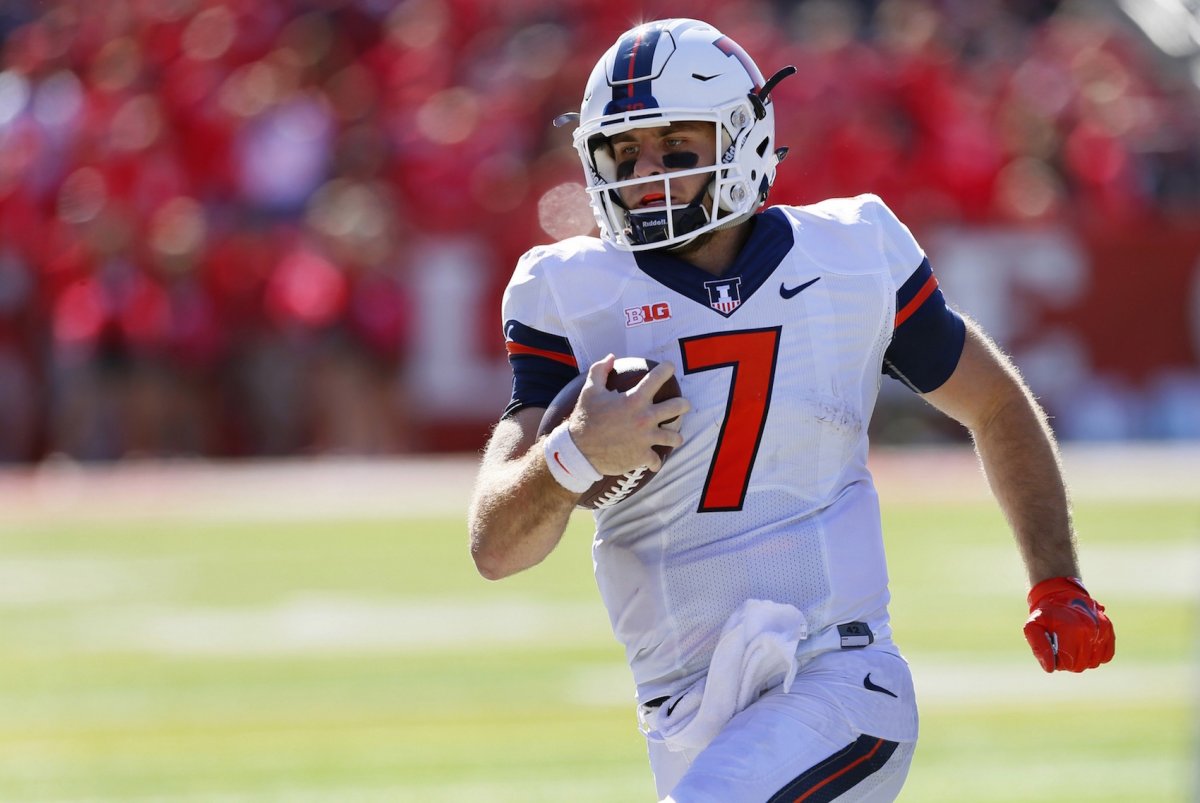 He should have good help from the wide receiver position, where Illinois has a pair of potential All-Big Ten candidates – perhaps the most legitimate All-Big Ten candidates on the entire roster – in Malik Turner and Mike Dudek.
Turner earned All-Big Ten honorable mention honors last season after leading the Illini with 48 receptions for 712 yards and six touchdowns. At 6-foot-3 and 200 pounds, Turner is a reliable pass-catcher who offers a good combination of size and shiftiness to extend plays in the open field.
Dudek was a Freshman All-American and second-team All-Big Ten wide receiver in 2014, when he led Illinois with 76 receptions for 1,038 yards and six touchdowns. He hasn't played a single game since, however, as he suffered season-ending ACL tears during spring practice in both 2015 and 2016. That makes it uncertain whether Dudek can stay healthy and can return to being the same player he once was. If he can, he has the skills to be a big difference-maker for the Illinois offense.
Illinois also has a solid one-two punch returning at the running back position. Kendrick Foster had 720 rushing yards and seven touchdowns on 126 carries in 2016, while Reggie Corbin had 86 carries for 523 yards and two touchdowns. Neither back is particularly big or powerful, but Foster is a home-run threat with the speed to break away from defenses for big plays while Corbin has excellent quickness to make defenders miss in space.
The Illini have enough playmakers for their offense to make a leap forward if their quarterback play improves. Of course, they'll also need solid play from their offensive line.
The Illini have three returning starters up front in Christian DiLauro, Nick Allegretti and Gabe Megginson, but it remains uncertain which specific positions those linemen will play as inexperienced linemen compete for the open starting spots. Illinois will need to find the right mix up front for its offense to be more consistently effective. It will certainly need to find the right mix to have any success against Ohio State's talented defensive line on Nov. 18.
DEFENSE

Smith arrived at Illinois with an impressive history of turning defenses around quickly. In his first year as the St. Louis Rams' defensive coordinator in 2001, he helped lead the Rams to a Super Bowl. In his second year as the Chicago Bears' head coach in 2005, the Bears led the NFL in scoring defense with only 12.6 points allowed per game.
Illinois FILE


| | |
| --- | --- |
| Head Coach | Lovie Smith (3-9, 2nd season at Illinois) |
| 2016 Record | 3-9 (2-7 in Big Ten) |
| 2016 Postseason | None |
| Biggest Losses | C Joe Spencer, DE Carroll Phillips, DE Dawaune Smoot, LB Hardy Nickerson |
| Biggest Returnees | WR Malik Turner, WR Mike Dudek, LB Tré Watson, CB Jaylen Dunlap  |
| Summary | Illini should be better, but not nearly enough to challenge Big Ten's best. |
| Matchup | Nov. 18 at Ohio Stadium, kickoff time TBA |
Illinois faithful will have to hope Smith can make the same impact on the Illini defense, but he wasn't able to work any wonders in his first year in Champaign.
The Illini ranked 11th in the Big Ten with 405.1 yards allowed per game last season. Illinois ranked 12th in the conference with 31.9 points allowed per game.
Smith and defensive coordinator Hardy Nickerson might be more prepared to lead the defense to success in their second year at Illinois, but they could have their work cut out for them.
The strength of Illinois' defense last season was its ability to create disruption in the backfield, as the Illini tied for 19th nationally with 95 total tackles for loss. Carroll Phillips had 20 tackles for loss en route to earning first-team All-Big Ten honors, while third-team All-Big Ten defensive end Dawaune Smoot had 15 tackles for loss. Both of those players, however, are now with the NFL's Jacksonville Jaguars. The Illini lost all five of their players from last season who had 5.5 or more tackles for loss.
Even with those disruptive defenders up front, Illinois ranked 105th in the FBS last season in rushing defense (219.2 rushing yards allowed per game). To have any chance at being better against the run, the Illini will need some unproven defensive linemen to emerge this season, as they have no returning defensive linemen who started more than five games last year.
Illinois' best returning player in the defensive front seven is junior linebacker Tré Watson, who had 93 tackles in conference games last season, tied for the most among all Big Ten players. A breakout player who didn't even start until conference play last season, Watson is a strong tackle finisher with an explosive burst. He has the potential to be among the Big Ten's best linebackers in 2017.
Julian Jones and Jake Hansen are currently slated to start alongside Watson at linebacker after seeing playing time last year, but another potential breakout player the Illini have at the position is Del'Shawn Phillips, a junior college transfer who could emerge as the most talented linebacker on the roster.
One area where Illinois could significantly improve in 2017 is its secondary, where the Illini have a trio of talented returning starters. The leader of the unit is senior cornerback Jaylen Dunlap, who led the Illini with 11 pass breakups last season. Patrick Nelson and Stanley Green give the Illini a pair of promising sophomore safeties; Nelson led all Illinois defensive backs with 75 total tackles last season, while Green demonstrated hard-hitting ability as he recorded 63 tackles and three forced fumbles.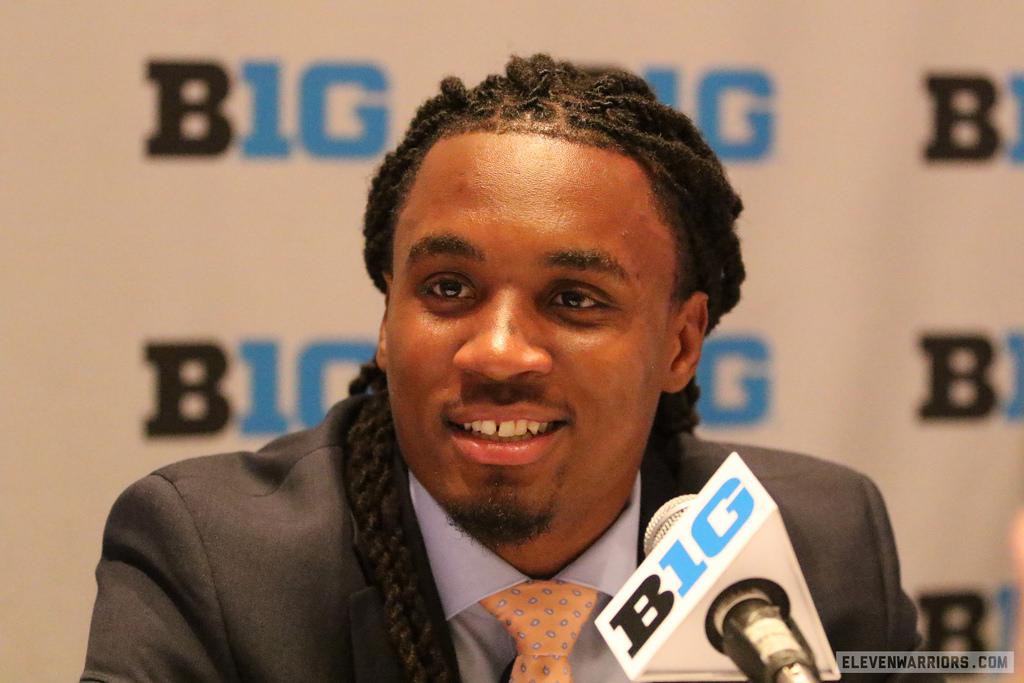 Illinois ranked 17th nationally in passing defense last season, with only 185.9 yards allowed per game through the air, and should be better on the back end this year with more experienced defensive backs. The Illini need to much stouter up front against the run, however, to have a better overall defense and win more games.
---
Climbing back to the middle of the pack in the Big Ten West and earning bowl eligibility would be a realistic goal for Illinois in Smith's second year. Mounting a serious challenge against Ohio State, especially in a game that will be played at Ohio Stadium, probably isn't realistic.
Unless Ohio State completely overlooks this game as it prepares for its annual rivalry game against Michigan the following week, the Buckeyes could beat Illinois by 25-plus points for a fifth game in a row.
While Illinois has enough playmakers to make things interesting with some big plays, Ohio State should have a significant upper hand on both the offensive and defensive lines. That should lead the Buckeyes to a big win in their final home game of the year.
ESPN's Football Power Index gives Ohio State a 99.2 percent chance of beating Illinois – the second-highest percentage on the Buckeyes' entire schedule.