In his first five years as Ohio State's head coach, Urban Meyer already has wins inside Ohio Stadium against 12 of the Big Ten's other 13 teams.
Meyer will have a chance to check the final team off that list when Ohio State hosts Michigan State on Nov. 11 in its 10th game of the 2017 season.
While Meyer's Buckeyes have beaten the Spartans three times in East Lansing, Ohio State hasn't beaten Michigan State inside the Shoe since 2007. The only previous home game against Michigan State of the Meyer era came in 2015, when the Spartans defeated the Buckeyes, 17-14, to hand Ohio State its only loss of that regular season. The Buckeyes didn't begin playing Michigan State on an annual basis until 2014, but the two teams did meet in Ohio Stadium in 2011, when the Spartans won 10-7.
Michigan State, which also handed Meyer the first loss of his Ohio State career in the 2013 Big Ten Championship Game, has been a notoriously tough opponent for the Buckeyes in recent years. Even last year, when Michigan State had its worst season since 1994 and finished the year with a 3-9 record, the Spartans were an unsuccessful two-point conversion away from beating the Buckeyes in a 17-16 game.
The Buckeyes could have an easier game than usual against Michigan State this year, as the Spartans aren't expected to be contenders in the Big Ten. If history is any indication, however, the Buckeyes should be prepared for a tough game when the Spartans come to the Shoe in November.
As our Look Ahead at Ohio State's 2017 schedule continues, we take a look at what challenges Mark Dantonio's squad could present to Meyer's Buckeyes this year.
OFFENSE

2017 Look Aheads

Michigan State had one of the Big Ten's least efficient offenses last season. While the Spartans ranked sixth in the conference in total offense (395 yards per game), they ranked 12th in the conference in points scored per game (24.1 points per game).
A big reason for Michigan State's offensive struggles last season was a drop-off in quality at the quarterback position, as senior Tyler O'Connor proved to be an ineffective replacement for Connor Cook. Brian Lewerke wasn't any better in two starts last season before breaking his leg, but Michigan State is counting on Lewerke – now a redshirt sophomore – to emerge as a quarterback upgrade this season.
Michigan State's top four receivers from last season are also gone – three were seniors, while Freshman All-American wide receiver Donnie Corley was dismissed from the program after being charged with sexual assault – so the Spartans need some weapons to emerge in the passing game. Felton Davis III, Darrell Stewart Jr. and Trishton Jackson are projected to start at wide receiver, while Matt Sokol is in line to start at tight end, but the most intriguing potential breakout player is four-star freshman wide receiver Hunter Rison, son of former Michigan State and NFL star Andre Rison.
The Spartans have a several lack of proven commodities in the passing game, which is likely to hurt them. They could be saved, however, by what should be one of the Big Ten's strongest running games.
LJ Scott is coming off an inconsistent sophomore season, but the running back from Hubbard, Ohio has shown the potential to be a star. Listed at 6-foot-1 and 229 pounds, Scott has excellent athleticism for his size, giving him the ability to both power through opponents but also be dangerous in the open field. Scott could be one of the Big Ten's best running backs this season if he can put it all together in his junior year.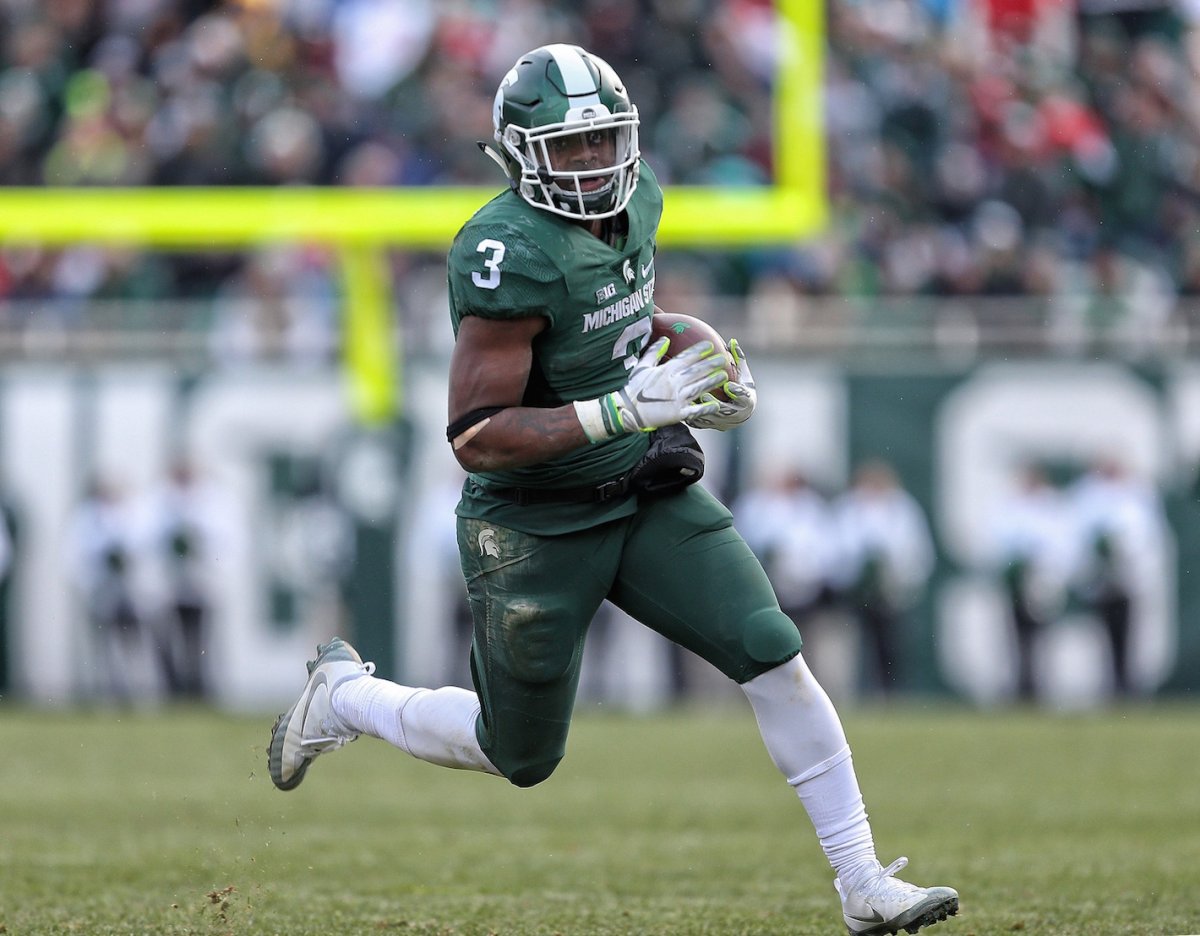 Gerald Holmes, who actually leads all returning Spartans with 21 career receptions, is another big, strong back who has given Michigan State solid production over the past two years as Scott's backup. Madre London has also seen the field in each of the past two seasons and has also provided solid play, giving the Spartans a strong three-man stable at the running back position. Lewerke has also shown some potential to contribute as a runner, moving for 149 yards on just 21 carries in four games last season.
Up front, the Spartans are led by an excellent center in Brian Allen, who earned second-team All-Big Ten honors at guard last season. Entering his third year in a starter, Allen should be among the Big Ten's best offensive linemen in his senior season.
Outside of Allen, however, the Spartans lost the rest of their primary starting offensive linemen from last season. Michigan State will need a young, inexperienced group of blockers to step up to enable its young quarterback and receivers to establish rhythm and to open holes for the Spartans' talented group of running backs.
Michigan State isn't known for being an offensive juggernaut, but the Spartans will need to find the end zone with more regularity this season to get back to being a team that regularly wins. They have enough talent to do so, but will be relying on many unproven players, which could hold the unit back.
DEFENSE

Defense has been the key to Michigan State's success in recent years, particularly in games against Ohio State. The Spartans have held the Buckeyes to 17 points or less in four of the last six meetings between the two teams. That's allowed Michigan State to win two of those games, while the Spartans lost by only one point in the other two.
MICHIGAN STATE FILE


| | |
| --- | --- |
| Head Coach | Mark Dantonio (90-42, 11th season at Michigan State) |
| 2016 Record | 3-9 (1-8 in Big Ten) |
| 2016 Postseason | None |
| Biggest Losses | WR R.J. Shelton, DT Malik McDowell, LB Riley Bullough, SS Montae Nicholson |
| Biggest Returnees | RB LJ Scott, C Brian Allen, NT Raequan Williams, LB Chris Frey |
| Summary | Spartans won't be a contender in 2017, but they usually play Buckeyes tough. |
| Matchup | Nov. 11 at Ohio Stadium, kickoff time TBA |
The Spartans had one of their best defensive performances of the season last year against Ohio State. While Michigan State's defense took a step back for last season as a whole, ranking seventh in the Big Ten in yards allowed per game (364.8) and 10th in points allowed per game (27.8), the Spartans held the Buckeyes to just 310 yards and 17 points.
That performance, though, came against an Ohio State offense that was reeling down the stretch of last season. The Buckeyes' offense has the potential to be much better this year, and Michigan State's defense could very well be worse, as the Spartans lost key players from last season at all three levels.
Up front, the Spartans lost their most disruptive defensive lineman in Malik McDowell, who earned second-team All-Big Ten honors last season. They lost a third-team All-Big Ten middle linebacker in Riley Bullough. On the back end, Michigan State lost its top cornerback from last season, Darian Hicks, and both of its starting safeties, a pair of key playmakers in Montae Nicholson and Demetrious Cox.
Having not been great on defense with those players last year, the Spartans are at risk of really struggling without them. That said, Michigan State still has some quality defensive talent to work with.
The star and leader of Michigan State's defense should be senior linebacker Chris Frey, who led the Spartans with 96 total tackles last season. Junior linebacker Andrew Dowell, coming off a productive sophomore season, should also be a key playmaker for the Spartans. Sophomore Joe Bachie is tasked with filling Bullough's shoes at middle linebacker.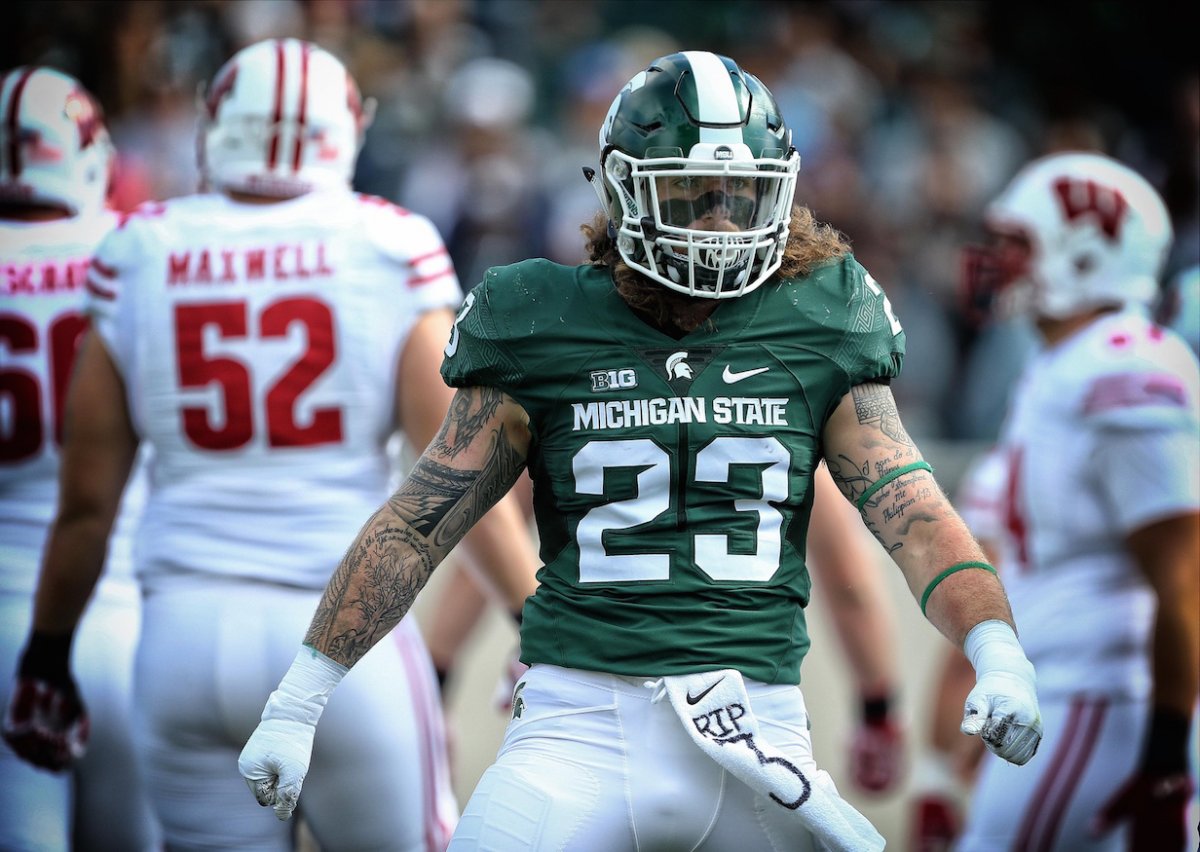 Michigan State's top player up front is nose tackle Raequan Williams, who arrived in East Lansing as a four-star recruit and had five tackles for loss as a true freshman last season. The Spartans' best defensive end is Demetrius Cooper, who lost his scholarship this offseason due to off-field issues but is expected to be reinstated to the team and regain his starting job, according to Chris Solari of the Detroit Free Press.
The Spartans will be very young at the cornerback position, with sophomore Justin Layne and true freshman Josiah Scott projected to be starters. Layne has already split time between wide receiver and cornerback during his Michigan State career but demonstrated promising potential as a freshman last season. Scott, an undersized three-star recruit, is being thrust into a starting role after the unexpected departure of cornerback Vayante Copeland from the team in June. Behind those players, Michigan State needs a new playmaker or two to emerge at safety.
Under co-defensive coordinators Harlon Barnett and Mike Tressel, Michigan State's defense hasn't been quite what it once was before former defensive coordinator Pat Narduzzi left East Lansing to become the head coach at Pittsburgh before the 2015 season.
Michigan State needs its defense to return to being among the Big Ten's elite units for the Spartans to become a contender in the conference once again. It appears, though, that Tressel and Barnett will have their work cut out for them if they are to make that happen in 2017.
---
On paper, Ohio State should have little trouble getting past Michigan State this year. After a tumultuous offseason marred by off-field scandal and player dismissals, the Spartans appear likely to be much closer to the 3-9 team they were last year than the team that beat Ohio State and won the Big Ten title in 2015.
ESPN's Football Power Index gives Ohio State a 97.8 percent chance of beating Michigan State and earning its home losing drought against the Spartans this year.
That said, Ohio State was supposed to beat Michigan State on paper in 2015. The Buckeyes were supposed to beat the Spartans and play for a national title in 2013. And when the Spartans were having their worst season in more than 20 years last year, the Buckeyes weren't supposed to win by only one point.
As the only team to beat Ohio State three times in the last six years, Michigan State has played the Buckeyes consistently tougher than any other team in the Big Ten. The Buckeyes could get a reprieve from that this year, but they'll need to be on their A-game in case they don't.