Penn State stopped Ohio State from winning a Big Ten title last year.
While both teams finished the regular season with 8-1 records in conference play, the Buckeyes' 24-21 loss to the Nittany Lions proved to be the tiebreaker in the Big Ten East division. That kept Ohio State out of the conference championship game, in which Penn State went on to beat Wisconsin to win the Big Ten title.
Looking ahead to the 2017 season, it appears likely Ohio State's annual tilt with Penn State will decide the Big Ten East again.
While Ohio State is widely considered the favorite to win the Big Ten this year – the Buckeyes have 5/4 odds to win the conference, according to Vegas Insider – the defending Big Ten champions should not be overlooked.
James Franklin's squad includes some of the Big Ten's best players – including arguably the conference's best quarterback and best running back – and is more experienced than last year on both sides of the ball.
OFFENSE
No Big Ten offense was better down the stretch of last season than Penn State's. The Nittany Lions had more than 400 yards of offense and at least 38 points in each of their final seven games.
2017 Look Aheads
A big reason for that was the development of Trace McSorley. The Nittany Lions quarterback completed only eight of his 23 passing attempts in the Ohio State game, in which Penn State only scored 24 points on 276 yards. McSorley completed more than 60 percent of his passes (113 of 187) for 20 touchdowns and more than 2,000 yards in Penn State's final seven games.
For the 2016 season as a whole, McSorley led the Big Ten with 3,614 passing yards and 29 passing touchdowns, while he also had 365 net rushing yards and seven rushing touchdowns. He's a gunslinger with big-play downfield throwing ability and enough athleticism to make plays with his legs. If McSorley can continue to improve his consistency in 2017, he has enough talent to emerge as a Heisman Trophy contender.
That said, McSorley isn't even the top Heisman candidate on his own team. That status goes to Saquon Barkley, who many consider to be the best running back in all of college football.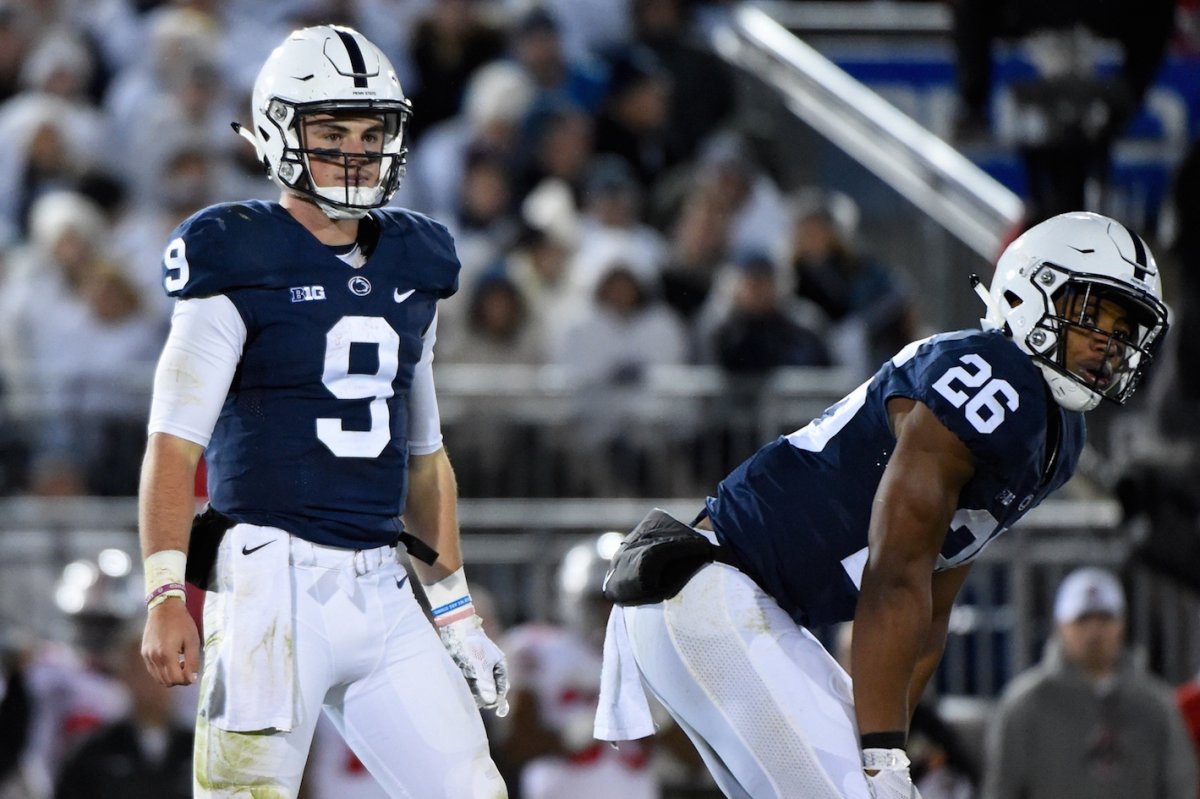 Barkley led all Big Ten players last season with 1,972 all-purpose yards and 22 total touchdowns. An explosive and elusive back who will make defenders miss then run away from them, Barkley also has the size and power to finish through contact and is a skilled pass-catcher out of the backfield.
Penn State also has one of the nation's best tight ends in Mike Gesicki. At 6-foot-6 and 252 pounds, Gesicki creates mismatches with his combination of size and athleticism. He has a proven ability to make plays on the ball in the air for highlight-reel catches. Gesicki led all Big Ten tight ends last year with 48 receptions for 679 yards and five touchdowns.
The Nittany Lions' offensive line, which was Penn State's major weakness just a couple seasons ago, should also be among the Big Ten's best. The Nittany Lions have six returning offensive linemen who have started at least three games. Penn State allowed only 24 sacks last season, after allowing 39 in 2015 and 44 in 2014, and demonstrated significant improvement opening holes for Barkley in the running game.
"When you're able to take guys like Trace McSorley and Saquon Barkley, and combine their talents behind an offensive line that has a chance to be physical, has a chance to be athletic, that has depth, it's a good situation to be in," Penn State coach James Franklin said at Big Ten Media Days.
Penn State will miss the talents of Chris Godwin, who declared early for the NFL draft after ranking among the Big Ten's top four last season in receptions (59), receiving yards (982) and touchdowns (11). Godwin bailed out McSorley on frequent occasions last season by making challenging catches on so-called 50/50 balls. Franklin acknowledged at Big Ten Media Days that Godwin will be a difficult playmaker to replace.
That said, the Nittany Lions still have plenty of talent at the wide receiver position. DaeSean Hamilton enters his senior season with 161 career catches for 1,985 yards. Saeed Blacknall has had an injury-plagued career but has shown the potential to be a difference-maker when healthy. DeAndre Thompkins is coming off a breakout sophomore season while 2015 four-star recruits Juwan Johnson and Irvin Charles are candidates for breakout years entering their sophomore campaigns.
DEFENSE
Penn State's defense was a slightly below-median Big Ten unit last season, ranking eighth in the conference in both yards allowed per game (367.9) and points allowed per game (25.4).
PENN STATE FILE

| | |
| --- | --- |
| Head Coach | James Franklin (4th season, 25-15 at Penn State) |
| 2016 Record | 11-3 (8-1 in Big Ten); Defeated Wisconsin, 38-31, in Big Ten Championship Game |
| 2016 Postseason | Lost to USC, 52-49, in Rose Bowl |
| Biggest Losses | WR Chris Godwin, DE Garrett Sickels, LB Brandon Bell, SS Malik Golden |
| Biggest Returnees | QB Trace McSorley, RB Saquon Barkley, TE Mike Gesicki, FS Marcus Allen |
| Summary | High-powered offense gives Nittany Lions a real shot at defending Big Ten title. |
| Matchup | Oct. 28 at Ohio Stadium, 3:30 p.m., FOX |
The Nittany Lions have enough returning talent and experience to potentially have a better defense this season, but they don't have the same star power on that side of the ball as they do on offense.
Up front, the Nittany Lions are led by the law firm of (Parker) Cothren and (Curtis) Cothran, both returning starters at defensive tackle entering their senior years. The Nittany Lions lost their two leading pass-rushers, Garrett Sickels and Evan Schwan, who each had six sacks last season.
To put significant pressure on opposing offenses, the Nittany Lions need some difference-makers to emerge on their defensive line. A few potential candidates: junior defensive end Torrence Brown, sophomore defensive end Shareef Miller and sophomore defensive tackle Kevin Givens, all of whom flashed disruptive playmaking ability off the bench last season.
A key leader of Penn State's 2017 defense will be middle linebacker Jason Cabinda. A third-year starter, Cabinda had 81 total tackles in just nine games last season. He played a big role in the Nittany Lions' win over Ohio State, recording 13 total tackles (two tackles for loss, one sack) and a pass breakup in that game.
Junior weakside linebacker Manny Bowen, who had 68 total tackles and 8.5 tackles for loss last season, is also a returning starter. Bowen had 12 tackles, including one tackle for loss, against Ohio State last year.
One player on Penn State's defense who can be legitimately considered a star is senior safety Marcus Allen. Projected as a potential first-round pick in the 2018 NFL draft, Allen is a tall, athletic safety who led the Nittany Lions (and all Big Ten defensive backs) with 110 total tackles last year. A big impact player on the field and a big personality off the field, Allen made the game-deciding play in last year's Ohio State game when he blocked a fourth-quarter field goal attempt by Tyler Durbin.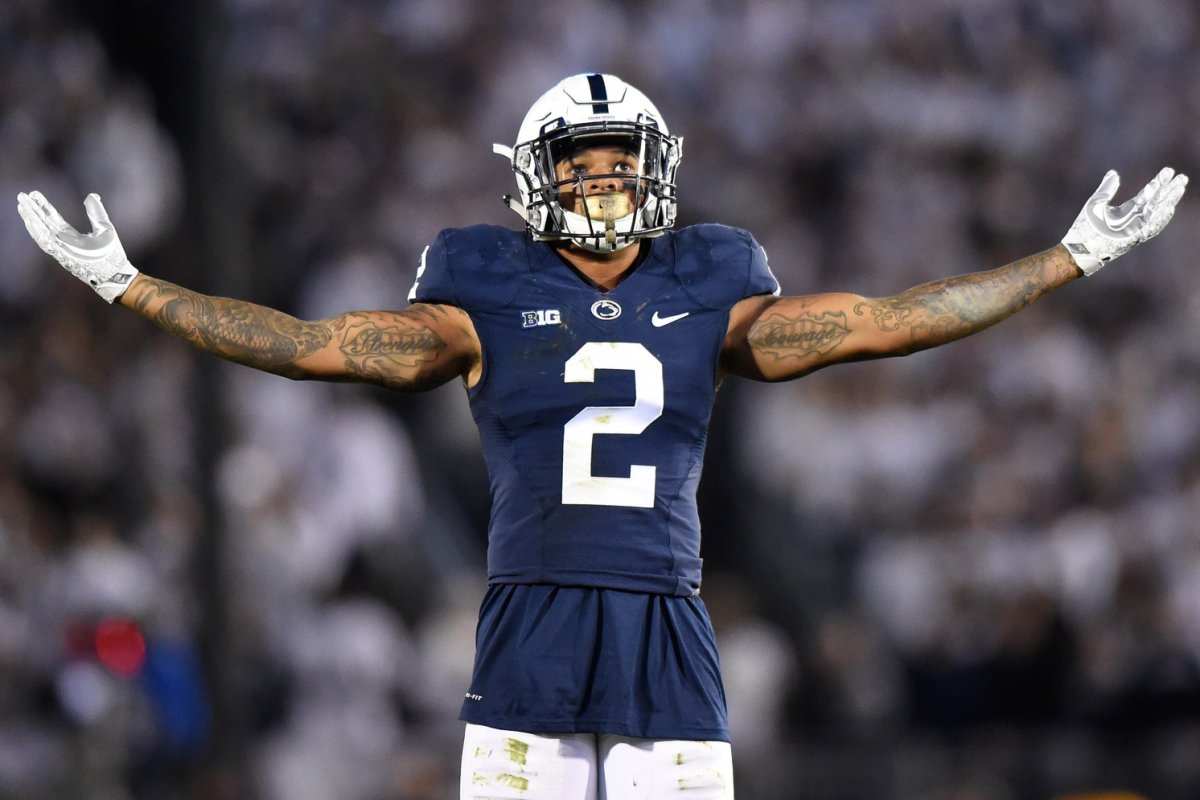 Grant Haley, who returned that blocked field goal for what would be the game-winning touchdown, returns as a starting cornerback. John Reid, Penn State's other starting cornerback from last season, is expected to miss this season after tearing his ACL this spring, according to a report by DKPittsburghSports.com's Audrey Snyder. That's a big loss for the Nittany Lions, as Reid was expected to be one of the Big Ten's best cornerbacks this year, but projected replacement Christian Campbell played regularly last year while five-star recruit Lamont Wade could push for immediate playing time as a freshman.
The Nittany Lions lost two other key players from last year's defensive back seven in Brandon Bell and Malik Golden. Bell, a linebacker, had 88 total tackles in his senior season, including a whopping 18 tackles against Ohio State. Golden had 75 total tackles as the Nittany Lions' starting strong safety last season.
---
Penn State has the pieces to have the best offense in the Big Ten and one of the best offenses in the entire country this season. The Nittany Lions have enough returning talent to be a competitive unit on defense. Their kicker (Tyler Davis) and punter (Blake Gillikin) are both candidates to be the Big Ten's best at their positions.
All together, the Nittany Lions look like they could once again be the team to beat in the Big Ten. They look like they should be one of Ohio State's two toughest regular-season opponents, along with Oklahoma.
That said, there are two significant scheduling factors that could tilt the Oct. 28 game between the Buckeyes and the Nittany Lions in Ohio State's favor. The game will be played in Ohio Stadium, and the Buckeyes will have an extra week to rest and prepare thanks to a well-timed bye. Penn State, on the other hand, plays Michigan the week before.
As talented as Penn State is, Ohio State might need every advantage it can get to win this game. The 3:30 p.m. contest should be a close one. It's likely the top spot in the division standings will be on the line.