A group of men in a Madison board room inadvertently scuttled Ohio State's succession plans for both football and men's basketball in just under 40 minutes.
No one knew at the time how seismic the repercussions would be 500 miles away in Columbus. Very few if any self-anointed Buckeye sports scholars have ever given the event much thought.
It's been living rent-free in my head since it hit the Time Squad whiteboard three months ago. I haven't decided if it's more frightening or exciting. Follow along and you can decide for yourself.
Fifty years ago Ohio State football and men's basketball were led by Hall of Famers Woody Hayes and Fred Taylor, national championship-winning giants on the respective back nines of their careers.
No one wanted to think about who or what would follow them once their careers had ended. Woody allegedly wanted to hang it up after the 1975 season, but a fumbled Rose Bowl appearance and squandered national championship kept him from riding into the sunset on schedule. You know what happened next.
Three months later, the men's basketball team concluded a putrid 6-20 season. A 2-16 conference record was tucked into that embarrassment, and Taylor chose retirement in lieu of further decline. There's going out with a bang, and there's fading away. This was the latter.
Taylor's final game came against the undefeated Indiana Hoosiers, a 29-point loss to the wire-to-wire no.1 team. Hold that thought. Allow it to marinate in that cursed Madison board room.
BOB KNIGHT AND BO SCHEMBECHLER WOULD HAVE BEEN NATURAL AND APPROACHABLE SUCCESSORS TO FRED TAYLOR AND WOODY HAYES IF THEY HAD BOTH BEEN COACHING IN MADISON.
Replacing two legends at blue-blood programs (OSU basketball is and should be a blue-blood; we are not accepting rebuttals at this time) requires a) elite organizational recruitment, and b) fortuitous timing. Ohio State replaced its giants with Earle Bruce and Eldon Miller.
Hayes and Taylor's natural, obvious successors were their proteges, whom they had mentored, developed and managed in Columbus. Unfortunately, the timing was off for both; Hayes' prized pupil had become his arch-rival in Ann Arbor, while Taylor's coaching prodigy had his own blue-blood program humming in Bloomington.
Neither should have happened. Bo Schembechler and Bob Knight both should have been coaching the Wisconsin Badgers when it was time for Taylor and Hayes to hang it up. Recruiting two Ohio natives and OSU graduates to come home from Madison would have been academic, like Alabama pulling Bear Bryant from Texas A&M or North Carolina bringing Roy Williams home from Kansas.
Ann Arbor and Bloomington are Columbus' blue-blood neighbors. Michigan football and Indiana basketball are unapproachable in an Ohio State coaching search, both in the 1970s as well as today. The political consequences for making those overtures would be too high, both for the Buckeyes as well as the coach.
If Ohio State needed to replace Ryan Day, UC's head coach would be an obvious successor. A note for Cincinnati readers: we are not accepting Queen City rebuttals at this time; the Queen City is Charlotte and Who Dey is two letters from a Saints cheer - some cities aren't allowed to be huffy about poaching anything. Your chili is also from Greece.
Cincinnati is as safe as Ames (Bruce) and Kalamazoo (Miller) both were for OSU succession.
Michigan snatched up West Virginia's football and men's basketball coaches not too long ago in John Beilein and Rich Rodriguez. That's another campus with low political poaching risk. Madison is Morgantown with higher SAT scores.
It's a geographically distant conference foe from which Ohio State could poach one of its own in any era, but in the mid-1970s there was no coach worth poaching at Wisconsin.
And that was 100% Wisconsin's fault. All it took was 40 cursed minutes in a board room.
Welcome to Time Squad. Today we're un-botching Wisconsin's absolutely disastrous 1967 recruitment of Bo Schembechler to coach its football program.
TIME SQUAD VOL.12 | COLLATERAL DAMAGE
Note the title of this video. In 1969 Wisconsin lost to Bo and Woody by a combined score of 97-14.
Wisconsin has been a mediocre conference tyrant going back to the halcyon days when American presidents still felt comfortable riding around in convertibles. Nothing has changed.
In 1967 it brought Schembechler in to interview for its head coaching position, except the process was an obvious charade from the outset. Outgoing head coach Milt Bruhn was moving upstairs to be athletic director and intended to have his assistant John Coatta succeed him on the sideline all along.
This pissed the notoriously pissed-off Schembechler to no end - he didn't even stay in Madison long enough to pretend to be interested. He kept his job at Miami two more seasons before landing a Michigan offer.
Here is how Bo's record in Ann Arbor compares to the Wisconsin coaches during his tenure:
WISCONSIN FOOTBALL vs. BO SCHEMBECHLER

| COACH | SCHOOL | TENURE | RECORD | B1G TITLES |
| --- | --- | --- | --- | --- |
| BO SCHEMBECHLER | MIAMI | 1967-1968 | 13-7 | N/A |
| BO SCHEMBECHLER | MICHIGAN | 1969-1989 | 194-48-5 | 13 |
| JOHN COATTA | WISCONSIN | 1967-1969 | 3-26-1 | 0 |
| JOHN JARDINE | WISCONSIN | 1970-1977 | 37-47-3 | 0 |
| DAVE MCCLAIN | WISCONSIN | 1978-1985 | 46-42-3 | 0 |
| JIM HILLES* | WISCONSIN | 1986 | 3-9 | 0 |
| DON MORTON | WISCONSIN | 1987-1989 | 6-27 | 0 |
Schembechler went 18-1 against the Badgers while at Michigan. He won 99 more games than all five Wisconsin coaches during his tenure combined. Gaze at Coatta's tenure to fully appreciate nepotism hiring at its finest - they had young Bo in the same room and made a mockery of it.
But wait, it gets worse better. Bo was so pissed off about how his interview was a charade to elevate Coatta that it poisoned Wisconsin's recruitment of Knight from Army the following year:
Knight wowed the board and was offered the Wisconsin job...he was not prepared for school officials to leak any news of his hiring to a local newspaper.

The only person Knight could think of to run his decision by was Schembechler, who was still coaching at Miami.

"I told him how Wisconsin had released my name as the new coach before I'd had a chance to talk to them about what was necessary for them to do -- that I'd have liked to take the job but I didn't think I could, under those circumstances," Knight said.

"(Bo) listened to everything I said, then told me, 'Just call them and tell them you have no interest in the job.' I did."
Years later when Bill Frieder left Michigan in 1989, Bo called Knight right away for successor recommendations. They had been tight since their Ohio State days, a minor detail which whizzed right over the heads of the hiring bosses in Madison. Did background searches even exist in the late 1960s? It's hard to say.
Knight stayed at West Point three more seasons - which allowed him to coach Mike Krzyzewski - before taking the Indiana job in 1971. Let's run it back and see how that turned out for Badger basketball:
WISCONSIN BASKETBALL vs. BOB KNIGHT

|   |   | TENURE | RECORD | B1G TITLES | NAT'L TITLES |
| --- | --- | --- | --- | --- | --- |
| BOB KNIGHT | ARMY | 1968-1970 | 51-29 | N/A | 0 |
| BOB KNIGHT | INDIANA | 1971-2000 | 662-239 | 11 | 3 |
| JOHN POWLESS | WISCONSIN | 1969-1976 | 88-108 | 0 | 0 |
| BILL COFIELD | WISCONSIN | 1977-1982 | 63-101 | 0 | 0 |
| STEVE YODER | WISCONSIN | 1983-1992 | 128-165 | 0 | 0 |
| STU JACKSON | WISCONSIN | 1993-1994 | 32-25 | 0 | 0 |
| STAN VAN GUNDY | WISCONSIN | 1994-1995 | 13-14 | 0 | 0 |
| DICK BENNETT | WISCONSIN | 1996-2000 | 93-69 | 0 | 0 |
Knight won 296 more games than six Wisconsin coaches combined during the same span. He won 53 postseason games at IU. Wisconsin has won 42 NCAA tournament games in its entire history, which includes the 22 seasons since Knight's final year in Bloomington.
But let's remember where we are - Ohio State's historic conference rivals in football and basketball respectively are Michigan and Indiana. Knight is an approachable successor to his beloved college coach if he's reupholstering a basketball black hole like Madison instead of Bloomington.
Similarly, Schembechler is significantly less threatening to Ohio State when he's not building a roster out of Ohioans while operating right next door. He would have elevated Wisconsin into the best version of itself since the turn of the century, back when the opponent pool was limited. And he would have been accessible to succeed his mentor in Columbus.
A note before we conclude: We will avoid what becomes of Dr. Robert Anderson's widespread sexual abuse of Michigan athletes, and note that Schembechler's head coaching tenure at Ohio State would have overlapped with Dr. Richard Strauss' time on campus. Time Squad will not predict courage or cowardice; we'll just stick to sports.
So let's install a legitimate coaching search along with basic hiring competence in Madison in 1967 and see how the future is affected for four Big Ten athletic departments:
Bo digs Wisconsin out of the abyss and has it operating at late-stage Duffy Daugherty/MSU competency
Knight digs Wisconsin out of the abyss and has it operating at Johnny Orr/Michigan competency
Ohio State hires both away from Madison to succeed Hayes and Taylor
Wisconsin has a new standard for football and basketball performance and hires accordingly, instead of being lost in the wilderness in both football and men's basketball for a quarter century
Dave McLain Big Ten Coach of the Year, which for several decades was awarded to the coach who exceeded the lowest expectations (see: the history of Wisconsin football) comes off the board
Wisconsin football comes out of this way better is the least controversial prediction we'll see in this episode. Let's continue.
Indiana's 1976, 1981 and 1987 national championships all come off the board
1969 Game of the Century and the 10-Year War both come off the board
Everyone's favorite HBO documentary comes off the board
Everyone born after 1964 in Ohio or Michigan has a different childhood
Resurgence of the increasingly stale Michigan football program post-Bump Elliott comes off the board
Bo vocabulary from Mount Cringetopia's highest peak, Michigan Man, comes off the board
It's difficult to speculate which direction IU and Michigan would have gone with their greatest coaches no longer in the fold, with sincere apologies to Fielding Yost, who coached a completely different sport. Let's approximate.
Bo's Michigan branches, including OSU captain Gary Moeller and the entire Harbaugh family all come off the board
IU player and current coach Mike Woodson comes off the board
Michigan's coaching lineage had been steady; unclear what happens without Bo but safe to say the highs are lower
IU's prominence occurred under Everett Dean and Branch McCracken; unclear what happens without Knight but safe to say the highs are lower
Coach K followed Knight to Bloomington, coached at West Point and then took over at Duke - in this timeline he likely follows Knight to Madison before following a similar path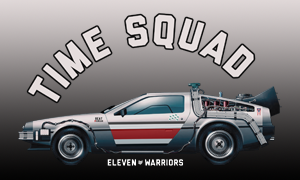 So the two programs Ohio State punches up to are both, conservatively, slightly diminished by losing out on their respective program saviors - who in turn both return at their alma mater after having secured head coaching experience elsewhere.
Eldon Miller, Gary Williams, Randy Ayers and Jim O'Brien eras come off the board
Ohio State's 1986 NIT championship comes off the board (I had to include this)
Knight brings the prime of his coaching career to Columbus, solidifies Ohio State as a blue-blood
Earle Bruce era comes off the board
Bruce's Ohio State branches, including Jim Tressel and Urban Meyer, are now shaky - neither was an import; both are still possible
John Cooper era likely comes off the board
Bo cancels what would become a Big Ten duopoly between UM and OSU by consolidating a monarchy in Columbus
"Big Two and Little Eight" comes off the board
Woody and Bo establish a 40-year continuum at Ohio State beginning in 1950 up until 1990
The future is comprehensively turned upside-down and shaken, if Wisconsin had simply executed a coaching search with the bare minimum of executive diligence and competency.
VERDICT: Inconclusive. This is just way too scary and seismic to consider a definitive ruling. Time Squad, let's try this again in another space and era.