This weekend's visitors to Ohio Stadium are aiming to reach their fourth straight Rose Bowl.
You would have to go back to 1985 to span three such trips for the Buckeyes. That spell is even long enough to pre-date the existence of the timeless Joe Bauserman.
Wisconsin's current streak began the year after Ohio State's most recent trip in 2010, so while half of the current Buckeyes have only been to Jacksonville or Columbus for the holidays, the majority of Wisconsin's players have tasted Pasadena exclusively. Three. Straight. Times.
Oh, the Badgers are also 5-5 over their last ten games and according to Urban Meyer - they're the King of the conference. It's gross, but he's technically correct.
This means that while Wisconsin's reign will be challenged each week this season, a de facto Leaders Division Championship game is being held Saturday night on Woody Hayes Drive. An uninspiring monarchy has reached a crossroads.
Wisconsin's challenge isn't all that intimidating: Its conference schedule contains only one team that played in a January bowl game last season. Should the Badgers survive the Buckeyes, they'll get them - the Wildcats - in Madison with two weeks to prepare.
The only other bowl team they'll see at all is protected rival Minnesota in late November. There are no Michigan squads to worry about, nor is there a revenge game with Nebraska looming unless they happen to meet again in Indianapolis.
Wisconsin is the most mediocre tyrant the Big Ten has ever seen.
Ohio State faces the same weak slate with a trip to Ann Arbor instead of Minneapolis being the enormous exception. Only the I and P schools of the Leaders Division stand in these two teams' paths, and none of them are positioned (or allowed) to challenge for Wisconsin's crown.
Its reign as King has been emblematic of the conference's current dark period: The last ranked non-B1G team Wisconsin defeated was Northern Iowa (#9 in the FCS) last season. Prior to that it was South Dakota State (#20 in the FCS) in 2010.
Over the past seven years the Badgers have beaten one ranked FBS opponent outside of the conference and that was a shaky Miami team in the 2009 Champs Sports Bowl. This is how a dynasty is made in this Big Ten: Avoid postseason bans and simply suck less than everyone else. 
Gary Andersen's serially pissy predecessor fled Wisconsin after having (proudly) gone 1-5 against Ohio State, 2-3 against Penn State, 3-4 against Michigan State and 2-5 in bowl games. He went 3-2 against Michigan during the darkest era in Michigan football history.
That is your king: Bow down. Wisconsin is the most mediocre tyrant the Big Ten has ever seen.
Saturday night presents Ohio State with classic dethroning opportunity. Beating Wisconsin puts almost insurmountable space between the Buckeyes and their only eligible challenger in the Leaders Division. They would have to lose twice while the Badgers would be forced to run the table.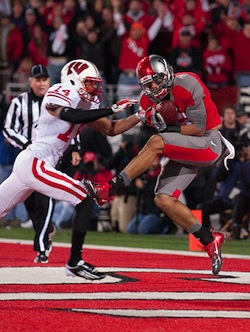 But unlike Ann Arbor, simply conquering a weak conference isn't the top priority in Columbus anymore. It's simply a necessary step en route to the top priority.
This means that simply winning this game isn't enough. A victory may slot Ohio State above Wisconsin for the balance of this year's schedule, but a dull King like Wisconsin can't be be deposed in peace.
So Ohio State must lay a giant, humiliating stain on Wisconsin's season Saturday.
This isn't a bold request or a thinly-veiled attempt to gain access to the Badgers' bulletin board. The narrative has long required the Buckeyes not just to win all of their 2013 games, but to win them emphatically in order to be considered for national relevance.
This isn't a new idea or a deliberately hot sports take. The stakes and the requirements for a title run are unchanged; we've been talking about them since last November. The Buckeyes are required to dominate; they can't just simply win. This isn't 2002.
It is a fair standard, as the Big Ten is all out of title equity. Blood must be spilled if Ohio State is truly vested in reaching the stadium where Wisconsin's been going each January since Bauserman was only 25. That has got to stop.
So the Buckeyes' incomparable home field advantage on Saturday can't serve as the margin of victory. A clean, tidy and efficient seven or 10-point victory isn't going to cut it, even against the King of the conference.
If Ohio State cannot take down Wisconsin in resounding fashion then there is no referendum on who rules the Big Ten. There is no changing of the guard, there is no renewed energy for national title consideration and there is no message sent to the rest of the conference or to any of the polls.
The Buckeyes would merely become the front-runner in another uninspiring Big Ten season, while the Badgers would graciously be excused from losing their fourth consecutive Rose Bowl. Saturday night must produce better outcomes than those.
Losing to Wisconsin in the environment it will have Saturday effectively cancels Ohio State's season from being anything other than regionally interesting. In addition, Wisconsin's path back to Indianapolis and Pasadena would be totally deserved, as would Andersen's Big Ten inevitable B1G Coach of the Year honors.
This cannot be allowed to happen. Ohio State has waited until the fourth quarter - or later - in its last two meetings with Wisconsin to finish them off. The Buckeyes cannot afford to be so dramatic this time, because there should be no doubts as to who is in charge. The Badgers' uninspiring reign has to end quickly on Saturday.
Just as importantly, it must end loudly - because a peaceful transition of power in the Big Ten is totally inconsequential to the rest of the country.