Ohio State and Penn State have a nasty habit of stealing wins from each other.
They've met 36 times. Twelve of those meetings were decided by less than a touchdown, including three of the recent ones - so it's hard to believe the Buckeyes have won nine of 10 including a current five-game streak, the longest in the series for either program.
To put that in perspective, Ohio State has only won eight of the past 10 with Michigan. Yikes.
OSU-PSU | GAMES DECIDED BY LESS THAN A TOUCHDOWN

| YEAR | RESULT | NOTABLE TIDBIT |
| --- | --- | --- |
| 1956 | Penn State 7, #5 Ohio State 6 | First game in 44 years due to previous meeting ending in a brawl/forfeit |
| 1963 | Penn State 10, #10 Ohio State 7 | Joe Paterno was an assistant; twilight of the Rip Engel era |
| 1976 | #2 Ohio State 12, #7 Penn State 7 | Buckeyes played keep-away for most of 4Q |
| 1995 | #5 Ohio State 28, #12 Penn State 25 | A 52-point swing from the previous season's meeting, both @ PSU |
| 1997 | #2 Penn State 31, #7 Ohio State 27 | Multiple late drops on both sides of the ball; Ohio State blew 4Q lead |
| 2001 | Penn State 29, Ohio State 27 | Ohio State blew 27-9 lead; had go-ahead FG blocked late in 4Q |
| 2002 | #4 Ohio State 13, #12 Penn State 7 | Clarrett hurt; Buckeyes did not score an offensive touchdown |
| 2003 | #8 Ohio State 21, Penn State 20 | Game-winning TD and PAT with under 2 minutes left to play |
| 2011 | #21 Penn State 20, Ohio State 14 | Bad Ohio State team facing Lions the week after Paterno's termination |
| 2016 | Penn State 24, #2 Ohio State 21 | Nittany Lions blocked a 4Q field goal and returned it for a TD with 4 mins left |
| 2017 | #6 Ohio State 39, #2 Penn State 38 | OSU outscored PSU 19-3 in 4Q; Barrett produced greatest 4Q in program history |
| 2018 | #4 Ohio State 27, #9 Penn State 26 | PSU was leading by 13 with eight minutes to play and lost the game |
The brutality. I think Penn State would steal 2017 if they could. Maybe that's recency bias talking.
The six games the Buckeyes lost by less than a touchdown are highlighted, and today we're going to choose one to steal back. Those are the nominees, and while I was only alive for four of them, all six make me sad.
We must eliminate five from contention. The runners-up:
1956 - possibly the most overrated OSU team of all time? It was shut out by both ranked teams it faced and lost to the Nittany Lions on account of a missed PAT late in the game when the Buckeyes finally scored.
1963 - OSU scored 36 points in the month of November, going 2-2 with the other loss coming to Disgruntled Era Ara Parseghian, who already had one foot out the door at Northwestern. JFK's assassination saved them from losing in Ann Arbor; that game was postponed a week for national mourning, which "rewarded" the swooning Buckeyes with a week to get right while dropping home attendance at Michigan by 70K fans below their average.
1997 - this one gets an honorable mention. Relevant highlight:
Ahmed Plummer could have fair-caught this Mike McQueary kite but was stripped from behind. This is relevant because a couple of plays later Curtis Enis scored the go-ahead touchdown and final points of the game.
The deal-breaker in tinkering with this particular 1997 event is you still have Ann Arbor from that season's end, which featured the giftiest touchdown in OSU-UM history as well as the curious decision to kick to Charles Woodson a mere six seasons after kicking to Desmond Howard. Brain worms. No hindsight.
It makes no sense to tinker with 1997 PSU with 1997 UM right there. More importantly, if you alter that year in a way that prevents Ohio State from facing Florida State in the Sugar Bowl, you compromise the 2002 season.
That's because seeing Andre Wadsworth up close and personal transformed how John Cooper recruited defensive linemen. Joe Germaine was sacrificed in New Orleans so Will Smith and Darrion Scott could live in Columbus. Let's continue eliminating:
2011 - the self-nuke Tatgate season, hosting Penn State the week JoePa was fired. There's just no reason to put any additional lipstick on that season. We'll take Braxton-to-Devin against Wisconsin to our graves and leave everything else in the trash compactor.
2016 - Ohio State reached the College Football Playoff despite ceding the east to Penn State in a game where Curtis Samuel got two carries (71 yards, one touchdown, pffft why give it to him a third time) and the offense operating with all the clunkiness that sunk it in 2015. Google deck chairs Titanic for more rationalization. Also, let's not jeopardize Ryan Day's path to Ohio for that.
That brings us to the choice, but first let's acknowledge one loss not on our list: Ohio State lost the 2008 meeting at home by a full touchdown, just missing the cut. Terrelle Pryor fumbled what could have been a house call, leading to Penn State's winning score.
The following season Ohio State returned the favor in the Terrelle Cryer Game, which would not have happened otherwise, and we already lent Game Squad treatment to the 2008 postseason. We will leave this L intact, however heartbreaking, and even if it qualified for our list. The Terrelle Cryer thing was hilarious.
So let's return to 2001 and give an OSU QB the One Shining Moment that always eluded him.
TIME SQUAD VOL.10 | PETTY THEFT
It's been decades, but can you remember Steve Bellisari's best road performance?
In his first season taking over for Germaine it was in Minneapolis, where the Buckeyes escaped 20-17. It was the only roadie Ohio State would win that season, and while the program was down in 1999 it wasn't losing at Minnesota down.
In 2000 Bellisari led wins in Tucson, Madison and Iowa City, impressive! But Arizona went 5-6 that season and fired Dick Tomey, the Buckeyes caught the Badgers while they were losing four of five and the Hawkeyes went 3-9 in Kirk Ferentz's second year. Not a murderer's row.
John Cooper was fired at the end of the season. That's how well things were going.
That brings us to Jim Tressel's first season, 2001. The Buckeyes stunk up the Rose Bowl against UCLA in the return of sports following 9/11. They closed the year with a win in Ann Arbor, but with Craig Krenzel under center since Bellisari was suspended.
In between, OSU won at its homes away from home, Bloomington and Minneapolis.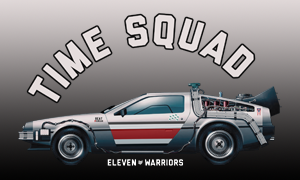 If we're going to lend Time Squad treatment to a moment in Buckeye football history with maximum return and minimum consequences to the future, the only candidate on this slate is the 2001 visit to State College in the pre-White Out era, where Ohio State delivered Joe Paterno his landmark 324th win, putting him ahead of Paul "Bear" Bryant.
The question is what moment do you meddle with in a game the Buckeyes lost despite leading 27-9 in the 2nd half? I made myself re-consume that afternoon and landed on the play captured above, where Bellisari takes an 8-yard sack on 1st & 10 at the Penn State 22 with five minutes left in the game.
Ohio State had fully blown the lead and was down two points. There was no reason to do anything but grind the Nittany Lions into a clock-burning paste. Jonathan Wells finished with 143 yards rushing on the afternoon. He was the heart and soul of that offense. The eventual hero of the Michigan game. A 1,200+ yard rusher on the season. That's who you ride in a close road game.
After Bellisari took that sack, Wells rushed for 13 yards over the following two plays, forcing a field goal that was blocked. That sack put the Buckeyes off-schedule and it was the final piece of their collapse. This is hindsightish - you ride Wells with the clock and game in their waning moments.
Even if Bellisari runs the ball, or if the Buckeyes deploy a conventional Tresselball strategy with a 2-point deficit instead of playing to their weakness by going pocket-passer with a converted safety:
Ohio State doesn't trigger panic mode or elevate the home crowd with a sack
The Buckeyes keep the momentum on a drive where they had already converted four 1st downs
Worst case, they're lining up for a shorter field goal three plays later
Best case, they're scoring a touchdown, leaving limited time for PSU to drive the whole field
Paterno's 324th win comes off the board
History is delayed one week, at Southern Miss' expense - significantly diminishing the moment
Ohio State finishes in a 6-2 tie with Michigan for 2nd place in the Big Ten
This flips postseason destinations; the Wolverines now face South Carolina in the Outback Bowl
That loss comes off the board, as does the awkward back-to-back Gamecocks/Outback Bowls
OSU gets to avenge the then-still burgeoning Curse of the Illegal Cleats in the Citrus Bowl
Verdict: Proceed. Steal this one and pay little/no consequences. Give Belli a shining moment on the road. Avoid being a treasured part of Paterno lore. Time Squad, let's try this again in another space and era.