We haven't really addressed the moment just prior to Ohio State's go-ahead field goal in the Rose Bowl against Utah.
That's because the Buckeyes ended up winning. But we're now well into the offseason - and this is relevant for today's episode - so let's chat about what preceded Noah Ruggles' kick.
The Utes had tied the game at 45. Then, for some dumb reason, they sent Emeka Egbuka another returnable kickoff. Egbuka already had 130 return yards and promptly added 33 more to his total, giving the Buckeyes the ball at their own 42. Let's be nice and call Utah's strategy "charitable."
Ohio State had one timeout remaining, along with 91 seconds to get into field goal range. Ruggles had missed one kick the entire season and he was perfect longer than 40, so the Buckeyes only had to matriculate about 25 yards to make things comfortable for him.
Note: Ohio State already had eight plays of 25 yards or longer for the game entering that drive.
So it only took six snaps about about 60 seconds for Ohio State to reach the Utah 1-yard line, which brings us to the moments leading to Ruggles' go-ahead field goal attempt. If you haven't yet noticed, we're specifically calling it a go-ahead field goal, not a game-winner.
That's because the game had not been won yet. Ohio State could have made this a walk-off affair, but kind of like Utah kicking to Egbuka on purpose, instead chose to create unnecessary drama. Tense moments like this are known to cause brain fog.
Yes reader, it is easier to cut through the chaos and nerves watching these clips two months later while sitting on a toilet than it is standing on the sideline in real time. And yet, you can hear these brain farts from space. They were coming from both sidelines!
Utah had three timeouts remaining. Utah, baby, what were you doing?
Ohio State could have taken the game clock down to three seconds before stopping it for Ruggles. Instead, the Buckeyes declined to make his field goal a walk-off and sent the Utes another kickoff to return.
...the same Utes with 222 return yards, including a 97-yard TD. Ohio State, baby, what were you doing?
Instead of celebrating, the Buckeyes decided to deal with 1st half kickoff touchdown-haver Britain Covey once again, sending him an extremely returnable ball that he fielded at the 10-yard line to the incredulous laughter of Chris Fowler and Kirk Herbstreit on the broadcast.
But the Buckeyes' clock management failures would not cost them, and they still wound up as Rose Bowl champions. This was a New Year's Six bowl Ohio State would win in spite of fumbling late game situational football basics.
Thirteen seasons earlier and in similar circumstances, they weren't as fortunate. Welcome to Time Squad. This week we're in Glendale for the 2009 Fiesta Bowl and 2000s rubber match against Texas.
TIME SQUAD VOL.7 | BEWARE THE FOG
The 2008 Buckeyes excused themselves from a BCS title game three-peat with a 32-point loss to Southern Cal on September's brightest stage. Their postseason ceiling would be a rotational BCS bowl destination.
And that's where they landed, after tying Penn State for the regular season title and ceding Pasadena to the Nittany Lions, who won head-to-head. But game intrigue was still ripe, with Ohio State returning to the site of The Glendale Massacre which had ended its 2006 season.
Texas was the opponent, which brought more intrigue - the Buckeyes had let the Longhorns off the hook during the 2005 season, which propelled them to that season's BCS title. Ohio State exacted its revenge in Austin the following season in the Buckeyes first of three 1 vs 2 showdowns during the 2006 season.
Glendale would host the rubber match. This was peak intrigue for a BCS non-title game.
And it was a Tresselball classic, until Ohio State abandoned Tresselball and lost the game. Aaron Pettrey had made a 51-yard field goal. Ryan Pretorious had made a 30-yard field goal. Pettrey then made a 44-yard field goal. It was a game of field goals, until it wasn't - right at the moment Ohio State just needed a field goal.
The Buckeyes had the ball with a little over six minutes remaining in the game, trailing by two. Four minutes later, Ohio State lined up on the left hash at the Texas 15. They were already in chip-shot range for Pretorious. It was 2nd & 2.
The Longhorns had two timeouts remaining. Situational football would call for Ohio State to go conservative short yardage and milk 120 seconds, forcing the Longhorns to burn their final two timeouts while the Buckeyes centered a game-winning field goal, which they would be able to kick as time expired.
This isn't hindsight. A game-winner, or a go-ahead score? Winning the game, or leading it and giving Texas the ball back with two minutes and two timeouts left? There's no case to be made for the latter (if you are cynical, oddsmakers had Texas -8 and the o/u at 52; the Buckeyes and the under were locked unless a fumble/pick-six and PAT took place).
Yes reader, it is easier to cut through the chaos and nerves watching clips 13 years later while sitting on a toilet than it is standing on the sideline in real time. And yet, you can hear these brain farts from space. Pryor should have been instructed by Tressel to keep everything in-bounds and out of the endzone.
Instead, Texas pantomimed what a run defense might look like as Herron waltzed in for a touchdown without anyone in pursuit. If Time Squad corrects Ohio State's situational football on this play:
The Buckeyes take the 2009 Fiesta Bowl 18-17 on a walk-off field goal
They win the 2000s series with Texas 2-1, which they should have won 3-0
Pryor ends his career as MVP of the Fiesta, Rose and Sugar Bowls, unmatched in collegiate history
Ohio State gets some righteous cleansing from its previous Glendale visit
The second-longest postseason losing streak in program history is averted
The BCS and CFP both devalued the destinations on the wrong side of the rotation schedule, so losing in Glendale two years after losing in Glendale had a built-in analgesic. But still, this was how we said goodbye to Malcolm Jenkins, James Laurinaitis, Marcus Freeman, Brian Hartline, Brian Robiskie and Nader Abdallah.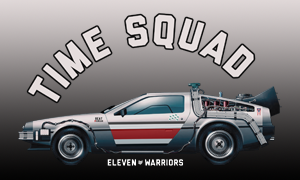 Pretorious also would have booted the game-winner in his final collegiate play, giving him a legacy moment and sealing the ultimate Tresselball victory. The Buckeyes' three-year postseason slide coincided with the national emergence of the Southeastern Conference (also, kind of Ohio State's fault) and created a brief albeit stinging reputation for big stage failures.
Bringing this back to January, imagine if Covey had housed his second kickoff of the game and given the Utes their first-ever Rose Bowl victory with an assist from Ohio State's brain fog. Imagine the Buckeyes losing that game explicitly because they gave the Utes another chance to win it.
Imagine the historic performances of Coleridge and JSN being wasted in a losing effort. Bowl outcomes provide the aftertaste for the next nine months, and the Buckeyes already had Michigan rotting in their mouths. Win the game the surest way.
Those laminated cards packed with 10-point font that play callers bury their faces in for 60 minutes should have Beware the Fog super-imposed on them. Tressel was out of his details-obsessed element when he lost control of the situation in the waning moments of that Fiesta Bowl.
If he could replay it, he'd be more Tresselish. And Ohio State would beat Texas as time expired.
Verdict: Proceed. A victory here would bring no negative future consequences for the program or any player. Time Squad, let's try this again in another space and era.