When it comes to the Bosa brothers, Joey did almost everything earlier.
He was born first, which gave him a head start. Joey followed his uncle's footsteps to Columbus first, wore the 97 jersey, flashed as a freshman and then became impossible to ignore as a sophomore. Nick did all of that, too - but only after Joey left school.
Big Bosa was the B1G's Defensive Lineman of the Year, made the Pro Bowl and was the NFL's Defensive Rookie of the Year. Smaller Bosa did all of those things too, just later.
Examining the tragically narrow category of Bosas Who Played Football at Ohio State, Nick only notched one individual accolade earlier than Joey. Big brother was the third overall pick in 2016 NFL Draft, while little brother was taken second three drafts later. That counts.
Otherwise, it's hard to find anything both brothers did that Joey didn't do earlier. A n y t h i n g.
Joey got ejected for targeting first. This should have been a powerful cautionary tale for Nick.
Big brother's premature exit from the 2016 Fiesta Bowl was sad, but inconsequential to the game's outcome. Notre Dame major bowl drought is at 28 years and this took place during the Buckeyes' second contribution to that 0-10 streak. Joey walked off the field in tears, listening to his name being chanted by the Buckeye fans in attendance.
Barely two seasons later, Nick earned a similar exit. But this time…there were consequences.
Welcome back to Time Squad, where we travel back to a critical point in Ohio State football history, meddle with one minor detail and then assess if we've helped the Buckeyes, if they were beyond help - or if we've just thrown the future of humanity into chaos.
This week we're heading to Glendale on New Year's Day of 2016 to emphasize to then-Ohio State verbal commitment Nick that his brother's ejection was the result of textbook targeting.
We will successfully convince him he should do everything to not to find himself in that situation.
TIME SQUAD VOL.4 | THE RECLAMATION OF NICK BOSA
Here's Nick earning the flag that bailed Iowa out of a 4th and long and extended its drive.
Scrimmage was the OSU 40. For the uninitiated, Iowa's weird football religion requires the Hawkeyes to punt from anywhere beyond the 35. It's an ancient, pious ritual - like wearing magic underwear or eating fish on Friday. They're circumcising points, basically.
But there's no need to re-litigate this penalty flag. This was exactly what targeting is.
So the Time Squad is not waving it off. Instead, we're convincing high school senior Nick to pay close attention to how his brother's college career ended - and avoid following his lead this time. Joey was not the first Buckeye to earn an early dismissal for targeting. He was the fourth.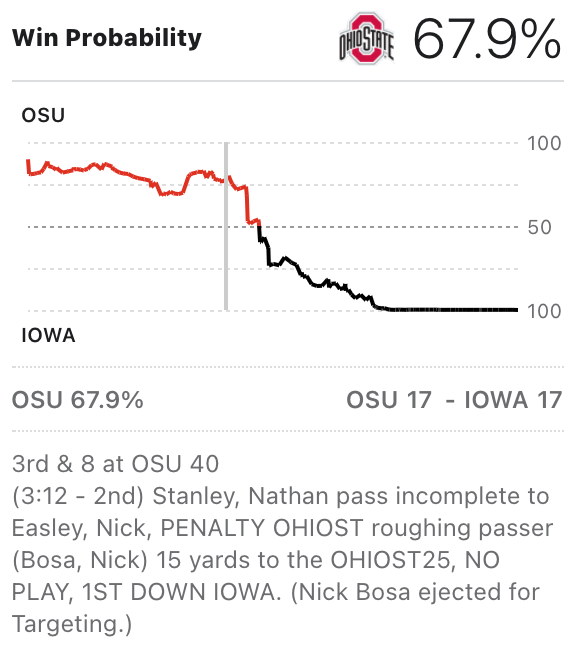 But Ohio State had still not taken any fatal game damage well into the targeting rule's fifth season. Sometimes the rule was interpreted correctly; other times refs were just making shit up as they went, which refs and replay booths are famous for doing.
Two seasons prior to Joey's final collegiate play, Bradley Roby missed the majority of the Iowa game in the inaugural season of the rule designed to permanently change harmful football behavior. If you're wondering what the last notable and legal helmet hit was in 2012 - the final season of the pre-targeting era - it was this one. Like taking one final shot before Prohibition.
Corey Smith was the second Buckeye to get tossed, in the 2014 B1G Championship Game. Like Roby and the Hawkeyes, the Buckeyes' W was unaffected. Cam Williams earned a 2nd half ejection during the 2015 Penn State game, another win.
One week after Nick's ejection, Dre'Mont Jones left the Michigan State game early. The Buckeyes still won by 45.
Earlier in the season, Damon Arnette and - quite famously - Denzel Ward both finished the Maryland game in the locker room. Ohio State's record when losing players to targeting ejection was perfect entering the 2017 Iowa game.
So that brings us to Nick's ejection. Like Joey, his hit was both targeting and unnecessary, so if we're able to correct his form and he avoids the flag, the Buckeyes are getting the ball in a tie game. Instead, Iowa went for the jugular with Nick in the locker room as Stanley hit Noah Fant for a 25-yard touchdown to go ahead by seven.
Even if Nick only gets a late hit, give Iowa the subsequent TD and keep Ohio State's best player eligible. The Buckeyes turned the ball over and Iowa scored again going into halftime with the score 31-17. That first touchdown came out of the penalty; the second one didn't require help.
Balloon, popped. Here's how the rest of the game went.
OSU AT IOWA AFTER BOSA'S EJECTION (WARNING NSFW)

| POSSESSION | PLAYS | YARDS | TIME | OUTCOME | SCORE |
| --- | --- | --- | --- | --- | --- |
| Ohio State | 4 | 18 | 1:31 | INTERCEPTION | IOWA 24-17 |
| IOWA | 3 | 22 | 1:05 | TOUCHDOWN | IOWA 31-17 |
| OHIO STATE | 1 | -1 | 0:30 | HALFTIME | IOWA 31-17 |
| IOWA | 3 | 9 | 2:09 | PUNT | IOWA 31-17 |
| OHIO STATE | 3 | 6 | 1:22 | PUNT | IOWA 31-17 |
| IOWA | 6 | 43 | 3:15 | PUNT | IOWA 31-17 |
| OHIO STATE | 3 | 7 | 1:58 | PUNT | IOWA 31-17 |
| IOWA | 9 | 78 | 3:46 | TOUCHDOWN | IOWA 38-17 |
| OHIO STATE | 3 | 0 | 0:57 | PUNT | IOWA 38-17 |
| IOWA | 4 | 60 | 1:37 | TOUCHDOWN | IOWA 45-17 |
| OHIO STATE | 2 | 0 | 0:25 | INTERCEPTION | IOWA 45-17 |
| IOWA | 4 | 9 | 1:15 | FIELD GOAL | IOWA 48-17 |
| OHIO STATE | 12 | 52 | 3:38 | INTERCEPTION | IOWA 48-17 |
| IOWA | 7 | 21 | 4:56 | DOWNS | IOWA 48-17 |
| OHIO STATE | 1 | 22 | 0:05 | TOUCHDOWN | IOWA 48-24 |
| IOWA | 5 | 47 | 2:54 | TOUCHDOWN | IOWA 55-24 |
| OHIO STATE | 4 | 23 | 1:43 | END OF GAME | IOWA 55-24 |
The Buckeyes came out of halftime and put the clamps on the home team, but in vibes reminiscent of the 31-0 Clemson shellacking - the offense's inability to muster anything sucked the energy out of the defense, which was exacerbated by Bosa's absence.
So the worst case scenario, if we take Nick's ejection off the board is that 55-24 happens as it happened. This is also the least likely scenario. The Buckeyes coming back from down 14 to win on the road is the best case scenario, only slightly more likely than Bosa's reclamation having no impact.
Which means the probable case scenario is Iowa still wins, just not by that gaudy score. Ramifications:
The Buckeyes dropped from no.6 in the CFP rankings to no.13 after being blown out.
Ohio State came roaring back after its Iowa City trip, beating then-CFP no.12 Michigan State 48-3, Illinois 52-14, Michigan 31-20 and no.4 Wisconsin 27-21 in Indianapolis, climbing all the way up to no.5 in the final CFP ranking.
If they had lost with dignity to Iowa, perhaps they only drop to no.10. If they had won, they stay at no.6.
The Buckeyes were never ranked ahead of Alabama, Georgia or Clemson in part because Oklahoma beat the Buckeyes in Columbus early that season. Those four were the final four.
Ohio State's win over previously undefeated Wisconsin helped Georgia get in. Alabama did not win the SEC West, which meant it could not lose on championship weekend.
The only way Ohio State gets into the 2017 CFP - and remember, it had recently lost 31-0 to the defending champion and no.1 seed and at home to the no.2 seed - would have been to beat Iowa outright while maintaining the rampage it went on following the loss at Kinnick.
As transformational as that ejection was, Nick Bosa probably wasn't worth a 32-point swing, not with the way J.T. Barrett and the Buckeye offense were playing that afternoon. He was likely worth better optics, but the thing is - there are no good optics to Ohio State losing to a B1G opponent.
Ohio State just went 10 years either running the table (5) or losing once (5) in conference play. Buckeyes losses are an existential crisis for the fanbase and monster news for the rest of the college football universe. CFP goodwill was in jeopardy the moment the Buckeyes left Glendale and on life support after Baker Mayfield planted the OU flag at midfield. Iowa merely pulled the plug.
Joey's exit against Notre Dame was sad, but inconsequential to the game's outcome. Nick's exit against Iowa probably had the same impact on who won and lost. Once again, Joey did it earlier.
Verdict: No changes. Time Squad, let's try this again in another space and era.