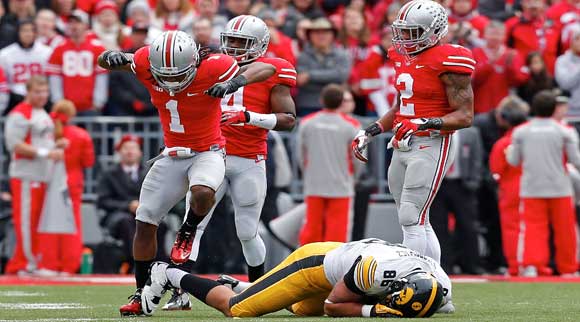 COLUMBUS – When the targeting rule was instituted, Christian Bryant became a media darling at Ohio State. His hard hits made him a candidate to feel the NCAA's wrath. Instead, it was his All-American teammate that became the first Buckeye to be ejected.
In the first quarter of Ohio State's 34-24 win over Iowa, Bradley Roby lunged into tight end C.J. Fiedorowicz. The hit was powerful and put Fiedorowicz on the turf immediately. Also finding a way to the turf immediately were multiple yellow flags.
Personal foul on the defense, 15-yard penalty. Targeting on No. 1. That player is ejected. The ruling did not make Ohio State fans happy.
"Was it below the shoulder?" Ohio State head coach Urban Meyer asked the media. "That's my question. I guess I don't know. I got fined $30,000 one time for going after an official. So I'm not going to do that."
The rule in question is Rule 9, Section 1, Article 4 and it stipulates that if there's any doubt, the referee should throw the flag. The initial contact was shoulder-to-shoulder with Roby's helmet eventually striking Fiedorowicz's. By rule, Fiedorowicz was a defenseless player and the officials' call was correct.
The debate isn't whether Roby should have been ejected or not, but the basis of the rule. Player safety has become a huge talking point in football, and for good reason. But the targeting rule has been criticized since it came into effect. The nature of being ejected is too harsh for some.
"The rule's in place and you live by the consequences of the rule," Iowa head coach Kirk Ferentz said. "I didn't think that was the closest call today, if that's what you're asking. It didn't appear that way to me. That's a tremendous crew of officials that we had on the field today."
Roby's teammates had similar opinions. 
"I'm not a referee," C.J. Barnett said, "and I'm happy I'm not. From my perspective, I think it was a great hit. It sucks that it had to get him thrown out the game, but player safety is the most important thing."
Without Roby, the pass defense struggled for large portions of the game again. They allowed 245 passing yards and three touchdowns. Two of those scores came at the expense of Roby's replacement, Armani Reeves.
Roby will be eligible for the entire Penn State game.
Line of Fire
The lull between spring practice and fall camp is usually filled with questions and concerns about the Ohio State offense. But those queries almost disappeared entirely during the summer of 2013. There was confidence in the skill positions and quarterback. And it all starts with the offensive line.
As recently as two seasons ago, the Buckeyes' O-line was an underachieving unit that contributed to the team continually coming up short in the national spotlight. It took Ed Warinner all of one year to correct the wrongs and turn a less talented group into arguably the Big Ten's top offensive line.
That's not a knock on the likes of Jack Mewhort, Andrew Norwell, Corey Linsley and Marcus Hall. The truth is the previous lines were more heralded. It's irrelevant at this point. What is relevant is the continued play on the line.
"They're big, strong and they train well and practice well," Warinner said. "They wear people down, so in the second half we can create running seams. We have good running backs. We're very confident that they'll come through and play well when we need them to."
Ohio State ranks 11th nationally in rushing offense at 281 yards per game. In the first four games of the season, Jordan Hall rushed for more than 100 yards a game and led the Big Ten in scoring. Two weeks ago, Carlos Hyde ran for a career-high 168 yards and scored three touchdowns. On Saturday, he gained 149 and scored twice. Iowa began the day fifth in the nation with just 13 runs of 10-plus yards allowed. The Buckeyes had nine on 51 rushes
"Right now, the strength of our program is our offensive line," Meyer said.
All they did against an Iowa defense that was limiting opponents to 89 yards on the ground and had not given up a rushing touchdown was tally 273 yards – more than five per carry – and end that no rushing touchdown streak. And it's not just running where the line's stout play appears. They've only allowed 10 sacks in seven games. 
"They don't have any indecision," Drayton said. "There's no hesitation in their first step. So they are just rocking off the ball, very confident in their targets, and once they get engaged, they are moving people. That is a great formula for productive running."
It not only instills confidence in the running backs, it also allows them to anticipate reads quick, as Drayton pointed out. Instead of taking personal credit or giving kudos to his unit, Drayton did not hesitate at recognizing the play of the O-line.
"Why we are getting the explosive runs and the nice chunks of yards right now in the run game is purely because of the offensive line," he said. "It's been phenomenal for us this year."
Said Mewhort: "As a unit, I think we do a lot of things right. It just boils down to hard work. It's something we embrace."
Third and Long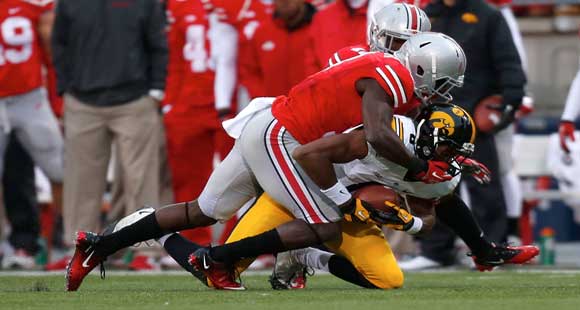 Two weeks ago at Northwestern, when an inconsistent Ohio State offense took more than a half to get in motion, it was the defense that started the second-half momentum. The Wildcats entered the game as one of the top third-down conversion teams in the country, converting at a clip of 52 percent.
But on that Saturday night in Evanston, Northwestern was limited to 5-of-14 on third downs and only converted two after halftime. It contributed greatly in the Buckeyes overcoming a 10-point deficit to win 40-30.
The late-game heroics were needed again against Iowa. The Hawkeyes ranked in the top 25 nationally for third-down convertions – 48 percent. Ohio State entered Saturday's game fourth best in the country at stopping teams on third down. Opponents were only converting one in every four third downs against the Buckeyes.
In the first half, Iowa put those numbers to shame. It converted on seven of nine third downs. Ohio State had only allowed eight third-down conversations on the season to Big Ten opponents. Not surprisingly, the Hawkeyes led 17-10 at halftime. Shazier said the bye week proved beneficial to Iowa because it inserted some new looks on offense that confused the Buckeyes in the first half.
"The reason they're really successful on third down is because they have a pretty good run attack, so they can do play action and they have pretty good playmakers," he said. "They had us off-balance at first, having three tight ends in the game. We weren't ready for that."
But the second half told a different story. Ohio State outscored Iowa 24-7 and limited the Hawkeyes to one third-down conversion after the break. They say defense wins championships, and the evidence is there. So too is the importance of holding on third down.
The top four teams in the country at third-down defense are Clemson, UCLA, Louisville and Ohio State – a combined 24-3.
"We pride ourselves on being really good on third down, but we weren't there today," linebacker Joshua Perry said. "That's going to be one of those things we're going to go back and see what things we need to correct. We'll make those corrections, so next week we don't make the same errors."

"We want to get three and outs, get stops on third downs and ultimately get our offense the ball because we know our team is really good. Just going in at halftime we needed to get that chip on our shoulder."
That success has been even more impressive considering the Buckeyes have at times been beaten on first and second downs, especially through the air. That was seen again on Saturday, as Iowa continually put themselves in manageable situations.
"The key is first and second down," OSU co-defensive coordinator Everett Withers said. "We are a really good third-down team, one of the best in the country, I believe. And first and second down, that's where people are trying to make their money against us throwing the football and we have to continue to get better on first and second down."