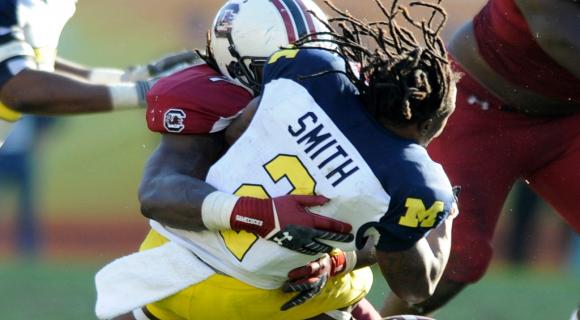 There was plenty to talk about at the 2013 installment of Big Ten media days. Ohio State took center stage, with new head coaches Darrell Hazell and Gary Andersen also garnering attention, as well as Michigan and Nebraska.
But it was the NCAA's new targeting rule that quickly took over the proceedings. All 12 coaches and many of the players were asked about the rule's impact. What commenced was reminiscent of a politician running for office. Players and coaches walked a tightrope so as not to offend anyone.
Player safety has been thrust into the national consciousness with the NFL's concussion saga grabbing the spotlight. High-profile lawsuits and suicides have given way to more stringent rules in regards to helmet-to-helmet contact and the process of evaluating players who have received hard hits to the head.
The biggest rule change to date is a measure implemented by the NCAA that gives officials the power to eject players, in addition to a 15-yard penalty, who target and make contact with defenseless players above the shoulders. Officials will be able to access the replay to make the correct judgment.
If the penalty occurs in the first half, players would miss the remainder of the game. Those committing the penalty in the second half would miss the rest of the game and the first half of the next game.
Big Ten supervisor of officials Bill Carollo doesn't expect a rash of ejections in the coming season. He understands the pushback from coaches, though. 
"Targeting is one of the most difficult calls an official has to make," Carollo said. "Occasionally, it is obvious. But there are times when it happens fast because these kids are exceptional athletes."
It all boils down to a major what-if. What if the officials get the call wrong? College football is played at a rapid pace, making it impossible for officials to always be in the correct position to make a call. Replay helps, but it's a judgment call that could adversely affect the outcome of a game and, ultimately, championships.
Most defensive players have shared their displeasure with the rule, including Wisconsin linebacker Chris Borland who called it "ridiculous." The majority believes it gives an unfair advantage to the offense.
"Football is a contact sport, and there's a lot of gray area in this rule," he said. "I'm anxious to see how this plays out."
Coaches are just as eager – and concerned. They're paid millions to win football games. All of a sudden, a subjective call presents scary consequences. Player safety is understood, but coaches want the integrity of the game protected.
"It's going to be a game changer," said Ohio State head coach Urban Meyer. "There's a handful of plays where our players will be thrown out of the game. We're going to spend a lot of time in training camp re-teaching tackling. Every kid has a video in his iPad that shows the proper tackling technique."
Nebraska head coach Bo Pelini went even bolder, calling the rule "overboard."
Opinions vary sharply on the subject. Northwestern head coach Pat Fitzgerald, who is on USA Football's Tackling Committee, said the game of football is in the midst of a positive trend in player safety, citing the latest rule change as evidence.
The Big Ten has been a major player when it comes to safety in football. The conference, along with the Ivy League, recently hosted a head injury summit featuring representatives from 23 colleges. The two conferences announced one year ago a groundbreaking research collaboration to study head injuries in sports.
"Concussions in athletics is a growing public health concern with increased attention being focused on treatment and management of this puzzling epidemic," said Dr. Seymon Sloubonov, director of Penn State Sports Concussion Research and Services, and a professor of kinesiology and neurosurgery. "No single research laboratory, regardless of how well equipped and funded, is in a position to resolve a critical dilemma facing athletic trainers, coaches and medical practitioners: What is the time frame for safe return to sports participation after concussion? 
"I believe that the Big Ten-Ivy League Head Injury Summit has provided us with a wonderful opportunity to combine our intellectual resources in order to address numerous questions and controversies about sports-related concussion. I was pleased to see a lot of enthusiasm among the participants to share their knowledge and, more importantly, to contribute to the filling scientific knowledge gaps at the junction between basic science and clinical management of sport-related concussions."
"Football is a contact sport, and there's a lot of gray area in this rule. I'm anxious to see how this plays out."
Meyer is onboard with the changes when it relates to the health and well-being of players. In the past 30 years, he said the size and speed of players has changed so dramatically that it's helped cause some of the serious injuries seen in football. He cautioned, though, that football shouldn't be tagged as a barbarian sport where bodies senselessly fly around.
He and his wife, Shelley, had no reservations when their son, Nate, began his playing career. The Meyers' oldest daughter, Nicki, suffered a concussion while playing volleyball. Meyer pointed out that head injuries aren't just limited to the perceived contact sports. 
"She was out for a second," he said. "With sports come some inherent (risks)."
Fitzgerald shared a similar story about his son's soccer league, a sport played with zero protection when it comes to potential head injuries.
"I don't think it's a football problem," he said. "I think it's just teaching kids how to play sports properly."
Ohio State and Northwestern are two schools that have made changes to their practice regimen in recent years to help alleviate concussions. Meyer and his staff did research and weeded out drills – mostly punt and kickoff related – that frequently contribute to head injuries. The Buckeyes have also added space between practices that contain full contact.
"If it's for the safety of the player and it's scientifically proven, I'm all for it," Meyer said. 
The Wildcats have limited two-a-days to just two days after their staff found spikes in soft tissue injuries were in the second practice of two-a-days. Full-contact practices during the season have been limited to one per week, and even that is determined on the overall health of the team. In the rugged Big Ten, contact in practice comes to an end in November. But, at the same time, there are concerns about improvement when contact is nonexistent.
"You can't not tackle and still be a good tackler," Fitzgerald said. 
The former All-American linebacker has echoes the thoughts of other coaches when it comes to player safety: technique has an awful lot to do with it. If players tackled properly, many head injuries would be avoided.
On Thursday, the first Moms Safety Clinic took place at Ohio State. Meyer and NFL commissioner Roger Goodell worked in conjunction with USA Football's Heads Up program to educate moms on safety in youth football.
The three-hour program featured seminars on concussion awareness with world-renowned neurosurgeon Dr. Russell Lonser; engaging your kid's coaches; heat, hydration and nutrition; heads up tackling and proper equipment fitting.
"At the NFL, we do not take for granted that we are in a leadership position," Goodell said. "We see it as our responsibility to make our game as safe as possible – not just for the great players that make it to the NFL, but for all the young people that play youth football and other sports as well. We want your children – and all kids – to have fun playing whatever sports they love, and we want them to stay safe while doing so. That's why a program like Heads Up Football is so important.
"Heads Up Football is a new program launched by USA Football that is designed to make youth football safer and better. At the center of the program is Heads Up Football Tackling, which emphasizes teaching the correct technique that keeps the head up and out of the tackle."
When player safety is discussed, technique is a subject of conversation at every turn. Some might have fatigue or think it's overstated. The stats, however, say otherwise.
When the NCAA announced the targeting rule in March, the rules committee revealed 99 penalties during the 2012 season would have resulted in an ejection, including Jadeveon Clowney's vicious, but perceived to be clean, hit on Michigan running back Vincent Smith in the Outback Bowl.

"It's a big rule, it's critical," said Purdue head coach Darrell Hazell. "Player safety is most important. I think a lot of times guys move, so they're going to bump heads. But I think it's very important we keep hits underneath the shoulder pads and keep it nice and clean.
"The game is fast. The game is very fast. When things happen at those speeds, they might miss a call or two. It could severely affect the game. But it's the right thing to do (for player safety)."
Officials, including SEC coordinator of officials Steve Shaw, later clarified that the Clowney hit was not targeting and was, in fact, a legal hit, but the message had been sent.
Ohio State safety Christian Bryant has been flagged for helmet-to-helmet hits in the past and is known as one of the conference's most gritty competitors. At a coaching staff retreat over the weekend, tackling and the new targeting rule were a hot topic, according to Meyer, with Luke Fickell demonstrating how to properly bring someone down. He'll almost certainly have a chat with Bryant during fall camp.
Proper technique can also lead to less broken plays by the defense, and Bryant in particular. From time to time, he's gone for the knockout hit, which sometimes doesn't happen and results in a big offensive play.
"I feel like an ejection is a little much," Bryant said. "If it's purposeful I would say it's worthy of an ejection. But if it's not intentional, it's not worthy of an ejection. It's not my rule, but I will be abiding by the rules. I don't think I'll be ejected from any games.
"I think you have to be more cautious how you are tackling. I don't think it's going to take away from the physical part of the game. It might for some people, but it won't take away from my physicality."
Only one player was ejected from a Big Ten game last season – Illinois' Earnest Thomas. The last Ohio State player to miss a game for a helmet-to-helmet hit was Kurt Coleman in 2009. 
For the Big Ten's coaches, rules can be head scratching, but every team follows the same guidelines. It might be the age of taking manliness out of the sport. Preventing life-altering injuries comes first, though.  
"We'll play by the rules that we're given," Fitzgerald said. "But my job No. 1 is the health, safety and well-being of my players.
"Are we in the best place? I don't know if we ever will be. But I think we're trending in the right direction."