Ohio State fans have a love-hate relationship with Michigan special teams.
Even this botched punt attempt against MSU running on a loop brings you pleasure. Maybe you know it's wrong - and we'll get to that - but you can't help but enjoy it. We're just wired to celebrate and savor Michigan agony whether or not the Buckeyes are involved.
I'm old enough to remember TBDBITL condescendingly playing The Victors in the Ohio Stadium concourse as Appalachian State closed things out in the Big House with blocked field goal. But it's a rivalry, which means we have our own collection of intimate moments ♥︎ ♥︎ ♥︎
In 1979 the Wolverines allowed three blocked punts heading into the final game of their regular season. The Buckeyes blocked a fourth punt, which delivered the game's decisive score
In 2004 Ted Ginn provided one of the decade's indelible highlights by dancing around diving Wolverine defenders and then blazing past their bench en route to a punt return touchdown
In 2018 Chris Olave took the ball off Will Hart's foot, Sevyn Banks retrieved it on the fly and the Revenge Tour Route was on
But then we have native Ohioans Desmond Howard and Charles Woodson with whom to reckon. They both won Heisman trophies off special teams plays at Ohio State's expense. It's not all sunshine and laughs here, hence the love-hate thing.
There's one historical figure in Michigan special teams lore who is virtually nameless, despite preventing arguably the most talented Buckeye team of all time from defending its national title.
Michigan's third unit has had a fascinating impact on Ohio State football. All of the Wolverines' points in the 1950 Snow Bowl came off blocked kicks, which won them the game, but triggered a series of events that resulted in Woody Hayes' hiring - and Buckeye football as everyone knows it for the past 70 years.
Without Woody, there's no Bo. You could say Michigan special teams are responsible for Schembechler Hall existing, as well as the statue that is still erected out in front of it.
There's one historical figure in Michigan special teams lore who is virtually nameless, despite preventing arguably the most talented Buckeye team of all time from defending its national title. That would be Blake O'Neill.
He punted four times against the Buckeyes over his career for a 39.3 yard average. But none of those kicks torpedoed Ohio State's title hopes in 2015 - it was the kick he didn't make that sent Sparty to Indy instead of the Buckeyes. The one atop this article that brings you joy.
It was a botch for the ages; a mishandling so cartoonish and untimely it still doesn't seem real. Welcome to Time Squad. This week we're going send the 2015 Buckeyes to Indianapolis to defend their conference crown - but without meddling with anything they did on the field.
TIME SQUAD VOL.9 | OH, HE HAS TROUBLE WITH THE SNAP!
Ohio State was the defending CFP champion entering 2015, and what followed that season can only be described in hindsight as coaching malpractice of the highest order.
That team was so talented it couldn't even hide behind clunky 38-0 shutouts. They apologized for those wins because they knew the scoreboard could not overpower basic football literacy. They were good enough to be bad and still win. For awhile, anyway.
On Oct 17 as the Buckeyes were warming up to face Penn State, Michigan was faced with a 3rd & 3 at the Spartan 48. De'Veon Smith gained one yard, bringing up 4th down with 10 seconds left. Volume all the way up:
Yeah, I love it. It's amazing all the way down to Sean McDonough yodeling on the broadcast.
This was playing on all the screens at the 11W Black Saturday Banger that afternoon, which meant we were lubricated with our readers while watching this happen. The bar was nearly swallowed into the earth as time expired. We didn't walk to the stadium for the Penn State game after this, we floated.
O'Neill's performance has to be the top entry in the big book of punter crimes and misdemeanors for football at any level. Borking a snap and then running around the ball to pick it up with his back turned to the rushers has no equal. This is peak #collegekickers.
O'Neill is the MVP with honorable mention to Jalen Watts-Jackson, who returned the gift for the game-ending touchdown and broke his hip when Jake Butt tackled him. It was the last time Watts-Jackson would be able to run for six months. He later medically retired from football and still has trouble enjoying the moment he helped create.
Anyway, here's how the B1G East Division shook out a month later.
B1G EAST DIVISION 2015

| TEAM | B1G | OVERALL |
| --- | --- | --- |
| MICHIGAN STATE | 7-1 | 11-1 |
| Ohio State | 7-1 | 11-1 |
| michigan | 6-2 | 9-3 |
Sparty took the tiebreaker because of the thing we don't need to discuss today. After that thing, the Buckeyes dropped to no.8 in the CFP rankings while Michigan State jumped to no.5. The Spartans beat Iowa 16-13 in Indy and landed the 3-seed in the CFP, where they were demolished by no.2 Alabama.
Meddling with that Michigan-MSU game to give Smith the 1st down on 3rd & 3 is a bit of a stretch, since this era of Michigan football was particularly mediocre at running the ball. Jim Harbaugh going for it on 4th & 2 is also out of character. Instead, we'll have O'Neil do literally anything other than what he did on that punt.
Like, catch the snap. And then kick the ball. Ordinary stuff. Leaving the rest of the season intact:
Michigan beats Michigan State 23-21
Harbaugh, currently 3-4 against Little Brother, gets a winning record in one of his important things
Ohio State eventually gains a two-game lead on MSU in the division, eliminating the Spartans
The Ohio State-Michigan game decides the East title. The visitors won 42-13 in Ann Arbor
The Buckeyes face the Hawkeyes in Indy. A win over the CFP no.4 team would have put Ohio State back in the playoff, likely facing no.1 Clemson.
Ohio State's Fiesta Bowl win over Notre Dame comes off the board, keeping OSU winless in Glendale
The exodus of draft-eligible juniors is unchanged
Michigan State's latest Ohio Stadium shock is preserved, though without 1998-type consequences
Returning to the 2015 Buckeyes as they exist in our current, non-Time Squad timeline:
coaching malpractice of the highest order
The light didn't turn on until the Buckeyes took that Senior Day L at home to Michigan State, playing without its starting quarterback. I'm not interested in relitigating just how poorly that team was managed to that point (writing about it every week seven years ago was plenty) but we can assume the MSU loss still turns the light on in similar fashion, without blushing.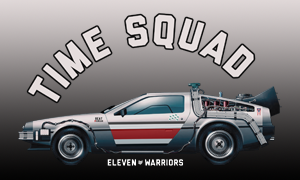 This creates a parallel situation to 2014 where everything comes together as the season is ending. Michigan is obliterated and the team heads to Indy knowing it needs style points just one year after scoring 59 of them at Wisconsin's expense. It now has the urgency it lacked right up until the Spartans visited.
The team everyone expected the 2015 Buckeyes to be wakes up without being tiebreaker'd out of contention for a final interview in Indianapolis. They get a second chance, which they were denied explicitly because a Michigan punter couldn't field a perfect snap and kick a ball even 20 yards with 10 seconds left to seal a rivalry win.
As for impact on the future, there's no downside to playing an additional B1G title game or facing Clemson in the Orange Bowl again, for the second time in three seasons - and potentially rematching with Alabama, this time for the title.
That was what everyone had predicted all along! Alas, no one expected the Wolverines to derail it. But they did - with a love-hate special teams performance second only to the Snow Bowl.
Verdict: Proceed. This is worth losing one of college football's greatest schadenfreude moments. Time Squad, let's try this again in another space and era.