On October 17 Ohio State hosts Penn State in the Horseshoe for the first night game of the season and the first #blackout in stadium history. That day we'll be throwing a party at Hamptons just south of the stadium and you're invited.

VS


Here are the details –
LOCATION: Hamptons on King is at 234 King Ave in Columbus, south of the Horseshoe.
TIME: Doors open at noon.
ADMISSION: We're suggesting a $21 donation, 100% of which will benefit long-time 11W charity partner DownSyndrome Achieves. You are free to donate more. You can securely donate right now, right here - just bring your receipt to Hamptons and you'll get your bracelet. You can also donate if you're unable to attend.
DSA will also be on-site and will accept cash, credit card and checks directly. Through our annual tailgate 11W readers helped fund the first-ever BioBank for Down Syndrome research, which is located at Nationwide Childrens Hospital.
You'll receive drink tickets and a bracelet with your donation. That bracelet will make you identifiable to the staff & 11W hostesses bearing gifts - and also gives you access to discounts on select food and drinks, including:
$11 double-jumbo quesadillas or one-topping pizzas
$11 pitchers of Ohio-brewed Cellar Dweller Blues blonde ale 
$3 11W and Undisputed shots as well as $4 Ohio Drafts
SWAG: We'll be auctioning off some very cool items to benefit including some one-of-a-kind branded items from The Best Damn Band in the Land (!) a Fat Tire bicycle (!!) as well as courtside seats (!!!) to see the Eastern Conference Champion Cleveland Cavaliers.
ENTERTAINMENT: Live music from local artists! Hamptons is also equipped with flatscreen televisions and all of the early college football games you can consume.
 
---
FAQ
Why $21?
Chromosome 21 is one of the 23 pairs of chromosomes humans have. People without Down Syndrome have two copies of this chromosome. The trisomy of the 21st chromosome is what causes Down Syndrome. You are free to donate more.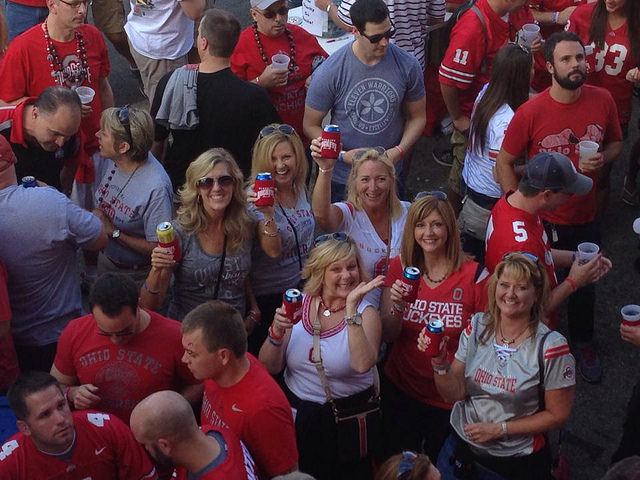 I'm under 21, or want to bring someone who is under 21. Is that okay?
Hamptons on King is a 21 and over establishment. Valid ID will be required for entry.
Hey, what happened to the Eleven Dubgate?
Unfortunately a Columbus City zoning ordinance eliminated our location when it was too late to find another one suitable for holding an event of its size. Hamptons generously offered its space in its place and the Black Saturday Banger was born.
Do I have to make a reservation or can I just show up?
You can securely make your donation and reservation here, make your verbal to attend on the Facebook event page and share it with your friends. And you can just show up.
We'll see you there!