We're still waiting for the team that doesn't exist to arrive.
It's the one that piles up gaudy statistics with former 3rd-string quarterbacks throwing darts to wide-open two-time Silver Football winners. This team scores 35 points per half regardless of the opponent. It eats the giant target defending champions wear on their backs for breakfast. Through a straw.
It doesn't sleep. It never punts. Touchdowns are routine. Field goals are for the weak.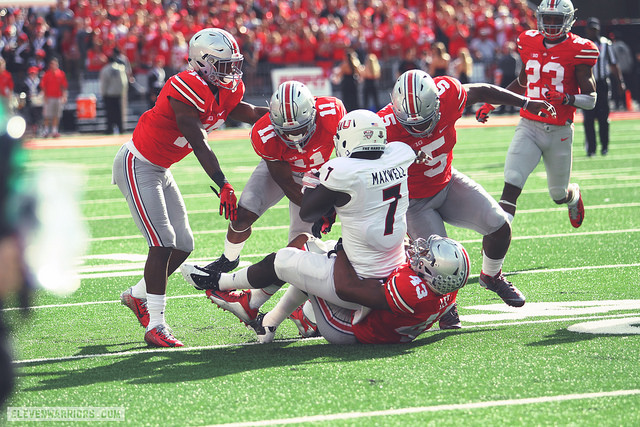 We're still waiting for that Ohio State team to arrive, as if it has ever existed before in history. Sure, the 1998 team lit up the scoreboard and never allowed 20 points in a game - except for that one time when it lost to a 6-6 team. The 2006 edition didn't allow an opponent to score 18 points until it gave up 39 to Michigan prior to embarking on a 51-day awards banquet circuit that siphoned away its legacy. Neither of those teams were that team either.
The one-loss defending national champions were also not that team, even in hindsight. The 2014 Buckeyes faced only four ranked squads and devoured all four of them. It's your own damn fault those games are all you choose to remember from last season. There were a dozen others but most of them were far less exciting - and even worse, there weren't any shiny trophies or high stakes attached to them.
Fortunately this charade all ends Saturday afternoon. The Grind has only one game left.
Illinois has the distinction of serving as the grand finale for this two-and-a-half month Parade of Average, the Cavalcade of the Unranked, that March of the Mediocre - whatever you would like to label these Ten Games That Aren't Against Michigan State or Michigan. The grinding part of The Grind mercifully concludes Saturday.
Don't be surprised if it ends up being the hardest one.
If the Buckeyes can survive Illinois - which has an interim coach, interim athletic director and interim chancellor (none of whom will play football Saturday) they can very quietly revert back to Chase mode. Ranked opponents. High energy and higher stakes.
The Buckeyes just need to beat A plucky Illinois team. THEN you can go back to being thrilled with one-score victories.
The games Urban Meyer recruits players from all over the country to come to Columbus to play in can finally begin. All that stands in the way are the 5-4 Illini; a team that complements its valiant upset wins with plodding losses. Nobody gets to choose which one takes the field Saturday, and Ohio State will have to manufacture urgency just one more time. Come to Ohio State. You'll get to play in Champaign at noon.
The brightest lights this season for the Buckeyes have been at unranked Virginia Tech and in blackout conditions against unranked Penn State. They defeated those two by a combined score of 80-31. Last year the tally for those two games was 52-59 in favor of the opposition, with one loss and a double-OT win. That's the 2014 team; the shadow of the one you were expecting to show up this season and treat every Saturday like it's the Sugar Bowl.
Doing so would not only have been unsustainable, it probably would have meant peaking too early. That's how the first Teams of Destiny from that season eventually found themselves in Orlando, Atlanta or Miami instead of New Orleans and Arlington.
That all said, Ohio State has supplied several ponderous, growing-pain moments between Blacksburg and the visit from Minnesota last weekend. This is precisely how the script for The Grind was written. Had Meyer titled it The Waltz your angst might be justified.
Consider all of the repeat adversaries from the schedules last season and this season:
Ohio State's Common Opponents 2014-2015

|   | VT | IU | MD | PSU | RU | MN | TOTAL | AVG |
| --- | --- | --- | --- | --- | --- | --- | --- | --- |
| OSU 2014 (Off) | 21 | 42 | 52 | 31 | 56 | 31 | 233 | 39 |
| OSU 2014 (Def) | 35 | 27 | 24 | 24 | 17 | 24 | 151 | 25 |
| OSU 2015 (Off) | 42 | 34 | 49 | 38 | 49 | 28 | 240 | 40 |
| OSU 2015 (Def) | 24 | 27 | 28 | 10 | 7 | 14 | 110 | 18 |
Yes, four (!) of those teams have lost or are losing their head coach, and only Penn State is statistically better this season while the rest of those teams have regressed.
But the Buckeyes have still scored more, allowed less and - this is how math works - increased their margin of victory over last season despite how bland you might find historic winning streaks. Again, that's your own damn fault. Very few teams are this good while frequently playing tedious football.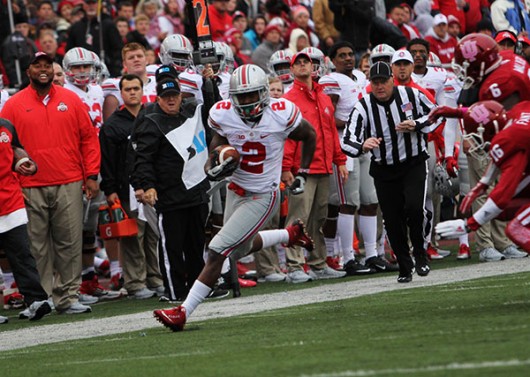 Fortunately you only have to pout for another week. The Buckeyes just need to beat that plucky Illinois team and you can go back to being thrilled with one-score victories.
After Saturday it's nothing but heavyweights for the rest of the season. This is what you've been waiting for ever since Blacksburg, when you were excited for that team that doesn't exist to lay waste to nine more pushovers with the urgency and vigor it reserved for last season's marquee showdowns. 
One more week. One more Saturday. One more unranked opponent the Buckeyes know they should be able to beat on their worst day. One more opportunity to be disappointed by the quality of a victory. Then we'll see if that team makes a few timely cameo appearances for the second straight season.
Either way we'll never stop waiting for it to arrive. And that's our own damn fault.