Welcome back to My Favorite Things.
Editor's note: We're bumping this back to the front page in honor of Teddy's NFL retirement.
_____
PREVIOUSLY ON MY FAVORITE THINGS: Episode 6: Here Come the Luckeyes
My Favorite Things is an escape from all of that. The philosophy is simple:
When I'm feeling sad
I simply remember my favorite things
And then I don't feel so bad
So let's do that. Today we're going to celebrate Ted Ginn Jr.
---
EPISODE 7: TED GINN DID EVERYTHIN'
The first rule of Ted Ginn Jr. is: You Cannot Overthrow a Deep Ball to Ted Ginn Jr.
The second rule of Ted Ginn Jr. is: YOU CANNOT OVERTHROW A DEEP BALL TO TED GINN JR.
Two GIFs, One Play. Why didn't they just make the entire Ohio State game plan out of Teddy running fly routes? You'll have to ask Jim Tressel:
My gosh, Teddy is special. But you know football is a team sport, and we've got a lot of guys who work like crazy, that love being Buckeyes and we've got time of possession to think about so our defense can get some rest, and so forth.
Tressel never actually said that but he definitely whispered it to himself while tying his tie, or at least he thought it while sneaking an extra pat of butter for his afternoon toast. Those two touchdown GIFs raise important points that were floated during the era when Ginn was gliding across collegiate football fields:
Was Teddy on a fly route some Looney Tunes Roadrunner meep meep puff of smoke silliness that made everyone trying to cover him look like Wile E. Coyote? (yes)
Was Illinois really losing 26-2 in that highlight? (#TresselEra)
Were pundits who made Charlie Weis out to be a coaching genius ever brought up on charges? (no)
How did a kid who grew up idolizing Charles Woodson and wearing No.2 end up in Columbus?
That last one is terrifying, and you'll probably want to put on a diaper or sit on the toilet before you read the rest of this sentence - because without The Hinge that was built when Teddy was playing at Cleveland Glenville it's quite possible Ginn follows Desmond Howard and John Kolesar into the immortal toxicity sanctum of Native Ohioans Who Have Singlehandedly Kept Michigan Football From Being Minnesota.
But he didn't, and Ginn is one of several Ohio State's momentum-shifting homegrown treasures from the post-Hinge era. Aspiring quarterbacks wanted to be ferocious and stoic like Troy Smith. Young linebackers wanted to be relentless like AJ Hawk. Burgeoning linemen wanted to be technically dominant like Nick Mangold.
And receivers wanted to be silky, speedy and supernatural like Teddy.
Ted Ginn! Ted Ginn! Ted Ginn did everythin'!
Justin Zwick, Mike D'Andrea, Maurice Clarett and Drushaun Humphrey were the first four Ohio difference makers to choose the Buckeyes and not the Wolverines when they headlined Tressel's 2002 class, his first full one in Columbus.
Donte Whitner and Louis Irizarry made it a trend the following season. Ginn was on the marquee by himself in the 2004 class as the highest-rated recruit to ever come to Ohio State, edging out D'Andrea. He got on the field right away during the Buckeyes' worst season of the decade, and he was the lone bright spot during the program's only losing streak under Tressel.
Here is his first collegiate punt return. There's garden variety freshman confidence, and then there's I know I'm fast enough to run through a meat tunnel made out of six Wisconsin Badgers without any blockers freshman confidence. Teddy had the latter.
We knew right away he was silky, speedy and supernatural. Teddy scored on this return, which was his very first one. He got three more that season, which tied the NCAA record. He also scored on his very last return. Let's continue.
Back in 1906, a 5'11" 165lb tight end was probably a regular occurrence in college football. One hundred years later, a TE that slim would have been absurd.
But it has happened! Here's how it went.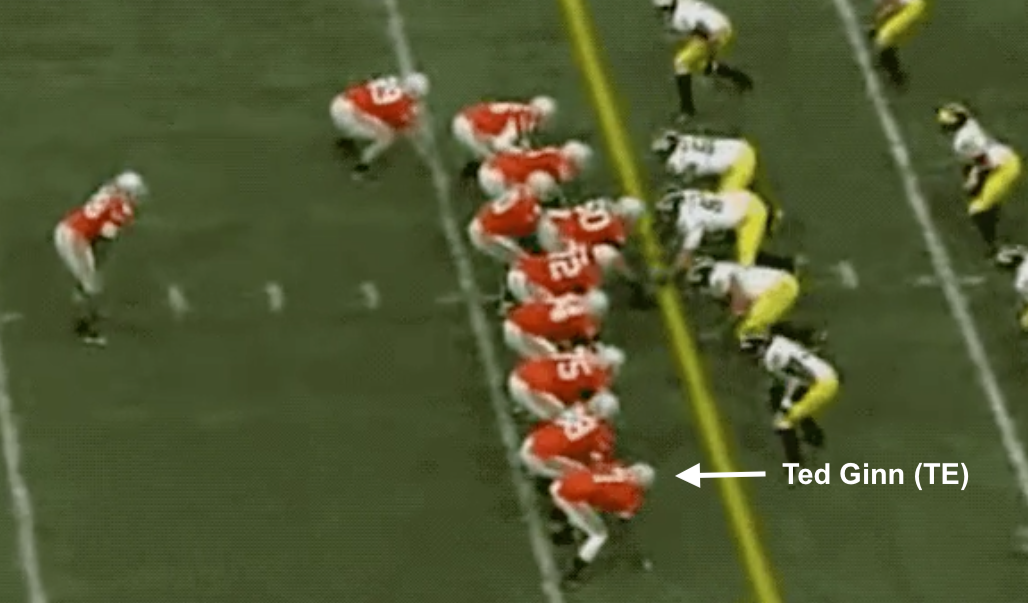 You can tell by no one lining up to check him at the line that Michigan wasn't ready for this, which coincidentally has been the theme of this rivalry since earth defeated the Y2K bug. Let's press play.
That is a sexy tight end. Let's check it out from behind.
Five-star defensive back. Deep threat. Special teams ace. Tight end. But can he throw?
Ginn launched this precision front-shoulder laser to Rory Nicol, causing his defender to get vertigo right as the ball arrived. That's not a pass you teach; that's a pass you know. Thanos isn't this casual about murdering opponents. Teddy had a habit of making defenders fall down, trip up or look comedically slow, whether he had the ball or not.
When he did have the ball and just a little space to work with, we were treated to what it would look like if gazelles had opposable thumbs and shoulder pads. Here's some very normal, true-freshman-on-the-road-while-trailing-with-under-two-minutes-left-game-winning heroics.
Let's slow this down and appreciate what proper social distancing looked like 16 years ago.
See No.31 in green? That's Spartan defensive back Jaren Hayes whom Ginn dusts here with the game on the line. Here is Hayes' scouting report, emphasis added:
Speed, speed and even more speed helped the former Falcons' standout pile up 4,882 yards. … Once (Hayes) rushed for 400 yards in a game vs. Hempfield, and blew up many a secondary with his incredible wheels.
Imagine being the fastest player on the field your whole life and then being emasculated like this. That was Teddy's gift to the fastest guy on every team the Buckeyes played for three years.
And this entire tribute could just be Teddy Dusting the Fastest Guy on the Other Team GIFs, but let's put a premium on being a little more creative than that.
...um, here's Teddy Dusting the Second-Fastest Guy on His Own Team.
That's future Super Bowl MVP and noted tortoise Santonio Holmes getting the Secretariat treatment along with the rest of the Indiana roster. This happened to be one of four excruciating scoring returns Ginn was robbed of by virtue of penalties that occurred well behind him, as if any human would have been capable of catching up to him with or without the benefit of a jetpack.
Here's a kick return at Minnesota. Notice how everyone else looks weird sped up 250% but Teddy still looks kind of normal. As awkward as it sounds, fast looks fast at any speed.
In the first of Ohio State's three 1 vs. 2 showdowns in 2006, Texas deployed a boring-ass Cover 4 with its safeties lined up deep to guard against Ginn posterizing them in the event he decided to hold an impromptu footrace - and even that almost failed to save them.
Without diving into what-ifs in the football game that allegedly took place following Ginn's final collegiate kick return touchdown, imagine if Just Throw in Ginn's Direction had been an option, especially in the face of an unrelenting pass rush.
And in that alleged game, imagine if the hypothetical opponent had been forced to address Ginn's side of the field with more than just one defender. I promised us I wouldn't do this and I'm sorry. That was definitely not one of My Favorite Things. Some scabs never heal, and his final bowl game is one of those.
So let's close by remembering his first bowl game.
It was the Alamo Bowl in San Antonio, a decent destination for Ohio State's worst season under Tressel, and Smith was suspended because a booster had paid for his cell phone bill (these crimes are fun to look back at in hindsight).
This left the Buckeyes with Zwick at QB - pictured to the right hobbling around during the 1st quarter - and Todd Boeckman's extremely flammable redshirt backing him up. It looked unlikely that Ohio State would be able to finish the game without doing something drastic at quarterback.
As it turned out, Teddy was something drastic. Note the high school stat line. Not bad for a defensive back.
Oklahoma State's first punt of the game had gone 17 yards because the punter shanked it trying to kick it away from Ginn. The next punt went farther, but still out of bounds. Then they kicked it to Holmes to avoid Teddy. Kirk Herbstreit, who provided color for this broadcast, predicted Ginn would start at corner and return kicks for the Buckeyes in 2005.
Have you ever heard of a player being capable of affecting all three phases of a game plan? This century, just one. Here's what it looks like when 21 guys are playing one sport and there's just one guy playing another, by himself (I haven't seen this play in any of the Alamo Bowl or Ginn highlight reels cobbled together on YouTube, probably because it was a little too ordinary).
He had to run backwards for anyone to catch him. Here's Teddy handing off to himself for a TD.
Prior to Ginn's arrival, Southern Speed was a staple in the college football lexicon. Ohio State beating Miami created a hole in the matrix and violated a whole bunch of sports laws, least of all the premises that speed is exclusive to humid climates and that southern teams had exclusive access to it.
Teddy arriving in Columbus while Devin Hester was in Coral Gables was another insult. Fast guys can come from anywhere. Ohio natives like Joey Galloway (Bellaire) and Terry Glenn (Columbus) showed that the fastest recent Buckeyes like Michael Wiley (San Diego) and Butler B'ynot'e (St. Louis) didn't always have to be imported. And cold weather wouldn't be an issue.
But these types of homegrown threats used to choose Michigan's immortal toxicity sanctum way too often. Teddy, as dazzling as he was on the field was ultimately the new face of the Ohio Playmaker Staying Home. Michigan's poaches have been limited to B-lister Manningham and Toussaint-types since then. Its Ohio Heisman decade ended, and Ginn ultimately closed it.
Teddy headlined the first class of recruits in 44 years to matriculate out of Columbus without leaving a single Gold Pants opportunity on the field. That's normal now, and it should be normal forever.
But it was a novelty then, and a player who can quite literally do everythin' will be a novelty forever.