The first guy to ever play there was named Horace Prettyman.
He was on eight (!) Michigan teams between 1882 and 1890 and scored their first two home field touchdowns ever. Prettyman was a three-time team captain, and he was born and raised in Williams County, Ohio.
The first guy to ever coach there was Gustave "Dutch" Ferbert. He won Michigan's first Western Conference (now B1G) championship in school history in 1898. Before coaching the Wolverines, he played for them and was unanimously voted to be team captain. Ferbert was from Cleveland.
During his first season coaching, his Wolverines were shut out by Ohio Wesleyan, which was then led by Fielding Yost of West Virginia. Yost left Ohio and eventually took over for Ferbert at Michigan, where he won six of the school's 11 claimed national titles. He also became the athletic director.
And of course, Bo Schembechler was from Barberton and both played and coached under Woody Hayes. He is Michigan's all-time wins leader, owns its highest winning percentage and won more conference titles than even Yost did.
Bo's successor at Michigan, Gary Moeller, also played and coached for Hayes. He was the captain of the 1963 Buckeyes. As Michigan's coach, he is still fifth in conference winning percentage and championships. Mo is from Lima, which is about 71 miles north of Kettering on I-75, hometown of current Michigan coach Brady Hoke.
The best player in Michigan football history, Heisman Trophy-winner Charles Woodson, is from Fremont - the same town as consensus All-America Rob Lytle, who finished third in the 1976 voting. 
Its second-best player, Heisman Trophy-winner Desmond Howard, is from Cleveland - as was Benny Friedman, Michigan's best quarterback ever.
The Wolverines' best offensive lineman ever, Dan Dierdorf, is from Canton. 
Its best punter, left-footed space emperor Zoltan Mesko, grew up in Twinsburg where he cheered to the point of weeping with joy when Ohio State won the 2002 BCS title.
Yeah, yeah, you get the idea. No, no, you don't.
Michigan's first black quarterback, 1974 captain and Heisman finalist Dennis Franklin played at Massillon. Michael Taylor, one of Michigan's all-time leaders in both passing efficiency and completion percentage played at Cincinnati Princeton.
Its first (and only) quarterback named for the singer who opened the door to black music - Elvis Grbac - is from Cleveland where he coaches high school football today. All-America defensive tackle Mike Hammerstein was from Wapakoneta, home of Neil Armstrong (who went to Purdue, as astronauts often do).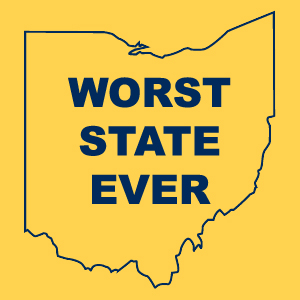 All-America defensive backs Thom Darden and Dave Brown were from Sandusky and Akron, respectively. Tom Curtis, Michigan's all-time interceptions leader (he had 25, which was eight more than Fremont's Woodson) was born in Cleveland, as was consensus All-America tight end Jim "el Diablo" Mandich.
Cincinnati native BJ Askew holds the Michigan record for the most receiving yards by a running back. He was voted the Wolverines' MVP in 2002, just as team captain Jordan Kovacs of Curtice was this past season. That highest program honor, unsurprisingly, is named for Schembechler.
Also receiving team awards last December were Senior Scholar Patrick Omameh of Columbus and Top Linebacker Jake Ryan of Westlake, the same high school that produced Buckeye Nightmare John Kolesar, who today still lives in town.
Gordon Bell was one of Michigan's all-time leading rushers. He's from Troy and might have ended up in Columbus were it not for Archie Griffin, whose shadow he played in throughout high school.
Bell actually rushed for more yards than Griffin did during his second Heisman season. Imagine them in the same backfield.
Mike Boren, Michigan's sixth-leading tackler all-time, is from Columbus. He has since been forgiven.
The starting fullback on Yost's "point-a-minute" team in 1902 was Paul J. Jones of Youngstown. He opened holes for halfback Albert Herrnstein, who scored six touchdowns against Ohio State in The Game that year. Herrnstein was from Chillicothe.
Herrnstein later became the Buckeyes' head coach and compiled a record of 28-10-1 which included an 0-4 record against his alma mater. His nephew John was the Wolverines' team captain in 1958.
Howard Yerges, the quarterback of Michigan's 1947 team considered by many to be its best ever was from Columbus Grove. He was also from Ohio State; Yerges was transferred as a Navy trainee during World War II from Columbus to Ann Arbor after playing for the Buckeyes in 1943.
His legendary 1947 season at Michigan was only made possible by conference officials who granted him a fifth year. Yerges handed off to Toledo native Bob Chapuis, who was the MVP of Michigan's 1948 Rose Bowl victory that season running behind guard Stuart Wilkins of Canton. 
The Big Ten's Silver Football Winner of 1965, Heisman finalist Bob Timberlake, was from Middletown. He's one of five Ohioans who have claimed the Big Ten's MVP award as Michigan Wolverines.
In total there are 38 Michigan Men in the College Football Hall of Fame. Fourteen of those legends are from Michigan, and they are largely from the leather helmet era. Nine of them native Ohioans, and eight of them played with facemasks.
Now you're starting to get the idea. There are plenty of other exceptional Michigan football players from Ohio, but the whole point is that you should be better informed than just "Bo was from Ohio." That's a little too lazy.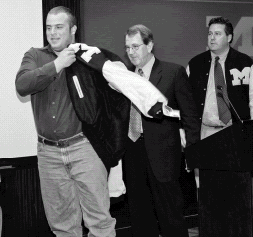 It would also be overly-simplistic for Michigan fans to say well those Ohioans are just going somewhere better but...these days they're going to Michigan. Forty-nine states have grown their populations this century. Guess which one hasn't.
Besides, that General Studies track that Michigan funnels the vast majority of its football players into doesn't deliver a lengthy, lucrative future just because of the seal on it. It's a nice recruiting pitch, but no paper does that. Even if it did, current US News & World Report rankings show more space between Harvard and Michigan (the Harvard of the West) than between Michigan and Ohio State.
The academic competition has changed. The vital importance of Ohio players to Michigan football has not.
At the same time, what has delivered a lengthy, lucrative history for Michigan football are its players and coaches from Ohio. It hasn't been "theft" in any sense, either: An enormous number of great players from Ohio have played for Ohio State, and you could write a similar story to this one about the numerous, forgettable Ohioans in winged helmets.
Michigan football has been built largely by men from the state it proudly claims to hate, on everything from its lying footballs to loud t-shirts. The Wolverines' historical success has been constructed with the aid of this imported talent, the output of which is that famous, empty arrogance.
And for over a century that arrogance has been nourished by players and coaches from its neighbor to the south, so everything we've grown to despise about Michigan fans - both of the academic and far more pervasive Wal-Mart variety - might actually be our fault.
Which means Michigan fans are probably right: Ohio just might really be the worst state ever.