Welcome back to My Favorite Things.
We're isolated from each other, trying to survive a global pandemic. Each day brings more uncertainty and terrifying news, as we take shelter from an invisible global scourge. A single cough can send your mind to a dark place. Life is paused. Sports are on hold. This sucks.
My Favorite Things is an escape from all of that. The philosophy is simple:
When I'm feeling sad
I simply remember my favorite things
And then I don't feel so bad
So let's do that. Today, we're back in Ohio Stadium on Nov 23, 2002. There's one second on the game clock.
---
EPISODE 6: HERE COME THE LUCKEYES
After closing the first full century of college football on a 32-year dry spell, Ohio State picked up a BCS championship in 2002. It claimed the first CFP title a dozen seasons later.
The Buckeyes do not live for free in the national spotlight these days. They overpaid for this era.
Their fresh championship - which still feels impossible five years later - was delivered by a third-string quarterback whose first career start came that December. The one right after the century turned came courtesy of a molecular genetics major and true freshman enigma. Far greater and more imposing Buckeye teams (the parts, not the sum) failed to achieve what they did.
That 2002 season ended with Craig Krenzel and Maurice Clarett ending a 34-year drought, along with the defending champs' 34-game winning streak. When it began, the word luckeyes quite literally did not exist. And why would it?
Four seasons before the Luckeyes went 14-0, the Buckeyes went 11-1 with four All-America players, a Butkus winner, the Thorpe winner and the Silver Football winner. They beat every team they faced by double-digits...except the four-touchdown underdog they lost to at home.
In one impossibly unlucky half against Michigan State, the best team in the country and arguably the most talented Ohio State team of that century did the following to itself:
Damon Moore got hurt celebrating a pick-six.
A horribly shanked punt that would have nearly put the Buckeyes in FG range already up 24-9 instead hit Nate Clements in the back (above) giving the Spartans their biggest gain of the day.
50/50 balls were suddenly 100/0 balls in Michigan State's favor, against the nation's best secondary.
The Buckeyes and Spartans essentially traded identities for just enough minutes to matter.
We could repeat this exercise for 1997, when the Buckeyes held the eventual national champions to 42 yards rushing on 42 carries in their own stadium - and still lost. Do you  remember which play was far bigger for the outcome than Charles Woodson's punt return touchdown, which is how Michigan memorializes that game?
The decisive points, which were an absolute gift. Ohio State wins otherwise.
You cannot remember any gifts the Buckeyes got against the Wolverines during the 1990s for classic 404 FILE NOT FOUND reasons. This century, Michigan has been quite generous just about every season, but we're wading through an era where the term luckeyes was never uttered. It would been viewed as gibberish by everyone, especially Ohio State fans.
In 1996 the Buckeyes allowed a fatal case of the yips cancel their national title hopes in a game where they could not catch a break. In 1995, four All America players - the Heisman and Biletnikoff winners, pros all over the place and shattered school records in their wake - manufactured a way to lose by letting an unremarkable running back look like Jim Brown in his prime.
The slightest bit of luck cancels that nightmare. All of the breaks went to the winged helmets.
Ohio State was good enough to win it all numerous times. Every title team is talented, well-coached, a bit magical - and catches a break here or there. Those enormously talented title contenders just couldn't ever seem to catch one. Ever.
After decades of FACE-PLANTING in shit EVERY SEASON, Ohio State suddenly had a horseshoe jammed up its ass.
You can do this going back to 1979, when the undefeated Big Ten champs left too many opportunities on the field in Pasadena and lost by a single point. Luckeyes? Man, that nickname would have sounded dumb as hell in September 2002. Luck? What fucking luck?
In 2002 Krenzel took over for Steve Bellisari while true freshman Clarett beat out Lydell Ross, Maurice Hall, JaJa Riley and Jesse Kline to start at tailback. It was Jim Tressel's sophomore season, and while he had already installed a hinge in the rivalry - that 2001 team also finished with five losses. A little luck would have turned those close Wisconsin, Penn State and South Carolina Ls into close Ws. 
They roared out of the gate in 2002, dissecting Texas Tech, Kent State and No.10 Washington State with relative ease - but September football has been hot in Columbus since Woody Hayes was singing Sigma Chi drinking songs in Licking County. September is seductive. This is the month we get Charlie Brown'd - we're here every season.
A trip to Cincinnati proved to be a little trickier than it was supposed to be. The Buckeyes stumbled for most of the 1st half against an in-state ambush, and - as you might expect during that era - they got a nice thing that was immediately taken away.
Chris Gamble didn't need holding to run away from all of those Bearcats. That penalty (keep your eyes on UC's Chick-fil-A logo at midfield) was barely holding anyway! But luck was still a myth, and it was beginning to look like a special kind of nightmare in Paul Brown Stadium. Fast-forward to late in the 4th quarter and Cincinnati was engineering a legendary drive.
Got a perfect matchup against a freshman corner. Ah shoot, that's a dropped game-winner.
Opposite field, the next play. Got a linebacker on a fade route this time. Right through his hands.
This brought up 4th down, and we'll come back to what happened there shortly.
The Buckeyes would win a game they had every reason to lose because a) their opponent gagged on the opportunity and b) their luck ran out. Losing like that had been Ohio State's music for decades, but now it was blaring on the other sideline. Luckeyes Escape Queen City Unscathed would have been have been passable usage for that term. But it was just one game.
But then the Buckeyes escaped Evanston despite a comedy of errors. Then they snatched victory from the jaws of defeat in Madison. They beat Penn State without scoring an offensive touchdown. Then they went to West Lafayette - and there's a reason history has chosen to remember only one play from that game.
Because the Purdue trip blended with all of the sluggish angina games that preceded it.
One week after Holy Buckeye, Ohio State needed overtime to take down a 5-7 Illinois team. That put the Buckeyes - who were cheating death every week - at 12-0 on the year. Do you know how many times in program history Ohio State had won 12 game in a single season prior to 2002?
Don't look it up. The answer is none times. Zero. All of the luck the teams that preceded this one failed to receive was showering the 2002 Buckeyes, and we were now basking in the first 12th win in Ohio State history. Half of them are in this chart (warning: NSFW)
BETTER TO BE LUCKY THAN GOOD TOUR | 2002

| OPPONENT | DATE | FINAL RECORD | RESULT | MARGIN | CLARETT? |
| --- | --- | --- | --- | --- | --- |
| @ CINCINNATI | 9/21 | 7-7 | W | 4 | DNP |
| @ Northwestern | 10/5 | 3-9 (1-7) | W | 9 | 3 FUMBLES |
| @ WISCONSIN | 10/19 | 8-6 (2-6) | W | 5 | INJURED |
| PENN STATE | 10/26 | 9-4 (5-3) | W | 4 | INJURED |
| @ PURDUE | 11/9 | 7-6 (4-4) | W | 4 | INJURED |
| @ ILLINOIS | 11/16 | 5-7 (4-4)  | W (OT) | 7 | DNP |
That's every road game - on a schedule that had no byes. Ohio State's starters were playing 60 minutes each week, even against their lousy opponents. They had no business being 12-0.
The Buckeyes were equal parts lucky and good-enough heading into Game 13, which a) is an unlucky number and b) involved Michigan, a team Ohio State had beaten in Columbus twice in seven tries. And the home team was undefeated, again. This was a Nineties flashback nobody was excited about, because - as we knew very well by 2002 - Charlie Brown is forged in September.
That 2002 Michigan game played out as a composite of the 12 games that preceded it, where Ohio State battled, fumbled, prevailed and stumbled as minutes slipped off the clock. This was their identity now; a team that had somehow engineered resilience, bouts of competence, plodding efficiency and raw, uncut pharmaceutical-grade luck into the game plan each week.
So of course the Wolverines had the ball inside the Ohio State 30 with one second remaining on the clock and a five-point deficit. The Buckeyes were out of timeouts and weren't given the luxury of overthinking what to do next.
As crushing as 1988, 1990, 1992 (the tie, which they win with the slightest bit of luck) 1993, 1995, 1996, 1997, 1999 and 2000 had been - losing like this would have been more devastating. And the clock operator who allowed one second to remain for that play would have woken up Sunday in the Franklin County morgue.
Here's what 0:00 on the clock and John Navarre winding up looked like. Oh...oh god.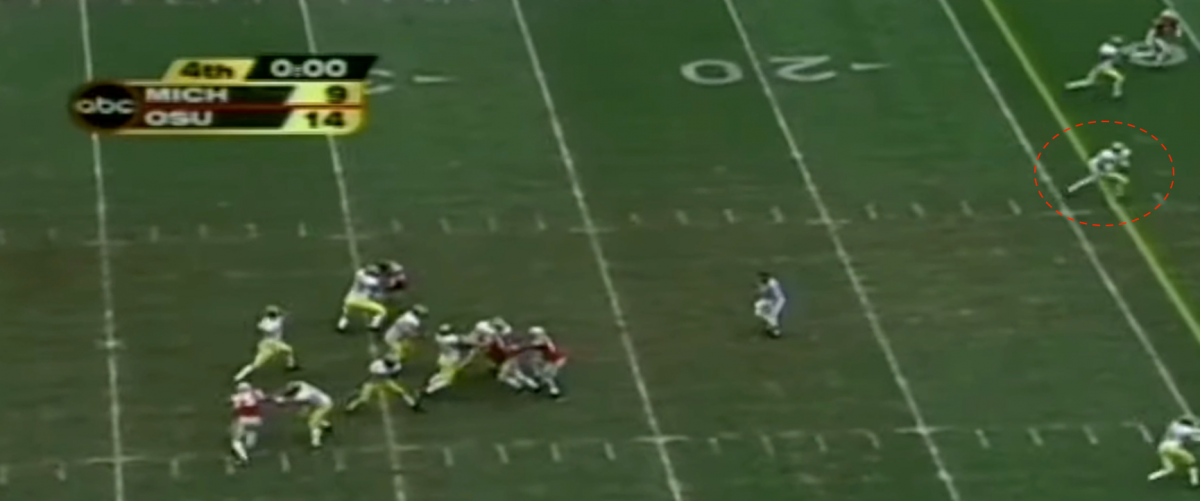 Something supernaturally shitty was bound to happen here. This universe demanded it.
Shawn Springs had fallen down on a slant route in 1996, which gave Tai Streets and Michigan all of the life they needed to escape from a game they had no business winning. Someone in a red jersey was going to slip here, on account of a slick grass patch or a gust of wind. It's amazing how many thoughts can race through your head in one second when you're paralyzed in C-Deck with 100,000 other Saturday prisoners.
A well-timed screen pass had deflated Ohio Stadium in every Michigan game since Earle Bruce was calling in superfecta bets on a rotary phone during halftime. Two Buckeye defenders were bound collide on this play, allowing a Wolverine to snatch the game winner out of the sky and then dance in the south endzone for the ensuing few seconds in reality - and forever in our nightmares.
What was Ohio State's 12-0 recipe again?
Engineered resilience, bouts of competence, plodding efficiency and raw, uncut pharmaceutical-grade luck
Ah, right. Here's that recipe in GIF form.
Gamble and Mike Doss collided, because of course they did.
A little more air under the ball might have resulted in the worst kind of celebration, but the air wasn't there; Will Allen was. He shoveled dirt all over Michigan's corpse and the Buckeyes escaped victorious yet again.
But it wasn't the first time Allen played gravedigger. BACK TO CINCINNATI:
The UC receiver Doss bodies at the goal line on that 4th down play would have been in optimal position to compete with Allen for the deflection - had he, you know, not been lying on the grass. Allen briefly celebrates his game-clincher before remembering he's a live target and takes a knee (if you're wondering why Allen immediately went fetal position after picking off Navarre, please refer to how the UC game ended).
Pass interference committed against an ancillary receiver while the ball is already in flight and the back judge is focused on it, the intended receiver and the guy covering him? That flag happens approximately zero times, unless the defending team is unlucky, which we now know the Buckeyes were not.
After decades of face-planting in shit every season, Ohio State suddenly had a horseshoe jammed up its ass. This upset a lot of people.
The Buckeyes - a northern program, a slow program, a reliable choking program, a supposed-to-lose-to-Michigan program - would now be playing for the BCS title. This infuriated those who had grown accustomed to Ohio State's tradition of never catching any breaks. The Luckeyes had arrived in 2002, and this change went down like shards of glass for non-fans of the program.
Ohio State arrived in Tempe has 13-point underdogs to Miami - rightfully; that team was obnoxiously loaded and hadn't lost a game in years - and left Arizona with the Canes' belt. The Buckeyes brought their engineered resilience, bouts of competence, plodding efficiency and raw, uncut pharmaceutical-grade luck into a 14th game - and it worked for the 14th time.
And you'll have to forgive Ohio State fans for not wanting to hear about benefiting from officiating in the first overtime, since the Fiesta Bowl should have ended in regulation after Gamble converted this game-clinching 3rd down, which was ruled incomplete.
Luck only matters in football if you're in position to win.
Getting lucky down 42 points produces gallows humor. Catching a break that flips momentum or changes an outcome is living the kind of charmed life that eluded Ohio State football for decades. The Buckeyes, in spite of how their most recent trip to Arizona transpired, are charmed. They overpaid to gain admission into their current era.
The 2002 Buckeyes are routinely cited as the weakest national champion of the current century, no doubt in part to the negative optics of getting lucky for so many reasons against so many opponents. Entering that season, Ohio State fans were still whining about how their beloved 1998 team needed a break just once - and was denied.
Meanwhile, eventual champion Tennessee stayed perfect because of a no-touch fumble by Arkansas while it was trying to end the game. Yeah, must be nice.
Luck seemed to be everywhere but Columbus. That changed in 2002, and it was both long overdue and deserved. Getting lucky diminishes nothing. The ring is just as shiny and the memories are just as rosy. Do you know what the term is for least-deserving, most mediocre, impossibly resilient and luckiest title winner of the current century?
It's champions. They're called champions.