Twenty-seven seasons ago Ohio State tied Michigan in their annual football game.
Time tends to devour details, so ancient editions of The Game are often just a single bone in a graveyard. The Tie isn't 1992's tombstone because that belongs to the 1973 one. One of the Greatest Wins is its epitaph. Decay has already eaten away at the particulars.
But Ohio State's trajectory was altered by that afternoon, because The Game always does that. Sometimes a single play is the culprit. We'll revisit 1992 and 2019 in a moment, but first we have to talk about the punt that shaped Ohio State football for 69 years. 
THE PUNT
The 1950 edition's epitaph is Snow Bowl. There were 45 punts (!) in that game, but the play that sealed it for the Wolverines was the one they blocked and recovered for a touchdown. You can trace Ohio State football as we know it in 2019 back to that punt. 
Head coach Wes Fesler fled town in shame in the Snow Bowl's aftermath, having coached four seasons at his alma mater without a single victory in the only game that mattered. His Big Ten title and a Rose Bowl ring were only a year old, but neither was enough to save him. Had that punt gone unblocked, maybe Ohio State defeats Michigan and Fesler doesn't leave.
Maybe Ohio State ties Michigan for the second straight season - that snowstorm might have only killed people instead of his job. Maybe Fesler sticks around to coach the reigning Heisman winner (he coached the reigning Heisman winner!) for another season. Maybe he stays in Columbus for another decade.
Sixty-Nine YEARS OF OHIO STATE FOOTBALL CAN BE TRACED BACK TO A SINGLE PUNT IN A BLIZZARD.
If that punt isn't blocked, maybe Vic Janowicz becomes the first Buckeye to win the award twice instead of Archie Griffin because Woody Hayes would be at Miami instead of changing the offense Janowicz had thrived in and reducing his impact.
Maybe Notre Dame hires Hayes out of Oxford two seasons later to replace Frank Leahy, where he takes star pupil Bo Schembechler instead of Columbus. The entire course of Ohio State football history hinged on a single blocked punt in a blizzard that resulted in hiring the coach for whom the practice facility - and the street in front of the Ohio Stadium - are both currently named.
Fast-forward to 27 seasons ago and Ohio State tied Michigan in One of the Greatest Wins. Click below and you'll be taken to the closing moments of the 4th quarter with the Buckeyes trailing 13-6 and facing a 4th down. Listen to what you hear.
Keith Jackson and Bob Griese are openly discussing how John Cooper's tenure in Columbus could be ending right before their eyes on live television, hinging on the 4th down play they were about to witness. Kirk Herbstreit then hits Greg Beatty in the north end zone on a slant, Ohio Stadium erupts and the camera pans to Coop holding up one finger, not two.
He went for the tie. Fine, there were still four minutes remaining and Michigan's offense hadn't done much that day. The Wolverines obliged by going three-and-out and giving the ball back.
Ohio State ended up punting in Michigan territory. The ball hit Derrick Alexander in the face mask before being recovered by one of his teammates. Had Ohio State recovered and won, the curse is lifted at the dawn of an era where the Buckeyes were regularly in national title contention before gagging in that final game. A punt that could have reshaped a decade and a legacy.
There was a second hinge. Michigan took over and Todd Collins heaved a Hail Mary which landed incomplete, leaving one second left on the clock. An oddly jubilant Cooper ran out onto the field, only to be told by the officials there was a second left. If you're still watching that YouTube video, you'll see the ABC cameras capturing how frustrated he was by this, as Coop insists the game is over and his team has not-lost.
You can see the fear in his face of Michigan getting another prayer. Gary Moeller wasn't interested in leaving Columbus with a tie while Coop was trying to run out of the stadium with it.
If Michigan had scored after Coop FAILED to escape with a TIE, Ohio State may have FIRED him prior to Sunday services.
Collins then heaves another Hail Mary as time expires, but this time Buckeye safety Walter Taylor intercepts it and returns it over 50 yards before being tackled by Walter Smith, preserving One of the Greatest Wins at the expense of an actual victory. The Buckeyes were that close to winning in spite of Cooper's pleas to the officials.
Two seasons later Smith was a Michigan captain, and if he's remembered for anything it's not how he ended the 1992 edition with a tie-saving tackle. He's remembered for his comments prior to the 1994 return trip to Columbus, a season after the Wolverines shut out the undefeated Buckeyes in Ann Arbor.
Smith said he wants the No. 15 Wolverines (7-3, 5-2 Big Ten) to defeat the No. 22 Buckeyes (8-3, 5-2 Big Ten), so Cooper will be fired.

"That's what I want to do," the wideout said Monday. "We want to keep on beating them until he's not there."
If Michigan had scored after Coop tried and failed to escape with a tie, Ohio State may have terminated him prior to Sunday services. But a tie was good enough for him to stay, and he stuck around for eight more seasons - and two wins - over the Wolverines.
Had Coop been fired, who knows where Ohio State might have turned. Maybe they hire another native Tennessean in Phil Fulmer, who had just completed a successful Ryan Day-type interim stint for Johnny Majors that season as an assistant in Knoxville. Maybe Don Nehlen, a finalist in 1987 who stayed at West Virginia and had the Mountaineers paying rent in the top 10 gets another look.
If either happens, Jim Tressel probably ends up somewhere other than Columbus.
Twenty-seven years later, imagining Ohio State's head coach begging officials to end a game he had not won is unthinkable (it was pretty disgusting at the time, but it was also a very dark era). The 2019 edition of The Game is still fresh, and there's no hurry to find out what its fossil might tell us in a few decades.
Maybe last Saturday alters the course of the next 69 years. Maybe it just preserves what we've seen over the past 20. Either way, the Buckeyes are one win away from the first-ever unshared three-peat in Big Ten history, and we arrived here because once upon a time Michigan blocked a punt in a blizzard.
One (two? three?) more to go! Let's get Situational.
THE SEPARATION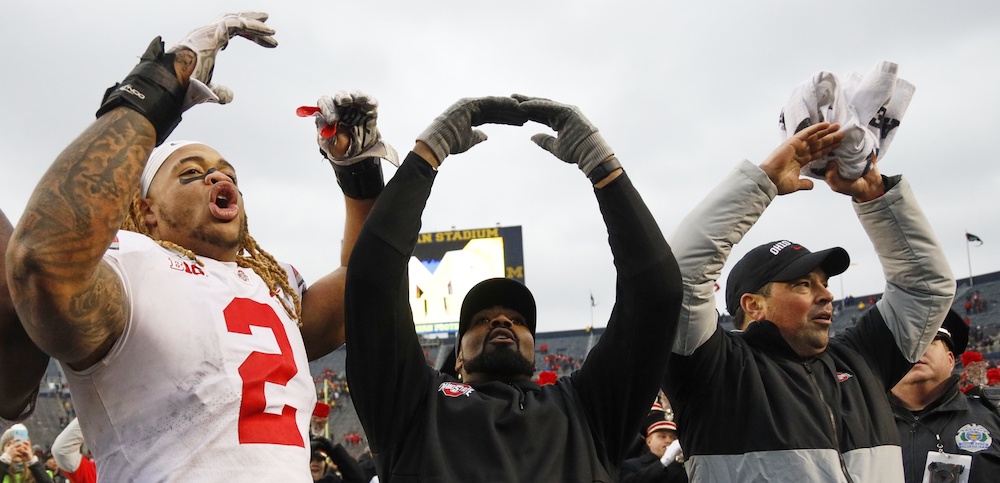 Michigan is an elite public university that tucks many of its football players into eligibility-maintaining curricula inside of its College of Literature, Science, and the Arts. This is not a complicated, controversial or inflammatory statement.
The percentage of football players majoring in General Studies at U-M is exponentially higher than that of the general student body. While over half of Michigan football players can be found entrenched inside this sliver of the course catalog, 97% of its non-football players choose to major in something else.
This isn't shady or unique to Michigan. College football is a demanding full-time job, and football players are athlete-students despite what the NCAA suggests. During the season semester it's strategic and common for an athlete-student to take a lighter course load along with easier classes to accommodate a hectic, stressful and packed schedule.
Ohio State and Michigan are equal in this regard and many others. They have equally historic stadiums (you can disparage Ann Arbor's stadium architecture however you choose) and impressive facilities. The histories, traditions, helmets and fight songs are all prominent in the fabric of the sport. Buckeyes and Wolverines are members of an elite commodity class.
Differentiation is required to compete in this tier. When you enter Ohio State's practice facility the first things you see are active, updated NFL jerseys in perfect glass frames that are numerous and scattered enough that if you try to count them you'll lose track and have to start over at least twice. That's impressive differentiation.
Further inside are highlights on a loop of the Buckeyes beating the Wolverines in high definition, both in the main atrium and behind the locked double-doors. There isn't a single hallway where you can escape the Michigan helmet. At Ohio State's practice facility. Right.
Trophies are everywhere, but everywhere has trophies. The lockers are fancy, but everywhere has fancy lockers. The weight room is Olympic grade, but again - that's hardly unique. What Ohio State does to differentiate itself is sell NFL development as testimony. Their proofs of concept are everywhere, and in between them are the school's history and obsession with beating every team on the schedule and especially That One Team.
OHIO STATE'S FOOTBALL STRATEGY IS not secretive, nuanced or audacious - and it's worked very well in the current decade.
It's a simple value exchange and offer for every recruit deemed worthy. Intense, deliberate preparation and training for professional football and professional non-football are what Ohio State specializes in, and that's important to you. Here's the proof this school does all of that better than any other.
What's important to Ohio State is winning games and winning The Game. Winning is what's expected in return, and in exchange athlete-students can expect Ohio State's sanctioned bagman to put them in optimal position to secure 40 years worth of paychecks, in pads but mostly without them.
That's the whole arrangement. It's not secretive, nuanced or audacious. It works great.
Michigan has one of the wealthiest alumni bases on earth and could compete more effectively in the elite commodity class, especially the non-football parts - but it chooses not to. Its message is institutional self-adulation, which is where all of its coping mechanisms originate. Leaders and Best is forced to replace its ™ with an * every time it loses a rivalry game. It's not unfair, it's earned.
The delicate reason why Ohio State beats Michigan is the Wolverines aren't attracting the quantity of talent required to be elite, nor are they developing what they do get into testimony at an acceptable rate. Their recipe is tired. The Wolverines' best running back going back to Chris Perry would not start for the Buckeyes in any year since. That guy never seems to get measurably better either; he just gets older.
The inelegant reason is that Michigan football is still run by a ghost who couldn't win a bowl game, while his reanimated proxy is mutating from a straight shooter into a booger-eating CTE case whose $7MM salary isn't enough for him to answer a simple question from a sportswriter like a functioning adult.
Ohio State keeps its active players on promotional pedestals and supports them academically on campus and professionally long after they leave. It gives Michigan its own pedestal and marvels at its inclusion in a rivalry so significant. That strategy has effectively built a 21st century dynasty in the conference and on occasion, beyond.
Michigan football culture follows a self-defeating dogma that allows the current impermissible deficit with Ohio State to be excused as the consequence of virtue. 
life comes at you fast pic.twitter.com/xQvydm2W80

— mgoblog (@mgoblog) October 31, 2016
This is not a glitch. This is Michigan's identity. 
THE 1980S SAX SOLO INTERMISSION
In honor of Michigan's latest defeat, we recognize Wang Chung - which means Yellow Bell in Mandarin and serves as the first note in the Chinese musical scale (huáng zhōng). This column has way too many words already so let's move along.
Let's answer our two questions.
Is the soloist in this video actually playing the saxophone?
Dave Burnard plays saxophone for Yellow Bell, but we would be doing ourselves a disservice if we referred to him by his boring birth name instead of his magnificent stage name, Hogg Robinson. Hogg is accompanied by actors in the video who are not playing saxophone. VERDICT: Mixed.
Does this saxophone solo slap?
Dance Hall Days has low-key terrifying lyrics, and this solo is calming enough for the listener to not realize that the girl in this elevator anthem is about to be skinned alive. VERDICT: Slaps.
THE BOURBON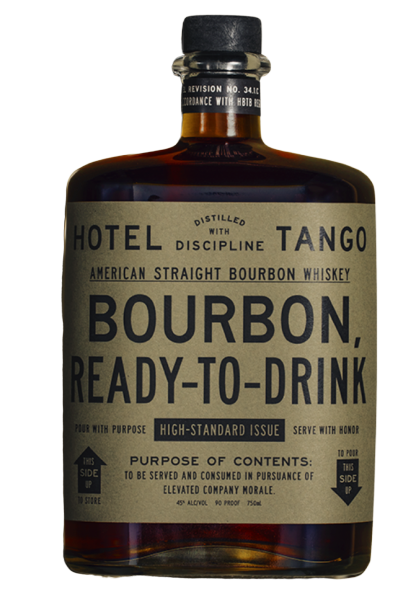 There is a bourbon for every situation. Sometimes the spirits and the events overlap, which means that where bourbon is concerned there can be more than one worthy choice.
If you're making the somewhat annual trek to Indianapolis this weekend and need to check a distillery off your to-do list, it's actually quite convenient. Hotel Tango is right where you'll already be spending your time and money.
HT claims to be the first service-disabled combat veteran owned-distillery in the country and the bourbon pictured here is two years old, so if you're wondering does it taste young you can answer that in the affirmative.
I haven't had this year's edition yet because I haven't been to Indianapolis since the Buckeyes played the Northwestern Wildcats a year ago. Last year's edition presented like a basket of tropical fruit doused in black pepper, like it could have used maybe one more year in the barrel to better blend. The sweetness was subtle, like if you're sipping peaty whiskey but thinking about eating frosting out of the can - it's only that sweet.
If it was broadly distributed I'd put it on the second or third shelf up. If you're in town, maybe pay Hotel Tango a visit.
SAY SOMETHING NICE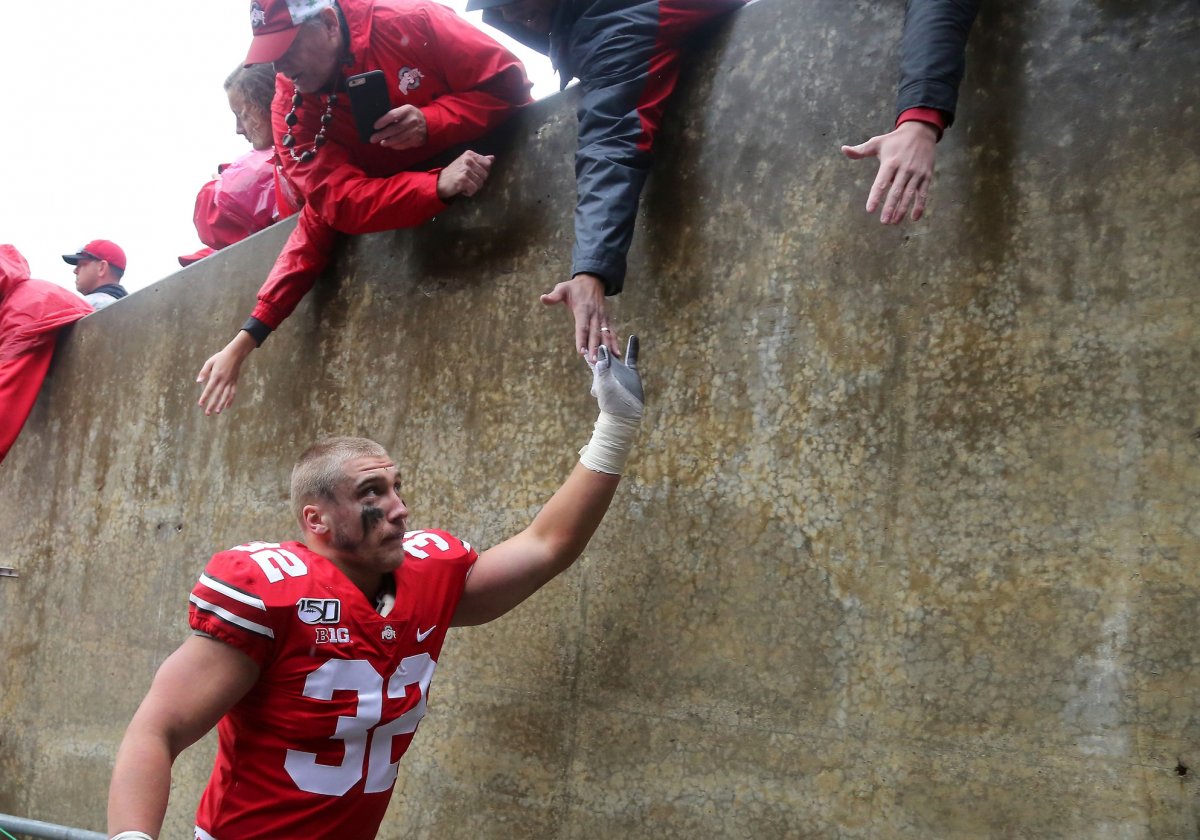 Last year Malik Harrison, Tuf Borland, Pete Werner and Baron Browning were coached by a first-time college coach who got his shot in Columbus explicitly because he gave the most prominent speech at the head coach's wedding. It is the only reason.
His entire unit was constantly put in position to lose, resulting in being very publicly resented by Buckeye fans as the entire defense survived a championship season on the coat tails of a prolific passing offense. Could it be possible? Could every one of Ohio State's linebackers be...busts?
As it turns out, coaching matters. We're now four seasons removed from the NFL's best receiver only being a 3rd teamer on the All Conference team in his final year.
Last night Harrison, Borland, Werner and Browning all learned they made a B1G list. Every one of Ohio State's most active linebackers is All Conference one season after they all suffered the indignity of being the Buckeyes' weakest unit and largest anchor.
It wasn't their fault, and the coaching/development machine is now operating at a level worthy of the talent evaluation and recruitment machine. Go win more rings.
Thank you for getting Situational today. Go Bucks. Beat Wisconsin.