When did coaching sound bites veer into Bullshit Mountain?
Let's assume it began the precise moment a coach first opened his mouth to speak words in public. Lies have a gradient, and geologists can only find one specific type of lie in the sediment.
Boulders like what Dave Bliss did at Baylor and Penn State's decades of passivity around Jerry Sandusky cannot be found there. There's no sign of Jim Tressel submitting NCAA paperwork indicating he knew of no NCAA violations at Ohio State when he had already instructed his players to stop trading their memorabilia for petty cash and tattoos, either (relax, that's more of a rock).
Bullshit Mountain is where you can find Tressel earnestly saying our kids are fighting like crazy as he jogs toward the locker room with a 3-2 halftime lead over Akron in 2007. It's 98% of press conferences and interviews. That's what Bullshit Mountain is made of; the pablum you can reliably hear every time a coach is speaking on the record.
Jim Harbaugh has absolutely no INTEREST IN VISITING Bullshit Mountain.
Bullshit Mountain is the most benign, least interesting, unemotional, comprehensively un-clicky and fluffily untrue commentary a coach can muster. It's constructed to be #take repellent, which is precisely why coaches flock there. Gaslighting that ultimately doesn't matter. Above all else, we know coaches lie because all coaches are people, and all people lie.
Lying is the entire foundation of the college recruiting game. Most of the nearly 500 (!) high school seniors currently holding football scholarship offers from Nebraska are actually holding lies. The Cornhuskers can accept just 25 recruits, which means a sliver of those guys actually hold offers, while the vast majority only have offers. An offer isn't really a true offer.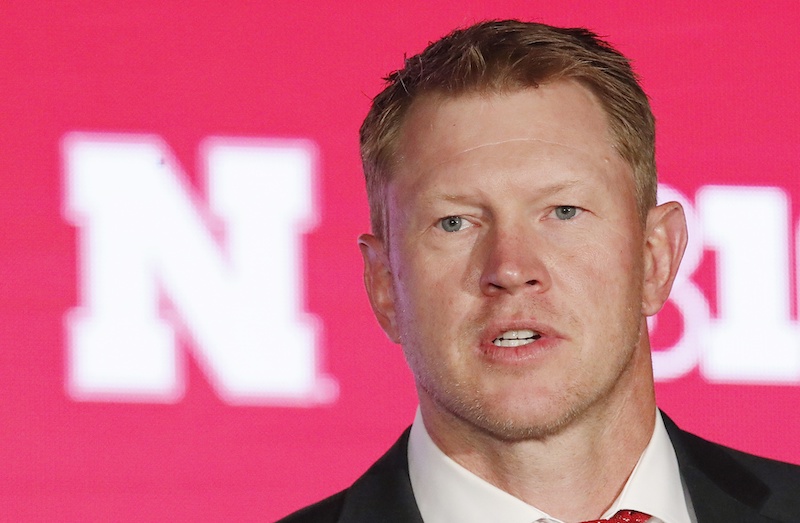 If all of those kids gave a verbal commitment to Scott Frost today, approximately 460 teens would sheepishly be told an inelegant version of whoopsie just kidding tomorrow, including most of the eight who have already committed. Just under 200 recruits - a far more reasonable buffer - hold Ohio State offers and most of those are offers too. At some point it stops being a numbers game when the scholarship offer is as disposable as the truth.
Bullshit Mountain is built on boring lies, because big lies are too interesting. Bold truths are just as volatile. Consider this statement:
Michigan is a good school, and I got a good education there, but the athletic department has ways to get the borderline guys in, and when they're in, they steer them to courses in sports communications. They're adulated when they're playing, but when they get out, the people who adulated them won't hire them.
Ohio State fans have been telling Kinesiology and General Studies jokes about Michigan football players going back to the troubled era when doing so was a coping mechanism for the Buckeyes' chronic inability to beat the Wolverines. Rewrite that statement into anything other than a first person recollection and it will be something you can hear from the Varsity Club intelligentsia seven Bud Heavys into any pregame in 2019, regardless of the opponent.
However, this was Jim Harbaugh saying it about his alma mater back in 2007 while he was coaching Stanford. He was excommunicated from Michigan Manhood post haste and systematically kindasorta proven wrong here and here and here among other Internet places that use a maize and blue color scheme, and his comments were universally viewed by Michigan faithful as both twisted facts and negative recruiting.
Camping out at Bullshit Mountain would have been easier for Harbaugh, who could have effortlessly inflated his alma mater into an academic contemporary of his then-employer and nobody would have said a word. Instead, he had scorned Wolverines like Little Brother Sound Bite pioneer Mike Hart responding with:
(Harbaugh is) not a Michigan man, and I wish he had never played here. I've never met him and I don't want to.
The worst thing a Michigan Man can say about another Michigan Man is that he's not a Michigan Man (which is, technically, a lie). This forced Harbaugh to respond, emphases added:
I learned from a great man named Bo Schembechler that you speak the truth as you know it. It may not be the popular thing, but you speak your mind. Everything I said is supported by fact, but the thing that has come back is the personal attack on me, not looking at the issue whatsoever.
There are no lies here. Harbaugh doubled-down while Michigan blogs judiciously fisked his comments as the players and coaches who would lose to Appalachian State later that month chose to attack his character instead. For those of us on the other side of the rivalry who are old enough to remember this skirmish, every bit of it was viewed with a live studio audience-style laugh track.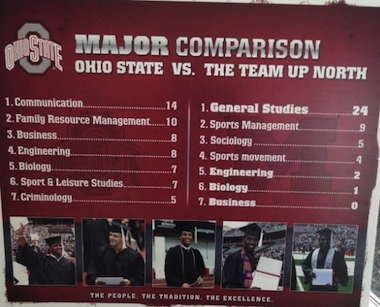 Harbaugh was guilty of being too real - of course Michigan tucked its football players into safe harbor academic tracks; you can't recruit the exact same players as the open enrollment Ohio State University for several decades without making practical adjustments upon admission. The following spring the Ann Arbor News pulled a #localjournalism and ran an investigative story that supported elements of what Harbaugh had said about his alma mater's athletic department:
On the 2004 (Michigan Wolverines) football team, 58 of 74 recruited scholarship players who identified an academic course of study pursued general studies.
Four years later, even Urban Meyer was having fun with the enthusiasm Michigan football players have for General Studies. Now under Harbaugh, Michigan has scrubbed General Studies from its football communications, instead listing players as being enrolled in the College of Literature, Science and the Arts...which is where General Studies lives. Click on any player and ask your dog if Michigan Coach Harbaugh still agrees with the assessment given by Stanford Coach Harbaugh a dozen years ago.
This isn't a referendum on Michigan football majors, the academic rigor required to advance toward a Liberal Arts degree (author's note: I'll fight you) or if there's any such thing as safe harbor for scholarship athletes. It's context for the response to what Harbaugh said about Meyer last week when he once again chose to detour away from Bullshit Mountain. The cadence was practically identical.

Harbaugh said:
Urban Meyer's had a winning record. A really phenomenal record everywhere he's been. But also, controversy follows everywhere he's been.
Controversy follows everywhere he's been. Imagine having the audacity to say that about a man who retired from Florida twice, where dozens of his players were arrested on his watch. We don't have to debate the particulars of last August's cesspool either, and can simply agree that the whole thing was a controversy that exploded, ironically, after Meyer tried unsuccessfully to steer detailed questions about his fired WR coach at B1G Media Days into Bullshit Mountain.
Ohio State fans have been reading fresh, bitter columns from the Orlando Sentinel about Meyer's issues at Gainesville for so many years after the fact that we're inclined to roll our eyes at them. Overkill doesn't make those controversies any less real, but Harbaugh unwittingly attached his comments to the long-running cheeky Urban's Fault meme and here we are.
The worst thing a Michigan Man can say about another Michigan Man is that he's not a Michigan Man, but that's more of a compliment in these parts. So Harbaugh was instead attacked by Ohio State enthusiasts for his record against the Buckeyes, his 2005 DUI and his general weirdness. There are no lies here either, and in a perfect parallel to the aftermath of his Michigan comments 12 years ago, Harbaugh doubled down on what he had said.
One of Bullshit Mountain's core principles is to half-answer all of the questions you're asked and absolutely none of the questions you aren't. Harbaugh didn't have to make his controversy comment, but he couldn't help himself. He truly is Bo's disciple, which means...you know what that means. We love where his candor comes from. We just don't like the colors on the hat.
The season that kicks off in a month will deliver all of the usual benign, uninteresting, unemotional, comprehensively un-clicky and fluffily untrue commentary we're accustomed to consuming without questioning, but once again - Ann Arbor won't be a significant source. That is the primary reason that Michigan's coach, like his mentor, like his mentor - are all so interesting. We adore coaches who say whatever they want, whenever they choose.
Harbaugh has absolutely no use for Bullshit Mountain, which is wonderful. And that's the truth.