Not a bad little shack, is it.
This humble bungalow is equipped with eight bedrooms, six-car garage, an enormous pool, spa, weight room and wine cellar all covering about 22,000 square feet. Let's just assume that moat out front is also stocked with endangered aquatic species and mermaids on loan from Disney.
The neighbors to this cozy Brentwood cabin are a guy named Schwarzenegger and a freshly-single supermodel named Heidi Klum. The house is so new it hasn't seen two Christmas trees yet. This is what Tom Brady and his wife Gisele Bündchen call home (when they're not at one of their other homes).
There are power couples, and then there's Tom & Gisele: Brady is halfway through a four-year contract with the New England Patriots that pays him $72 million with almost $49 million of it guaranteed. Even though he is the NFL's second-highest paid player, the lady of the house is the clear breadwinner of the family, having earned over a quarter billion in the time since Brady matriculated through Ann Arbor.
Brady's General Studies degree does not define him. He manufactured his own success.
Brady holds a prestigious degree in General Studies from the University of Michigan. That piece of paper makes him the academic of the family, as Mrs. Brady hasn't seen a classroom since she was 14 years old. Incredibly, neither of them are starving, despite the fact that Brady still has a job that requires him to wear a uniform and a name tag.
We can all find inspiration in Tom & Gisele managing to survive in today's America, seeing as how scholastically one sought refuge at Michigan's safe harbor for students majoring in football (Brady is openly self-effacing about the rigors of his academic tract) while the other abruptly dropped out of high school.
This, of course, is pure silliness: Brady's success in life and his General Studies degree, if they intersect at all, do so barely. Brady's success is of his own. His degree did not make him. He manufactured his own success. That's how life for the vast majority of us works.
Last week when the photo (below, right) of the sign currently on prominent display at the WHAC surfaced, every reaction one might deem to be predictable happened immediately: First, Michigan alumni promptly deployed standard phallus-measurement exercises, e.g. a General Studies degree from Michigan is more valuable than a doctorate from Ohio State. Then Michigan fans of the non-alumnus variety dispensed with their own standard phallus-measurement exercises, though using transitive phallus measurement exercises (a practice perfected at Washtenaw Community College) to do so.
Ohio State fans who learned of the sign were reminded of the now-four year old "expose" of Michigan football players being tucked into General Studies at a rate that far exceeded that of non-athletes at the university. Even favorite son Jim Harbaugh rudely pointed out what his alma mater was doing with its athletes. 
The new WHAC decor along with the dusted-off General Studies revelations served as sufficient ammunition for a phallus shrink ray (imagine Tom & Gisele's lagoon-style pool on an unseasonably cool evening). The infinite battle loop of measurement, inflation and shrinkage was nigh. There simply is no offseason in college football's greatest rivalry.
For those readers who either never attended, finished in a fog or simply forgot about what college is like, here is the reality: There are no easy courses of study; even just showing up isn't quite as easy as it seems. Program fit also matters: An astute Finance brain that ventures into Philosophy could find itself on academic probation very quickly.
The most popular current major at Michigan is Psychology, not because Ann Arbor is a beacon for aspiring mental health professionals but because you can do anything with a Liberal Arts degree. I'm a product director at a Fortune 50 company and one of the owners of the web site you're currently enjoying, and yet despite speaking it fluently before the age of five, I stubbornly majored in English. Chaucer and Dickinson are not the freshest horses to get you into the board room, but they're still horses. It's a college degree. You can do anything with it.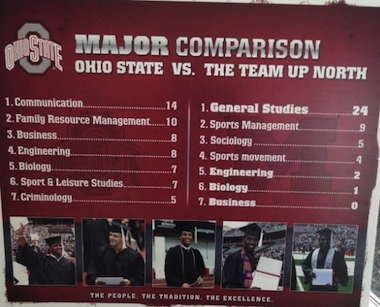 Not everyone who enrolls in college knows what they want to study - or even more terrifying - has any idea what they want to do once the glorious bubble of college life bursts open to reveal the frightening outside world. The one thing most incoming Michigan football freshmen unequivocally do know is that they want to play football for Michigan.
The wholly unscientific and incomplete WHAC chart might seem as a shot fired at the sanctity of Michigan academics, but it was more likely a response, specifically designed for Ohio State prospects and parents rather than Michigan fans or bloggers. 
It's a riposte to an emerging recruiting pitch regarding the value of a Michigan degree versus one from Ohio State. The reason that Michigan has been isolated instead of, say, Northwestern (most Wildcats, like Buckeyes, are Communications majors) is because with Rich Rodriguez no longer in Ann Arbor, Michigan is back to recruiting the same players as Ohio State once again. There simply is no offseason in college football's greatest rivalry.
The likely reverberation will be Michigan coaches having to explain, again, why so many of its players end up as General Studies majors. It's an extremely answerable question that passes the red-face test without any challenges. That's not really the intent, though. This is a simple, short-attention span rebuttal to Michigan's value proposition.
Michigan's endowment is five times larger than Ohio State's, which itself is well into the billions. It's a more well-regarded school, which does not mean that Ohio State is not well-regarded. A former Michigan long-snapper asked me Saturday evening if Ohio State admissions were still "open enrollment" without sarcasm. (I said yes, also without sarcasm; never let them see you sweat, comrades)
Any perceived or hiring advantage of a General Studies degree from Michigan over a Family Resource Management degree (that's Home Ec, right?) from Ohio State is mitigated right around the time the probationary period begins at one's first job: That's when everyone forgets where you attended school and the focus shifts to your contribution to, ultimately, shareholder wealth or organizational goals. Both degrees are uncapped in terms of potential earnings and future failure.
Ohio State and Michigan are recruiting the best high school football players in the country. Their value propositions are quite similar; rivals hate to admit as such but they're often mirror-images of each other. Had Terrelle Pryor chosen his Michigan scholarship offer over his one from Ohio State, he probably would have majored in General Studies.
During his three years in Columbus, Pryor was "exploring" at an Academic All-Big Ten clip. He now earns a paycheck playing professional football, his vocation of choice. An incomplete General Studies degree wouldn't have been any more beneficial to that goal. If Pryor is going to succeed in life beyond football, it will be up to Pryor. It always comes back to the individual, not the individual's papers.
Michigan is ranked 28th in the current USNews & World Report ranking of national universities while Ohio State is 55th. Note that while Michigan has historically been referred to as "the Harvard of the Midwest" there is as much separation between Harvard (#1) and Michigan in the USNWR rankings as there is between Michigan and Ohio State.
Humorous or ironic as that may seem, getting tangled up in rankings is exactly as productive as transitive phallus-measuring exercises. That's all rankings are: A transcendent way to feel better or worse about yourself. There are no diploma mills or free passes in the Big Ten, least of all in Ann Arbor.
So forgive me for not getting too wound up by football players' or anyone else's college majors. There are just too many better variables by which to love or hate a football program. Besides, if Tom and Gisele can make ends meet through natural ability and hard work, there is no limit to what any one of us can accomplish.