Once upon a time the Ohio State-Michigan game was meaningless.
The Buckeyes scored a total of 21 points over the first 22 years after the Wolverines first appeared on their schedule. The only positive from that miserable stretch came in 1902 when Michigan won 86-0, directly resulting in Carmen Ohio being written.
That's not a rivalry. That's not even interesting.
Ohio State won four conference titles (and went undefeated three times - but without Michigan on the schedule) before finally beating the Wolverines in 1919, so if you want to truly understand how and why winning The Game ultimately became the most important thing in the world you have to appreciate the role of Ohio State's futility a century ago.
Unlike much of the manufactured tension dreamed up in B1G office brainstorms and assigned corny names and trophies, the rivalry between Ohio State and Michigan is both genuine and majestically trophy-less. It's just The Game. Marketing is unnecessary.
Sure, the two states have always had geography and that Toledo strip dispute priming the acrimony between them - but this wonderful, agonizing, magnificent, excruciating series evolved out of the Wolverines humiliating the Buckeyes for two solid decades before any of us were around to endure it.
Michigan was everything Ohio State ever wanted to be.
Michigan owns the first 13 wins of the series, which isn't an uncommon beginning for any team it still regularly plays. Every school views Michigan as a rival due to its ancient and fairly-recent history of beating the crap out of everybody. The reason Michigan views the Buckeyes as a rival is not only because Ohio State has been completely obsessed with beating Michigan for the past 100 years, it's also because they're pretty good at doing it.
Michigan was everything Ohio State ever wanted to be, and 100 years later they're each other's standard-bearer. If you can beat them, you can beat anyone may not ring quite as true as it once did, but prying that belief out of one's DNA does not just happen over one side's mediocre decade. 
The series is now at 58-46-6 Wolverines which means the Buckeyes are finally eating into that run that began in 1897. For Michigan, beating Ohio State back then wasn't a big deal. Then Ohio State made beating Michigan the only thing that mattered.
Now it's the biggest game for both teams.
---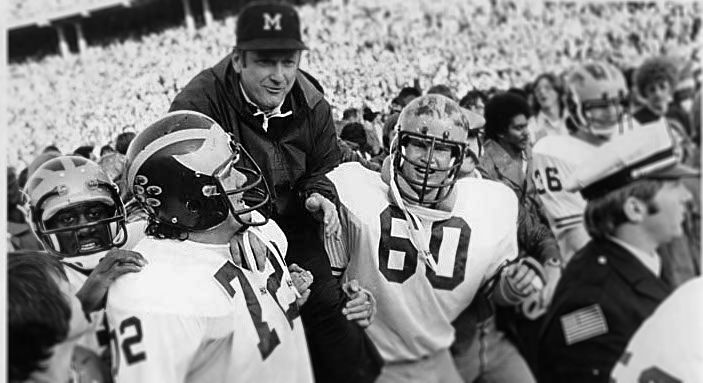 No, there's still no trophy for winning this thing. Every year - conference titles and Rose Bowl trips aside - both teams are awarded an identical keepsake: All the time in the world to think about what just happened. 
It's an obsession that first started and developed over a dozen football coaches hired by Ohio State who couldn't combine to beat Michigan even once. The 13th, John Wilce, finally broke through.
He also dropped seven straight in the series. That's how the Michigan Complex stuck. Can you beat Michigan? Because we need to beat Michigan.
For decades the job interview was that simple. Francis Schmidt was the first Ohio State coach to have a winning record against the Wolverines, but he lost his final three to them by a combined score of 79-0. The second of those three teams actually won the Big Ten title.
Schmidt and his assistants all quickly resigned after that third straight shutout - a 40-0 laugher in Columbus in which Michigan's Heisman Trophy winner Tom Harmon got a standing ovation - before Ohio State could fire them.
Woody beat Michigan 16 times. The 19 coaches who preceded him beat Michigan 12 times.
Sid Gillman and Gomer Jones were two of Schmidt's assistants that year. All three of them were later inducted into the Hall of Fame. They were run out of town.
Paul Brown then came in and was immediately successful, only to have World War II decimate his roster. When he eventually left to join the war effort his team was comprised of 17-year olds who had not yet enlisted. Eight years, seven Michigan losses and three coaches later Wayne Woodrow Hayes was hired.
Woody beat Michigan 16 times. The 19 coaches who preceded him beat Michigan 12 times, so if you want to truly understand how and why winning The Game ultimately became the most important thing in the world for both schools you have to appreciate the role Woody played in transforming the series into a rivalry.
Can you beat Michigan? Because we need to beat Michigan. After Missouri's Don Faurot accepted the job but then got cold feet, Woody got it - and he made that promise. By 1951 the obsession was already ingrained in two full generations of Ohioans. Woody made beating Michigan Ohio State's priority. 
It's still the only promise that matters.
---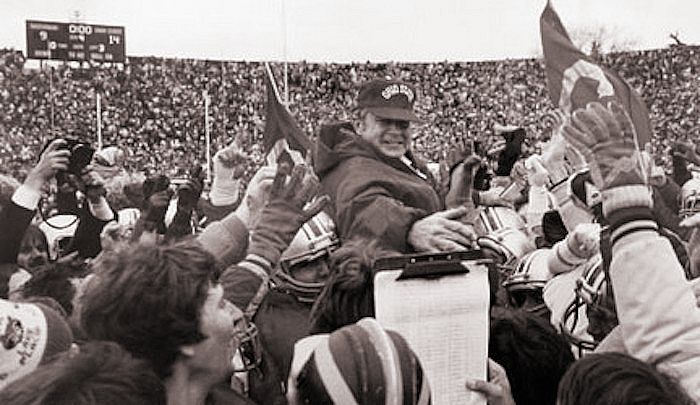 Ohio State has never held a series lead on Michigan.
The Buckeyes haven't even cut it down to single digits. The last time it was at nine, the Wolverines had just won for the ninth time in 1908. Woody reduced what had been an imposing delta to 11 following the 1975 game, but then he dropped his final three. 
A win Saturday gets it back to 11 for the first time in nearly 40 years. It will end up taking well over a century for the Buckeyes to rewrite what can never be erased: That seemingly insurmountable blemish that made this series matter more than anything in either program's history.
Thus far the 21st century looks almost exactly like the 20th did in reverse: From 1900-1913 Michigan beat Ohio State 11 times. Conversely, that 42-41 thriller last November was the Buckeyes' 11th win since 2000.
Incredibly, the entire John Cooper deficit was erased within a decade.
Coop rebuilt Ohio State into a national program while simultaneously and consistently downplaying Michigan's importance. It was the cultural mismatch nightmare scenario (not to be confused with that hackneyed, eye-rolling Michigan Man requirement in Ann Arbor) because - as Urban Meyer is already proving - literally everything else about Buckeye football is negotiable.
The promise to beat Michigan every year is not. Coop broke the only promise you can't break at Ohio State and was fired for it. He, like the three terminated coaches who directly preceded him - along with Schmidt, Gilman and Jones - is in the Hall of Fame. 
Ohio State has fired more Hall of Fame coaches than most programs have hired, and all of them lost to Michigan right before termination. Earle Bruce was terminated prior to The Game and beat them as his parting gift. Jim Tressel hasn't been inducted into the Hall of Fame yet.
Almost everything about Buckeye football is negotiable. Beating Michigan is not.
Coop was originally pursued by Ohio State specifically because he beat Michigan and did so in the Rose Bowl. The program desired both of those outcomes, mostly because at the time doing the former generally produced the latter: The Game was either the de facto Big Ten championship or directly determined the winner 49 times prior to the divisions being formed in 2011. 
It can only determine the division winner now, and the Rose Bowl isn't the goal anymore. Despite all of the changes to the college football landscape and the postseason playoff, beating Michigan cedes importance to nothing else - and every Ohio State coach will always know that.
Can you beat Michigan? Because we need to beat Michigan. Woody answered it resoundingly, as did Coop. Tressel answered it better than anyone ever has.
Urban Meyer grew up and arrived back in Columbus knowing the answer. He didn't have to be taught.
---
For all the glaring coaching errors he's made this season Brady Hoke had his three previous teams extremely well-prepared for Ohio State.
He's approached The Game with the same obsession an Ohio State coach is required to. If Hoke's teams were as competitive against the other schools on Michigan's schedule he would not be coaching his final game Saturday - all three games with him on the sideline have been closer than they were supposed to be (including the one in which Michigan was favored)
His Wolverines have put up 40 on Ohio State twice in three tries. The Buckeyes have played 50 games since Hoke was hired. They've allowed 40 points just two other times.
Regardless of the Wolverines' condition this year and independent of the fact they can't seem to get out of their own way - they should arrive in Columbus in top form. Last year they threw the playbook at the Buckeyes and even got a couple starters ejected with a premeditated ambush in the first quarter. Nothing is impossible Saturday.
Ohio State has allowed 40 points four times over the past 50 games. Two of them came against Michigan.
The impossibilities include anyone from Ohio State downplaying the importance of beating Michigan. Terry Glenn said prior to the 1995 game:
I think that year (1993) we went up there and lost 28-0, a lot of people put Michigan up there on that pedestal, that we really couldn't beat Michigan.  I think the attitude on this team is, we can beat Michigan. Michigan's nobody.
This quotation was famously chopped up and widely repurposed as Glenn simply proclaiming Michigan is nothing. Context or not, Glenn couldn't have been more wrong. Michigan belongs on a pedestal. Without the Wolverines, Buckeye football as you know it is unrecognizable. Michigan is that important.
Once upon a time the Ohio State-Michigan game was meaningless. It wasn't a rivalry - it wasn't even interesting. Its lopsidedness created an obsession that several generations have since been born into appreciating. This means this 5-6 Michigan team should not be treated any differently from an 11-0 one. That is the unwavering promise of Ohio State's regular season finale.
It's because Michigan isn't nothing. Michigan is everything.