Michigan has beaten Ohio State in football before.
It did once during the current decade while the Buckeyes were under two NCAA investigations and being led by an interim coach. That contest was a surprising shootout between a pitifully bad team with a freshman quarterback who was being mentored by a video coordinator - and one that would go on to win the Sugar Bowl.
Michigan got a victory the previous decade as well, in 2003, after having taken seven of 10 between 1991-2000. That season's Ohio State team entered Ann Arbor overconfident, having won 24 of 25 games as well as the one in the Big House on its previous visit. The Wolverines were decidedly better for all four quarters that afternoon.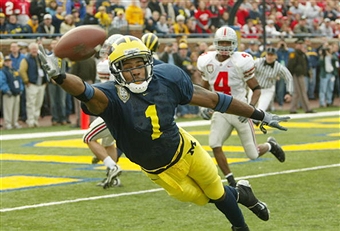 That hasn't happened since. Keith Jackson called Michigan's 2003 victory for the ABC national broadcast, which marks the last time Michigan took down an Ohio State team at full strength, Maurice Clarett's absence notwithstanding. Jackson retired from broadcasting and hasn't a called a single college football game in 10 years, so rewatching that 100th edition of the rivalry both feels and sounds like a blast from the distant past.
It also looks like one: Michigan has beaten Ohio State on high definition television only once. 
This rivalry had thrashed and twisted for decades in one direction and then the other, turning on coaching hires and misfires, whose roster and coaching staff was fleeced less by World Wars, coping with presidential assassinations, deadly blizzards, who had more heroes and ruthless villains. Once football had evolved from a club sport into an unhealthy obsession in Columbus to match what Ann Arbor was already enjoying, the series was almost perfectly split.
There was no watershed moment regarding the type of men they were recruiting; both relied heavily on Ohioans. Both programs were pioneers in tearing down racial barriers so while the rest of the country was taking its time to catch up with them, they merely kept up with each other.
Our universe does its best to adapt to whatever humans throw at it. The same is true in college football rivalries. As the first 100 years were closing, Ohio State and Michigan were fighting each other to equilibrium. 
So Michigan won that 100th meeting in 2003 and both teams graduated a whole bunch of players simultaneously. The 2004 Wolverines were rebuilt and led by freshmen like Chad Henne, Jake Long and Mike Hart. Meanwhile, the 2004 Buckeyes platooned quarterbacks and running backs. They lost three straight games. They exited the national conversation in October. They completely fell off the map.
Meanwhile, the Wolverines clinched a Rose Bowl trip prior to their visit to Columbus, where they were soundly throttled by that same Ohio State team which hadn't been ranked in five consecutive weeks (at present, Ohio State has been ranked for five consecutive years). The following season in Ann Arbor the Buckeyes prevailed again, coming back to score the final 13 points late in the 4th quarter to escape with another win.
Ohio State has lost 18 conference games since 2001. Michigan has lost 12 times to just Ohio State in that span.
Revenge was of no consequence. Neither were home field advantage or stability at key positions. Winning half of the time was beginning to slip away from Michigan the same way it had fallen out of reach from Ohio State a decade earlier. The concept of equilibrium began to erode. 
In 2006 the teams were ranked #1 and #2. Bo Schembechler died the day before The Game. Michigan still lost. In 2007 back in Ann Arbor they played to decide the outright Big Ten champion. Michigan lost again. The 2008, 2009 and 2010 contests were not competitive. Michigan lost and lost and lost. Whispers about the rivalry losing its luster were no longer hushed.
The turning points that had defined how the rivalry thrashed and twisted for decades in one direction and then the other, turning on coaching hires and misfires, whose roster and coaching staff escaped attrition or refortified itself properly, NCAA sanctions, heroes and villains were all still happening. The turning points never went away; the rivalry simply stopped turning. It stayed linear after 2003 and again post-2011.
Logic suggests - it screams - that it should have swung back to Michigan after 2003 when it dominated the 100th edition. The 2011 season should have been another fulcrum in the Wolverines' favor, as the regime in Columbus that had dominated the first decade of the century exited so ignominiously. After all, Michigan had just hired the Big Ten Coach of the Year and had all of the momentum to build a head start that should have been insurmountable by the time Ohio State's program came back up for air.
It won the 2011 game by being the better team and surviving an overthrown game winner with under a minute left. Five years later this is still the Wolverines' most recent victory in the series. Five years later Michigan has reconstructed itself, torn itself down and rebuilt once again. The insurmountable head start somehow ended up on Ohio State's side.
The rivalry refused to turn, again. Urban Meyer is now 60-5 at Ohio State and 4-0 against Michigan in the final game of the regular season. It's been nothing but happy endings. Balance in the rivalry? It's bullshit. Michigan's importance cannot diminish no matter how many times in a row it loses to Ohio State.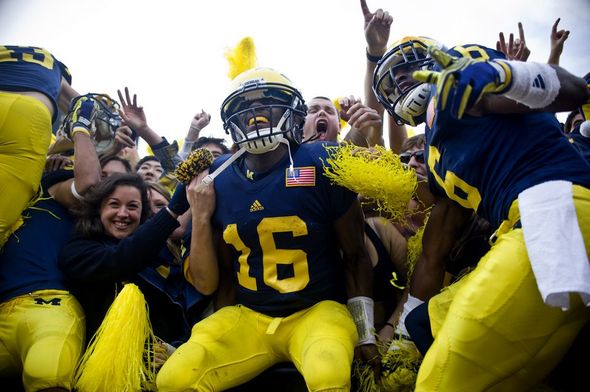 College-aged fans today have been blissfully insulated from the angst of rivalry equilibrium. They've never seen or experienced a true dark period in Ohio State football either; just the odd one-year blip where a natural recession or depression would normally occur, followed by triumphant seasons in succession. 
Over the past 15 years Ohio State has lost 18 conference games - five coming during that 2011 blip alone. During that same period the Wolverines have lost 12 games to just Ohio State. Jim Harbaugh is now the third coach brought on to swing the rivalry back in Michigan's direction. He lost in his first attempt at home by 29 points.
He is bringing the most senior team he will ever have in Ann Arbor to Columbus this weekend to try and disrupt the new equilibrium again. The natural order of things where these two teams are concerned has not been about wins and losses for many years now. It's about darkness and light. One team trying to leave its place in this rivalry and the other declining to allow it.
Michigan has beaten Ohio State in football before. It will have to do so again, and then again, and then again to shed the burden of residing on the dark, standard-definition side of the rivalry. The Buckeyes can keep the Wolverines in their rightful place by refusing to take the light for granted. They will preserve this balance Saturday, next season in Ann Arbor and the years that follow by ensuring Michigan remains by far the most important game on the schedule. 
If successful, Michigan will continue to stay in the dark. But this will never stop being a rivalry or cede importance to anything else, no matter how much or how often Ohio State wins.
This is what rivalry means. Beat Michigan. Every year. It can never be dark enough.