Welcome back to My Favorite Things.
We're isolated from each other, trying to survive a global pandemic. Each day brings more uncertainty and terrifying news, as we take shelter from an invisible global scourge. A single cough can send your mind to a dark place. Life is paused. Sports are on hold. This sucks.
My Favorite Things is an escape from all of that. The philosophy is simple:
When I'm feeling sad
I simply remember my favorite things
And then I don't feel so bad
So let's do that. Today we head back to 2005 for the final snap of the 1st half in the Ohio State-Michigan State football game.
---
EPISODE 5: MELTDOWN
Imagine if extraterrestrials landed in America right now, with all of us cooped up in isolation.
A hatch opens, the alpha alien appears and adorably penguin-walks out of the ship. It trains its giant saucer eyes directly on the cluster of news cameras and then says - in perfect Midwest-accented but monotone English:
Hello, earthlings. We come in peace. Tell us about the greatest College Football Saturday.
Aliens are smart as hell, and master trolls. It's no coincidence they only reveal themselves to humans with zero credibility - that's how they've stayed so mysterious for all these centuries. Aliens have nailed their earth routine:
Pit stop in an empty field while traveling to far cooler galaxies
Abduct Delmont and Cooter for several minutes of fun and games
Grab some free steaks
Pull the Irish goodbye
It's a good system. Intelligent life forms understand the easiest way to conquer a species as primitive, impulsive, confident and unapologetically stupid as humans is to pit us against each other so we conquer ourselves. Force us to agree on anything - like, crowning a single College Football Saturday - and then watch us burn it all down.
It's a good question, though. Which Saturday delivered the elite, incomparable combination of tension, chaos, entertainment, results, controversy, weather and memories?
I've put as much energy into this question as I have trying to decide if I'll be using indefinite quarantine as an excuse to get in the greatest shape of my life *or* fat as hell (still deciding) and every road keeps taking me back to Saturday October 15, 2005.
Homecoming Day in Columbus. You might remember it. That's when this happened. 
A noon kickoff? Yeah, I hear you Gen Z. You'd be clutching your pearls if you owned any jewelry.
The Greatest College Football Saturday began in the Horseshoe, on a postcard day featuring two teams ranked in the teens. On one sideline, James Patrick Tressel - a stickler for detail, discipline and warm milk. On the other, John Lawrence Smith, then best-known for his halftime speech during the 2002 GMAC Bowl, when he informed his Louisville Cardinals he was leaving for Michigan State. The 2nd half didn't go well, which, *shocked face*.
Let's get to it. Here's what this game looked like with one snap and four perfectly good seconds left in the 1st half - and Michigan State hurrying a field goal for some reason. Examine what you see.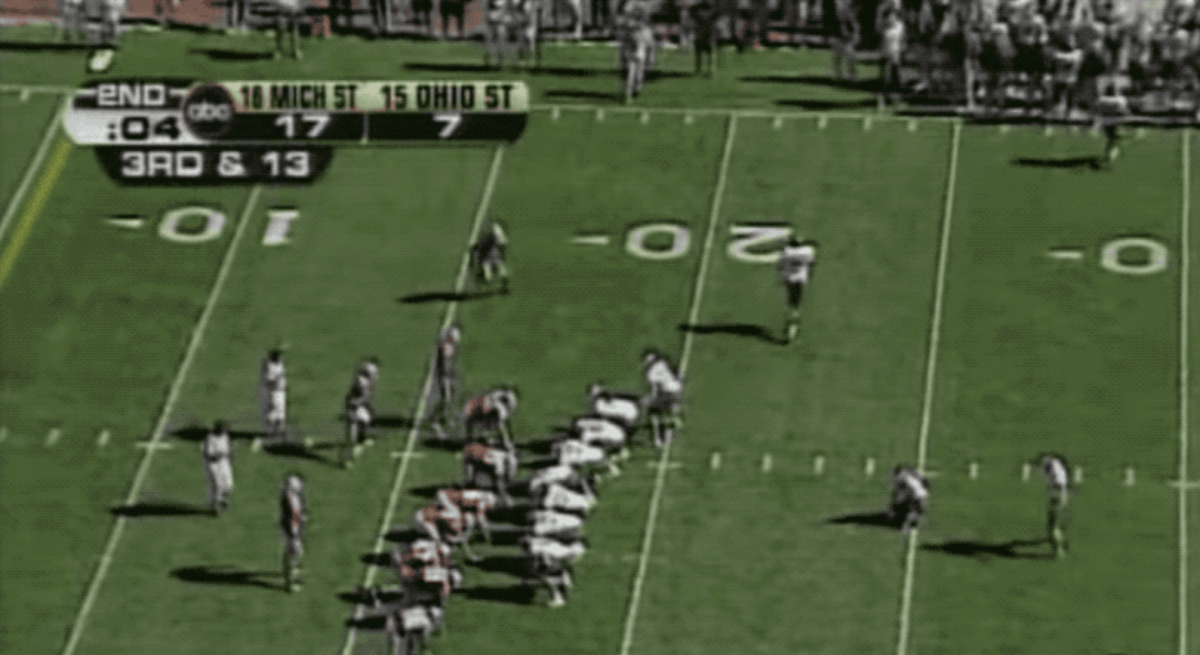 You may feel inclined to count the Spartans in that screencap, and if you do you'll discover their 12th and - whoopsie - 11th guys both sprinting off the field. That's not even the first Sparty No of the sequence, because you probably also noticed it's 3rd down.
Lift the fog of war and MSU clocks the ball and picks their noses before casually sending 11 Spartans back onto the field for a chip-shot field goal and a 20-7 halftime lead. They would have owned the tone, because the Buckeyes were not in a good place at that point.
Outside of a 51-yard TD laser from Troy Smith to Santonio Holmes, Ohio State had been tripping over itself in their first half of football following an uninspired road trip to State College the previous Saturday. The 2005 season was beginning to look a lot like 2004, with a bunch of bogeys on the scorecard. Could it be that Coop's guys carried Tressel's first two seasons? This was a legitimate question with four seconds left in that 1st half.
THE FINAL PLAY OF THE HALF FEATURED *FIVE* DIFFERENT SPARTY NO MOMENTS. IT IS DIFFICULT TO FIND ANOTHER LIKE IT IN SPARTY NO LORE.
But we had not yet realized that the home team was about to benefit from the most wonderfully schadenfreudalicious Big Ten tradition outside of *waves hand dismissively toward Ann Arbor this millennium*. Here's the hand Sparty played with four ticks left:
Not enough Spartans on the field
No clock management awareness
It's only 3rd down
The 11th player running off the field left a hole at 6 o'clock in that screencap above, which, yikes
Respectively: Sparty No, Sparty No, Sparty No and Sparty No. Four on one, single play.
Michigan State then snapped the ball. S P A R T Y   N O O O O O O 
The fifth Sparty No - under-appreciated and forgotten like the fifth Beatle - would be an MSU penalty Ohio State happily declined following the play.
At this point, the aliens would be delighted. They know from their many pit stops here that we are a diseased species, and that joy in the misery of others delights us above all other things. When it's choreographed like this, it qualifies as a comedic masterpiece.
This play is absolutely timeless, and it took place on a College Football Saturday that ended up being the greatest of all time. Look at the left side of Sparty's line, man. ICEBERG! RIGHT AHEAD!
Two Buckeyes came off the edge at perfect angles; one deep enough to catch the ball coming off the kicker's foot and another right behind him in case the kick's trajectory somehow sneaks through. This field goal was extrasupertriplefucked before it happened, then it got worse.
The only Spartan on that weak side of the line had three Buckeyes to choose from, and he decided to block AJ Hawk - but directly toward the kick. This put the Ohio State linebacker in the ideal position to erase the holder. Otherwise, he could have ended the play right there.
The Spartans' sideline saw what was transpiring during their scoring play, and reacted as expected. John L. gently removed his headset so he could throttle his hat and immediately find who needed to be fired and/or murdered prior to the 2nd half.
At this point, we need to appreciate that in 2005 grabbing a head coach en route to the locker room for a live, unscripted interview was a relatively new addition to the college football broadcasting experience. Had ABC chosen Tressel - whose team had looked like hot buttered ass and was losing by multiple scores on Homecoming - it would have gotten some folksy commentary about battling like crazy against a great Michigan State team.
That's a dang coaching mistake! The kids are playing their tails off and the coaches are screwing it up!– John L. Smith
Instead, Jack Arute audibled to John L. immediately after the Buckeyes kicked the PAT with both teams running to their respective locker rooms. He had just seen his commanding 17-7 lead go from 20-7 to 17-14 on account of those sloppy seconds and a Sparty No avalanche. Arute had likely planned on grabbing Tressel for the non-zero chance he would get spicy, but that plan was abandoned as soon as Ashton Youboty crossed the goal line.
John L. now had a live microphone in his face on national television. He had just spent the previous two minutes screaming at everyone he could find on the Michigan State sideline, likely using enough expletives that the word fuck would have basically been a series of commas in that transcript.
But now, he had to clean it up and try to calm down. He could not name the assistant who had greenlighted that shitshow field goal attempt with an extra down to play with - so he ended up awkwardly screaming this into the abyss and America's living rooms:
Yeah, I'm very upset! We shouldn't have been in the ballgame with that field goal! The coach that sent them in...we shouldn't have sent them in. That's a dang coaching mistake! The kids are playing their tails off and the coaches are screwing it up!
That's a dang coaching mistake. This is the kind of unnatural sanitized language that usually comes from a profanity-rich R-rated movie being scrubbed for a national broadcast. John L. could not say what he wanted to say, so he provided a 30,000-foot view of his nightmare through a cursing filter that resulted in him saying daaaang.
In 2005 this immediately became the most notorious act of sanitized filth ever perpetuated by a visiting coach in the Ohio Stadium south endzone history. But not even one year later, Joe Paterno would shit his pants in that exact same spot on live television. John L's tantrum didn't even get to keep the belt for a whole season. 
Let's look at how the Buckeyes' touchdown ended. Youboty was...not well.
If you're unfamiliar with how the Buckeyes' lockdown defensive back's gait looked normally, you might not realize that he's swinging his arm emphatically to get the rest of his broken body moving toward a touchdown. He was fortunate the Spartans were socially distant on the play, and well, there weren't enough of them on the field either.
His pain became evident as he left the field for halftime.
Every one of the 82 yards on his touchdown run were painful. This one play had it all, on a day (we'll get to that in a moment) that overdelivered like no other.
Nate Salley batted down the ball, Hawk knocked down the only Spartan in position to make a tackle and Youboty cripple-galloped the opposite way to complete the 10-point swing. Each of Ohio State's four touchdowns that afternoon were of the big play-variety and super fun. Everything else the Buckeyes did offensively was the football equivalent of happily jumping in a puddle without realizing it's horse urine.
John L's halftime speech was not Hey Guys, I'm Leaving Louisville for East Lansing-bad, because let's face it - that speech is without peer. But whatever he did say did not help, and the Buckeyes transformed what should have been a 13-point deficit at the half into an 11-point Homecoming victory. Swinggggg.
A fun epilogue to this small piece of the Greatest College Football Saturday: You can take a Sparty No Challenge quiz that asks you to name the team that benefited from 36 different Sparty No instances - from just the current century! Here's what they pulled from the 2005 Ohio State-Michigan State game:
(Drew) Stanton is sacked 4 times in the last 5 minutes after MSU falls behind on a Santonio Holmes TD
A hot orgy cascade of Sparty No right before the half that changed the game and both seasons (Ohio State ran the table; Michigan State started 4-0 and lost six of its last seven) didn't even make the cut. There was still somehow more Sparty No yet to come after halftime. Just a phenomenal display by the visitors that afternoon.
Aliens, this is just Exhibit A. Ohio State won this game and it was only 3:15pm. Over in South Bend, Notre Dame and Southern Cal - two top 10 teams and rivals - were about to kick off. You can read about what happened here. In Ann Arbor, Michigan is hosting the No.8 Nittany Lions in a game that featured a 4th quarter collapse that would even impress late game maestro James Franklin.
Even Wisconsin and Minnesota were both ranked and playing each other that day. In mid-October, Chickenshit scheduling is a glitch, not a feature. America was cool, sunny and captivated not just by a full slate of college football games, but by the extraordinary moments so many of them delivered all day and into the night.
The events of Oct 15 resulted in Notre Dame facing Ohio State in Tempe, as the Irish beating the Trojans and surviving the Bush Push would have also prevented Texas-Southern Cal from ever taking place. The Buckeyes have a century-long winning streak against the golden helmets, and this became another notch in the bedpost. Ohio State is not back in Tempe without Sparty No on Oct 15.
That MSU game was not just the turning point of the season - it ended up being a hinge that prevented 2005 from devolving into another 2004 - the lone glitch year of the Tressel Era. The Buckeyes were facing a third loss by mid-October, but they wouldn't lose again until 2007.
Ohio State won no less than a share of the pre-divisions Big Ten title for the rest of the decade, and that streak began in earnest when Michigan State hurried a field goal attempt for no reason.
That said, the best College Football Saturday is always the next one (we don't have to tell the aliens).