Welcome back to My Favorite Things.
We're isolated from each other, trying to survive a global pandemic. Each day brings more uncertainty and terrifying news, as we take shelter from an invisible global scourge. A single cough can send your mind to a dark place. Life is paused. Sports are on hold. This sucks.
My Favorite Things is an escape from all of that. The philosophy is simple:
When I'm feeling sad
I simply remember my favorite things
And then I don't feel so bad
So let's do that. Today, we'll look at the fateful series of events during the mid-1990s that just might have spawned the Buckeyes' most vocal media antagonist of the new millennium.
---
EPISODE 4: VENDETTA
Every fan base believes there's a media figure or outlet that hates their team.
Ohio State fans (and players, and coaches) agree on one national commentator who openly despises theirs. He isn't nuanced about it. He's cartoonishly antagonistic. He's taken interviews to discuss his "rivalry" with Ohio State.
So the question isn't if Mark May hates Ohio State. It's why. And the answer points to a fateful four-year stretch that began right as he retired from the NFL.
In 1993, the University of Pittsburgh alumnus was out of the professional game, which meant he could now indulge in America's greatest Fall Saturday Activity, attending weddings watching college football. As fate would have it, a rising, returning-to-glory Ohio State program would end up on his alma mater's non-conference schedule for each of the next four seasons.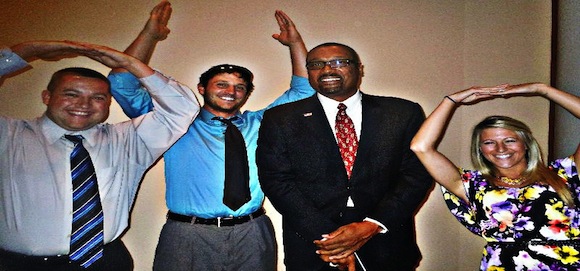 This was to be the ideal measuring stick for Pitt. You already know that during the mid-1990s the Buckeyes beat the hell out of everyone, except one team. And it wasn't Pitt.
So, no spoilers lie ahead. But just holding a grudge because your team lost to another doesn't pass the sniff test. There must be more to May's Ohio State obsession, so we must dig deeper.
Non-conference was a new phenomenon in Pittsburgh in 1993. The Panthers had recently exited Independent life to join the Big East conference. The school had also recruited its greatest coach back to town in Johnny Majors, who had been forced out at Tennessee.
At the same time, Pitt was entering a 10th year in the wilderness, still searching for the success it had enjoyed under Jackie Sherrill and Majors. The time to re-enter college football relevance was now: Majors was back. Pitt would be back. And May in 1993 was back in Pittsburgh, free to watch his boys bring the magic back to the 'Burgh
The Buckeyes arrived at Pitt Stadium on Sept 18 for their first roadie of the season. They had beaten No.12 Washington in the Horseshoe the previous week and were on letdown alert, facing a Pitt team that had just allowed 63 points to Virginia Tech in Majors' home reunion debut.
Here's the opening kickoff.
Pitt licked its wounds from the Virginia Tech loss, practiced all week and promptly allowed a touchdown to Butler B'ynot'e 10 seconds into the game that would have counted even if they were playing two-hand touch. 
Panthers fans knew that rebuilding would be necessary. But this wasn't okay.
It wouldn't get any better for the home team, as the visitors were piling up easy touchdowns.
Ohio State's wide receivers were playing a different sport than the Pitt defensive backs were. Are we going to cover anyone? Pitt fans screamed at the field and their television sets.
As it turned out, the answer was no. Pitt was not going to cover anyone. Even guys nobody had ever heard of before would be making highlight-reel plays that afternoon at the Panthers' expense.
That's Terry Glenn, who began 1993 as a walk-on with the Buckeyes, grabbing one of his eight catches from limited action that season. Pitt was double-teaming him a full year before anyone else figured out that was probably a good idea, and, well, it didn't help.
Ohio State won the game 63-28. Majors' first two home games were losses, and in each case the visitors scored nine touchdowns. The honeymoon, the romanticism, the big dreams in 1970s sepia tinted glory - they all ended that afternoon under a crushing pile of reality. Tony Dorsett was not walking through that door, nor was Dan Marino.
But the worst was still to come. And May would have a front row seat for it.
As it turned out, 1993 would be his final college football season as a fan, because one year later May was providing color commentary for his alma mater on WTAE radio. He had broken into the sports broadcasting business at the same place he had begun his football career.
Columbus was the first roadie of May's career. OSU was the first stop on Pitt's revenge tour.
May'S FIRST MEDIA ROAD TRIP WAS TO COLUMBUS, WHERE HE SAW A VERY SLOPPY OHIO STATE TEAM BAT HIS ALMA MATER AROUND FOR THREE HOURS.
Pitt was in the right place at the right time, as in 1994 Ohio State still trying to figure out its identity. That afternoon, the Buckeyes lost four fumbles. The home team racked up nearly 100 yards in penalties. The Panthers had every opportunity to exact revenge for 63-28, but in the end they lost 27-3.
Ohio State, sloppy and confused as it was, toyed with May's alma mater all afternoon. And to add insult to injury, May had to provide live commentary about how pitiful the Buckeyes were playing - while they easily handled the Panthers. Pitt's best win of May's only season as color commentator would end up being a 17-12 loss to the Miami Hurricanes.
The 1995 season sent the Buckeyes back to Pittsburgh, and the circumstances were once again in the home team's favor. This was Ohio State's schedule to begin that season:
No. 22 Boston College

No. 18 Washington

at Pittsburgh

No. 15 Notre Dame

No. 12 Penn State

No. 21 Wisconsin
The only unranked team in a six-game stretch. Pitt was the trappiest trap game that ever trapped. Majors was in his third season of rebuilding the program, so May's boys had their best shot yet to make things interesting. 
Two years later, it's Glenn again and in the same spot on the field. But this time he's in his Biletnikoff season.
Let's pause for a moment to slow down the humiliation that Pitt - which was undefeated at home three games into the season - was now absorbing. Attention shoppers, cleanup on the 37-yard line.
We might as well slow down Glenn's second touchdown of the afternoon. Could Ohio State's (former) walk-ons be that much better than every player on Pitt's roster? What kind of rebuilt return to glory was this?
At a certain point of a humiliation, the losing team gives up. Glenn's third touchdown didn't require him to Keystone Copsify the Pitt secondary, nor did he have to lay out to make a diving catch off the astroturf. He just went for a jog.
And by the time Glenn scored his fourth touchdown, Pitt players declared mutiny and had openly quit on Majors.
Glenn ended the game with 9 catches, 253 yards and those four scores in what was a launching pad for his award-winning season. The Buckeyes won 54-14 and the Pitt secondary had been devoured twice on its own field by Ohio State in two visits.
May was three years removed from the NFL. He had been a fan. His post-football career path was set, as a color commentator. His alma mater's return to prominence under a beloved coach who had been inducted into the College Football Hall of Fame a decade earlier was...not going according to plan.
Pitt returned to Columbus in 1996, where it had played its best-bad game over the three bad losses it had suffered to the Buckeyes. Perhaps the fourth time would be the charm.
Ohio State's methodical, five-minute opening drive ended like this:
Let's pause for a moment to appreciate Ohio State wearing its best jerseys and playing on rich, natural grass in Ohio Stadium.
*deep inhale*
*casually ignores how those seasons all ended*
*exhale*
The Buckeyes were platooning quarterbacks and treated the 2nd quarter like a scrimmage. Joe Germaine was a community college transfer from Scottsdale and John Cooper had started the season getting him reps. He was already better than Pitt's quarterback room.
Ohio State had to replace a who's who of the NFL draft in each of the three seasons it faced Pitt, and in doing so - it had built and rebuilt itself during the series while pulling away from the Panthers as a program. This was a large enough sample size to provide a measuring stick to tell Pittsburgh that it did not measure up in any form or fashion.
This is where Pitt was entering the 2nd quarter of its fourth game with the Buckeyes.
One yard of offense. Welp.
Making matters worse, Raymont Harris, Dan Wilkinson, B'ynot'e, Korey Stringer, Chris Sanders, Marlon Kerner, Preston Harrison, Tito Paul, Craig Powell, Lorenzo Styles, Eddie George, Terry Glenn, Rickey Dudley, Bobby Hoying - the stars who had terrorized Pitt the previous three seasons were all earning paychecks that day. Ohio State's return to glory could not have contrasted more with Pitt's attempt to rekindle its lost magic.
The Buckeyes were in control, but still wanted to get their community college QB more experience.
It made sense to get Stanley Jackson - Ohio State's starter - some 2-minute drill experience with the half winding down. David Boston was playing in his second game since high school, so getting him acclimated to the college experience also made sense.
It was 52-0 at halftime. May's alma mater had quit on Majors the previous year against an offense with historic firepower, and the replacements one year later were making history of their own.
Ohio State ran clock for the entire 2nd half, but sometimes - whoops - plays like this happened.
Pitt did not want to be in Columbus from the moment the game began. The clincher, and the one play that is remembered from Ohio State's 1996 meeting with the Panthers is below, and justifies broadcasting volume to appreciate just how bad it got for Quitsburgh.
This will never happen again: a true freshman scoring his third touchdown of a game, on a punt return where three-quarters of his team is already at happy hour on High Street, leaving only seven blockers on the field.
Buckeye freshmen, community college transfers and scrappy rebuilding year contributors had delivered the worst defeat in Pitt history to a Hall of Fame coach. Pitt football's recovery was canceled, it would be stuck in the abyss for at least another decade - and Ohio State had unofficially killed May's beloved football program.
After the game, Majors said:
In all my coaching career, I don't believe I've seen a team with more huge linemen on offense.
Huge linemen with professional runways, like May. Who were no longer heading to Pitt, and who had no memory of Majors being an elite college coach. This game effectively ended his second stint in Pittsburgh early in his fourth season. The program was screwed. Even with the demise of Big East football, Pitt never climbed out of mediocrity. 
So yeah, Mayday has every reason to be bitter toward Ohio State, and while that 72-0 shellacking in 1996 is easy to pinpoint, there are several other contributing factors at play here.
That four-game series with the Buckeyes showcased just how dormant the Pitt program was. The aggregate final score: Ohio State 216, Pittsburgh 45. 
May transitioned from NFL to Arena League color commentary, and in 2001 he joined ESPN as a college football color commentator. He never forgot what Ohio State did to his alma mater, and for the next decade-and-a-half he expressed that bitterness in the most passive-aggressive way he could muster.
But eventually, staleness comes for us all. In 2015, ABC removed May from his post on ESPN College Football Final and replaced him with Joey Galloway, who....wait a second.
Replaced May with who?
Oh no. Really?
Ah, right. Him. Revenge, as it turns out, is a hilarious boomerang.