Two offseasons ago when Ohio State was preparing for its first season under Luke Fickell, I participated in an ESPN media conference call that was open to all FWAA members.
There were three reasons why I dialed in: First, the Summer of Tatgate was drawing to a close and I was ready for actual football like no other year in my life. Second, the event was scheduled on top of a meeting at work that I really didn't want to go to, giving me a truthful "I have a conference call" excuse that allowed me to bail out.
And third, ESPN had chosen Lou Holtz and Mark May to host call, which was to be a discussion of the upcoming college football season.
The phone lines would be open, the callers would be safely out of Holtz's spitting range and I had a few questions for two of the men who help shape the perception of the college football title race at a network which owns 95% of the postseason.
ESPN, despite operating a behemoth news organization (which is run by an Ohio State graduate) is far more engaged in concocting and creating content than simply reporting it. Its modus operandi was a bad rumor in 2005 that became largely accepted by 2011 and is now ridiculed daily by sites like Awful Announcing today.
Raw news that isn't repackaged by ESPN's production staff has strong potential to be mundane, causing you to find another option that holds your attention better than ESPN simply channeling Walter Cronkite.
This is why routine ground balls are now "Web Gems" and why the most benign sports bulletin suddenly merits a heated debate or inelegantly invoking Tim Tebow.
Holtz and May were deliberately cast as ESPN's opening act for college football. They're essentially the local act that keeps the crowd warm until Chris Fowler, Lee Corso and Kirk Herbstreit can take the main stage on Saturdays (Desmond Howard is not a full band member; he's more like Ben Carr from Mighty Mighty Bosstones who doesn't actually play an instrument but is at every concert awkwardly dancing on stage with the band).
People generally love Holtz, who serves as a classic protagonist. Notre Dame has a statue of him on campus even though he left a big mess when he departed, just as he did with every single other school on his coaching resume.
It's Holtz's enthusiasm and relentlessly positive demeanor that make him so likeable. He's Dick Vitale without the facetious insight, transparently whorish self-promotion or extremely punchable face. Casting the right antagonist to fulfill the Odd Couple dichotomy makes May a perfect fit for ESPN's narrative-building.
Holtz is old and white; May is young(er) and black. Holtz is upbeat and gregarious while May takes himself and his opinions very, very seriously. Holtz is self-effacing and unafraid of making a mockery of himself, while May is only too happy to help Holtz ridicule Holtz.

I truly have no idea if May genuinely hates Ohio State football.
It's a little too convenient to leap to arbitrary conclusions, like the Buckeyes' ruthless 72-0 bludgeoning of his alma mater 17 years ago as being the catalyst for his consistent badgering. I do think there's evidence that he's aligned with ESPN's core competence of keeping viewers engaged longer than they should be.
Love and hate are interchangeably valued at the Worldwide Leader, because neither involves ambivalence. Were it not for his #hot #takes, May's sole contribution to college football coverage would be briskly rumbling through the statistics fed to him by ESPN staffers without pausing to breathe.
That's just filler, though; he's not sitting across from Holtz just to read stats. Anyone can do that. David Pollack does that. Robert Smith does that. Neither incites emotions like May does, which is why they're both role players largely used to occupy time and extend the network's coverage.
May's poor performance as a serious analyst, both on the air and on his Twitter feed, is a gold mine for broken English, overt trolling and lousy predictions. The latter is worth following just for entertainment value; he even uses it to jinx otherwise great players:
Watch Va Tech's rb David Wilson tonight vs UNC he is a stud

— Mark May (@mark_may) November 17, 2011
Naturally, Wilson had easily his worst game of the entire regular season following May's Twitter hex. Beyond common witchcraft, May can also get both nuanced and cryptic:
Did notre dame get their helmets at dollar store or big lots

— Mark May (@mark_may) November 13, 2011
So Notre Dame dumped you ASU face the facts there Kate Upton and your not

— Mark May (@mark_may) April 11, 2013
This is a transitive message. May is telling you that Kate Upton's haircut is ghastly.
His ESPN colleagues appear to be forced by producers to casually refer to him as "Mayday," which is also both an international distress signal as well as an enormous, creepy stadium in North Korea (this may or may not be coincidental). When he routinely goes out of his way to antagonize Ohio State fans it could either be a genuine, deep-seated hatred or a cry for help.
But there is a third possibility that isn't nearly as fun as reminiscing Ohio State's seven-touchdown romp over his Pitt Panthers: May may not actually be himself on television or Twitter. Stephen Colbert is a virtuoso in this dark art: He could just be playing a caricature intended to illicit a reaction.
Yes, it's conceivable Mark May is simply playing the part of an unlikable character named Mark May.
While there isn't any evidence to May's true Ohio State feelings, there is plenty that supports Buckeye football content moving the needle at ESPN to the tune of a full-blown obsession. The network was leading off SportsCenters with Maurice Clarett stories as late as 2005, two full years after his final college football game.
And you don't need any reminders of how distorted, repetitive and preoccupied its Tatgate coverage was, especially compared to the nastier scandals that followed it.
The bias ESPN displays toward round-the-clock coverage of a petty cash/tattoo cover-up in Columbus is the same one that spent seven weeks hyping the 2006 team prior to the BCS title game and five days trailing Urban Meyer around the WHAC last August: The bias toward larger viewing audiences.
Still, there is one piece of evidence on which everyone can agree: May looks exactly like Steve Urkel from Family Matters, but with a slight weight problem. Your eyes aren't lying.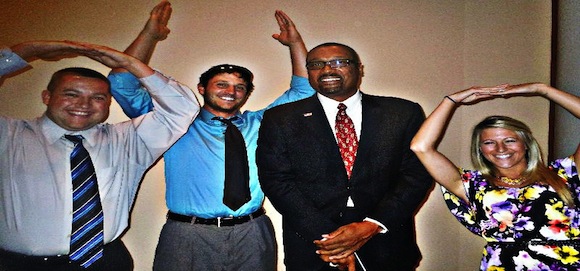 That conference call back in 2011 began with Holtz and May giving their thoughts on the upcoming season. May was his usual self, blowing through his prepared notes at a pace too swift for anyone to process the information he was relaying. When the two hosts were finished the phone lines were opened.
I asked the following question, verbatim:
ESPN is enormously influential in how teams are seeded in rankings and how a particular team narrative is portrayed and established throughout the media, and you both along with Rece Davis do a great job of capturing that essence every night after all of the games have been played. Last season five SEC schools lost their bowl games, but you'd never know that based on how the conference is discussed and routinely portrayed on ESPN, and Coach Holtz already talked about Texas A&M's challenges against Texas with the Longhorn Network, which is an ESPN venture.

Can you talk about the role that ESPN's partnerships with the Southeastern Conference and the University of Texas in particular will impact your ongoing narrative and analysis throughout the upcoming season?
The moderator – Mike Humes – interjected and said the question was inappropriate for the forum, but Holtz and May refused to play along and insisted on answering it: First, Holtz laughed and jovially said he always speaks his mind on and off the air, saying 'it's better to be the organ grinder than the monkey.'
May's tone was far more serious, and he angrily declared that no one has ever told him what to say – and furthermore – that ESPN has no agenda. He said the latter bit twice: ESPN has no agenda. It's a laughably dishonest statement.
ESPN is the largest conflict of interest known to mankind, or at least that's what that Ohio State grad in charge of ESPN's news division openly says. Everyone has an agenda, especially a publicly traded venture airing games it paid billions to broadcast while also no-so-objectively covering sports at large (the NHL sends its regards).
But following the call it occurred to me there was a possibility that May might be insulated from his employer's larger strategy.
Maybe he really is a football purist uninterested in the corporation's big picture guidance of its coveted broadcasting assets. Perhaps he's just laser-focused on delivering the best college football analysis possible, without bias or discretion to what executives would want to be communicated.
Then I remembered who I was giving the benefit of the doubt to, and spit-laughed out loud just as Holtz had minutes earlier. Whatever, Fat Urkel.