It is the most rewatched Ohio State football play of all time.
The Buckeyes' final offensive snap from the 1978 Gator Bowl has a 24-year head start on both Holy Buckeye and the correctly-called pass interference penalty from the first overtime of that season's Fiesta Bowl.
Those two have been rewinded and repeated innumerable times, but not like this one.
This play was in syndication for nearly four decades before Ezekiel Elliott ran 85 Yards through the Heart of the South. In terms of volume and broader appeal, it's a mismatch. Woody Hayes' farewell to coaching was shocking, unique and broadcast on live television.
As a child of the 1980s in Columbus with more fingers than our TV had channels - and no replay capability access beyond our Betamax VCR - I still have no idea how many times I was subjected to the moment Hayes ended his career. It was on at least as often as Family Ties.
I could argue Buckeye fans did not move on from this moment until the 2002 team paroled us from finding ways to stay miserable, but that's a different column. Still, it's shocking every time you watch it.
Woody punched a Clemson player because he had picked off Art Schlichter's pass, slid into the Buckeye sideline and showed youthful exuberance. Just like that, the era was over.
"Three things can happen when you pass and two of 'em are bad." - Darrell Royal– Woody Hayes
Let's get out ahead of this now - if you're new to Time Squad, this series is a retrospective analysis focused on the football program's new trajectory after meddling with one pivotal moment in time. We're not relitigating or defending the punch; just sticking to sports. Don't punch people.
Today we won't dwell on Doug Donley, the receiver for whom the play was designed - and who was w i d e open, all by himself in the endzone waving his hands wildly for attention. That was a tough throw in 1978 for a true freshman Ohio State quarterback. Ryan Day wouldn't exist for another three months; his tutoring skill was still incubating.
Instead, we'll focus on junior fullback Paul Campbell. He's lined up and circled in the backfield.
*Fowler voice* pitch-and-catch. A casual toss. Degree of difficulty: You can make that throw.
Did we mention the score was 17-15 Clemson, it was 3rd & 5, there were barely two minutes left in the game and Ohio State was already in field goal range? And Woody Hayes greenlit a passing play under those circumstances? Okay! Now we have.
This week we will determine the most delicate way to unpunch Charlie Bauman.
TIME SQUAD VOL.8 | THE PUNCH BOWL
Coaching legends eventually have to leave. Burn out, or fade away? Neither option is great.
The previous season's Buckeyes had pitched four shutouts and held eight opponents under 10 points. Then they ended their season losing in Ann Arbor and suffering a humiliating 35-6 loss to Alabama in the Sugar Bowl - arguably the worst collapse of Woody's tenure.
Losing to Bear Bryant on a stage like that to end the 1977 season sat about as well as you would imagine. Now add two consecutive Michigan losses and a season-opening home shutout to Penn State to kick off the 1978 season. Not the bounce-back Woody had planned on for nine months.
Ohio State would finish 4th in the conference, following a third consecutive loss to Michigan - with two of them coming in Columbus. The last time the Buckeyes had dropped three in a row to the Wolverines, Woody was coaching at Denison. Burn out, or fade away? It was looking like the latter.
The Buckeyes had controlled their Pasadena destiny into November but parlayed it into a Gator Bowl bid. Last week we revisited the other bowl game (somehow, there are two) the Buckeyes should have won 18-17 on a game-ending field goal. The 1978 Gator Bowl was the original, but it's only known for violence.
Why not simply tell Woody not to punch people? Woody used to knock himself out in practice after punching himself in the head in frustration. Entering 1978, he was already on notice for both hitting players in practice and punching an ABC cameraman capturing his disgust at a red zone fumble during the previous Michigan game.
So yeah, the Gator Bowl wasn't even his first live televised punch. This is a pickle. Options:
DELICATE STRATEGIES TO PREVENT WOODY HAYES FROM PUNCHING CHARLIE BAUMAN

| STRATEGY | NOTES |
| --- | --- |
| WARNING WOODY IN ADVANCE | Sixty-five year old coach famous for hot temper. Unlikely to be effective. |
| SUSPENDING WOODY | Any suspension from 1977 would have already ended. Hayes was larger than life in his 28th year coaching Ohio State - and operating just beyond HR's reach. |
| PREVENTING DAVID HAYES FROM FIGHTING AT THE BATTLE OF ANTIETAM in 1862 | Woody justified the punch after the game due to his great grandfather being killed by one of Bauman's ancestors in the Civil War. Unfortunately for Time Squad, meddling with wars is out-of-scope. |
| SCHLICHTER THROWING TO DONLEY DOWNFIELD | Maybe a touchdown? Or an incompletion? |
| SCHLICHTER THROWING TO CAMPBELL IN THE FLAT | This is the most Ohio State option. |
Anything that keeps Bauman away from the precise area where Woody was standing carries him into the offseason with his dignity intact - riding a three-game Michigan losing streak and a 4th place Big Ten finish. We would be kicking the can down the road here with Hayes' exit.
Hugh Hindman, Ohio State's then-athletic director (played for Woody at Miami, coached for Woody at Ohio State and in 1978 was Woody's boss) was compromised as a manager. He had a hard time terminating Hayes after the punch, let alone being proactive with succession planning.
So for the first time on Time Squad, there's just a ton of messy ambiguity waiting beyond our hinge point. We have never relitigated a play call in this series, just execution - so we're still going to have Schlichter drop back to pass on 3rd & 5. Focus on the top/middle of the screen:
That's six or a 1st down. If it's the former, that Buckeye defense was at its peak and airtight - you bet on that unit to prevent a touchdown during a two-minute drill. If it's the latter, you're setting up a walk-off akin to what the 2008 Buckeyes should have committed to in the 2009 Fiesta Bowl.
If Time Squad directs Schlichter to target Campbell instead of throwing directly into chaos:
Ohio State probably wins the 1978 Gator Bowl, which, okay
The Clemson albatross that hung around Ohio State's neck into the 2020 CFP vanishes from history
Woody Hayes' coaching epitaph reads differently, especially outside of Ohio
Bauman, an involuntary participant, avoids being known as the answer to a trivia question
Woody remains coach into the 1979 season, which in our timeline was an undefeated run to Pasadena by Hayes acolyte Earle Bruce
The Earle Bruce Columbus coaching tree, which includes future OSU head coaches Jim Tressel and Urban Meyer, as well as Nick Saban, Pete Carroll, Dom Capers, Glenn Mason, Gary Blackney and Mark Dantonio is now jeopardized
Woody's exit from Ohio State and from coaching is undetermined. Fade Away overtakes Burn Out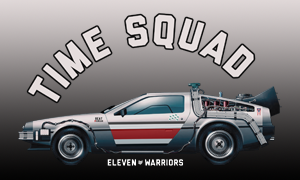 It is the most rewatched Ohio State football play of all time. Woody's punch burned itself into the program's DNA and serves as a marker in time in the evolution and history of the sport.
Punching a player was good, actually is not a winning position when you're trying to defend perhaps the most recession-proof program in college football. Ohio State didn't need Hayes to end his career like he did to remain relevant or even thriving. Earle's true legacy took decades to materialize. He was ol' 9-3 for quite awhile prior to his seedlings becoming oak trees.
The premise of this series is based on Ray Bradbury's A Sound of Thunder which speaks to the consequences of creating future paradoxes by even slightly veering off the path established through the passage of time. Removing this piece of college football history is more than just a toe-tap; it's a wholesale reinvention.
Woody's punch is embedded into the tapestry of the program. We simply have no idea what Ohio State football would look like today without it. It could be similar. It could be completely unrecognizable.
Verdict: Inconclusive. Time Squad, let's try this again in another space and era.