Firstly, I want to say that this is me trying out a new series titled Unsung Heroes, where I go through the archives and bring to light some of the most underrated individual performances in Buckeye football history. Let's begin.
I don't need to provide any explanation of the 2003 Fiesta Bowl. We all know the magnitude of the game and all the story lines entangling themselves. Miami was the juggernaut going for back-to-back titles, while Ohio State was the David to their Goliath.
There are certain players that receive a ton of praise for their efforts, and justifiably so. Maurice Clarrett stealing the ball from Sean Taylor, Michael Jenkins's clutch 4th down reception in the first overtime, Craig Krenzel's gutsy performance after a shaky, at best, beginning to the game, and the Silver Bullet defense as one cohesive unit shutting down a star-studded Miami offense that was averaging 42 points per contest entering the game.
Remove even one of those players and Ohio State's chances of winning decrease exponentially. But in my opinion, the best player on the field that night was a man who hardly ever came off it, regardless of which team had the ball. A man who, nearly twenty years later, still doesn't get the recognition he rightfully deserves for his play in one of the greatest games in college football history. That man is Chris Gamble.
Prior to the game, Gamble was already making history. He was the Buckeyes' first regular two-way starter in nearly 40 years. He was the team's leader in interceptions and second leading receiver on offense, behind only Michael Jenkins. If that wasn't already impressive enough, Gamble was also the primary punt return man, and for a while was also the kick returner, before Tressel decided to give Gamble a couple minutes of rest and replaced him with Maurice Hall.
Playing almost every snap of a game wasn't anything unordinary for Gamble. In the overtime victory against Illinois in the penultimate game of the regular season, Gamble was on the field for 95 plays. But to go out and do the same in the championship game against a rebirthing dynasty in The U, this was something other-worldly.
There were 170 plays run in the double overtime thriller, of which Gamble was involved in 119 of them. That is no typo. In a game that lasted six quarters, and against a squad that had won 34 consecutive games, Gamble was a part of 70% of the on-field action.
Remember Clarrett's strip of Sean Taylor? Of course you do. It's one of the most legendary plays in OSU history. A remarkable display of effort and hustle that cannot be understated in its lasting effect of the game's outcome. Without that play, Mike Nugent doesn't kick a field goal to put the Buckeyes up 10. Ohio State loses out on three crucial points that may have cost them the game. But what about the play before?
Just one play prior to the legendary strip, Craig Krenzel dropped an absolute dime to Gamble on a 56-yard bomb on 3rd and 15. It wound up being the longest play from scrimmage for the entire 2002 season for OSU. Without that play, Andy Groom comes on to punt yet again, the legendary Clarrett strip never occurs, Ohio State doesn't come out with three points, and they may indeed lose the game. In a game where Krenzel only completed seven passes, this could have been the biggest one.
On the defensive side, Gamble's performance against Andre Johnson is remarkable on its own. The future NFL All-Pro receiver entered the game with nearly 1,100 yards receiving and averaging a whopping 21 yards per catch. He wound up being Miami's all-time leading receiver. And yet, against Gamble, Johnson caught only four passes for 54 yards, including only a single reception in the second half and both overtimes.
Despite the stellar coverage, Gamble's best play on defense may have been the foul that went against him. In the second overtime, Johnson beat Gamble on a slant. Miami quarterback Ken Dorsey threw the ball while Johnson was open in the end zone. Gamble tugged Johnson's jersey to catch up to him and grabbed ahold of Johnson's arm, causing the pass to sail, but drawing a defensive interference call that gave Miami 1st and Goal at the 2-yard line.
The following plays went as followed:
1st down - Jarrett Payton 1 yard rush
2nd down - Dorsey misfires a wide open Eric Winston
3rd down - Miami fullback Quadtrine Hill 0 yard rush
4th down - Dorsey gets hit by Cie Grant, desperation heave is batted down in the end zone. Game over. Ohio State wins.
Gamble may have committed the greatest penalty in OSU history. Without interfering with Andre Johnson in the end zone, the game would have progressed into a third overtime.
And yet, it's not even that penalty that Gamble is best known for. Gamble's 2003 Fiesta Bowl is remembered primarily for two reasons: With two minutes remaining in the 4th, Krenzel fired a pass to the sideline for Gamble. Miami corner Kelly Jennings grabbed hold of the back of Gamble's jersey, an obvious defensive holding foul that would have given the Buckeyes a fresh set of downs, yet was never called by the side judge. Gamble even made the catch on the sideline, yet it was ruled incomplete. Without replay reviews back then, there was no changing the call.
Secondly, the most notorious, hotly-debated penalty of the 21st century.
Glenn Sharpe's defensive interference infraction placed the ball at the 2-yard line with a fresh set of downs. Three plays later, Craig Krenzel runs for his second touchdown of the game, Mike Nugent successfully makes the ensuing extra point, and the game continues to a second overtime.
Of Gamble's 119 plays, this is undoubtedly the one that is best remembered, for better or worse. A man who looked defeat in the eyes, begging for a flag to be thrown, and he got his wish. The balls of the side judge to throw the flag and make the correct call shan't be understated either. And yes, it was the right call.
In the second overtime, Clarrett gave the Buckeyes a 31-24 lead. Miami drove down inside the 5. Gamble gets called for the DPI, as mentioned earlier, and the Silver Bullets make a goal line stand for the ages. On the final play of the game, Gamble's 119th, he hardly has any involvement. The camera pans to the yard marker on the opposite side line, zooms back, and you can see Gamble running to that side to guard Andre Johnson on a fade route that never stood a chance. (Here's the link to the video of the final play. For some reason, YouTube isn't letting me share it on here.)
Once Dorsey's final pass hit the turf, the entire team comes storming onto the field. The camera shows Donnie Nickey hugging his teammates, the Buckeye portion of the crowd erupting, and Tressel being surrounded by security as he saunters across the field to shake Larry Coker's hand.
And then they show Chris Gamble, OSU's ironman, collapsing to the ground on his frontside, physically drained and emotionally exhausted, with #32, freshman defensive back Brandon Mitchell, triumphantly pounding the turf beside him.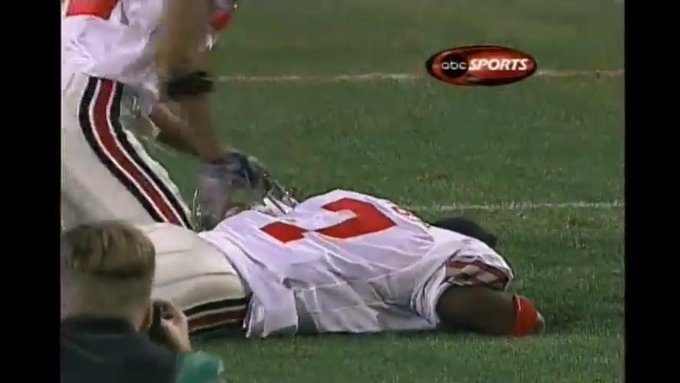 It's such a cruel twist of fate. A distorted reality that the man who was on the field more than anybody else on either team is remembered almost exclusively for a single play that, in the official record books, never occurred. Krenzel's incompletion and Gamble's drop were nullified from the stat line due to the infraction.
It doesn't seem fair that seemingly every positive Gamble had gets overshadowed by a similar moment. His 56-yard reception on a 3rd and 15 could be argued that it was as clutch a pitch and catch as the 4th and 14 completion to Michael Jenkins was in overtime. Gamble's lockdown coverage of Andre Johnson never gets mentioned. His best defensive play may have very well been him grasping onto Johnson's jersey and arm when he best him on a slant. But simultaneously, it's all a serendipitous irony. The game continued due to Gamble drawing an interference call while playing receiver, and the Buckeyes' legendary goal line stand was made possible due to Gamble getting called for interference while playing corner.
A world where Charles Woodson receives endless praise for being a two-way player, resulting in him winning a Heisman; a world where Jabrill Peppers and his less than three yards per carry on offense and one career interception on defense was enough to warrant an invite to the Heisman ceremony in New York City; and a world where Chris Gamble's heroic effort of 119 plays in a national championship game is merely an afterthought is a world I no longer wish to live in. To quote J.K. Simmons's character Terence Fletcher from the movie Whiplash, that to me is an absolute travesty.
I'm just one guy that's spending a Friday afternoon in quarantine writing a lengthy forum post about one of the best players from one of the best games from the best sport in the world. I know I don't have much hope that I'll be the reason Chris Gamble is better remembered for a display of athletic heroism. All I can bank on is that the few readers that took time out of their day to read my rambling can better appreciate a man who, maybe more than anyone else, helped our favorite college football team become, in the words of Jim Tressel, "the best damn team in the land."
Thank you for reading.