You can't spell chump without UM
---
Member since 13 January 2013 | Blog
I usually don't post or comment during Buckeye games because I'm busy yelling at my TV. But I do enjoy chatting any other time.
Favorites
SPORTS MOMENT: The 2002 National Championship, 2014 National Championship (With a "3rd string" QB) & Beating Bama
COLLEGE FOOTBALL PLAYER: Ted Ginn Jr.
COLLEGE BASKETBALL PLAYER: Jon Diebler
NFL TEAM: Cincinnati Bengals
NHL TEAM: Columbus Blue Jackets
NBA TEAM: N/A
MLB TEAM: Cincinnati Reds
SOCCER TEAM: FC Cincinnati (Yes, I like Soccer)
Recent Activity
"Dobbins is tackled for a loss.... Lol, J.K."
Losing on a fluke blocked field goal returned for a touchdown isn't unlucky?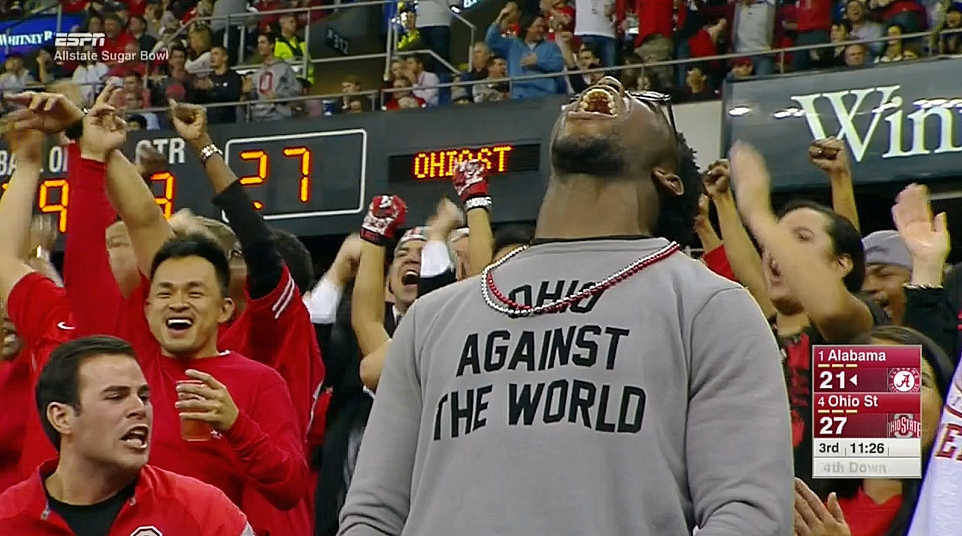 An Ohio State and Michigan fan escape prison together. They sneak their way to the roof of the prison. Once atop it, the Ohio State fan jumps over the fence and onto the rooftop of another building on the opposite side. The Michigan fan stands frozen, looking at the ground, crying out, "I can't do it! I'm afraid of heights!"
The Ohio State fan then grabs a flashlight out of his pocket, and says, "My flashlight can act as a bridge. So I'll shine wherever you're stepping till you reach this building."
The Michigan fan shakes his head and says, "Do you think I'm stupid? I know you're just going to turn it off when I'm halfway to your building."
I feel safer looking at the solar eclipse without glasses than that pale monstrosity.
38-10.
I don't think Indiana's offense will be nearly the threat it was when Wilson was in charge. They're defense will hold firm for the first half, but the Bucks commence the onslaught in the second.
That would not hurt the B1G, it would only hurt Michigan, which is always great.
I've seen both seasons and enjoyed the show, with the exception of Buddy Stephens. He is your classic asshole coach, but people tolerate his behavior because he wins. I understand it's a stressful, demanding job, but there's no reason to be as ballistic as he can be at times.
The starting middle linebacker was on the punt coverage team? No wonder why the Dolphins haven't won a playoff game since Marino. Alas, heal up sir.
They could be winless going into this game, and they'd still play the Bucks for 60 minutes. However, with that being said, fuck Sparty.
Well he did remember it, as well as Braxton juking out his entire defense the year before, and promptly bolted to Houston because of it.
Pat Fitzgerald is so underrated that he doesn't even make the list of underrated coaches by other coaches.
I can't think of O'Brien without thinking of 63-14.
Oh no, they're on a list where they've done nothing but lose. Gee, you know how you fix that? By winning.
Apparently he didn't pay no attention in English class either.
Why wouldn't you just play two games on one day, and the other two on the other? Seems like it would be better than trying to cram them all into one congested-filled day.
They've definitely improved in the skill positions from last season. If they can block and kick, they'll be good. Personally, I think they will go 8-8 or 9-7, but they could be even better.
Boom.
Maybe it's just me, but it seems counterproductive to restrict the media from giving your program attention? It's a severe lack of exposure for fans eager to consume content related to your team.
You know what else is counterproductive? Going 4-8, and losing to Duke in football.
My top two memories: 1. Last year after Samuel scored against Michigan, I ran outside and did a few victory laps around my house. 2. After they beat Bama, I ran upstairs and awoke my dad at 1 a.m. and said, "They did it! They won!"
Worst memory: Probably last season against Penn State. Watching them piss away a 14 point 4th quarter lead to an overtly inferior team was maddening. I damn near pulled an Andy Bernard from The Office, and punched a hole in the wall.
No. It was definitely his evil twin, La'Sean Foot.
You mean... I can't spell?!?!
Penn State is 6, and Michigan is 9.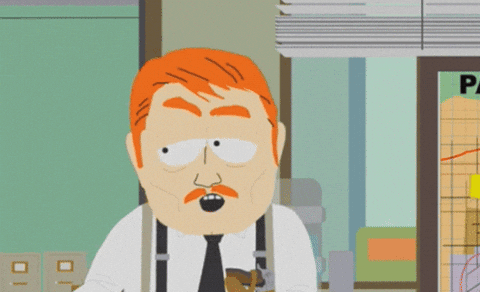 Tennessee isn't in the top 10? Their the champs of life!!!