Coaching the Ohio State Buckeyes might have been Bud Meyer's dream job.
Urban's father was a chemical engineer by trade but he admired Woody Hayes enough to keep a portrait of him hanging on the wall. He didn't realize it at the time, but he actually kept portraits of two Ohio State coaches in his house. One was still a genial child slightly resembling him and living under his roof.
By the time he became the only candidate Ohio State interviewed in 2011, the Woody portrait Urban had acquired for his own residence back when Bowling Green had given him his head coaching break in 2001 had moved with him to three houses. He accepted the offer in Columbus and that portrait moved for the fourth time; back to Ohio where it was originally procured.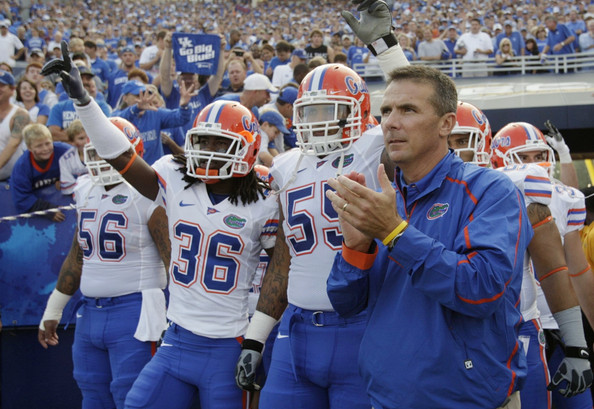 He is still his father's son. Woody's image hangs on the wall at his home in his office. 
It's a 51-year old man's connection to his childhood; an image he saw every day growing up in his parents' house. But that portrait isn't just a reminder of the Buckeyes' iconic and greatest head coach; it's a tribute to the father who shaped the man that genial child living under his roof eventually became. 
When Bud's health was in decline Urban was already out of coaching and working for ESPN. He was enjoying new freedom he famously and destructively robbed himself of in Gainesville, and he used it to visit his ailing father. During one of their last conversations they were watching a television program where Urban was being discussed as a candidate for the Ohio State head coaching job. 
Urban asked Bud - who was struggling to breathe - if he should take it. The father, cloaked in the clarity that accompanies facing one's own mortality, told the son "I kind of like what you're doing now." He admitted he didn't miss the tension of caring who won or lost a football game.
But this was still the man who hung a portrait of Ohio State's football coach in his home talking to his son about taking the Ohio State job. "Just make sure you're ready," he said.
Woody passed away while Urban was coaching Ohio State's receivers. Bud died a few days after that conversation with his son about coming back to Columbus. The day after his passing his Buckeyes lost in West Lafayette and wouldn't win another game until his son took over the team the following season.
You think you're loving the Urban Era? Bud Meyer would have loved it more.
BUD NEVER RAN OUT OF LESSONS FOR URBAN. HE JUST RAN OUT OF TIME.
The son had already declined a dream job in Gainesville due to the family and health deficit he had inflicted upon himself. He accepted another dream job - arguably the dream job; possibly his father's as well - in Columbus while still grieving. He only took the job because he was sure he was ready for it.
Bud is still coaching Urban years after passing away. The father who once made the son run all the way home from a baseball game his team lost despite being the best player on the field never ran out of lessons for his kid. He just ran out of time.
The family contract his daughter Nicki drew up that Urban is required to abide by received a lot of attention upon his hiring due to the manner in which he left Florida. What was overlooked in how that story was reported was that the contract isn't a huge departure from how Urban grew up.
Bud's granddaughter was essentially demanding her father behave more like his hero and less like himself:
"I'm coaching at Illinois State making six-thousand dollars a year. Illinois State played Indiana State. Maybe the two worst teams in college football, both about one and nine. (My parents) get in the car and drive 12 hours and watch the game when I only am the quarterback coach, then get in the car and drive home. What is that? That just tells you the kind of support I had growing up.

"They were all around us kids, doing this, doing that," remembers Urban. "They had no life. And, really, that's what you're supposed to do. That's the way God made it. You are supposed to sink every ounce into your children. I always remember that about my own."
That's an excerpt from Urban's Way which was published Sept 2, 2008. Just 15 months later the same guy who said you are supposed to sink every ounce into your children in his own biography resigned. Urban not only failed to take care of his family as Bud had taught him, he declined to take care of himself. 
A large part of his deterioration at Florida was due to him skipping too many meals too many days in a row. Urban lost an alarming amount of weight and those chest pains that resulted in an ambulance trip - and later diagnosed as acid reflux - were likely exacerbated by his diet, or lack thereof.
The first two rules in Nicki's family contract are my family will always come first and I will take care of myself and maintain good health. His most devastating loss at Florida preceded the chest pains and that ambulance ride. His most devastating loss at Ohio State preceded the timeless, heavily-ridiculed image of him sitting on a golf cart eating pizza in the bowels of Lucas Oil Stadium.
Lost in the mockery were two important observations: 1) unlike his previous conference championship game loss there were no chest pains or emergency room visits, and 2) Urban was eating. After a loss.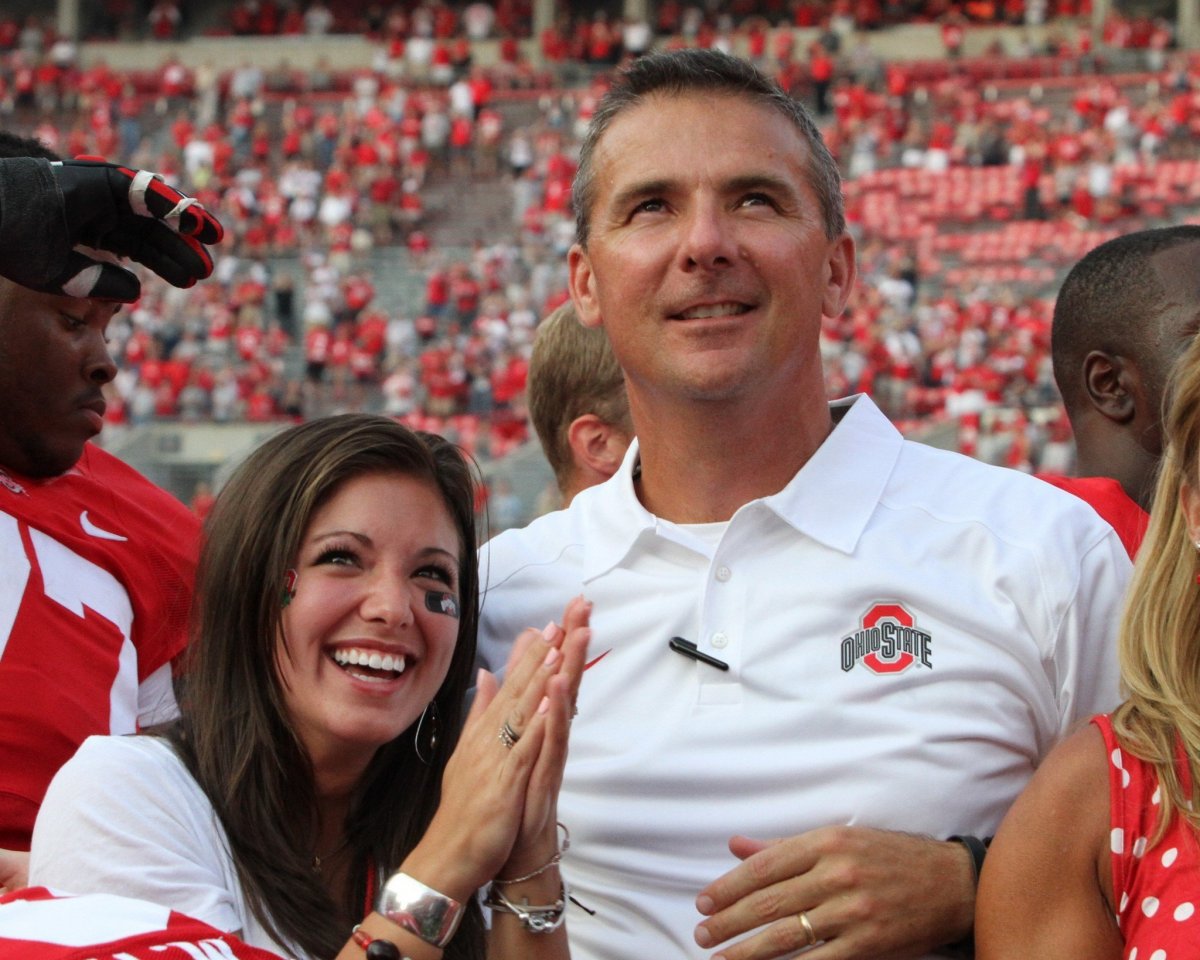 His Ohio State tenure has virtually coincided with his father's absence. Urban was gaining absolution and winning his family back while Bud was slipping away, and as soon as Bud was gone he took the vocational place of the man whose portrait hung on the wall throughout his childhood.
As is traditionally the case with Buckeye head coaches, Ohio State will be the final place Urban coaches college football. There has always been understandable conjecture as to how long he will last in Columbus, with burnout being a career threat to all who achieve at this level, let alone to a guy whose career was once halted by it.
But as with that family contract and those sad golf cart slices, there's something people have failed to connect between the start of Urban's tenure at Ohio State and its eventual ending: This time he knows who the enemy is. Simply evading how he self-destructed at Florida replaces that burnout with the same fire which makes him the very best at what he does. 
Urban now appears to be running the Bud Meyer family playbook to perfection. He has found his therapeutic window for balance which means speculating how long this dream will last for Ohio State fans is a waste of energy. He's found his peace.
That's because Bud isn't struggling to breathe anymore. And neither is Urban.