They called him "White Lightning." 
Doug Donley scorched the football field with his speed at Cambridge High School in the mid 1970s as a running back. The fastest Ohio State Buckeye upon his arrival in Columbus, Donley was moved by Woody Hayes to wide receiver, and he stuck there for four years. He served two of those years as half (along with Gary Williams) of one of the school's most gifted and underrated receiving tandems ever.
A multi-sport star at Cambridge, Donley averaged double figures in basketball. He was a high school All-American in track, helping his Bobcats win the Ohio Valley Athletic Conference team title as a senior with his efforts in the long jump and 220-yard dash. And he was pretty good at football, with 2,572 rushing yards, 226 receiving yards, 1,028 return yards and 31 touchdowns at Cambridge High.
He is an inductee of both the Ohio Valley Conference Hall of Fame and the Cambridge High School Hall of Fame.
Donley went on to be a four-year letter winner (1977-80) and three-year starter (1978-80) for the Buckeyes, earning All-Big Ten honors in 1979 and 1980. He was also a team captain and honorable mention All-American as a senior.  
White Lightning finished his OSU career with 106 career receptions for 2,252 yards and 16 touchdowns. His seven 100-yard receiving games is tied for fifth most in school history with Terry Glenn and Jeff Graham. Donley ranks among Ohio State's all-time leaders in receptions (14th), yards (6th), touchdown catches (9th), and he averaged 21.2 yards per reception over his career, currently second in school history.
Donley had four catches for 110 yards in a heartbreaking 17-16 loss in the 1980 Rose Bowl and five receptions for 122 yards and two touchdowns in a 31-19 loss in the 1980 Fiesta Bowl.*
*The 1980 Rose Bowl followed the 1979 season and the Fiesta Bowl was played before New Year's Day after the 1980 season.
He received his bachelor's degree in communications before leaving Ohio State.
The Dallas Cowboys picked Donley in the second round (53rd overall) of the 1981 NFL Draft. A problematic shoulder cut his professional career short, but during his stay in the pros Donley caught 55 passes for 898 yards and four touchdowns over four seasons. 
Now the president of Advantage Hole in One Golf, Donley resides in Dallas with his wife, Dina—a former Dallas Cowboy Cheerleader—and sons Drew (12) and Jake (10). He graciously allowed us to catch up with him this week.
First of all, we were a bit concerned to see a story about you having a "mild heart attack" last October. How is your health?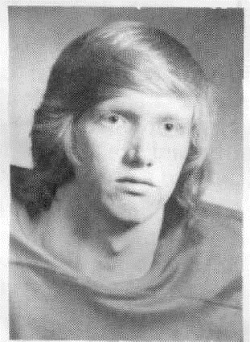 Doug Donley: "I'm doing fine and feel great. I was coaching my kids' team. It was a real hot day and my heart rate got real high for an extended period of time. I tried to fight it off. They felt like I might have had a slight heart attack. I think it was more just dehydration because it was so hot and I wasn't drinking fluids. They did all the tests and I really didn't have any blockage to speak of, so that was good news. So anyway I'm feeling healthy."
What was life like for young Doug Donley in Cambridge, Ohio?
DD: "Cambridge is a small town with one high school. I just loved growing up there. I played all the sports. It was just a great community. Every night you came home from school and all you did is you were out in the yard playing basketball, playing baseball or playing football."
How did football win out over the other sports? 
DD: "I really liked football. We had a pretty good team in high school and our coach started scheduling us against some teams up north that we probably shouldn't have been playing against. That's how some scouts saw me, because they came to look at some kids from Canton McKinley. I was a running back and had a pretty good game and they wanted to know who that skinny white kid was."
Where did you get your "White Lightning" nickname?
DD: "That actually started in college. When I got to Ohio State guys started calling me White Lightning there. I ran indoor track and none of the guys could believe that a white guy could run that fast. When you're as small as I was, fear was a great motivator to make you run fast."
What was your recruitment like with Woody Hayes running the show?
DD: "Woody came to our basketball practice. All the kids knew that he was there and it was our most intense practice ever. The players were diving for balls and hustling like they'd never hustled before. Our basketball coach was like, "Man, where did these guys come from?" 
"I called my mom and said, "Woody's coming to dinner so have something good for dinner." Woody and assistant coach Alex Gibbs came to my house. Woody sat around and talked to us and didn't mention football for the whole time. He was just talking about getting an education, and family, and all the things parents want to hear about—and it was all sincere. The funny thing is the phone rang and my mom, for some reason, she answered it. She said, "Doug, you may want to take this in the back bedroom."
I felt kind of uncomfortable leaving the dinner table but I did and it was Coach Schembechler calling from Michigan. It wasn't Woody's first rodeo. I sat down and he said, "Who was that on the phone?" I looked at him, and I knew how he felt about Michigan, and I said, "Well, that was Coach Schembechler." And he stood up, and put his hand in my face, and said, "I want a handshake and a verbal commitment that you're coming to Ohio State." 
What did you do then?
DD: "At that time I was still seriously considering Michigan and Notre Dame. But Woody was standing over top of me with his hand right there in front of my chin. What was I going to do, tell him to go sit down? I stuck my hand out and shook his hand. That's how I made my decision on where I was going to college."
What do you remember about your arrival in Columbus and the transition from small town to huge campus?
DD: "I was very naive and green. I was sheltered living in Cambridge. When I came to Ohio State I was just in awe. It was overwhelming to come in and see the players like Doug Mackie and some of these linemen who were just massive. It was surreal coming down that tunnel the first time. It's a cliche, but I don't feel like my feet ever touched the ground. I felt like I was floating coming down that tunnel for the first time, and really every time. It was just incredible."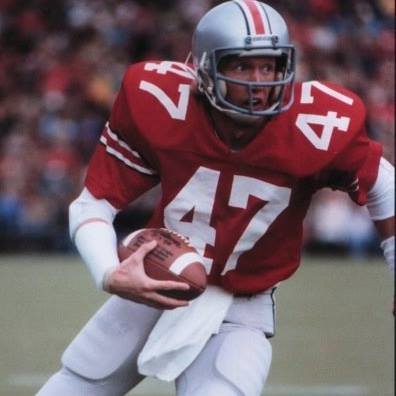 And it had to be incredible being there during the Woody Hayes era.
DD: "You just had to be in awe of Woody every meeting. He'd get us up at six o'clock in the morning and we'd have a word power class, trying to increase our vocabulary. He'd go to class with us." 
Unfortunately, you were there for Woody's final days as Ohio State's head coach. Did you see what happened on the sideline that night in the Gator Bowl?
DD: "I was the intended receiver on that play. I was in the corner of the end zone, wide open, waving my arms. I realized it was an interception. I saw the commotion. I was walking from the end zone down the sideline and I said, "What happened?" And somebody said, "Woody hit somebody." And I said, "So what? What's the big deal? He hits somebody every day at practice." So they said, "No, a guy from the other team."
"I still didn't think much about it. After the game, Woody got us in a huddle and kind of told us a story as to why all that happened. He said (Charlie Bauman's ancestor) killed his great, great grandfather in the Civil War. And he said that's why he punched him. He had it coming. We all kind of looked at each other like, "Wow."
I can honestly say that's a story I've never heard. What happened after that?
DD: "We got on the plane and flew back to Columbus and when we landed Woody got on the intercom on the plane and said, "I'm sorry to announce I'm no longer the football coach at Ohio State University," and hung up the mic and walked off the plane. Nobody said a word. I think guys sat on that plane for an hour, in shock, nobody talking. Finally one guy got up and filed out and we left. We were all in shock."
"He said (Bauman's ancestor) killed his great, great grandfather in the Civil War. And he said that's why he punched him. He had it coming."
What do you recall about transitioning from Woody to Earle Bruce?
DD: "I remember Earle coming in and talking to the team. He was obviously very enthusiastic. I was excited because I thought he was going to open up the offense a little bit more. I was a running back and that's what they recruited me for. Then they recruited (Art) Schlichter and so I thought I'd stay out there (at receiver). 
"It's hard for a guy to come in and replace Woody. There was nobody like Woody. But he was going to open up the offense a little bit. With Art there at quarterback, you have to throw the ball. When you look at how many times we threw the ball compared to how much they throw it now...if we threw the ball 12-15 times a game, that was a lot.
"Earle was great. We had a great first year. We went out and played USC for the national championship."
Do any particular games or plays stick out to you from your Ohio State career?
DD: "I don't know if it's too many hits to the head—I kind of say that jokingly and I kind of say it seriously—but I talk to players that I played with and they remember plays and I've got a handful of games that I remember, and even then it's only certain plays. I remember the USC national championship game because in pregame warmups I compound fractured my pinkie. Here we are in the national championship game and the bone is sticking out of my pinkie. They just popped it back in and taped it up and I had a great game. 
"A couple plays in that game stick out—going down the sideline against Ronnie Lott and I turned him around in a 360. I remember some long touchdown passes at Ohio State. I remember a pass I dropped against Michigan that still won't leave me to this day. I remember a catch I made in a Minnesota game. But other than 10-20 plays, that's about it."
What memories from Ohio State, or Woody's teachings stuck with you?
DD: "I look back at my memories at Ohio State and the players I'm still close with, like my roommate Calvin Murray; we had to talk ourselves through not getting down because you come into a program like Ohio State's, and you're used to being 'the man' and all of a sudden you're four deep in tailbacks and that type of thing.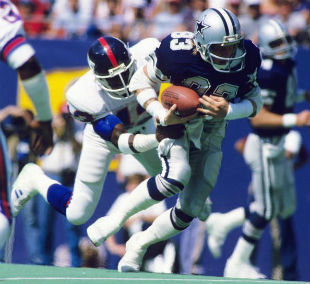 "One thing Woody preached to us was, "The guys you meet here are the guys that are going to be your friends for life." He was right, and he was right about a lot of things. He told us, "You're better than you think you are." And that's true. As a freshman I doubted myself that I could play at that level, because once you get there, you have doubts. And that doubt and that fear of failure holds people back. It's all those things that Woody taught you. I teach my kids and the kids I coach today about believing in themselves and that they're better than they think they are."
Aside from Calvin Murray, which players were you close with during your playing days?
DD: "I hung out with Leon Ellison, a linebacker; Dave Medich, an offensive lineman—we became roommates in the dorms—Ray Ellis, who was a guy I played against at Canton McKinley. And even some of the upperclassmen who kind of took you under their wing, like Jimmy Moore, who was just incredible to me, and Kenny Fritz, Tim Burke. You didn't maybe hang out with those guys as much, but during practice, that's when those guys would look out for you. 
"And then once Art came, that was an important relationship. I was his host when he came, so Art and I hung out a lot together. We'd go on vacations together. Gary Williams and I were extremely close. That list is a long list of guys that mean something to me to this day, and guys that I feel like I could call in a moment's time."
You never got to experience a bowl win at Ohio State. Was that disappointing?
DD: "I look back and had a great career but I may have the worst bowl record of any player in college history. There's a lot of players that have lost four bowl games. We lost the Sugar Bowl to Alabama my freshman year, and then we lost the Gator Bowl, we lost the Rose Bowl and then we lost the Fiesta Bowl. I didn't want to stop there. I got picked to play in two postseason bowl games—the Hula Bowl and the Japan Bowl. So we went to the Hula Bowl and we lost there. Then I went to the Japan Bowl and I lost there. I was a perfect 0-6 in bowl games and if you don't want to publish that, that's fine with me. (laughs)
How did it feel to get drafted by a nationally known team like the Dallas Cowboys?
DD: "Kids that come to college now think it's just a stepping stone to the NFL. I didn't start even thinking about that until I could tell there was some interest in maybe my junior year. Then after my senior year I saw the scouting reports. They were projecting me as a late first or early second round pick. The Cowboys had Tony Hill, Drew Pearson and Butch Johnson, so I didn't think they'd be drafting a receiver. Draft day came and I got a call from the Cowboys; it was quite a shock.
"You go from college to Dallas and you walk in to another legend in Tom Landry. You look in the locker room and my locker's right next to Ed "Too Tall" Jones. And then you look around and see Randy White. And then I see Tony Dorsett, Harvey Martin, the list goes on. I'm like, "Gosh!""
In addition to the incredible depth at receiver, it must have been tough to deal with the ongoing shoulder problem.
DD: "Not too many people know the whole story on my injury. I dislocated my shoulder in high school 150 times, and that number is not an exaggeration where it's really half of that. My junior year the Cleveland Browns' doctor did surgery and they put a pin in my shoulder and tied it down so it couldn't dislocate. When they did that, I couldn't lift my arm above my head. I was a running back, so it didn't affect me, but they told me after that surgery that I shouldn't play football anymore.
"I learned how to catch the ball with a bad shoulder. Each year that I played, that shoulder was getting worse. After four years of college I went to the NFL and I flunked every pre-draft physical I took. Every team would flunk me and then they'd time me in the 40 and I'd run a 4.3 and then I'd go out and run pass routes, and all the balls were right in the chest area, over the shoulder, nothing I had to get over my head. So they overlooked that. It was just a matter of time before that shoulder gave out."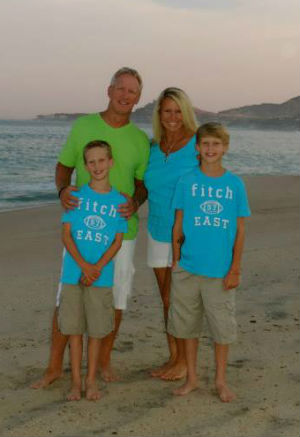 You left football and now you're with a company called Advantage Hole in One. What does your business do?
DD: "Basically we insure sporting contests. When a charity golf tournament wants to put a car out. We insure that. We insure half court basketball shots, field goal kicks—all the crazy sporting contests that you see on TV. We do contests all over the United States. We're that company behind the scenes that when you see somebody make that half court shot or throw that Nerf football through the car window or make that hole in one, we're the ones that are paying off that prize."
Do you get back to Ohio State very often?
DD: "I still have my season tickets. I've never given those up. But I've got two young boys and I coach their football games on Saturdays, so it's been difficult for me to break away from that. I've been up there a couple times. I went back for the alumni golf tournament this summer. Once my boys get into middle school and games are on different nights, I'll try to get up there a bit more."
Does your schedule allow you to keep up with the current Buckeyes?
DD: "I'm so passionate about the Buckeyes. I watch their games every Saturday. If I've got a game, I'm watching it on my phone or as soon as the game's over I'm getting to a TV. That allegiance to the university and that fraternity is very deep."