Current college students have no memories of the Michigan Wolverines as a football bully.
It's not their fault; they just were born too late. Ann Arbor's freshest championship trophy carries a 2004 timestamp as well as an outmoded Big Ten logo phased out by B1G seven seasons later.
That was a decade ago. They can barely remember that, let alone Mike Hart.
It's the longest title drought in Michigan's history. But it could be worse, as far as so-called Blue Blood programs go: The Wolverines aren't the Volunteers. Tennessee hasn't won its conference in a cool 23 seasons. These two programs have shared a similar sadness.
National champions, eventual Hall of Fame inductees and homegrown coaching tree branches Lloyd Carr and Phil Fulmer delivered their finest seasons one season apart during the late 1990s and departed their respective sidelines within a year of each other a decade later, when it was clear a return to glory would not happen on their watch.
Tennessee is STUCK in college football purgatory for cheating in 1996 Florida Citrus Bowl.
Stale would be a kind descriptor for each era's twilight. Neither fan base realized what it had, but they both knew something different and fresher was necessary. Michigan moved on by processing Rich Rodriguez and Brady Hoke before convincing Jim Harbaugh to return home. That's going great; ask any Michigan fan.
Meanwhile, Tennessee has been through Lane Kiffin, Derek Dooley, Interim Jim Chaney, Butch Jones, Interim Hoke (!) and Jeremy Pruitt prior to landing Josh Heupel just last month.
Neither program is considered a championship contender in 2021. But 40 years ago, both Michigan and Tennessee were pointed in the right direction and poised for big things. By the time the millennium closed, the Wolverines and the Volunteers were among the six top programs of that era, winning games at 75% clip.
TOP 10 WINNINGEST CFB PROGRAMS | 1981-2000

| RANK | PROGRAM | WINNING % | NATIONAL CHAMPIONSHIPS |
| --- | --- | --- | --- |
| 1 | NEBRASKA | 85.2% | 1994, 1995, 1997 |
| 2 | FLORIDA STATE | 82.3% | 1993, 1999 |
| 3 | MIAMI | 81% | 1983, 1987, 1989, 1991 |
| 4 | MICHIGAN | 75.9% | 1997 |
| 5 | PENN STATE | 75.2% | 1982, 1986, 1994 |
| 6 | TENNESSEE | 75.1% | 1998 |
| 7 | FLORIDA | 74.8% | 1996 |
| 8 | OHIO STATE | 72.1% | -- |
| 9 | BRIGHAM YOUNG | 71.6% | 1984 |
| 10 | WASHINGTON | 71.7% | 1991 |
If you're wondering how this translates into the current state of affairs, the No.4 and No.6 winningest programs of the past 20 years are LSU and Georgia. That was Michigan and Tennessee.
The Wolverines' modest slide has been witnessed up close, heavily documented here for rivalry reasons and parsed and packaged into neat explanations. Carr's recruiting and succession planning were the initial culprits. Then, the Old Guard™ wasn't quite ready or accepting of RichRod backing his trailer up to Schembechler Hall.
More recently old standbys like aCadeMic sTaNdaRds and modern updates to it like oNLiNe cLaSsEs have served as opiates for fragile Michigan enthusiasts, who for decades were pioneers in what's now a mainstream trend for suggesting there are only two possible outcomes to a contest that involves them: Either they won or the opponent cheated and rigged the game.
That's not a curse; it's coping. A curse would be that Michigan is only 20% of the way into serving a 100-year sentence for prematurely declaring itself victors, leaders and best in its fight songs. Most recently, The Victors was played via recording in Michigan Stadium during the 2020 pandemic season each time the Wolverines left the field in a losing effort, which turned out to be every time the Wolverines left the field.
That's the fun and mystical explanation, appealing to the heart of college football infatuation. Tennessee's slide has one of those, too. The Vols are in purgatory for cheating to win the 1996 Florida Citrus Bowl.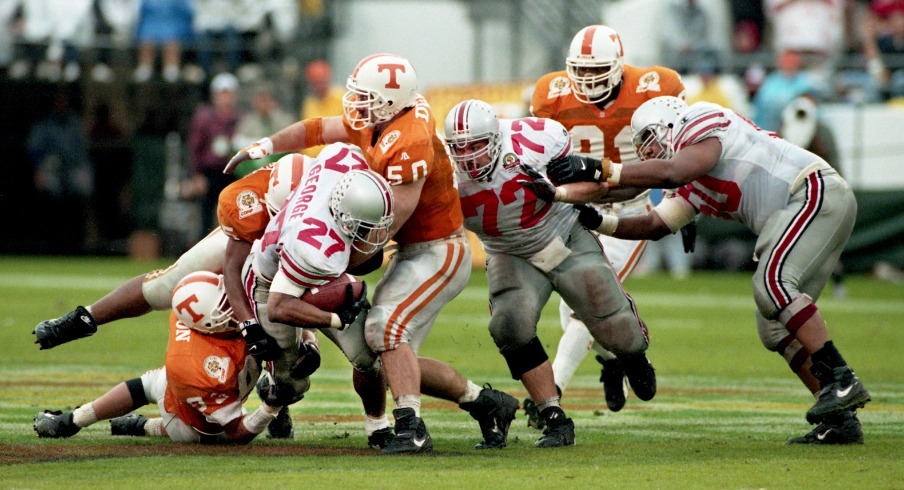 John Cooper is known for That One Bad Thing. His unfortunate coaching epitaph obscures how prolific he was at losing to SEC teams in consolation bowl games by exactly one score, which was the Buckeyes' fate when they faced Tennessee in their only meeting.
So you could argue the Vols cheating wouldn't have affected the outcome. You could accurately point out the game played out like every other OSU loss in the Coop bowl loss catalog, from the puckered game plan to crippling miscues. Remember parties? You were no fun at them if you believe Tennessee have still would won with permissible cleats.
No elite program FROM THAT ERA has been knocked off its axis like Tennessee over the past two decades.
Ohio State had no intention of visiting Florida - again - that season. Roses had prematurely made it onto the field after the Buckeyes beat Indiana 42-3 in their home finale, a week ahead of one of the worst visits to Ann Arbor in program history. So a month later, the Buckeyes were back in Orlando instead. This was our 1990s theme song.
It was beautiful in Pasadena that morning for Northwestern, which backed into the Rose Bowl with Ohio State's annual season finale setback. Meanwhile, it was rainy and gross at the Citrus Bowl. OSU staffers noticed during warmups that numerous Vol players were outfitted with what appeared to be illegal equipment, namely longer cleats that would provide superior traction on a very sloppy track.
When Coop brought this to the officiating team's attention:
"(They) didn't do anything about it. One guy told me they didn't have a ruler."
Tennessee simply didn't realize that it outfitted its players with longer, illegal cleats for a waterlogged, grass field. Whoops. Apparently someone found a ruler after the game and confirmed the Ohio State's staff's suspicions; the cleats were indeed longer than the rulebook allowed. Tennessee's response was basically we didn't cheat on purpose and hey OSU probably cheated too because lol everyone cheats and the NCAA just accepted it.
Who cares about the Citrus Bowl, anyway? It was the Buckeyes' third trip to Orlando in four years and everyone was kind of done with it before kickoff. An Ohio State victory over Tennessee would have produced a What Could Have Been glimmer for Eddie George's Heisman season, which our fading memories conveniently cut off prior to Tim Biakabutuka's first carry against the Buckeyes.
The Citrus Bowl was just one more turd in the 1995 punch bowl. Underclassmen on that Tennessee team left Knoxville as national champions two Januarys later. But curses don't initiate themselves in a flash; they gradually and painfully reveal themselves to a degree where what happened is only realized after the fact. Twenty-five years later, it's all right there - and it's gruesome.
Here's how those winningest programs from 1981-2000 performed over the past two decades.
WINNINGEST PROGRAMS 1981-2000 | WHERE ARE THEY NOW

| PROGRAM | '81-00 | '01-20 | W% THEN | W% SINCE | TITLES |
| --- | --- | --- | --- | --- | --- |
| NEBRASKA | 1 | 31 | 85.2% | 60% | -- |
| FSU | 2 | 19 | 82.3% | 65.4% | 2013 |
| MIAMI | 3 | 22 | 81% | 65% | 2001 |
| MICHIGAN | 4 | 23 | 75.9% | 64.3% | -- |
| PENN STATE | 5 | 18 | 75.2% | 65.5% | -- |
| TENNESSEE | 6 | 44 | 75.1% | 56.4% | -- |
| FLORIDA | 7 | 14 | 74.8% | 69.9% | 2006, 2008 |
| OHIO STATE | 8 | 2 | 72.1% | 84.5% | 2002, 2014 |
| BYU | 9 | 25 | 71.6% | 63.9% | -- |
| WASHINGTON | 10 | 62 | 71.7% | 51.4% | -- |
Ignore Washington, which isn't cursed but did hire Keith Gilbertson and Ty Willingham, on purpose.
No elite program of that era has been knocked off its axis like Tennessee over the past two decades - not even Michigan, regressing to its mean after winning games in the 80s and 90s ahead of its historic clip. You could blame the resurgence of several SEC programs, Fulmer's decline, the cavalcade of questionable hires that followed him and even bad luck for what's happened in Knoxville.
Or you could blame the conscious decision to cheat in a bowl game few can remember, lie about it when questioned - and subsequently anger the most petty and spiteful deities in all of Sports Olympus: The College Football Gods.
Today, Tennessee football's most prominent voice nationally is a cartoon grifter who peddles reliably terrible gambling advice. Its fans and program primarily serve the sport as memes that make every other fan base feel better about their own team. The Vols suffer the cruelest type of undeniable but tepid victories, like their active four-game winning streak in bowls (Gator, Music City, Outback and TaxSlayer, hooray) winning the Championship of Life and signing recruiting classes filled with 5-star hearts.
As bad as it's been, it could always be worse. Let's try and wish that into existence.
The Vols could find themselves battling to extend their 3rd tier bowl game winning streak against Greg Schiano's Scarlet Knights this coming postseason in another classic SEC-B1G pairing, potentially in the Music City, Outback, or - if the stars align - at a homecoming for Heupel in Orlando where the Cleats curse was first awakened 25 years ago last month.
It sucks to suck, Tennessee. Perhaps it will get better. But you should have worn legal cleats.