Welcome back to My Favorite Things.
We're isolated from each other, trying to survive a global pandemic. Each day brings more uncertainty and terrifying news, as we take shelter from an invisible global scourge. A single cough can send your mind to a dark place. Life is paused. Sports are on hold. This sucks.
My Favorite Things is an escape from all of that. The philosophy is simple:
When I'm feeling sad
I simply remember my favorite things
And then I don't feel so bad
So let's do that. Today we're in Beaver Stadium on Sept 29, 2018. It's one hour to midnight.
---
EPISODE 10: WHITE NIGHTS
First, let's recognize the two parties who made Penn State's superb annual White Out tradition possible. First is Joe Paterno, whose longest stretch of coaching futility produced the concept.
In 2004 the Nittany Lions were en route to missing the postseason for the fourth time in five seasons. They had stumbled to 2-3 record with No.9 Purdue (!) and No.25 Iowa coming to town. Desperate measures pair well with desperate times, and with Central Pennsylvania's flagship sporting event growing stale in an extended mediocrity streak - the PSU AD asked students to please wear white to the Purdue game. The home team lost 21-13.
But tens of thousands of students fashionably obliged and it looked cool. This sparked a glint of enthusiasm for a fading program whose patriarch was pushing 80, so the AD doubled-down and asked the students to please wear white to the Iowa game too.
They obliged again...and it nearly killed off the tradition before it could stick, because: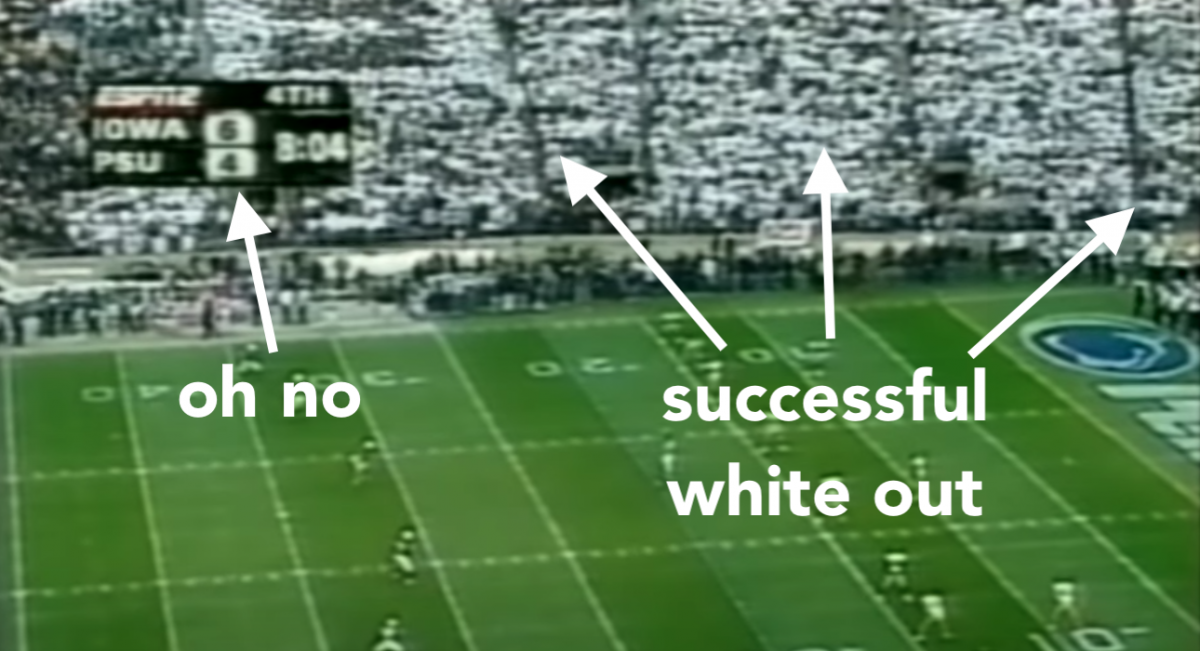 That's right, friends - college football's infamous 6-4 game was a White Out at the time, though official White Out history only chooses to count the Purdue loss in the annals for that season. So JoePa's decline birthed the idea, but Iowa holding Penn State to two glorious safeties put it on life support.
A year later the Nittany Lions jumped out to a 6-0 record - they were bowl-eligible by October! The enthusiasm was back and No.5 Ohio State was coming to town so the AD asked for white attire again. This time the atmosphere was electric from start to finish and the home team prevailed.
FROM 2005-2008 nobody scored more touchdowns in Ohio State-Penn State games than OSU DEFENSIVE BACK MALCOLM Jenkins.
Jim Tressel's go-to strategy of clamming up and waiting for his opponent to make enough mistakes for Ohio State to win failed, as the 2005 Nittany Lions were a carbon copy of the 2005 Buckeyes from the ferocious defense on down. Beaver Stadium got much of the credit for the 17-10 victory, and the Penn State White Out was now a #brand and back for good.
So we must also thank Tresselball for this indispensable contribution to college football that now tops all stadium traditions. If you like weird parallels, here's one of the weirdest: 
PENN STATE WHITE OUT AND FACEBOOK: #TWINNING

|   | PENN STATE WHITE OUT | FACEBOOK |
| --- | --- | --- |
| INSTITUTIONAL COLORS | BLUE AND WHITE | BLUE AND WHITE |
| YEAR ESTABLISHED | 2004 | 2004 |
| EXCLUSIVE FIRST PARTICIPANTS | COLLEGE STUDENTS | COLLEGE STUDENTS |
| EXPANDED TO EVERYONE ELSE | 2007 | 2007 |
| USED WITH MALICE TO MANIPULATE RESULTS | YES | ¯\_(ツ)_/¯ |
For a program as storied and blue-blooded as Penn State, its most recognizable football tradition in the 21st century might just be the stadium scheme conceived less than two decades ago. It has created a resplendent viewing experience as well as an almost insurmountable home field advantage for the Nittany Lions.
...almost insurmountable.
OHIO STATE'S RECORD IN WHITE OUT CONDITIONS

| YEAR | MATCHUP | FINAL |
| --- | --- | --- |
| 2005 | No.6 Ohio State vs. No.18 Penn State | L 10-17 |
| 2007 | No.1 Ohio State vs. No.25 Penn State | W 37-17 |
| 2009 | No.15 Ohio State vs. No.11 Penn State | W 24-7 |
| 2012 | No.9 Ohio State vs. UR Penn State | W 35-23 |
| 2014 | No.13 Ohio State vs. UR Penn State | W 31-24 2OT |
| 2016 | No.2 Ohio State vs. UR Penn State | L 21-24 |
| 2018 | No.4 Ohio State vs. No.9 Penn State | W 27-26 |
| TOTAL |   | 5-2 OSU |
The most alluring scene in college football is Beaver Stadium at night painted white with Ohio State in town. A perfectly-manicured natural grass pitch frames Nittany Lions in rich navy with Buckeyes in brilliant white matching the home crowd's attire, and the fans are deafening for most of the evening before leaving exhausted and disappointed. Perfection.
READER NOTE: This episode of My Favorite Things comes with optional background music.
2005: WHITE OUT PRESERVED
The fateful evening in which the White Out notched its first and tradition-saving win. Here is Ohio State's only touchdown on the night; a QB option keeper via Troy Smith. Santonio Holmes and Ted Ginn Jr. combined for just 81 receiving yards and no scores.
Penn State should consider a permanent Beaver Stadium marker to designate the importance of this evening, not unlike the little yellow and blue flowers that dot the Ohio Stadium rotunda in honor of the Wolverines who visited the day the stadium was dedicated.
As for the game outcome and puckered result, playing field position and time of possession during that era worked far more often than it failed. When you buy a Jim Tressel, you get the whole Tressel - warts and all. Ditto Urban Meyer. Ditto Ryan Day (when we find a wart you'll be the first to know).
2007: BOECKMAN FOR HEISMAN
This was a night game and - as was the case two seasons earlier - the campus setting for that Saturday's edition of ESPN College Gameday. But this was not technically a White Out. Penn State designated Charlie Weis' 3-9 Fighting Irish for the occasion.
That game against the punchless Irish was a White Out. This here was not a White Out: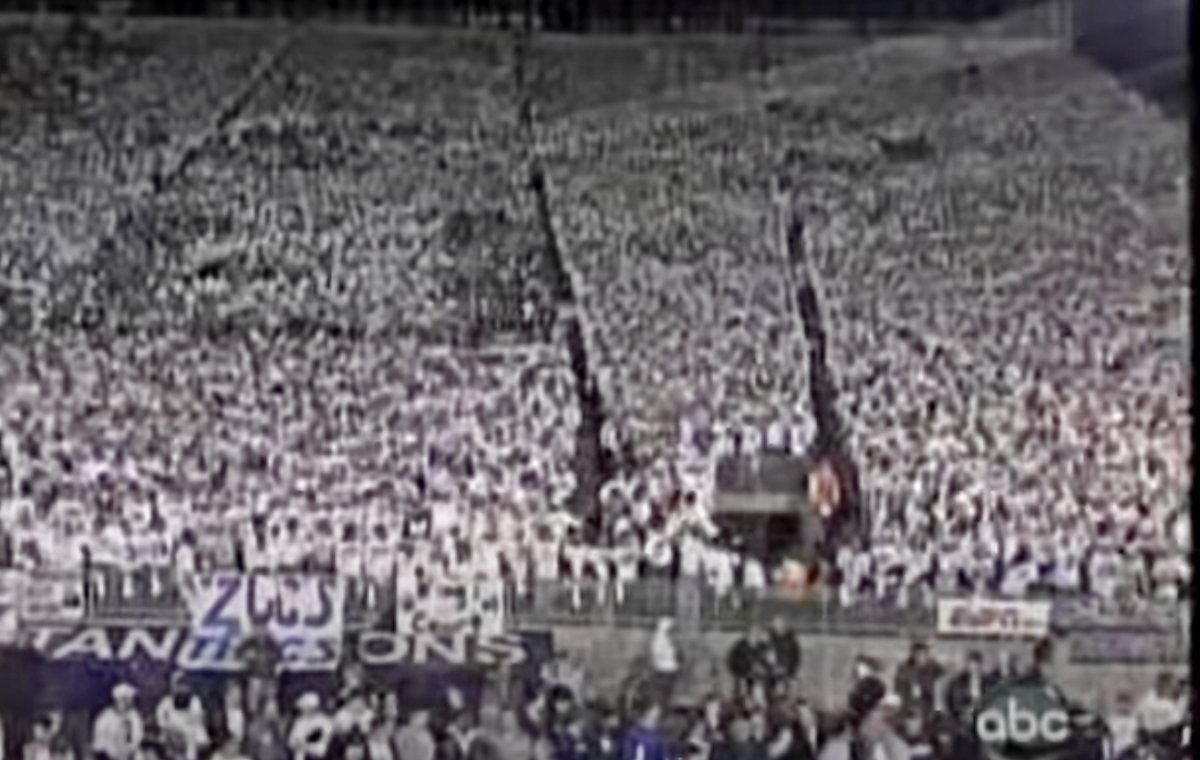 Todd Boeckman came out firing in what would be his finest performance of the season.
Boeckman had the back shoulder magic working to Brian Robiskie for the easiest touchdown the Buckeyes had scored in Beaver Stadium since 2003.
This game took place in the twilight of an era when tech-savvy fans would cobble together game recap highlight videos set to either Click Click Boom by Saliva or Boom by P.O.D. which was required by Internet Law. It was the historic peak for queefcore douchemetal testosteronius basement bangers, and in 2020 it is sorely missed.
Every one of those highlight videos kicked ass. No apologies, no ragrets.
That's Vern Gholston lining up at left DE and racing to the other side of the line during the cadence to get into the backfield unblocked. Fun!
Here's a throwback screen to Ohio State's current WR coach - this would have been a great play to call against LSU in the BCS title game a few months later with the Tigers crashing the line against a curiously Boeckman-centered offensive strategy.
Alas, just like using Beanie Wells beyond the 2nd quarter - throwback screens were secretly deemed illegal by the NCAA in championship games. A homeless guy behind the Newport told me this once and I have no reason to doubt him because no other explanation of that game strategy will ever make sense.
Of note: 300-pounder Alex Boone leap-frogging Brian Hartline here, which was as fun as the touchdown. Also fun: Malcolm Jenkins scoring a touchdown for the second Penn State game in a row.
If you like weird stats, here's one of the weirdest: From 2005 to 2008 nobody in either program scored more touchdowns in Ohio State-Penn State games than Jenkins did.
2009: THE NUTCRACKER
In 2009 Iowa was the designated White Out game. Ohio State was merely White Outish: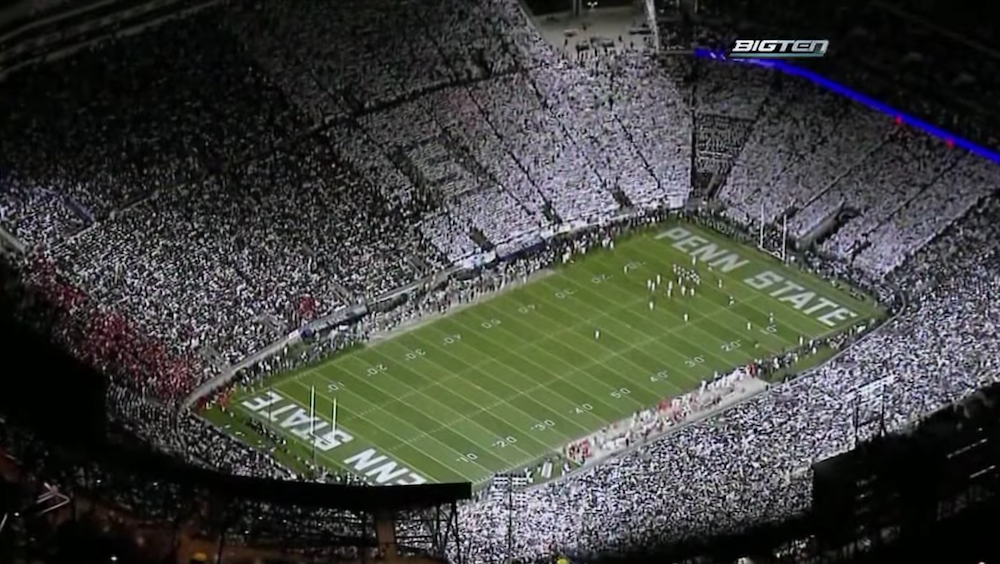 That did not mean the buildup wasn't historically spicy. It was 100 fire emojis in an era that predated our current emoji-only global communication standard.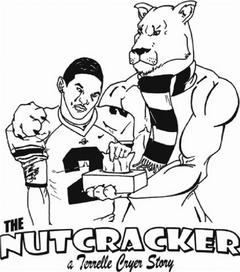 The Penn State Marketing Association decided to make and sell Terrelle Cryer White Out shirts ahead of the game, in reference to a photo of him distraught with his head in his lap on the sideline at the end of the 2008 game.
Creating and promoting bulletin board material is always a bold strategy. Dead Schembechlers' timeless homage to Chad Henne falls outside these lines on account of them being a bunch of old guys making punk pastiche drinking songs rather than a sanctioned group within the university. This was like a rEveNgE tOuR prequel.
The shirt was extra problematic because it contained the likeness of an Amateur Athlete™ and was used on merchandise to make money. Back in 2009, violations of amateurism in college athletics were the second-leading cause of chest pains among male baby boomers (they are now down to fourth, with Generation Z Doing Whatever and Generalized Mild Inconveniences emerging as major cardiological triggers).
The shirts made for great content leading up to the game, but alas - PSMA eventually pulled them and said whoops sorry our bad.
Pryor then returned to his home state for the first game since his recruitment and turned in a memorable performance.
A funny thing about this game: Penn State's only score shouldn't have counted.
Sometimes the refs get it right; sometimes they don't. That will never change. #sports
Here we have the two most effective plays from the 2009 Tresselball playbook:
Pryor converting a 3rd down with his legs
Dane Sanzenbacher being wide open, catching a pass and holding onto it while getting drilled.
Ohio State has 3rd and 11? Hmm...what to dial up here oh right haha just kidding, the usual.
All the attention Penn State was forced to pay to Pryor releasing eventually led to DeVier Posey sneaking behind the coverage.
Brandon Saine punched in a cosmetic touchdown and Ohio State bounced with a 24-0 24-7 victory. White Out conditions. Like wind chill vs. the actual temperature - either way, you're cold.
2012: PURGATORY BOWL
Here we're forced to revisit postseason probations for both programs, after Tressel lied to the NCAA about knowing some of his players had sold their belongings for petty cash while Penn State's Very Bad Thing resulted in the closest NCAA punishment to a program reset.
Let's play football! This was the sanctioned White Out game for 2012. No Ish about it.
An inauspicious start. Braxton Miller overthrew a wide-open Philly Brown touchdown, delivering some unneeded Michigan 2011 PTSD vibes and reminding us all the grisly consequences of an entire freshman season without the benefit of a qualified QB coach. Braxton's release was quick, touchless and high all night. He was still transitioning from throwing to passing under Tom Herman.
Here's the second-worst special teams gaffe by a Meyer team in Beaver Stadium. We won't delve into the historical rankings or any further details because they're all gross.
Fortunately, Braxton on a bad throwing night was still unfair and a joy to watch. This run set up an El Guapo touchdown plunge a few plays later.
That evening Ryan Shazier shelved his No.2 and was wearing 48 to honor his childhood friend Gary Curtis who had succumbed to muscular dystrophy. Penn State forgot to account for him on this play. Whoops.
The very next play Shazier faked blitzing again, then dropped into coverage and promptly joined the Malcolm Jenkins Touchdown Club.
Here's Verlon Reed Adam Griffin breaking up a fake punt. Ohio State's special teams vs. Penn State are generally not great (Saquon Barkley and Grant Haley nodding.gif) so this was a fun exception.
If you've been scrolling through all of this to find the quintessential XBRAX360 moment of this series congrats - you have now arrived.
And if you like anecdotes, here's one: Braxton's infamous play in Blacksburg when he pulled a 360 while wearing jersey No.1 happened shortly after XBOX ONE replaced XBOX 360 on store shelves. Squint, you'll get it.
Braxton closed the win out with a touchless TD pass to Jake Stoneburner, who did all the heavy lifting against Penn State's depleted back seven. All touchdowns are worth six points, haters.
2014: TURNING POINT
The Buckeyes wore the Cocaine Whites to the White Out. They weren't going to lose this game.
That's a Vonn Bell INT that booth review held up on account of hey who knows. We all know Vonny Football doesn't need the ground here and can just as easily use a fork and knife with the backs of his hands as he can catch a football. But this shouldn't have counted.
Either way, Penn State failed to keep Zeke out of the endzone on the subsequent possession.
Ohio State began this drive from its own 9-yard line and got to the 42 in two inside running plays, which provided a glimpse of what this offense could and would be for the rest of the season.
Here's a screencap of Ohio State's second scoring play of the night, about two full seconds prior to the ball being snapped. It was a 49-yard attempt.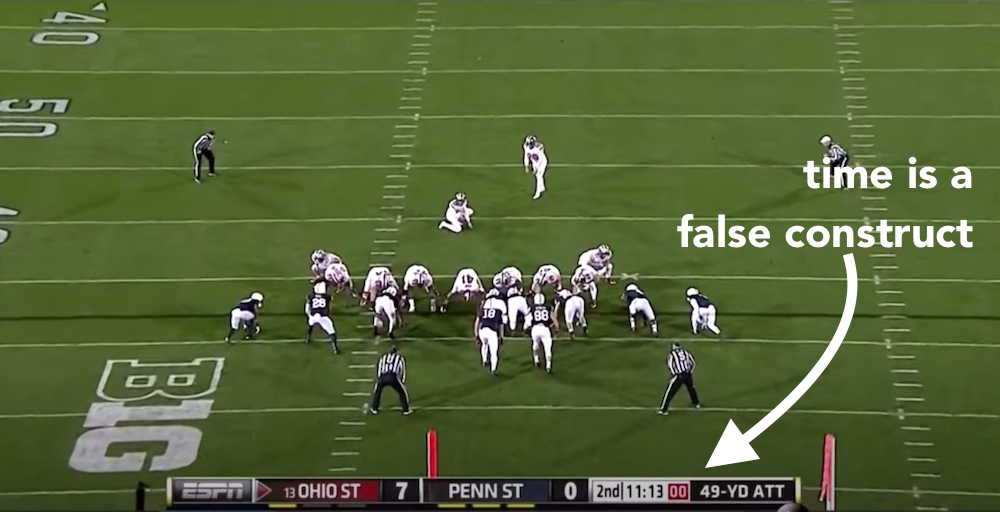 Sean Nuernberger can make a 54-yarder, too. His nickname was Das Boot. Whatever.
Joey Bosa was unblockable most of the season and especially during this White Out. Hey, is this foreshadowing? Probably.
After jumping out to a 17-0 1st half lead, Penn State came roaring back and ended up tying the game at the end of regulation with a field goal - but it should have ended on an interception with under a minute remaining.
Armani Reeves allowed what could have been the defining moment of his career to hit him *Eddie Murphy voice* in the face.
But those Cocaine Whites only know late game drama, as their only other appearance - in Ann Arbor the previous November - first taught us. This White Out gave us two overtimes.
The teams traded touchdowns, then J.T. Barrett on one leg put the Buckeyes up for good. Reeves' dropped game-ending interception and Ohio State's sluggish 2nd half were both great things, actually - because without them we never would have been blessed with this moment:
A walk-off overtime billiards sack with Bosa cue balling Akeel Lynch into his own quarterback into the corner pocket. Let's enjoy this from as many angles as possible.
The Buckeyes went on to win the College Football Playoff that season. It's true, look it up.
2016: DEFEAT FROM THE JAWS OF VICTORY
Here's Curtis Samuel housing a 74-yard touchdown run.
Wow, he's good. Get him the ball more! Anyway, here are a couple of statistics from that game that I've cherry-picked to give me chest pains since Generation Z and mild inconveniences do not bother me at all.
TWO OHIO STATE PLAYERS RUSHING STATS VS. PENN STATE, 2016

| PLAYER | CARRIES | YDS | AVG | TD | WAIT, HOW MANY CARRIES | ...BUT WHY |
| --- | --- | --- | --- | --- | --- | --- |
| J.T. BARRETT | 17 | 26 | 1.5 | 1 | Seventeen. | Security blankey |
| CURTIS SAMUEL | 2 | 71 | 35.5 | 1 | Two. Only two. Two. | Life is pain. |
As for the game outcome and puckered result, repeatedly running Barrett on QB keepers during that era worked far more often than it failed. When you buy an Urban Meyer, you get the whole Urban - warts and all.
We're done here. Another chapter for the Why Tim Beck and Ed Warinner Were Both Fired on the Tarmac at Phoenix Sky Harbor Airport After the 2016 CFP Semifinal chronicles.
2018: ONE HOUR TO MIDNIGHT
The Buckeyes were down 13-0 early and off to a horrendous start before future NFL linebacker Tuf Borland forced a fumble and it resulted in current NFL defensive lineman Dre'Mont Jones giving birth to a turnover baby.
The screen pass to JK Dobbins was there all night, as Day/Kevin Wilson played cat-and-mouse all evening against Penn State's aggressive and effective defense.
Here's KJ Hill making a one-hander and getting some handsome YAC with Zone 6 blockers paving a path for him. Is this foreshadowing? Probably.
Here's a JK on a pin and pull touchdown run - exactly like Zeke's famed Sugar Bowl score but without the hassle of having to run 81 more yards.
Ohio State got the ball down 27-14 with just 8 minutes remaining and Beaver Stadium crushing Bon Jovi's greatest hits. Reeves had dropped his 4th quarter moment back in 2014. Ben Victor would not do the same in 2018.
Baby Giraffe, this is your moment. Your magnum opus. *baby giraffe noises*
The Buckeyes forced a quick punt following Victor's gallop, and the joyous crowd was suddenly and justifiably nervous. The JK screen that was there all night was there all night and in a matter of one drive Beaver Stadium transitioned from Bon Jovi to Morrissey.
Parris Campbell on a slip screen? Someone in the stadium peed their pants. Sources believe it was the lady captured in the final frame of the GIF.
Here's KJ using both of his hands to catch the ball, and Terry McLaurin winning a bar fight by himself. Touchdown, Ohio State.
Penn State had a final opportunity to get into field goal range and escape, but on 4th down the Nittany Lions chose to challenge the Buckeyes' defensive line. Interesting strategy!
Dwayne Haskins, take us home. Good night. And goodnight.
The 2020 White Out is likely going to be Ohio State again, but it still remains to be seen how large crowds will be forced to adjust for public safety ahead of college football season. Perhaps the Penn State Marketing Association could make and sell white face masks the week of the game.
...with Terrelle Cryer on them.