Confession: I've never really understood why people call this Hate Week.
Football seasons are packaged in neat little 12-chapter tomes. Ohio State and Michigan annually share the best final chapter of any of them, which makes this the best week of the season. Defining these beautiful, precious few days with hate has always felt unclean.
Am I supposed to find some way to despise Michigan more than usual in these next few days just because Ohio State plays them Saturday? Not really sure how that's done.
There is nothing to hate about this week; not the glacial pace of time painfully lurching toward Saturday, not the Buckeyes' postseason circumstances and certainly not Ohio State's evil, disgusting and egalitarian partner in this perfect, sublime week.
It isn't about hate at all. This week is a love story disguised as the buildup to the only game that really matters.
That rotunda inside of the closed end of the Horseshoe is a permanent reminder of it. Ohio State vs. Michigan is an affair of the heart that has literally been carved into stone.
Little yellow flowers embossed on top of perfect blue squares: They'll still be there to welcome the great-grandchildren of Ohio State and Michigan fans who have not been born yet. Hate is empty, misspent energy. Love is eternal. It's effortless.
This week is a love story disguised as the buildup to the only game that really matters.
Stories are famous for their beginnings and endings, and those flowers mark the first chapter of this story. Sure, there were some earlier meetings, but they're best left to the prologue – because Michigan-the-powerhouse vs. Ohio State-the-fledgling-club-team was exactly that. 
This love story begins with a man named Goebel, wearing a primitive leg brace made out of steel just so he could play in a game that at the time was killing dozens of collegians and seriously injuring hundreds more.
There's this brand new colossal football facility being dedicated in the town that at the time was home to the newly-branded NFL's headquarters. And there was a blood wager between schools that would last for eternity.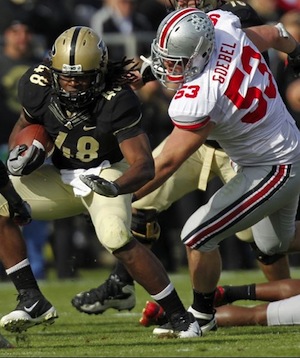 Paul Goebel was the Wolverines' captain and best player heading into the season. He had shredded his knee, which Michigan trainers stabilized with a steel hinge they fashioned themselves.
It was nothing like the sophisticated apparatus today's linemen wear on both legs as normal body armor: This thing required constant lubrication to just function properly. Goebel had oil-coated steel wrapped around his battered knee.
The brace gave his leg enough stability to play, but the more he ran, the faster the oil would dry. As the lubrication wore off, Goebel's hinge would overheat and burn hot.
So Goebel and his steel hinge wobbled into Ohio Stadium on Dedication Day, 1922. The benches in the Horseshoe had been sat in exactly twice. It was the third game in the building's history.
Stories are famous for their beginnings and endings. This is the beginning.
Goebel ended up blocking a Buckeye punt, kicking a 35-yard field goal and recovering a fumble - on one good leg. 
He collapsed in the third quarter and had to leave the game. While his teammates were carrying him off the field he swatted them away and tried to get back into the scrum, but his body was finished. The rest of the game played on without him.
Every point on Dedication Day was scored by a Wolverine – Goebel or teammate Harry Kipke. Final score: Michigan 19, Ohio State 0.
The following week in Ann Arbor against Illinois, Goebel's brace would overheat and he would suffer several burns to his leg, as if his knee needed more damage. That might have happened against the Buckeyes had he not missed the final quarter.
Following the game in Columbus, the concrete flowers that had already been poured into Ohio's million-dollar version of a Roman Colosseum were painted with the colors of the winning team on Dedication Day. And they're still maize and blue, in large part because Goebel on one leg was better than everybody else was on two.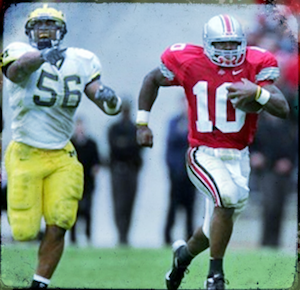 He was the very first hero in Ohio Stadium history. Chic Harley, whose football prowess is credited with the construction of the Horseshoe near the end of the prologue, led the Buckeyes to their first Michigan win five years earlier on the now-buried Ohio Field, which lives on in fight songs.
It's been 90 football seasons since Goebel limped through the unpainted rotunda at Ohio Stadium. A dozen years following his heroics, William Henry Harrison "Tippy" Dye became the first starting Buckeye quarterback to go 3-0 against the Wolverines. Same field as Goebel, but with two good legs and a much better arm.
Then 60 seasons after Dye beat Michigan for the first time, Troy Smith did the same thing. Two games later he became the second Buckeye quarterback to go 3-0 against the Wolverines.
That unexpected turn of events was as sweet as losing to Michigan as a heavy favorite a decade earlier was sour. Love oscillates with pain in this series, not hate. 
Smith's struggling 2004 Buckeyes blew the doors off the Big Ten champion Wolverines with him accounting for 386 yards and three touchdowns. At the following meeting in Ann Arbor, Smith had 337 yards and two touchdowns while leading a memorable come-from-behind scoring drive with seconds remaining.
As a senior the eventual Heisman winner had 328 yards and four touchdowns, wearing the same number 10 that Harley had worn in Ohio State's first-ever defeat of Michigan, though his number 47 is what hangs inside the closed end not far from those equally permanent yellow flowers.
Terrelle Pryor led the Buckeyes to three more wins in the series and was set to become the only 4-0 quarterback in school history before the Tressel era came crashing down, which led to the reigning hero in this story.
Denard Robinson scored five touchdowns last year and accumulated 337 yards while ending Ohio State's longest winning streak in the series. His final Big Ten game is Saturday. He can finish 1-3 or 2-2 against Ohio State. His teams' record against Ohio State will help define his legacy.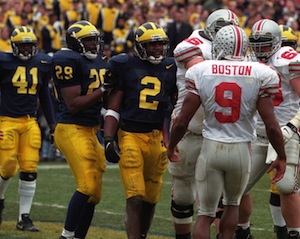 From Goebel to Robinson, the Wolverines hold a 44-41 series advantage. In between there have been heroes and villains with names being carved into this tome in the figurative sense that Goebel's flowers were at Ohio Stadium.
And there is joy in every single chapter. Slightly more often than not it has belonged to Michigan. If it was one-sided this game wouldn't matter nearly as much.
You wouldn't love this week so much. You would take it for granted.
To my best recollection I have openly wept following five different Ohio State-Michigan games: 1993, 1996, 1998, 2001, 2002 and 2006. Four wins; two losses. Maybe I've cried at more, but those I remember. Hate has never brought me to tears.
Hate will make a brief appearance on Saturday as the sky begins to darken and Kübler-Ross Stage Two kicks in for one distraught fan base. It's defined by bitter remorse and regret over what should have happened and resentment over what could have been done differently.
By that definition, last season virtually every week of Ohio State's season was hate week. But following that loss to Michigan – the first in eight meetings – hate very quickly gave way to bargaining. It was the promise of Urban Meyer possibly being hired and making this awfulness go away.
And it was also Braxton Miller, a true freshman without the benefit of a real position coach, overthrowing a wide-open Devier Posey which would have probably won the game and changed the entire complexion of one of the most forgettable seasons years in Ohio State history.
That's not hate. That's bargaining. 
The subsequent depression stage was abruptly interrupted by Meyer's hiring in the hours following The Game, and there's been nothing but love ever since. And this week that love has swelled like no other.
Ohio State's season will end Saturday following what will hopefully be an undefeated season. That was somewhat common back in Goebel's era when bowl games were still in their gestational phase, but it is a rarity now.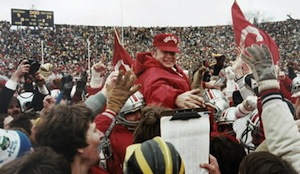 The Buckeyes will remain on house arrest through January, and then this one-year sentence is over. Guys like John Simon and Zach Boren will play their final games on Saturday. They can finish 2-2 or 3-1 against Michigan. Their teams' record against Michigan will help define their legacies.
Ending this season or any other with a loss to Michigan is a dreadful thought, but the annual buildup to this game does not fill me with an ounce of hate. It feels like home.
It's always there, and it never goes away. It's the reason I cringe at the thought of it being altered, whether it's by the threat of being moved from its rightful place on the calendar or disrupted by some empty Nike gimmick that's better left to the Purdue or Indiana game.
I've grown to appreciate it even more over the past few years as it becomes increasingly apparent that unlike those yellow concrete flowers in the rotunda, The Game in its current form will soon be, perhaps, a mid-October affair.
Stories are famous for their beginnings and endings, and those flowers marked the first chapter of this story. It doesn't matter when Ohio State plays Michigan in the future. This story had a beginning, but it has no end.
The flowers in the Horseshoe Rotunda are maize and blue because PAUL Goebel on one leg was better than everybody else was on two.
It was the third game of the season for Goebel's Wolverines. Perhaps it will be the sixth game of the season for J.T. Barrett's Buckeyes.
Maybe I'll learn to hate more during that week, when some of the romance is sucked out of it at the expense of a sterile, manufactured television program in December. But until that happens there's just too much history in this finale for me to do anything but love it.
Saturday is the final chapter of one of the better stories in the entire tome. I'll save my hate for the offseason. I love this week, and regardless of the outcome Saturday, I will love this game.