Where Are They Now is a weekly series where we catch up with former Buckeyes to discuss their Ohio State experience and beyond.
A four-star recruit and the top prospect coming out of Massachusetts, Armani Reeves played cornerback for Ohio State from 2012-2014. After suffering multiple concussions, Reeves' collegiate career came to an early end in 2015. Over his career, he recorded 41 total tackles, one interception and won a National Championship.
I had the opportunity to talk with him more about his time at Ohio State and the lasting impact football has had on his personal and professional life.
Your freshman year was also Urban Meyer's first year as head coach, what was that like?
AR: When you have a new head coach, whether it's Coach Meyer or a new up and coming coach, they kind of set the standard, kind of prove a point. They try to make the guys who are there now believe in what's going on and obviously with new guys coming in, making sure they're believing in the new process as well.
So, you definitely felt the urgency that Coach Meyer had, but also it was something that I was never really used to. I came from a small place in Massachusets where football wasn't really a big thing to this big ole powerhouse in college football coaching me. So, it was all eye-opening for me, but it truly was a great experience being a part of that and seeing the transformation to what Ohio State is now.
You had the opportunity to be part of two very special teams: the 2012 team that went undefeated and the 2014 national championship team so describe the feelings you have when looking back on those teams and those seasons.
AR: So obviously my freshman year was the 12-0 season and that was magical in itself. Those seniors could not play in a bowl game and really every game that we played that year was a bowl game for them. Just to be able to go out there and play for them and see how much it meant to them and really be able to make a difference. I was playing on special teams at that time, but even to be able to do that part, it was something truly amazing that I still remember to this day.
I learned so much from those seniors and they gave so much to the program. That really built the foundation for our junior year in 2014 when we won the national championship. All those guys who were freshmen and sophomores and up and coming built the culture of the next man up, just doing your job and being the best player you can be. And you saw that on the field.
A lot of injuries going down. You had Braxton go down, J.T. go down and Cardale step up, but there were a lot of other positions where that happened as well just throughout the season and you never missed a beat. I think that's really a true testament to the coaching staff and really Coach Meyer being able to instill in all of us that we're able to do our jobs to the best of our abilities.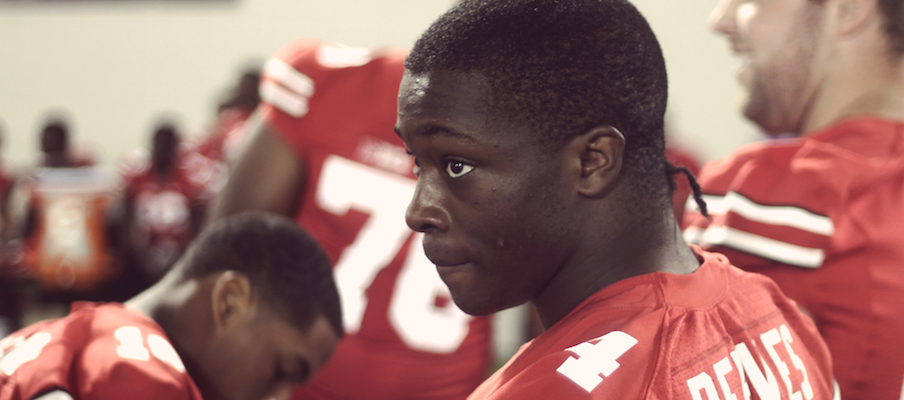 What event or memory from your collegiate football career has stood out to you the most?
AR: I think obviously not including the national championship which was truly a crazy experience that no one can ever take or anything like that. I think really after my career when I was told I couldn't play football.
Something that really stood out to me, you know most guys when they're told they can't play football anymore they would go on to do whatever and they're no longer involved with the team and things of that nature well Coach Meyer and Coach Coombs really urged me to stay a part of the team, because they felt that I could really bring some value to the program and to the players, even if it wasn't on the field. They were the ones that pushed me to stay and be a part of that and that's something that changed my professional life and really shaped me into who I am today.
Just being able to work hard and know that not everything is going to go to plan and the way you expected it, but if you still put your heart and dedication toward something that you really want to do and people believe in you, all things will come to a great end and I really feel like that happened - being able to be a part of the staff and learn so much from those guys. Not just how to be a coach, but how to be a man, how to take care of your business and how to be professional. Those guys really instilled that in me during those last two years I was at Ohio State.
You mentioned the impact Kerry Coombs has had on your life, what do you think about him rejoining the Ohio State coaching staff?
AR: I think it's the best thing that happened to Ohio State really and since obviously Ryan Day being the coach there. Having Coach Coombs, he really brings the juice and the intensity. I mean you've seen all of the first-rounders and all the great things those guys have done in the league, but you also have those like myself and Tre Forte and Nik Sarac who didn't make the league, but they're still making an impact and it's just because of the way Coach Coombs instilled in us of being hard workers and having every day be the best day.
Like he always said in practice, "it's not a good day, it's a great day." And that's really how we all approach it. So, if you really look back to all of the players that Coach Coombs coached at Ohio State, whether they're in the league or not, they're all successful and they're all doing great things with their lives. Now, I'm not saying Coach Coombs was the be-all and end-all, but he definitely helped us and shaped us to have that work ethic and to be the best player, person, and man that you can be.
You've previously worked on coaching staffs at both Ohio State and Maryland, but what are you doing now?
AR: Obviously I had a great time working at Ohio State after I got done playing and I did two seasons at the University of Maryland and was able to work under some great coaches and some phenomenal athletes there as well. Obviously, with everything that happened with that situation during my time there, I decided to move on and get out of the sports world for a little bit and really focus on building my brand outside of football.
So now I am a manager of FCA which is Fiat Chrysler Automobiles. It is a car company. I oversee 17 dealerships down in Florida, just helping them with their multi-million dealership. Making sure that they're doing the best thing for the inventory and making a profit off of the vehicles.
It's just a really cool situation just being around cars which is something that I love and being able to drive the cool product that we have. Different Jeep Gladiators that just came out, the Ram trucks that we have which are the best in the country. Just being able to be a part of that has been awesome, but it's been different, too.
The one thing that is crazy to me is that everything that I have learned in football whether it be at Ohio State or even at Maryland, so many things I did there correlate to what I do now. Being able to use all of the skills that I learned when I was 18, 19, 21 years old, I'm 26 now and I feel old. Just being able to use that stuff now is just a crazy feeling that I remember those days where I was like "yeah, yeah whatever Coach Coombs or Coach Meyer, yeah sounds good whatever." But what they said really resonates with me because it was all true.
All of that stuff even if you don't play football anymore. You're in the real world, working corporate world, the stuff still holds true and I still use that stuff to this day and I'm grateful for it.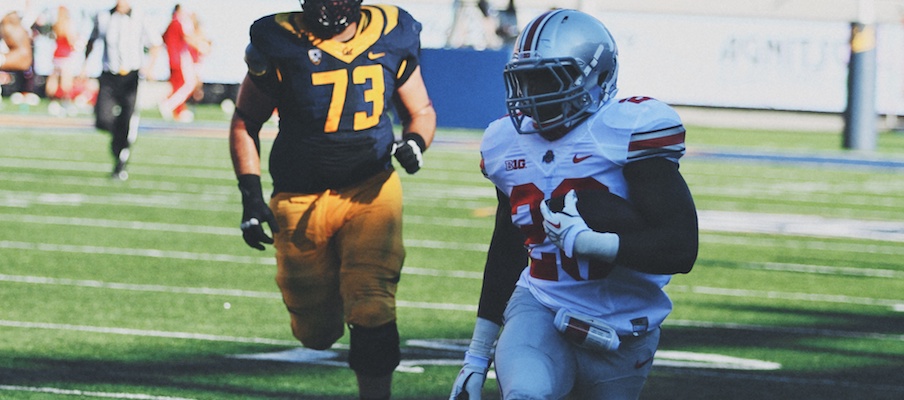 How has that transition been, no longer being surrounded by football? Do you see yourself returning to the sports industry?
AR: I will say it's been really weird. This is my first off-season not being around football since I was 10 or 11 years old. This is my first time not going to a game whether it's on a Friday or Saturday and being a part of that. It was definitely weird, but I had a tremendous time being a part of college football and I truly think that my time at Maryland was cut short due to unfortunate circumstances.
Do I see myself maybe getting back into college sports? Of course. I can't see myself being away from it for too long. College sports, in general, have given me so much opportunity and I wouldn't have been able to attend college had it not have been for being able to play football and getting a full scholarship to go play football. It really has changed my life and I'd love to get back into it.
Even now, I work camps all throughout the country. I actually work one, NextGen, which is an All-American camp for 8th, 9th and 10th graders and it's just some of the best players in the country and being able to not coach those kids on the fundamentals of the game, being a cornerback, but it's teaching them about the recruitment process and what it takes to be successful.
Obviously, I was unable to play in the National Football League, but I was able to play at a high level and be a starting corner at Ohio State and be a part of a National Championship and I learned a lot. Being able to give that back to those kids even though I'm not in the sport like I used to be, it's still something I cherish every day.
How has your athletic career helped shape your professional experiences?
AR: It's everything really. I look back on my life and it's just crazy that we're talking about this because of course Coach Meyer had such an impact on my life and one of the players I looked up to since I was very young, Kobe Bryant, as you know tragically passed away was another person I looked up to and really modeled my work ethic behind. But just even something as little as that you don't realize how much of an impact it has on your life until it's gone.
Obviously, when I was unable to play football, I lost myself a little bit because you play for something for so long and it shaped you and it built you to the man that you are. For it to be gone in the blink of an eye, it's definitely an eye-opener. But, in that same breath, as much as it was an eye-opener it was also an opportunity for myself.
To grow myself to not just be known as a football player, but really know myself as Armani. The person that works his butt off to get to where he is. I think that's what football really gave me the opportunity, but also when it's taken away, the opportunity to learn more about myself and be the best person that I am. I'm forever grateful for football. If there was ever a chance I could play again I would put on a helmet right now and knock somebody out.
Describe to me what the Brotherhood means to you. Do you still keep in contact with your former teammates?
AR: I talk to a lot of the guys still, whether it's just a simple text or even something as simple as a Snapchat or things like that. I talk to a lot of the guys from the unit I was in. Gareon [Conley] is someone I talk to pretty often and Marshon [Lattimore] and Eli [Apple] and those guys. Even Doran Grant who isn't in the NFL, who's in the XFL now.
We still keep in contact with each other and every time I see them doing great things, whether it's on the field or even just off the field with their families, I always make sure to reach out to them and they do the same. The Brotherhood is crazy, it's something that I think is unique to Ohio State where you have a whole bunch of guys that play together blood, sweat, tears.
Workouts, those terrible training camp days, but also some of the good times. Being able to still keep in contact with those guys, see them do great things and live their dreams, be all pros and future Hall of Famers with some of them. It's just really amazing to see and I'm glad to be a part of their lives in any way that I am, being able to tell my kids one day that I played with a bunch of great guys, not just football players, but great men.