There is no peace in State College, PA.
It's understandably hard to pacify a college football community that enjoyed steady tranquility for over five decades before absorbing one of the most devastating earthquakes in American sports history. It takes decades to rediscover that kind of peace. Ohio State has a little experience with this; consider that Woody Hayes is still larger than life in Columbus. 
Hayes has been dead for 30 years yet he's still everywhere in Columbus and no one thinks twice about it. Joe Paterno coached in State College for 61 years, 13 years short of Woody's lifespan. Those tremors still rattling in State College are not going away in our lifetimes, no matter how hard people try to move on. Woody punched a kid comments are still routinely cracked 40 years after the punch. Penn State's Unspeakably Bad Thing will have at least that kind of staying power.
When the season kicks off in about 100 days the teams of the B1G East Division will not be chasing the Buckeyes, Wolverines or Spartans. 
But there's still football to be played, and that's where peace is found in places like Columbus or State College. Joe's first replacement - who had been there for 37 years - didn't get the full-time gig and is now UCLA's defensive coordinator. His second replacement was excellent but Bill O'Brien only stuck around town for two seasons. His third replacement has his warts, both self-inflicted and, probably, unfairly amplified.
There is still no peace in State College, but that's where the defending Big Ten football champions reside in 2017. When the season kicks off in about 100 days the teams of the East Division will not be chasing the Buckeyes, Wolverines or Spartans. 
They'll be gunning for Penn State, a program that is impossible to root for in many circles for that one transcendent reason. It's likely it will also be conspicuously predicted to fail in repeating as conference - or even division - champions. 
And this plays right into the Nittany Lions' newfound, quiet strength. Nobody wants us to win. Again.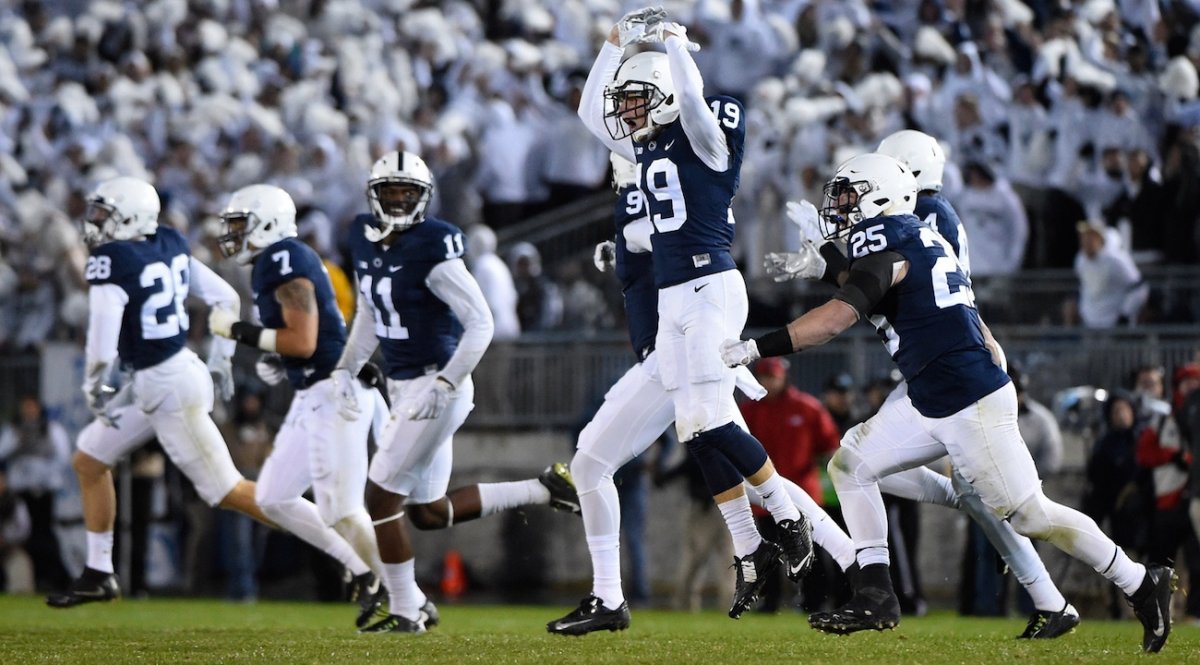 Urban Meyer was back in Columbus and Jim Harbaugh returned to Ann Arbor. Mark Dantonio had been stirring the pot in East Lansing long enough to be taken seriously. 
That made Penn State the consensus No.4 on the East side of the Big Ten's ledger, and there was nothing disrespectful about it. It had the fourth-best coach with the fourth-strongest roster. Heading into 2017 it still has the fourth-best coach with arguably the third-strongest roster. And, you know, the most current championship rings.
While the talent and power at Penn State hasn't been overwhelming in years, the absence of peace in State College has developed into a potent fuel source. Ohio State may be stockpiling the best recruits in the country, Michigan may be redefining how college football factories operate and Michigan State may have an inexhaustible supply of disrespect at its disposal - but Penn State's tank is now filled with something just as volatile.
Vengeance. Exacted against everyone, as well as its own ghosts who aren't about to leave.
There's no thread connecting the Paterno era with James Franklin's program. The child rapist will die in jail. The numerous people who enabled child rape through years of cowardice are either dead or somewhere else now. The current B1G football champions, their resilience, their steady march to excellence last season and their aspiration to repeat in 2017 have nothing to do with their predecessors.
And yet, tepid - almost reluctant - acknowledgment. It begins with the Unspeakably Bad Thing but there's a deeper and more historical element to why Penn State is hard to be taken as more than a one-off threat from Ohio State's perspective (which is what we tend to focus on here, surprise).
The Buckeyes are 16-7 against the Nittany Lions since Penn State joined the conference. Thanks to the chunk of 1990s nostalgia contained in that span, it's a better record than they hold against the Wolverines over the same time period (15-8). Ohio State has won the Leaders/East division in each of Meyer's five seasons; postseason bans or being on the wrong side of tiebreakers have kept it from Indy on three occasions.
Penn State WAS the consensus No.4 on the East side of the Big Ten's ledger, and there was nothing disrespectful about it.
The Buckeyes seem to find a way to lose to the one team they cannot lose to. That's been Michigan State and Penn State over the past two seasons via game plans that should have gotten Ohio State's offensive coaches fired twice instead of only once. We always find a way to make it about us. That game was handed to Penn State more than Penn State took it away. Sure.
Either way, Meyer seems to have finally fixed the glaring problem that's existed where Tom Herman used to be. He does not tolerate those gaps, so it's a little too easy to only have medium esteem for his East contemporaries, especially Franklin. After all, he's Number Four.
Most fans would rather construct a Chernobyl-like sarcophagus to contain the radiation that comes from Penn State's underbelly than deal with a legitimate Penn State football resurgence. But there's no peace in State College, and the current Nittany Lions aren't running away from shame by association. 
They're just winning football games. And they're not about to stop themselves from doing that, no matter how meager the adulation for what they've accomplished might be.