Indiana basketball is now 20 years into an identity crisis.
The old guard is now ancient. The new guard hears about how IU basketball used to be, and the expectation is that it will return, shortly. That gilded age never ended. It's just taking a break.
Indiana players are taught about Hoosier legends, but ever since Christian Watford turned out Kentucky's lights ten years ago, IU really hasn't produced anything worth passing on to future generations.
National championships are the expectation in Bloomington but those big red banners have been dusty for decades. Five coaches removed from Bob Knight, it's time to ask a hard question - was his tenure emblematic of IU's rightful and deserved position as college basketball blue blood program...or was Knight just an aberration?
MIKE WOODSON doesn't have to be INDIANA's new emperor. He only has to be ITS TEMPORARY savior.
Mike Woodson became IU's 30th coach this week. The vast majority of the previous 29 ranged from absolutely terrible to just mediocre. Branch McCracken - two national championships - is a legend. Everett Dean literally wrote the book Indiana Basketball. But he left IU (his alma mater!) and coached Stanford to its only national championship.
Knight - three of those dusty banners are his - is the root cause of IU's identity crisis and the school has been reckoning with it since firing him 21 years ago this fall. Those three men - Dean, McCracken and Knight - comprise three of the five winningest coaches in IU history.
That sounds fine, until you learn the rest of IU's top five are Tom Crean and Mike Davis, both casualties of Indiana's current identity crisis. Archie Miller, whom IU just fired after a disastrous four-year stretch, is the sixth-winningest coach in Indiana basketball history.
Similarly, College Football Hall of Famer Earle Bruce was the winningest coach in the Big Ten when Ohio State fired him the weekend before the Michigan game. This is what happens when an emperor's shadow extends so long that history holds the present hostage.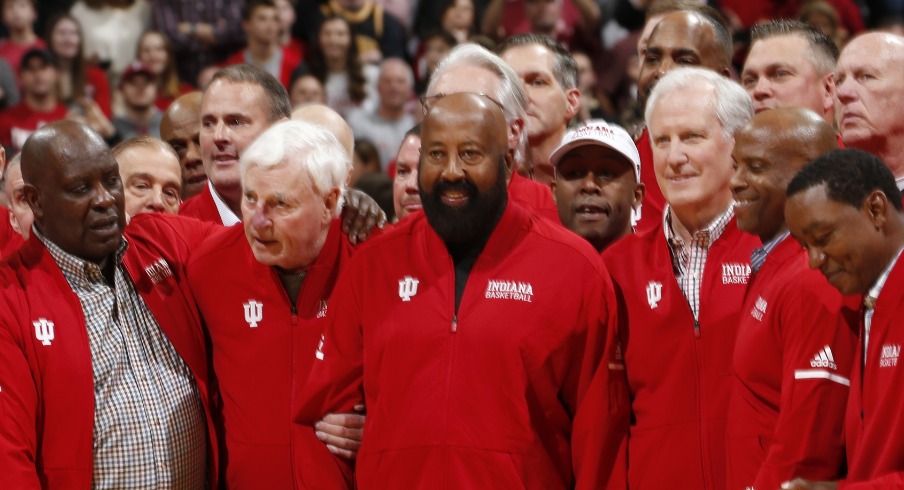 The red meat that hot sports takes are bred from comes from extreme dichotomies, but in Indiana's case it really is one or the other as a gradient doesn't exist. IU is either a blue blood, or it isn't. There's nothing kinda about it, as its 30 coaches aptly demonstrate.
While the paper currency in Bloomington is banners, Knight owns as many Big Ten titles - basically loose change in Southern Indiana - as the other 29 combined. So Knight was objectively the standard breaker. Unfortunately, there's nothing objective about college sports.
No matter which you choose to believe, IU has chosen to rekindle whatever it was that its greatest coach brought to Bloomington by hiring a baby boomin' first-time college coach who played for him, understands Indiana tradition - and has seen the rest of the world, at least at the professional level.
IU is banking that elite basketball infrastructure, Thad Matta and institutional support coalescing around success can finally pull the gilded age off of hiatus and return IU hoops to their standard.
Or, another standard breaker. They don't care what it is. They just want to win again.
The answer to the blue blood question is the same for every school, whether it's Alabama football or Oregon State basketball: A program is and aspires to be whatever it chooses. So if IU thinks it's a blue blood (it does) then blue blood production is the only bar to clear.
IN hiring Woodson, IU has ended its identity crisis before he's coached a single college game.
That's how you churn through five coaches in 20 years. It's the reason Earle was fired for a run that would be successful most anywhere else. It's why IU fired three of its six winningest coaches.
Woodson played for Knight at IU and has worked an enviable coaching career in the professional ranks. He is an elite basketball mind and in-game strategist whose next recruit will be his first.
He represents the last best hope to connect the dusty Indiana's banners era to the present decade - and only the present decade since he's 63. Perhaps that removes the new emperor anxieties that loomed over each of his four predecessors.
Woody doesn't have to be a new emperor. He only has to be IU's savior. Much easier.
If this identity crisis sounds familiar to anyone who has lucid memories of the Knight era - especially if you're reading this web site - it's because Ohio State dealt with it in football.
WOODY AND BOB: DIFFERENT GALAXIES; SAME ADDRESS

|   | WOODY HAYES | BOBBY KNIGHT |
| --- | --- | --- |
| FROM | NEWCOMERSTOWN, OH | ORVILLE, OH |
| TENURE | 28 SEASONS | 29 SEASONS |
| BIG TEN TITLES | 13 | 11 |
| NATIONAL TITLES | 5* | 3 |
| STAR PUPIL WITH LONG NAME | BO SCHEMBECHLER | MIKE KRZYZEWSKI |
| EMPEROR STATUS | YES | YES |
| NOTORIOUS BAD TEMPER | YES | YES |
| FAMOUS MELTDOWN | PUNCHING CHARLIE BAUMANN | THROWING A CHAIR |
| FIRED ABRUPTLY | YES | YES |
| FIRST SUCCESSOR | ASSISTANT - FIRED | ASSISTANT - FIRED |
| SECOND SUCCESSOR | OUTSIDER - FIRED | OUTSIDER - FIRED |
| THIRD SUCCESSOR | JIM TRESSEL: CRISIS OVER | OUTSIDER - FIRED |
Ohio State stopped replacing Woody when it tapped in an old coaching legacy from an adjacent branch of his coaching tree who had seen the world, gained valuable outside experience and then weaved it into the complexities that come with the Graveyard of Coaches.
This is exactly what IU has done with Woodson. You might think it would be more exciting if it had happened a decade ago instead of now, but those 10 lost years boiled off the emperor pressure at the heart of the identity crisis.
This job will not turn Woodson inside out like it did for half of IU's six winningest coaches.
For Ohio State, the third time was the charm. Every Woody successor is in the College Football Hall of Fame, is going to be shortly (Urban) or is entering the third year of his head coaching tenure and still has yet to lose a conference game.
On paper Ohio State made no mistakes moving on from Woody Hayes. It still took two decades.
Woodson is the fifth post-Knight hire in the same amount of time, which tells you that Indiana wasn't nearly as lucky while also failing to do itself any favors. Myles Brand fired Knight at the beginning of the school year, thrusting Davis into the role.
Tom Crean, Mike Davis and Archie Miller are three of Indiana's six winningest coaches. All of them were fired for failing to meet expectations.
IU players, beleaguered and exhausted from playing for late-stage Knight, combined the elite instruction they already had with a less hostile working environment. The Hoosiers, nearly all Knight players, made it to the national championship game a year later.
Earle, under similar circumstances at Ohio State with mostly inherited recruits coached by late-stage Woody, missed a national championship by a single point. Davis missed his by only 12.
Knight's first successor was a decent man but a comprehensively mediocre coach, and he was eventually fired for performance issues everyone saw coming. Every subsequent job he's had has been a downgrade. Davis just went 12-10 in his third year at Detroit Mercy.
The only Knight successor who is a threat for the Hall of Fame ballot just guided Houston into the Final Four. Unfortunately he was a little too cavalier with NCAA rules (that are no longer NCAA rules) and spent five years in the NBA working off a show-cause.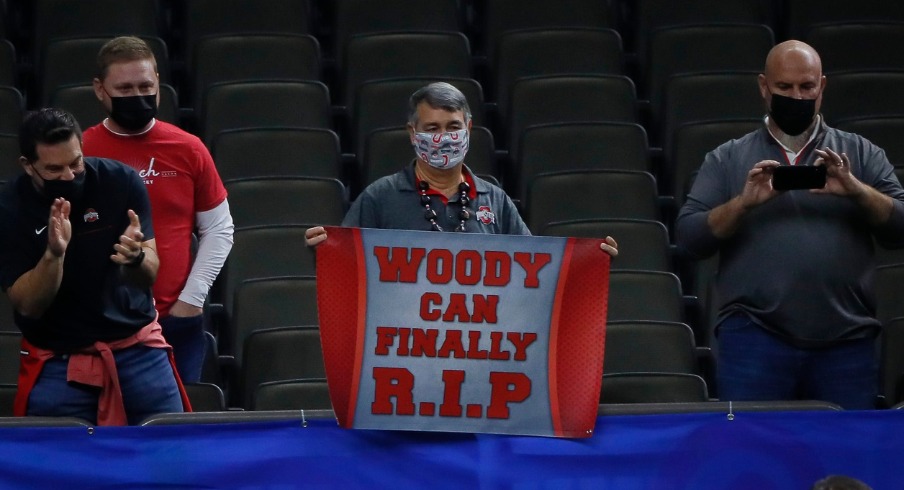 Crean was the closest thing to Earle Bruce that the program has had. He inherited a disaster, brought it back to life, and then allowed it to atrophy. That's just not good enough for a school that needs to add to its dusty banner collection.
Tressel merged Ohio State's gilded age with an acceptable level of national recruiting (which means keeping the in-state stars at home) and gave the Buckeye establishment something they could be proud of again.
Davis was in over his skis from the jump, Sampson violated Knight's NCAA cleanliness doctrine, Crean wasn't strong enough in too many areas. Miller was overwhelmed by the emperor pressures and failed very quickly. That throne is too big for most coaches.
So by hiring Woodson, Indiana has ended its identity crisis before he's coached a single college game. They just got rid of the throne entirely. IU is reconnecting with its greatest era and plugging it into the present by equipping it with whatever it needs to become successful.
There are five banners hanging above the baseline in Assembly Hall. Woodson doesn't have to have to become Knight. He just has to add a banner to that stagnant collection and put the Hoosiers in position to not go through what it's been mired in since his college coach got himself fired.
IU wants another Keith Smart effigy. It will settle for another Watford moment while it waits.
Ohio State escaped Woody's shadow by hiring a guy who understood what he built and elevated it while being his own man. Perhaps Indiana can finally get out of Knight's shadow - with a guy named Woody.
If that happens, no one at IU will care if anyone else thinks it's a blue blood or not.