Michael DiSabato says he knows where all of the bodies are buried.
Just ask him. You won't have to slowly pull the names or locations out of a riddle, follow breadcrumbs or solve a cryptic puzzle only to discover clues that lead to other clues. He'll just tell you, straight up.
However direct he may be, DiSabato still does not draw a clean map, and his landscapes switch without warning from actual physical spaces to terrain in his mind. You'll come to realize you're in for more than you expected or probably wanted. The former Ohio State wrestler has the specs for something much bigger than the average crime scene, and these chalk outlines extend far beyond where you're standing in both time and space.
The moment it appears DiSabato has gone off the rails and lost his focus, he'll tie where and when he landed – however far away that may be – to precisely where and when he just was. DiSabato is problematic, relentless, meticulous, uncouth and often unhinged. Take a breath and try to follow along.
I. CHAOS
In his mind, he can connect John du Pont – the famed philanthropist, ornithologist, wrestling coach and convicted murderer who died in prison in 2010 (the guy Steve Carell played in Foxcatcher) – to Gene Smith, the current Vice President and Athletic Director for the Ohio State University. The two men are connected by their power over amateur athletes.
So it's unsurprising that Amateurism is the primary vehicle for the crimes subject to DiSabato's whistleblowing. He speaks of this connection with clairvoyance and unshakeable first-person confidence that a protagonist playing himself in his own life story might exude, because he is a major character in every one of its scenes.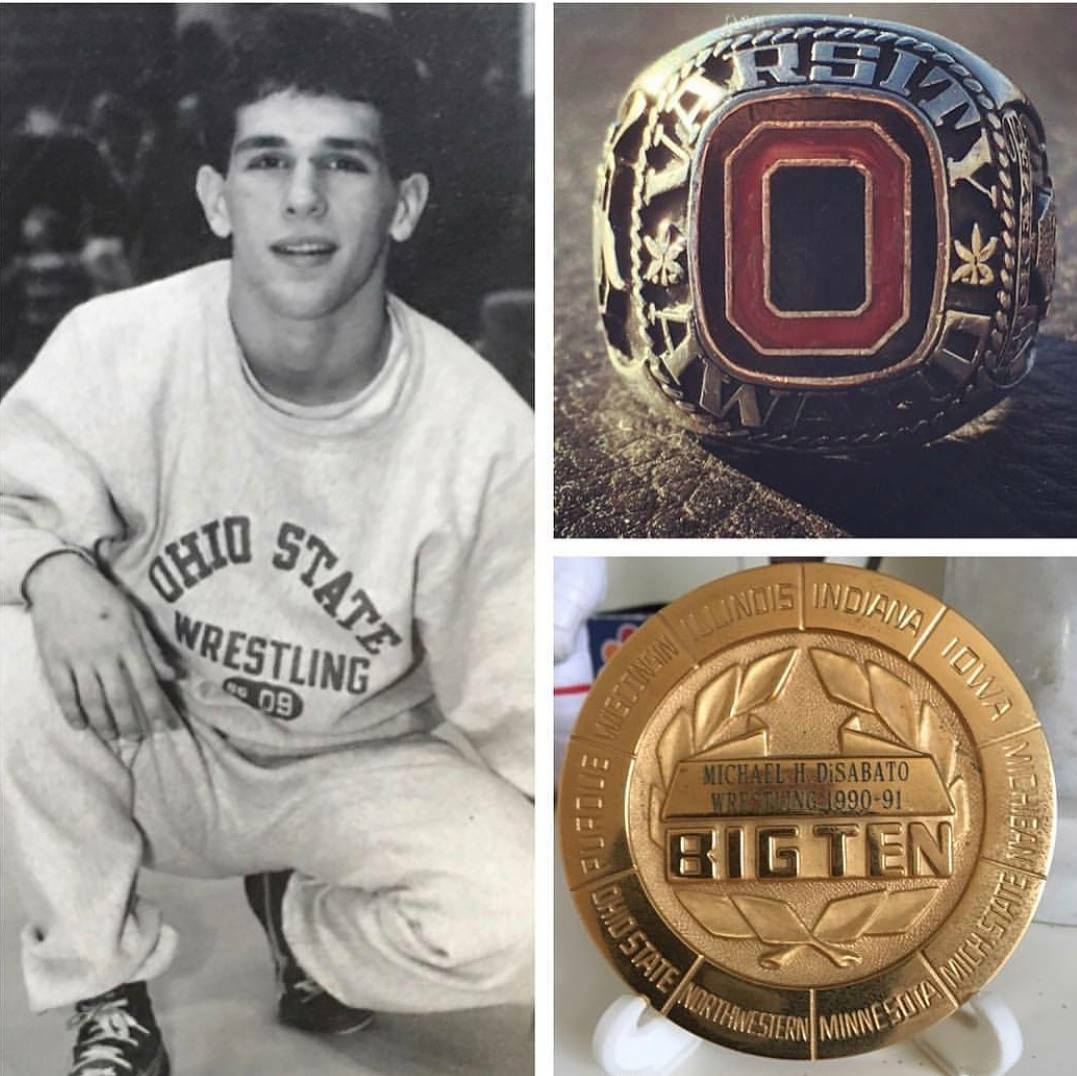 Think Howard Stern in Private Parts, which was based on real events that took place. The bad guys on film become cartoonish caricatures of their real-life counterparts. The good guys are accentuated to be more humble; their flaws are massaged for the screen. Theatrics and embellishment added post-production. 
Between du Pont and Smith (measure this space in years, not miles) he can draw a dotted line to former OSU athletic director Jim Jones and his abrupt retirement in 1994, which occurred right around the same time Denise Klemencic was securing a lawyer to sue the university under Title IX after bringing her own sexual harassment complaints against her coach, Thomas Ed Crawford, to 11 different and allegedly ambivalent administrators between 1992 and 1994. Klemencic's case went to trial, but was reassigned to a new judge who had previously represented the university.
She did not receive her desired judgment. Right around the time her case was being heard in 1998, Dr. Richard Strauss retired from Ohio State at the age of 59. You can see where this is headed – there's no concise or simple way to capture this crime scene.
We skipped right over du Pont, a notorious eccentric whom DiSabato claims spied on Buckeye wrestling legend Mark "The Hammer" Coleman prior to Strauss sexually assaulting him. He will tell you how Larkins Hall, which no longer exists, was a known refuge for voyeurs and molesters while he was wrestling for the university and being celebrated by the Big Ten conference as a model student-athlete.
DiSabato can describe in painstaking detail how Strauss sexually assaulted him, too, under the auspices of routine medical treatment. This is the only time where that unshakeable first-person confidence becomes overwhelmed by emotion. It is the doorway to his darkest place.
Coleman, whom DiSabato manages, can tell you what it was like to sit on a toilet in Larkins and realize he was being spied on by men who were using the sight of his bowel movements for pleasure. How strange men – who nobody seemed to know – always happened to be naked and present during athlete shower times. Russ Hellickson, who coached both Coleman and DiSabato, can tell you how problematic and troubling the non-athletics activity within Larkins was during his tenure with the university.
It's easy to get wound up in the graphic details of sex crimes, so we won't. Besides, DiSabato's crime scene is too big to stop in one place for too long – especially with a landscape that includes physical and mental spaces.
His cadence when discussing where he says the bodies are buried is uneven, similar to the manner in which wrestlers observe and then strike their opponents. He does not think or communicate stories in true linear fashion, as it is impossible for him to stay in one lane, which produces inelegant timelines. DiSabato is a problematic witness who never stops collecting data.
It's nearly impossible to find a clean witness or a perfect victim. He is both unclean and imperfect. He deserves all of your scrutiny, and he anticipates it.
DiSabato invokes the research of Dr. Bennet Omalu, who discovered and published his findings on chronic traumatic encephalopathy (the guy Will Smith played in Concussion and CTE, respectively) in the midst of DiSabato's timeline detailing violations of amateurism, breaches of contract and trademark disputes in apparel merchandising – because his parallel timeline demonstrates how Ohio State was ignoring scientific research on the clinical and cognitive consequences of repeated head trauma while exploiting current and former student athletes for financial gain – all at their expense.
Those timelines overlap with his Strauss/systemic sexual abuse of athletes timeline. So here's what just a small section of that looks like when he's documenting his crime scene in an email he sent to Ohio State Compliance:
-- April 2016 -- I notified [OSU VP of Trademarks and Affinity Rick] Vanbrimmer [sic] in writing that one of his licensees, Ohio Sports Marketing (OSM), was either manufacturing, and/or buying from third party, player name and number jerseys without player consent (aka BOOTLEG JERSEYS) and also informed him that OSM was violating Nike's exclusive rights in jersey category. [He] stated he would investigate the issue. 

-- May 2016 -- HEADLINES: FORMER OHIO STATE CAPTAIN CHICO NELSON PASSES AWAY AT 46 Nelson committed suicide by shooting himself in the chest, a method of suicide similar to many high profile athletes suffering from CTE

-- June 2016 -- Former Ohio State football player Ray Griffin is one of four former college players who had lawsuits filed on their behalf alleging they suffer from the effects of concussions suffered during their college careers. 

-- Sept / October 2016 -  I notify Vanbrimmer [sic] on multiple occasions of that the bootleg jersey epidemic is spreading to include Facebook Marketplace, Craigs List, other community based forums and various internet sites 
DiSabato's gripes around the practice of amateurism and associated merchandising – which go back several years – have received their fair share of sunlight for over a decade. His detractors are quick to point out he has made plenty of money through a system he once participated in and now fights against, and they're right. But he is a fighter by his nature himself, punching up, punching down and punching at what he can see right in front of him.
He also punches from the doorway of his darkest place. Now that a former OSU wrestling assistant – and current US Congressman – is being glanced by his punches, other people are punching him back. His own friends. His former friends. His longstanding enemies. His former business partners. Strangers on the Internet.
DiSabato says he knows where all of the bodies are buried, and he'll just tell you, straight up. People would like to know exactly why he's only sharing this information now, with Strauss long-dead and his former coach angling for one of the most powerful positions in America. It must be political. As it turns out, the political ramifications and timing are coincidental.
The crime scene holds the answer. It is located in one of those physical spaces: Michigan.
---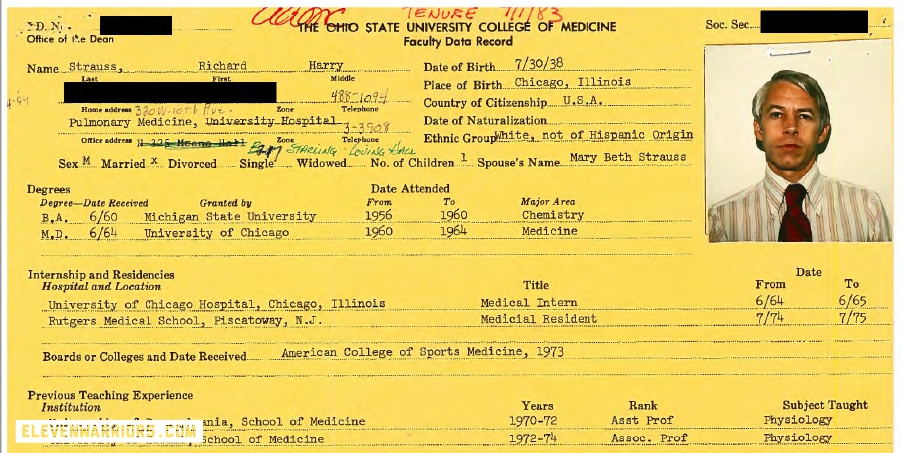 II. THE NET
The compass you hold while navigating DiSabato's crime scene points you toward his True North. True North for DiSabato is his grievance that stems from exploitation via Amateurism, primarily but not limited to the associated merchandising wealth that largely misses the individual. If you ever get lost in his chaotic space, look at the compass. Remember what his True North is.
But don't trick yourself into believing that nothing else he says could also be true.
Back in January, DiSabato sent Ohio State a lengthy FOIA request for information ranging from apparel and trademarking agreements to cell phone records from university officials. All of his requests, except for the final three shown here, have been edited out for brevity and relevance:
From: Michael DiSabato
Sent: Tuesday, January 30, 2018 4:37 PM
To: Public Records <publicrecords@osu.edu>
Subject: PUBLIC RECORD REQUEST -- MICHAEL H. DISABATO

Thank you for your time today regarding my questions pertaining to this public records request. To follow below is a list of documents I would like to review as soon as possible. I plan to circle back via phone call tomorrow afternoon to answer any of your questions. Thank you in advance for your time and consideration. 

[...]

26. All employment documents (emails, text messages, fax messages, Campus mail receipts) / files for Dr. Richard Strauss, former Associate Professor of Medicine at The Ohio State University (OSU Wrestling / Gymnastics Team Doctor) dating back to employment date 

27. All internal memos (emails, text messages, fax messages, Campus mail receipts) and/or documents to / from former AD, Jim Jones and/or Gene Smith, to / from Russ Hellickson and/or other OSU Administrators concerning Dr. Richard Strauss and sexual abuse allegations 

28. All internal memos and/or documents (emails, text messages, fax messages, Campus mail receipts) to / from Jim Jones, Gene Smith and/or other athletic department officials to / from student athletes alleging sexual abuse involving Dr. Richard Strauss 
The timing – late January – is the least confusing part of the entire crime scene. Considering the political element of this that is currently dominating the 24/7 news cycle, it's also the most overlooked. That month was dominated by the trial proceedings of Dr. Larry Nassar in Michigan. He was sentenced less than a week prior to DiSabato's FOIA request.
What wasn't dominating the news in January was the impending retirement of U.S. Speaker of the House Paul Ryan, who stunned everyone with the news that he would be retiring from Washington over two months later, in April. In January, when DiSabato instigated what turned into the investigation into Strauss, there was no succession plan to replace the outgoing Speaker because there was no vacancy to be filled.
DiSabato has said (remember, you don't have to slowly pull the names or locations out of a riddle or follow breadcrumbs – he will tell you, straight up) that Nassar and Michigan State reawakened the darkest place from his past. So why now, 27 years after he exhausted his collegiate wrestling career? Because he, like the rest of the country, saw what was happening in a Michigan courtroom in January.
Two months later Ohio State announced it was opening an investigation into allegations of sexual misconduct from Dr. Strauss, who had been dead for a dozen years. A caseworker for Ohio Congressman Steve Stivers contacted DiSabato about the investigation into Strauss almost immediately, as did the offices of Sens. Joseph Schiavoni and Sherrod Brown and Franklin County Commissioner John O'Grady. 
Remember that DiSabato's timelines overlap. He is a committed and chaotic multi-tasker uninterested in easy wins or taking breaks. It isn't libelous to suggest he clouds the issue with more of his own issues. If shit-stirrers have a code, this is it.
So prior to OSU's announcement – and while that Strauss-related FOIA request was still being processed by one university department – DiSabato was heavily engaged with another, regarding sports apparel. This email has also been edited for brevity, and the veracity of its contents have not been independently verified by Eleven Warriors.
From: Michael DiSabato
Subject: Fwd: JT
Date: February 4, 2018 at 3:39:52 PM EST
To: "Archie, Douglas" [OSU Associate Athletics Director for Compliance]

Doug, 

[...]

You assured me, in writing, that your office was "working through the issues" and you would circle back with me soon. 

[...]

-- I have attached screen shots taken from the Official website of the Jeff Jordan State Champ Camp.

[...]

As you know and as previously detailed on three separate occasions, Rudis is owned, in part, by Jeff Jordan, the father of two current Ohio State wrestlers and a high profile high school senior who recently committed to wrestle for the Buckeyes in the Fall 2018. Jeff Jordan is also a high profile high school wrestling coach and owner of a lucrative wrestling camp business in Urbana, Ohio. Mr. Jordan is clearly leveraging his children's fame / status on the wrestling mat to promote his apparel, camps and wrestling equipment brands / business in a manner more shocker [sic] than Lavar Ball / Lorenzo Ball / BIG BALLER BRAND .

[...]

In addition, Rudis, a brand owned by a parent of two current athletes, was granted a license to produce apparel and hard goods OFFICIALLY LICENSED by The Ohio State University yet Chris Spielman, Archie Griffin and other former players who played a "GAME" that causes brain disease, CTE, continue to fight for the right to market their name, number and image on apparel and other licensed product 

[...]

Please act accordingly. 
Michael H. DiSabato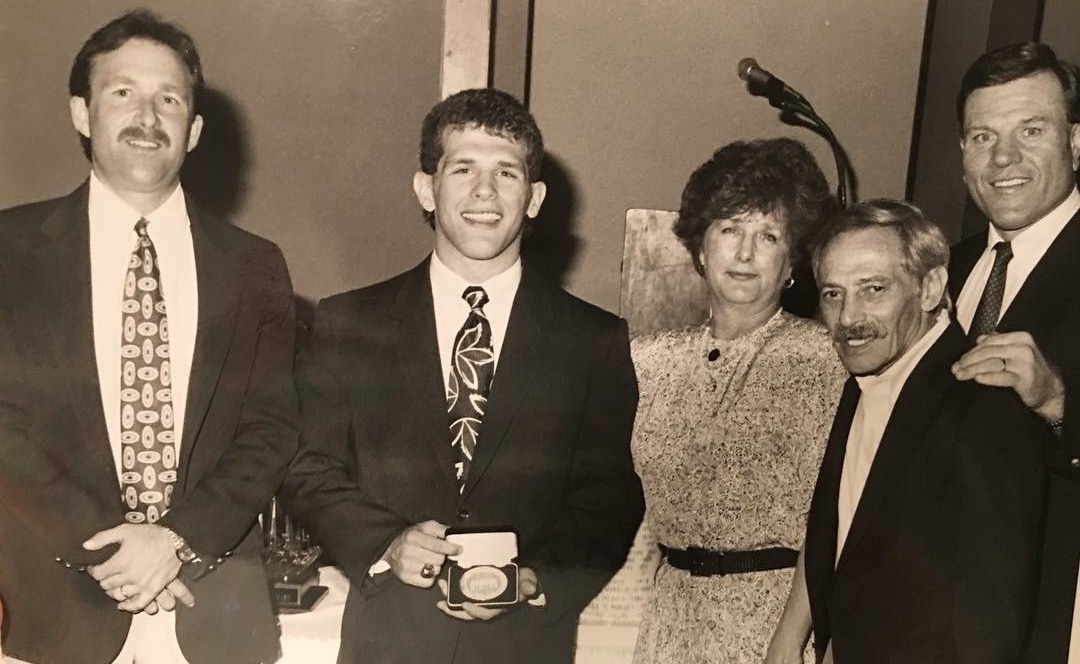 That email to OSU Compliance was written a week after the FOIA request into Strauss was received. Fast-forward to April 5, when Ohio State announced it would be investigating allegations into assaults by Strauss. Six days later, Ryan announced he would be leaving his position in Washington. Two weeks later DiSabato contacted Ohio Rep. Jim Jordan directly.
This email has not been altered, and the veracity of DiSabato's claims - as well the conversation mentioned in the message - have not been independently confirmed by Eleven Warriors.
From: Michael DiSabato
Date: Tue, Apr 24, 2018 at 11:53 AM
Subject: LEADERSHIP IS NOT A POSITION, IT IS AN ACTION
To: Jim Jordan <jim.jordan@mail.house.gov>
Cc: Jeff Jordan [email redacted]

Jim, 
I am writing you to follow up on our forty five minute conversation earlier this month regarding issues surrounding the systemic sexual abuse of athletes in over ten Varsity sports at The Ohio State University dating back to the mid 1970s. As discussed and as everyone on this email is well aware of, Dr. Richard Strauss sexual assaulted / molested me, my teammates, your brother in law and friends in what is the largest systemic sexual abuse cover up in modern sports history.

In addition and as discussed, I have attached details of serious NCAA Rules violations, and likely violations of State Law, involving your brother / business partner, Jeff Jordan. Please note that Jeff Jordan has used his position as Head Wrestling Coach of a publicly funded high school in your district to direct tax payer resources to his wrestling apparel brand, Rudis,  in a quid pro quo agreement with The Ohio State University and THE head wrestling Coach, Tom Ryan.

In addition, Jeff Jordan, as the Head Wrestling Coach at Graham HS, intentionally breeched a contract with my company, Lutte Licensing Group, for the 2014-2015 wrestling season, in order to filter orders / resources from the Graham School District to a company owned by him, Jesse Lang, Tommy Rowlands and Nancy Schultz. 

As your friend to you and your family for over forty years, I ask you to give your full attention to the information attached to this email. I have spoken to hundreds of Varsity O wrestlers / athletes who are victims of Strauss. We watching you, in particular, as you have direct knowledge / experience with Strauss, DuPont and other sexual predators who prey on youth athletes. You have the platform to cut through the double talk, placation and finger pointing.

The facts will not change and the collateral damage caused by inaction will significantly impact the State's economy and its' taxpayer citizens. In addition, the wrestling community is on high alert as it is widely known that Jeff has eaten from the forbidden tree in the garden of Eden. His greed, pride and recklessness has put THE Ohio State Wrestling program in harms way of serious NCAA charges / sanctions, including what I and many believe to be a "Lack of Institutional Control". Bottom, your lil brother is in over his head and needs his brother to step up and lead..... again. Let me know if you would like to set a time to discuss a plan of action. 

Michael H. DiSabato
These are a few selected communications among hundreds, not chosen to try to skew a story or lend bias to a narrative, but to best illustrate the crime scene DiSabato has been describing. These are the largest pieces of a gigantic puzzle one man has designed.
To get his hands on those large pieces, he casts an even larger net. Here is a message sent to Oliver Luck, who on June 1 was still the NCAA Executive Vice President of Regulatory Affairs. This email has been edited for brevity, and the veracity of DiSabato's claims have not been independently confirmed by Eleven Warriors.
From: Michael DiSabato 
Subject: Fwd: WINTER IS HERE
Date: June 1, 2018 at 12:15:05 PM EDT
To: oluck@ncaa.org

Mr. Luck,

[...]

I assume that you, like many in Indianapolis, are drunk and emboldened by the power to manipulate and control the narrative. I would like to say I am surprised by you silence yet this is part of the blueprint for the selective "enforcement" process for blatant breech of rules of AMATEURISM, the world used by the grossly immoral bureaucrats to justify the blatant exploitation of young athletes.

[...]

#EmbraceTheGrind
#AbolishAmateurism 
#GrossMoralNegligence

Michael H. DiSabato
Four days later, Luck was announced as the newly re-formed XFL's commissioner and CEO.
Among those copied on DiSabato's communications was Alexander Schultz, son of wrestling legend Dave Schultz, whom du Pont murdered in 1996. Schultz asked to be removed from future communications, suggesting police should be handling any investigation into alleged crimes committed under Ohio State's or USA Wrestling's jurisdiction.
DiSabato's response – in his preferred combative, condescending and aggressive style – has been edited for brevity. The veracity of his claims have not been independently confirmed by Eleven Warriors.
From: Michael DiSabato 
Subject: Re: LEADERSHIP IS NOT A POSITION, IT IS AN ACTION
Date: July 4, 2018 at 11:30:04 AM EDT
To: Alexander Schultz 

I've done lost [sic] of research son. November 1995 -- Conference Call held by USA Wrestling to discuss Sexual abuse, Overt Racism and multiple Threats by Dupont on the lives of athletes -- Two month before DuPont killed your father Jan 26, 1996 

Votes to do nothing were cast by the following 
-- Bender -- still employed in senior management position despite gross moral negligence which lead to the death of an athlete 
-- Baumgardner -- remains in senior management position with Governing body despite gross moral negligence which lead to the death of an athlete 
-- Scheer --  was promoted to executive director of USOC despite gross moral negligence which lead to the death of an athlete -- and I think he also impregnated his secretary at USA Wrestling right?
-- Dzezic --  still employed in senior management position despite gross moral negligence which lead to the death of an athlete 

[...]

Would you like to continue son?
Ohio State's active investigation starts specifically with the claims by OSU students and stakeholders about and against Strauss while he was employed by the university, and may extend from there. It's unlikely to tap into USA Wrestling, du Pont's documented history, amateurism, athletic apparel, trademarking or breaches of merchandising contracts. Its net is focused, smaller and untangled.
That means cooperating with DiSabato under his terms is impossible. He has too many timelines, he's out of scope for the investigation and what Ohio State will focus on is a sliver of what he has been pursuing for years. And yet, he is at the center of the news cycle and investigation along with a sitting Congressman. Their paths have allegedly crossed multiple times, but the only crossing that's in-scope is the one that occurred when one wrestled and the other coached.
Lost yet? Too many rocks to look under? More questions than answers?
Remember your compass. Remember his True North. But don't trick yourself into believing that nothing else he says could also be true.
---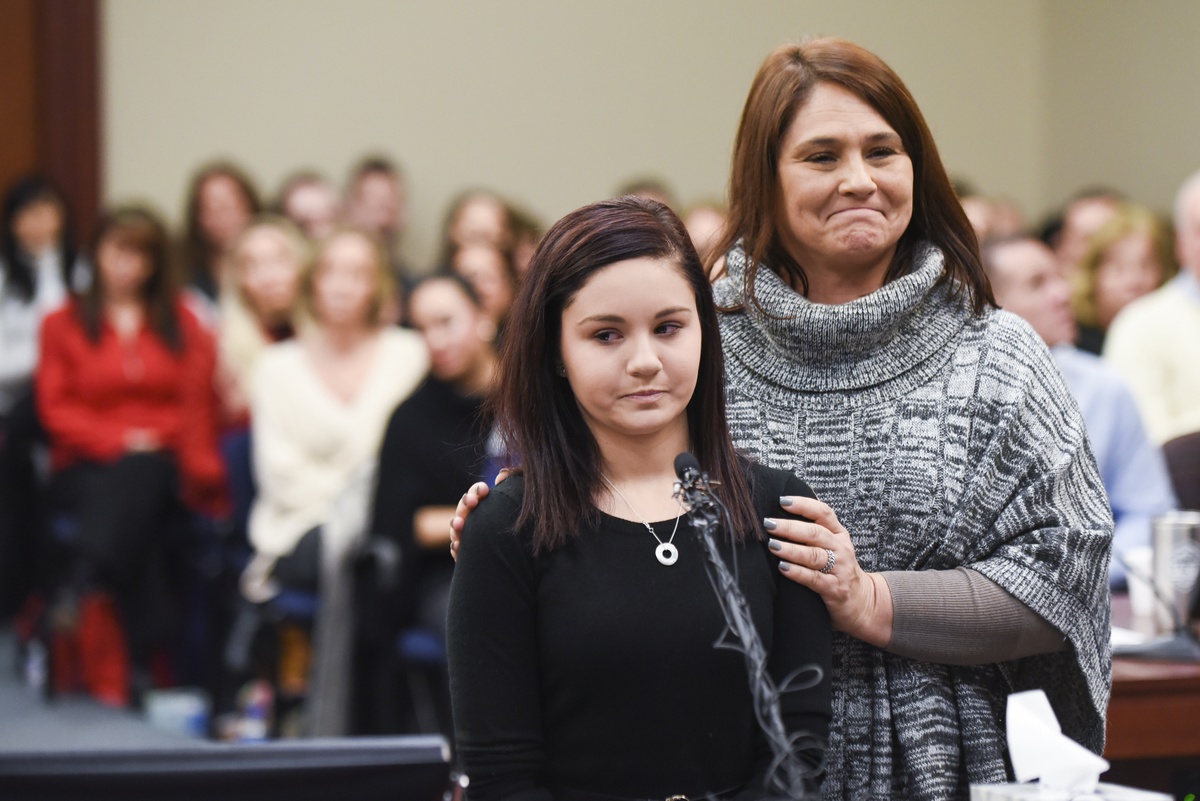 III. AMERICA'S SWEETHEARTS
Every campus tragedy post-Jerry Sandusky becomes the predicate tragedy for the one that follows it. Sandusky at Penn State was the predicate for Nassar at Michigan State. Nassar is likely the predicate for Strauss. The Lasch Building in State College gets to be the predicate for Larkins Hall.
What is alleged to have happened at Ohio State – and specifically, however it will be resolved – deviates sharply from predicate tragedies.
Sandusky is going to die in jail. Whenever that happens, the world will be informed and his crimes at Penn State will be revisited. His epitaph is pre-written. Nassar will also die in jail, and whenever that happens the world will be reminded of how he freely operated for decades within respected institutions, fully equipped with safeguards and checks. As with Sandusky, his epitaph is ready for publication right now.
Strauss died in 2005. Virtually nobody knew about it and there's little record of his passing. The University of Chicago Hospitals published the news months later in the spring of 2006 in the In Memoriam section of its Class Update, emphasis added.
Richard H. Strauss, MD '64, died peacefully at his home near Venice Beach, Calif., on Aug. 17, 2005, at age 67 [...] During his career, he also was [...] a faculty member at Ohio State University, where he served as team physician both for OSU and for the U.S. wrestling team. He also was a member of the medical commission of the International Olympic Committee. After retiring in 1998, he moved to the Los Angeles area and volunteered at a medical clinic near Hermosa Beach that treats an underserved population. 
Strauss' death was investigated by police, who concluded he took his own life. His epitaph wasn't correct when he passed, let alone in 2018 while he's being investigated by his former employer. There's no perp walk, no shriveled man in prison scrubs, no righteous closure and no direct recourse for any of his accusers.
Sandusky faced due process. Nassar's accusers entered the courtroom and were allowed to have The Last Word. His case barely made a blip in the national consciousness until beloved members of USA Gymnastics appeared on television among his victims to send him off to prison. Only after familiar faces joined the victim list did America finally wake up to the gravity of what had been happening.
Strauss departed long before he ever had the opportunity to face his accusers or clear his name. So the focus is going to shift to his alleged victims, witnesses and administrators who are alive and available to contribute to the investigation. He just won't be a central part of it the way Nassar was at MSU.
Dozens of women came forward in Michigan, and the sheer volume alone should have overwhelmed the lingering skepticism that generally accompanies accusations of sexual assault, especially when directed at a person or institution associated with wealth or fame. Bill Cosby's accusers were relatively anonymous; his net worth is just shy of a half-billion dollars. There were and still are people who believe he was framed and extorted.
Skeptics are quick to land on one of two ulterior motives for accusers: Vengeance or Finance.
Michigan State has an endowment in excess of three billion dollars, but the financial motive disintegrated when multi-millionaire accusers like Simone Biles and Aly Raisman came forward to face Nassar. They were deemed in the court of public opinion to have no ulterior motive and no axe to grind, which allowed the sheer volume of accusations to be received without the whispers. 
College wrestlers generally do not have the same commercial appeal as Olympic or even amateur gymnasts. They're not exactly destitute, but the optics – especially for the prime whistleblower in Ohio State's case – are much different than, say, an athlete and whistleblower like Raisman. Diminutive pitchwomen are received differently by the public than broken gladiators. It's easy to proclaim that we're all created equal; it's a lot harder to install that guidance into practice where sexual assault and public opinion are concerned.
Nassar's 160 accusers overwhelmed the country with their stories of survival. It would have been naive to believe their impact would be isolated to a Michigan courtroom, or that amateur athletics had been infiltrated by just one, solitary bad doctor.
America was finally paying attention. DiSabato was captivated and sprung into action.
---
IV. REVELATION
The video above from 2009 shows DiSabato and UFC fighter John Kelly engaged in what could be described as "horseplay." They clearly know each other, they realize they're on camera and they make light of physical and intimate contact between men. It's not an uncommon behavior or reaction.
It's also not an indictment of DiSabato or Kelly. Our assault etiquette as a society is constructed almost entirely on making it as comfortable as possible. We do not appropriately handle male-on-male assault in part because it is a topic that ranges from awkward to humiliating. So over time, we have made it funny.
Humor is the coping mechanism of choice to make same-sex assault palatable to the point of being entertaining, and it's so common that it's ingrained throughout our art and culture.
One of the highest-grossing movies at the end of Strauss' OSU tenure was the Jim Carrey slapstick comedy Liar Liar. In its penultimate scene, Carrey's administrative assistant – cast as a nurturing, grandmother-type – arrives to bail him out of jail and sweetly asks him, "Have you been sexually molested yet? Because l could circle the block."
It's a joke that Common Sense Media (CSM), a non-profit instrument used by parents to properly gauge cinematic appropriateness, bullet-pointed while clearing the film as suitable for children. The premium CSM puts on exactly which bad words were said on screen, and what body parts were exposed is much higher than the seriousness of a throwaway rape joke.
Male rape has been a reliable crowd pleaser in cinema for decades and in society, which is how someone like DiSabato, a victim himself, can be so casual about it in the absence of bad intentions or threats. Injecting this type of sexual assault with humor is a coping device so ubiquitous that it routinely shows up in actual assault cases – both as a defense of knowledge and as a defense of the assault.
Sandusky maintained he was engaged in nothing more than 'horseplay' (while naked, with boys, in showers). Joe Paterno testified that he was led to believe Sandusky was only engaged in 'horseplay'. Sexual assault being a "joke" or funny is practically the default emotion in cases of assault.
One assistant coach also previously denied any knowledge of harassment though three wrestlers claim the doctor's behavior was well known and was even discussed in the locker room where it was allegedly treated "like a joke."
Read that passage carefully. It sounds entirely plausible when discussing this case.
...except those words weren't said about Strauss or Ohio State wrestling. They are taken from a report on actor Kevin Spacey. Sports terms in italics replace the original film set descriptors, and you get the same emotional response to hearing about assault, gay or straight, wrestler or thespian. No one segment of society has a monopoly on it. 
Jokes dominate the casual discussion of assault, which makes formal, documented complaints critical to uncovering the truth. Strauss' entire OSU personnel file accessed through FOIA was rife with recommendation letters and handwritten notes, but it did not contain a single mention of alleged assault, any formal complaints or reports. 
Since nothing documented exists in the public record, Ohio State is forced to rely on the accounts of broken, aged gladiators and university personnel who are willing to go on record about their experiences with Strauss, in Larkins and at the university. DiSabato has been characterized as having a checkered, vindictive and litigious past, for valid and factual reasons. Both of the most common ulterior motives fly out of the skeptics' mouths whenever his name is associated with these accusations or his numerous other grievances.
But while the whistleblower is the most visible, loudest and problematic accuser, he is not alone. America's Sweethearts may have captivated DiSabato, who was already juggling multiple timelines and complaints against Ohio State, but in this case he has galvanized others to come forward with stories of their own. Strauss' own family is already cooperating with the investigation.
DiSabato's multiple timelines and grievances undercut what's now the primary one in the 24/7 news cycle, which will continue to focus on what happened, who knew and why there's no record of any unlawful incidents in the dead doctor's employment records. It will carry political ramifications for both coincidental and externally motivated reasons, but neither will help bring peace or finality to DiSabato, the other accusers or to the university. 
He has always claimed to know where the bodies are buried. What he, Ohio State and the rest of us are soon to discover is just how many graves there were – and if any more are being created in 2018 as a result.
---
Comments that do not comply with 11W commenting policy will be deleted and accounts that violate site rules will be subject to suspension. Do not bring your political takes here.
The Rape, Abuse and Incest National Network (RAINN) runs a 24/7 confidential sexual assault hotline: 1-800-656-HOPE (4673). Visit their website to chat live with a representative. RAINN will help you find a resource in your community.