Three summers ago I wrote about serial sexual abuse of male students at Ohio State.
It ran well north of 3,000 words, because some stories just can't be told properly by glossing over details or relying on bullet points. Dr. Richard Strauss had used his university position to sexually assault at least 177 Ohio State students over his tenure.
This included 153 athletes, among whom 48 wrestled for the Buckeyes. The story included personal testimony from the original whistleblower, which contrasted one survivor's personal nightmare with a faceless crowd of abused students whose experiences would never be shared so publicly.
Feedback from my readers ranged from thank you so much for writing this down to I don't click on 11W to read stories like this. The latter end of that range represents the Stick to Sports reader, for whom no issue justifies intrusion into their sacred escape from the rest of the world.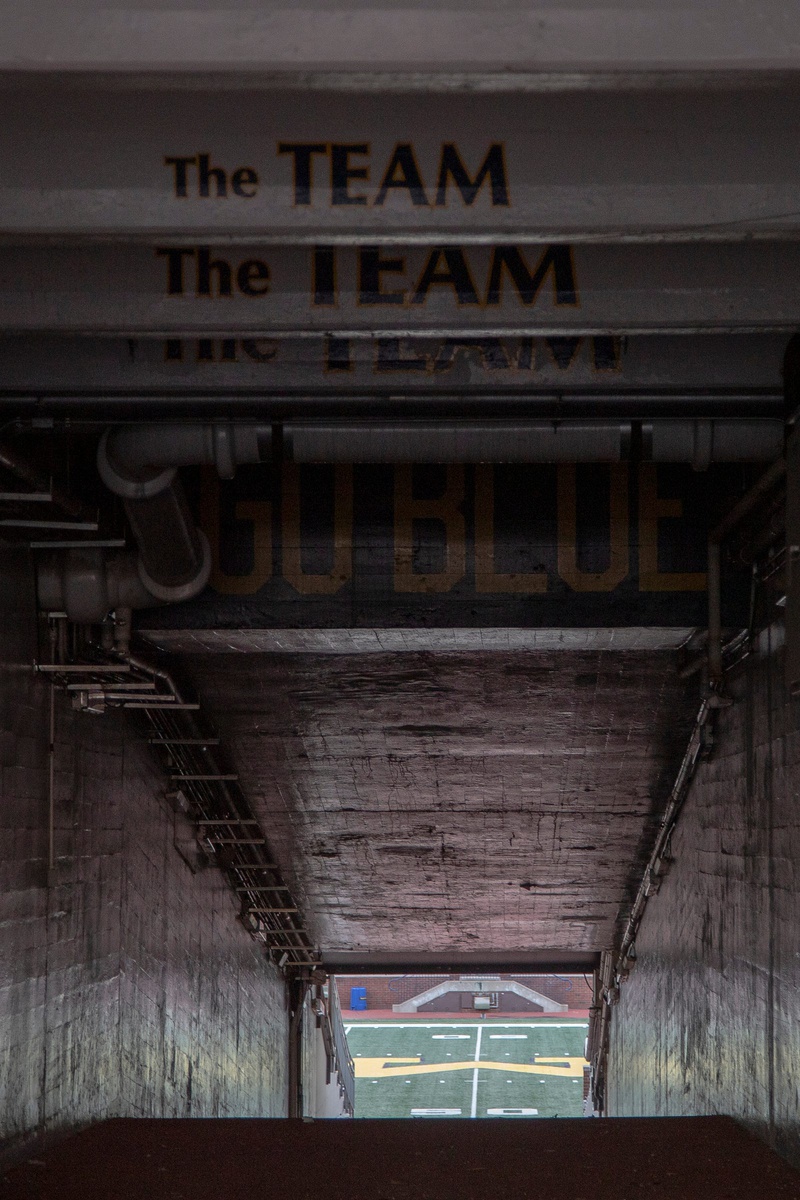 I'm no good at both-sidesing stuff like this. Stick to Sports is the mentality that created campus sanctuaries for monsters to assault little boys in State College, little girls in East Lansing and hundreds of students across athletic departments in Columbus and Ann Arbor because administrators held public image in higher regard that basic humanity.
You aren't required to read stories like these, if you'd prefer to Stick to Sports. You should know that looking the other way doesn't make them disappear either, whether you're a casual reader or a coach who has been tipped off.
The investigation into Strauss' crimes didn't begin until 10 years after his death, when in January of 2018 former OSU wrestler Michael DiSabato watched Michigan State physician Larry Nassar's trial on television. Those proceedings awakened the darkest moments of his life that he had kept suppressed for nearly 30 years.
DiSabato contacted his alma mater while the Nassar trial was still proceeding, Ohio State opened its own sexual assault investigation into one of its former employees, and that's how the world finally found out about the late Dr. Strauss.
My story on DiSabato's journey ran in July 2018. Two weeks later Urban Meyer was in Chicago at B1G media days, explaining his decision to terminate former WR coach Zach Smith. You can relive what happened over the following month in its entirety by clicking here.
You can also see how this web site handled documents in the years leading up to that episode here. We pursued verification of every rumor, since accumulating libel suits isn't part of our organizational mission. It took what happened that August to blow the lid off what had been festering for years.
Opting out of Sticking to Sports to break bad news about your team isn't a legal media requirement. The law isn't punitive against the media for choosing neglect its mission. University employees are on the hook, however.
Plausible deniability is even easier when statutes of limitations HAVE EXPIRED, along with every university administrator who was involved.
They've been required by law to report sexual assaults for nearly 50 years, but the problem with enforcing that law is it's difficult to prove employees who said they didn't know, didn't know - both when they're alive and especially when they're dead. It's easy avoid discovery through in-person conversations and non-electronic conversations. People are allowed to forget.
Ignorance is most powerful tool in the Stick to Sports arsenal. Ten years ago this summer Sara Ganim was knocking on doors in Central Pennsylvania asking questions about Jerry Sandusky that had been only whispered previously for decades around State College.
Ten years later, Bo Schembechler's infamous The Team, The Team, The Team speech reads like the blueprint for dismissing reports of sexual assaults by over 800 Michigan students, dozens of football players and his own stepson.
No man is more important than The Team. No coach is more important than The Team. The Team, The Team, The Team, and if we think that way, all of us, everything that you do, you take into consideration what effect does it have on my Team?
Last summer Schembechler and former U-M athletic director Don Canham were named in a lawsuit as having knowledge of sexual abuse allegations directed at university physician Robert E. Anderson. All three men have been dead for well over a decade.
If you're wrapped up in debating whether or not Bo knew, you're stuck in the wrong debate. Bo knew, because football emperors know everything going on around their program. Joe Paterno knew when his out-of-state players got speeding tickets while at home for a weekend before they crossed the Pennsylvania border to return to campus.
Urban Meyer is almost clinically obsessed with details, and yet three years ago we were debating the justification for him asking how to delete text messages from a university-issued and discoverable cell phone.
Mark Dantonio. Art Briles. Nothing escapes these men. Bo knew. It was his job to know.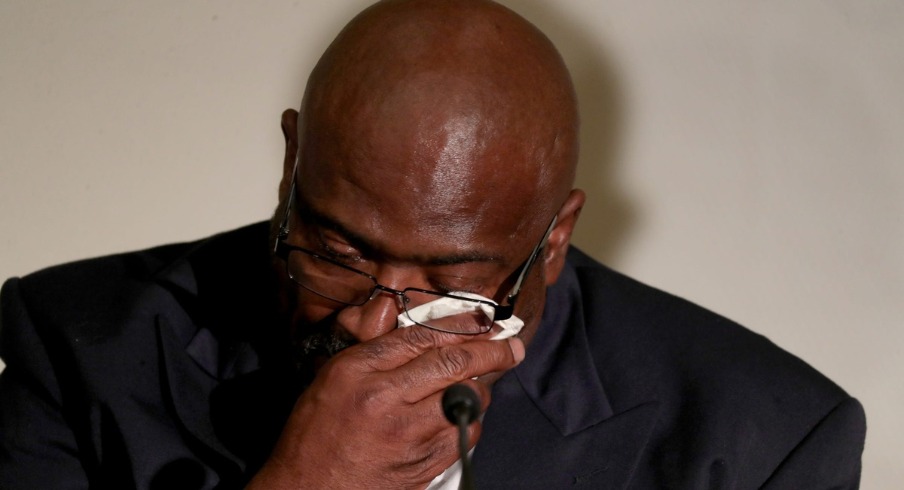 We've already seen how this plays out and there's no reason to believe Michigan will be any different than Penn State, Ohio State, Michigan State, Colorado, Baylor, Minnesota, LSU or any other institution accused of allowing sexual assaults to go unpunished.
Even the NCAA does it, and routinely. Corporate America does it. You can chalk that up to Stick to Stocks, which is the original flavor of shareholder primacy that carries the same inhumane intent.
When sexual abuse allegations arise and are uncovered, all you have to say is you didn't know. Just don't document it in your discoverable university-sanctioned email like Jim Tressel did (for his petty non-crimes!) and you're probably in the clear. It's even easier when the statutes of limitations expire along with every university administrator who was involved.
Denial is the most popular play in that playbook, if you have the stomach for it. It's informing the survivor of her or his non-value and then daring them to disappear. That bet only loses when survivors multiply, come forward and corroborate. This is when the Stick to Sports crowd reliably appears - free of charge - to defend the indefensible.
If you're wrapped up in debating whether or not Bo knew, you're stuck in the wrong debate.
At Michigan State that crowd was soulless administrator slugs taking on the survivors - who happened to be America's Sweethearts. That was a gruesome mismatch for the slugs. At Michigan, the university play-by-play voice and the current head coach's father are fighting the bad Stick to Sports fight.
They're at odds with dozens of former Wolverines, including several prominent survivors. In the end there will be legal settlements, some unfortunate PR for the university, several dead men unaffected by the proceedings, message boards in flames and zero people in jail. Looking away always green-lights the same script.
We live in a post-hypocrisy era, so getting caught playing both sides no longer matters. Here's Michigan's play-by-play voice Jim Brandstatter talking about Joe Paterno and Jerry Sandusky a decade ago:
Joe's legacy is tied up with what has happened in the last six months I mean that — it's hard to get beyond that because that's, you know, what everybody's been talking about.
And here he is talking about Schembechler and Dr. Anderson last week:
Isn't there a feeling that reasonable doubt should come into play when you're trashing a man's reputation that he spent a lifetime to build? Reasonable doubt should be part of the equation and in this instance, you look at context, and I would suggest that clearly there's reasonable doubt on a number of these allegations by those people...including Matt Schembechler.
Reasonable doubt only enters the equation when it's the team whose gear dominates your closet.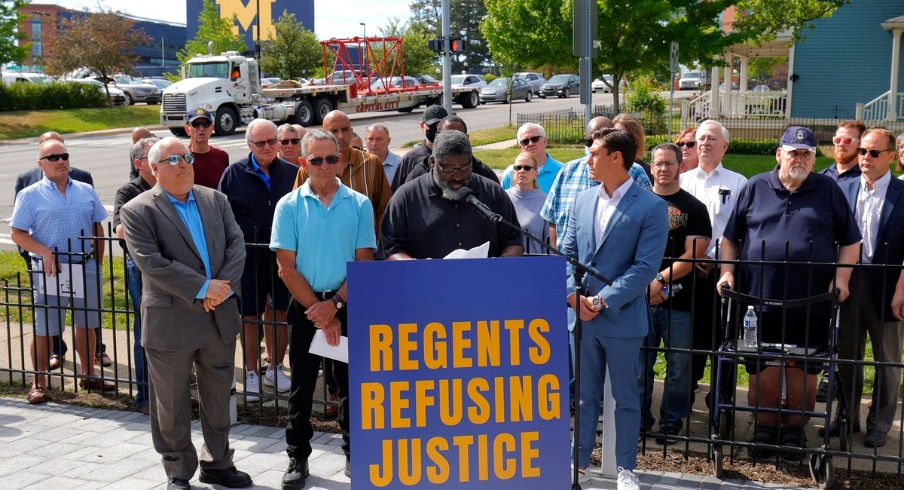 Searching for specificity as to why Schembechler would have allowed Anderson to abuse his players misses the plot entirely. I've been told numerous theories, like it was blackmail material for Bo to easily get bad players medically disqualified (which misses how Bo coached in an era where he had, at fewest, 95 available scholarships). It is a futile and utterly pointless exercise into detail that does not matter.
Coaches and administrators at all of these schools looked away because they preferred to Stick to Sports. Sports sat atop the hierarchy. Institutional image was more important than humanity. Looking away made it disappear for decades. No student was more important than The Team, The Team, The Team. If anyone forgot their place, the reminder was printed in the goddamn tunnel.
According to the Department of Justice 80% of sexual violence cases go unreported. When they are reported, we've seen what's happened when the survivor is competing with something much more powerful.
If there was an easy or elegant solution, we'd be using it already since existing legal punitive action has had, at best, mixed results. But there's something everyone can do - even you - to guide a cultural shift to make administrators pleading ignorance in these cases even slightly less effective.
Celebrate sports to your maximum enjoyment. But free yourself of the Stick to Sports mentality - not all of the time, but when it's clear you need to stick to humanity instead. Looking away aids monsters.
Nothing is more important than humanity. We have to defeat the monsters.