Ohio State needed every second to beat Notre Dame.
After Ohio State scored only one touchdown in the first 59 minutes and 58 seconds of the game, Chip Trayanum ran the ball into the end zone for a 1-yard touchdown with just one second left on the clock to win the game, 17-14.
WHAT A CALL!
WHAT A PLAY! pic.twitter.com/YDsDwaKLkN

— NBC Sports (@NBCSports) September 24, 2023
It was the first time Ohio State won a game with less than three seconds to play since Mike Nugent's game-winning 55-yard field goal against Marshall in 2004.
Neither team scored a touchdown before halftime as the only points of the first half came on a 31-yard field goal by Ohio State's Jayden Fielding with just 26 seconds remaining in the second quarter.
 
Q1
Q2
Q3
Q4
 

#6

 Ohio State
0
3
7
7
17

#9

 NOTRE DAME
0
0
7
7
14
After Ohio State failed to score on its opening possession for the first time all season, Notre Dame drove to Ohio State's 18-yard line but opted to go for it on 4th-and-1 rather than kick a field goal. Sam Hartman attempted to scramble for the first down but was forced out of bounds short of the line-to-gain by Ohio State linebacker Cody Simon.
The Fighting Irish threatened to score again on their second possession as they drove to Ohio State's 29-yard line, but came off the field without points again when Spencer Shrader missed a 47-yard field goal attempt wide left.
Ohio State drove to the 1-yard line on its third possession of the game, but came away without points after Miyan Williams was stopped short on 3rd-and-goal and an incomplete pass on fourth down.
The Buckeyes nearly scored a touchdown again on their next drive on what would have been a 15-yard pass from Kyle McCord to Emeka Egbuka, but had to settle for three points three plays later after the ball slipped through Egbuka's hands on his way to the ground.
Notre Dame's opening drive of the second half ended the same way its first drive of the game did: With the Buckeyes making a fourth-down stop. This time, Sonny Styles and Lathan Ransom combined to stop Hartman for no gain on a quarterback keeper.
TreVeyon Henderson followed that up by running for a 61-yard touchdown on Ohio State's first offensive play of the second half to give the Buckeyes a 10-0 lead.
Treveyon Henderson 61 yards to the house! @OhioStateFB

: NBC & Peacock pic.twitter.com/ISwex50jAW

— NBC Sports (@NBCSports) September 24, 2023
Notre Dame scored its first points of the game on its second drive of the third quarter, going 75 yards in 13 plays with Gi'Bran Payne capping the drive with a 1-yard Wildcat touchdown run.
| OHIO STATE   | METRIC |   NOTRE DAME |
| --- | --- | --- |
| 366 | TOTAL YARDS | 351 |
| 126 | RUSHING YARDS | 176 |
| 27 | RUSHING ATTEMPTS | 39 |
| 4.7 | AVERAGE per RUSH | 4.5 |
| 2 | RUSHING TOUCHDOWNS | 1 |
| 240 | PASSING YARDS | 175 |
| 21-37 | COMPLETIONS–ATTEMPTS | 17-25 |
| 11.4 | AVERAGE per COMPLETION | 10.3 |
| 0 | PASSING TOUCHDOWNS | 1 |
| 19 | 1st DOWNS | 22 |
| 65 | TOTAL PLAYS | 64 |
| 5.6 | YARDS PER PLAY | 5.5 |
| 10-17 | third down conv | 5-10 |
| 5-35 | PENALTIES | 4-50 |
| 25:01 | POSSESSION | 34:59 |
After Ohio State punted on its next possession, Notre Dame drove 96 yards in 11 plays, capping the drive with a 2-yard touchdown pass from Sam Hartman to Rico Flores Jr. to take a 14-10 lead with 8:22 to play.
With Ohio State facing 3rd-and-6 on its next possession, Xavier Johnson made a big play against Notre Dame for the second year in a row as he subbed into the game and promptly gained 40 yards on a catch-and-run.
But the Buckeyes ended up leaving the field without points after getting stopped on both 3rd-and-1 and 4th-and-1 at the 11-yard line.
First, Henderson was stuffed on a run up the middle for no gain. Then, the Buckeyes opted for an outside run to Egbuka on 4th-and-1, a play that was snuffed out soundly by the Fighting Irish.
STUFFED! #GoIrish pic.twitter.com/YOope6TXH7

— NBC Sports (@NBCSports) September 24, 2023
The Buckeyes got the ball back with 1:26 left to play for one more chance to score after forcing a Notre Dame punt. Ohio State got the ball across midfield on a 25-yard pass from McCord to Egbuka. Facing 4th-and-7 on their next set of downs, the Buckeyes converted on a pass from McCord to Julian Fleming. The Buckeyes would get inside the red zone on a 19-yard pass from McCord to Marvin Harrison Jr. A 12-yard pass from McCord to Egbuka got the ball to the 1-yard line with seven seconds to play.
With just three seconds left on the clock, Ohio State elected to run the ball and Trayanum pounded the ball into the end zone for a 1-yard touchdown to win the game.
Ohio State has now won six consecutive games against Notre Dame dating back to 1995.
The Buckeyes now enter their bye week with a 4-0 record. They'll return to action in their fifth game of the season against Maryland at home on Oct. 7. Kickoff time and TV network for that game are expected to be announced Monday.
Game Notes
78 Ohio State players made the trip to South Bend. The only player who has seen playing time on offense or defense this season who was unavailable for the game due to injury was safety Cameron Martinez.
Ohio State's three first-half points were the fewest it's scored in a first half since it scored only three points in the first half of its 49-20 loss to Purdue in 2018.
It was the first time Ohio State shut out its opponent in the first half since it held Michigan State scoreless before halftime in its 56-7 win over the Spartans in 2021.
Per Elias Sports, it was the lowest-scoring first half between a pair of top-10 teams since LSU took a 3-0 lead into halftime over Auburn in 2006 (Auburn won that game 7-3).
Marvin Harrison Jr. suffered an apparent ankle injury on Henderson's touchdown run, but was able to return to the game on Ohio State's next possession.
Saturday's game was the first time Ohio State scored fewer than 20 points since it scored only 16 points against Oklahoma in 2017.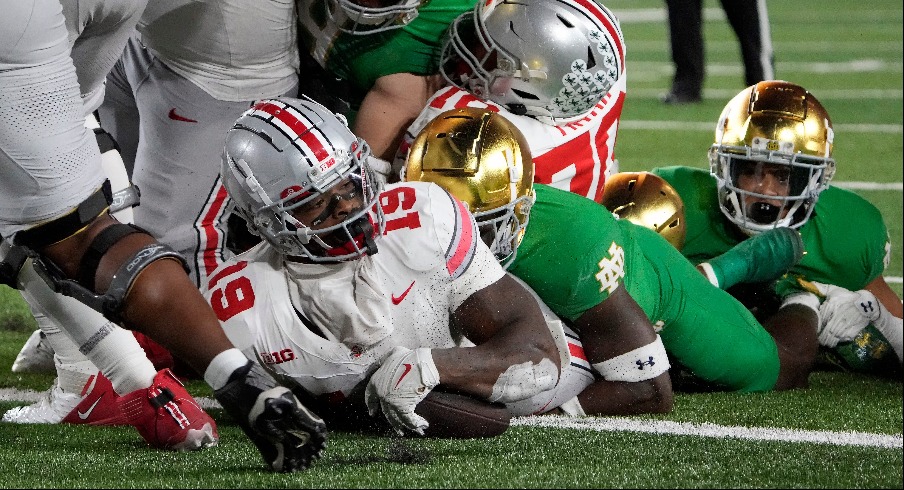 #6 Ohio State 17, #9 Notre Dame 14
Sept. 23, 2023 • Notre Dame Stadium • South Bend, IN