It's hard not to be speechless after the manner in which Ohio State's contest against Notre Dame concluded.
Still, Ryan Day found plenty to describe his team's – literal – last-second win against the Fighting Irish.
The coach's comments centered primarily on his team's physicality after it was called into question by former Notre Dame head coach Lou Holtz.
Ryan Day said he felt "upset" and "disrespected' by Holtz's comments before the game. "A lot of people took a lot of shots at this team over the past 48 hours. ... Every game we play in we're physical, we are. I don't know where that narrative come from."
On the decision to give Emeka Egbuka the ball  "We've got to get that yard. We got the look that we wanted. ... There were four opportunities where the whole game would have been different. ... We physically got after them last year, put the film on. A lot of people make comments on the game that don't watch the film."
On Kyle McCord's performance: "To win the game in a two-minute drill, that's what great quarterbacks do. ... Those were some big-time throws in there. He hung in there, he was poised."
"We finished it with one play right there, and it's very fitting."
On what he was feeling coming off the field with such emotion: "I've been emotional the last couple days. ... Our guys are tough, they're physical."
"I have some other things I'd like to say (to Lou Holtz), but I'm not going to."
"When you work a game plan, you just keep grinding and you keep working and you keep working."
On the final play call: "I made the call. I looked at the clock and knew there were three seconds left ... I knew we couldn't get two plays. ... Not only do we need to get that yard for this program, but I felt it was the right thing to do schematically."
"In life, when people start talking and saying things about you, at some point you've got to put your foot in the ground and our team did that."
"I think it's going to go down as one of the biggest wins in Ohio State history."
On Marvin Harrison Jr.: "We were trying to get it to him the best he could. ... I thought he showed toughness, he was down there for a minute. ... Someone's going to be in a one-on-one (when Harrison is doubled) and they have to win. ... You talk about toughness, right there that was toughness of 18."
On what was going through his mind on the final replay: "Touchdown, touchdown, touchdown."
Kyle McCord
Emeka Egbuka
Chip Trayanum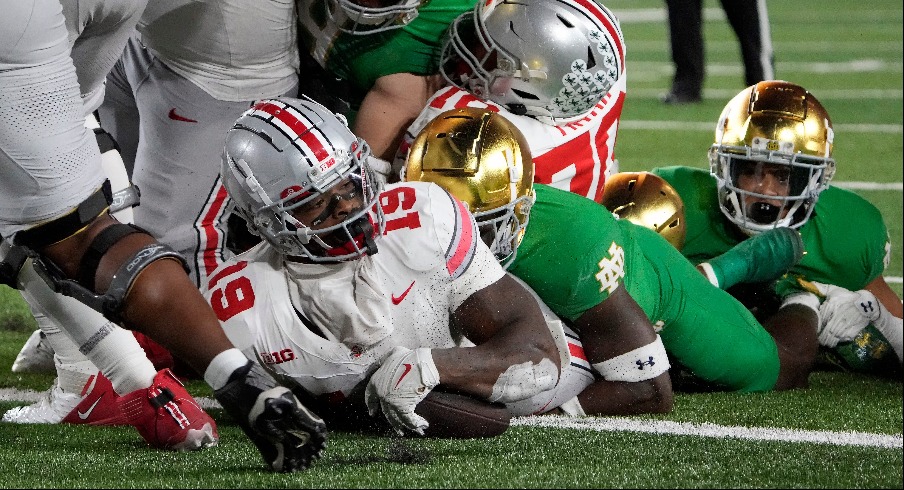 #6 Ohio State 17, #9 Notre Dame 14
Sept. 23, 2023 • Notre Dame Stadium • South Bend, IN