Presented by The 1870 Society
In a physical battle between two of college football's blue bloods, No. 6 Ohio State stood up to the test as it capped a 65-yard scoring drive with a 1-yard plunge from Chip Trayanum with just one second left on the clock to defeat No. 9 Notre Dame, 17-14, on the road in South Bend. 
The win improved Ohio State to 4-0 on the season and gave head coach Ryan Day multiple postgame opportunities to sound off against the haters, including Lou Holtz, who offered up remarks in the lead up about how all the big boys that beat the Buckeyes do so because they are more physical.
If not for the late heroics from an Ohio State defense that forced a 5-and-out after giving up back-to-back long scoring drives to give Day's offense one last chance it would capitalize on, that 'soft' narrative, real or not, would be alive and well with another log on the fire. 
Instead, the Buckeyes received contributions from a host of players, expected and unexpected, to hand former Buckeye linebacker and current Notre Dame head coach Marcus Freeman a second-straight loss to his alma mater. 
While the low scoring affair will never be confused with a beauty contest and OSU still had its share of short-yardage issues, even most Day critics should feel good this morning that the Buckeyes came up big when it mattered most against a top-10 opponent, on the road no less. The win pushed Day's record at Ohio State to 7-5 in top-10 matchups after he'd lost three of the last four. 
Ohio State's 17 points fell short of the 20-point barrier for the first time in 78 games but the defense gave up just 14. Jim Knowles' group has allowed only 34 points through the first four games, or 8.5 per contest. 
An open date means the Buckeyes don't return to the field until October 7 against a dangerous Maryland team, giving Marvin Harrison Jr. (ankle) and the rest of his teammates a chance to recover and refocus after a huge win in South Bend.
With that, let's hit Five Things from last night's instant classic. 
---
KING'S RANSOM
I think it's fair to say Lathan Ransom's had a bit of an up and down ride in Columbus particularly last season after he was superb in the first half before struggling late as a supporting actor in the Ohio State defense's big play blues. 
That said, the 6-foot-1, 210-pound senior out of Tucson has never shied away from sticking his nose in a running lane. 
Against Notre Dame's stout and deep rushing attack, Ransom was called upon early and often to slow down the Irish and he did exactly that registering a career-high 13 tackles with nine of those coming on running plays. He also played a part in limiting Irish quarterback Sam Hartman, logging a critical QB hurry late and some sure tackles on pass catchers.
On Notre Dame's opening possession, Ransom's tough 3rd-and-6 stop on tight end Mitchell Evans after a 5-yard catch forced the Irish into a 4th-and-Inches at the OSU 18. One play later, Ransom's tackle proved clutch as Cody Simon thwarted a Hartman keeper on the right sideline for no gain, ensuring Notre Dame would not take an early lead. 
Two possessions later, Ransom took on Irish tailback Jeremiyah Love in the hole on a 2nd-and-6 snap, stopping Love in his tracks for a 3-yard gain to trigger 3rd-and-3. The Buckeyes forced an incompletion and a punt giving the offense a chance to drive down a kick a field goal to take a 3-0 lead just before halftime.
On the opening possession of the second half, Ransom was back at it, this time teaming with Sonny Styles to fill a hole on 4th-and-Inches, stuffing Hartman on another keeper attempt. TreVeyon Henderson's 61-yard touchdown jaunt on the next snap gave the Buckeyes a 10-0 lead with 11:14 left in the third quarter. 
Finally, on Notre Dame's possession preceding Ohio State's game-winning drive, Ransom burst through the line on a 2nd-and-15 play, hurrying Hartman into a throw tipped by teammate JT Tuimoloau and the Irish punted two plays later. The rest is history. 
Ohio State is counting on Ransom to have a huge season and there's no doubt he left a significant impression on last night's win. 
SMILE, KYLE
Ohio State quarterback Kyle McCord comes off like an extremely mind-mannered young man and his unflappable nature was certainly tested last night in his first career road start in an intense environment against a legit defense. 
With Hartman grabbing all the publicity leading up to the game, and rightfully so given his experience and production, it was McCord who won the duel both statistically and on the scoreboard thanks to a final drive that saw him make gigantic plays when his teammates needed him most. 
With Ohio State's offense needing to drive 65 yards with 1:26 on the clock to record a victory, McCord threw for 73 yards, overcoming a couple bad throws on the drive and an intentional grounding call. 
His first two tosses - a tipped lateral screen pass to Henderson and another short try for Henderson that lacked touch - set up a 3rd-and-10 to which he responded with a 23-yard strike to Emeka Egbuka to move the sticks. 
After three straight misfires, and now facing a do-or-die 4th-and-7, McCord calmly found Julian Fleming on a crosser, barely moving the chains once more. 
Now at the Irish 32 yard line, McCord hit Harrison with a well-placed strike for 19 yards on 2nd-and-10, giving the Buckeyes a first down at the Irish 13 with 51 seconds left. 
The noted intentional grounding call soon followed and had a chance to be a game-wrecker but McCord again showed veteran poise hitting a surrounded Egbuka once more, this time for 21 yards down the Notre Dame 1-yard line.
After a quick spike to stop the clock, Trayanum's touchdown plunge sealed the deal but McCord's clutch throws on the final drive will not soon be forgotten. 
For the game, McCord completed 21-of-37 for 240 yards without a touchdown with 156 of those yards coming in the second half and of course 73 on the final drive. Meanwhile, Hartman managed to complete 17-of-25 on the night for 175 yards and a touchdown. 
McCord would be the first to tell you he's a work in progress, as he should be through five collegiate starts, but to see him stand tall and deliver in that environment against that defense in that moment? Salute to 6. 
SEEING RED 
 A key reason it looked like the Buckeyes may not make it out of South Bend with a win was a red zone offense that converted just 2-of-4 trips, recording one touchdown, one field goal and two turnovers on downs with one of those coming at the Irish 11-yard line and the other at the 1.
Last season, Ohio State was money in the red zone ranking No. 2 in the nation with a scoring rate of 95.2% and No. 6 in touchdown rate as the Buckeyes found the end zone on 74.6% of their red zone trips. 
Entering last night's contest, the Buckeyes were already well off that pace slotting No. 48 in red zone scoring (88.9%) and 51st in touchdown rate (66.7%). 
Ohio State's first empty trip occurred on its third possession of the night. Starting the drive at its own 29, Day's offense advanced to 1st-and-Goal at the Irish 7-yard line before things fell apart. Trayanum runs on the first two downs advanced the ball to the 1-yard line but on third down Miyan Williams was curiously inserted to log his one and only carry of the night for no gain. On 4th-and-Goal, still from the 1-yard line, Day opted to have McCord roll out to the boundary, giving the quarterback and his receivers limited space to operate and Kyle's desperate heave into the end zone resulted in a turnover on downs. 
The second empty trip came on Ohio State's third possession of the second half after Notre Dame drive 96 yards on 11 plays to take a 14-10 lead midway through the third quarter. Ohio State drove to the Irish 20-yard line, mostly on the strength of a 40-yard catch-and-run from McCord to Xavier Johnson before facing a 3rd-and-1 at the Irish 11-yard line with just over four minutes left in regulation. 
Henderson fell for about a half-yard on the third down snap setting up 4th-and-Inches with the game seemingly on the line. After taking a timeout to evaluate options, Day dialed up an Egbuka end around and Notre Dame was ready for it, swarming the receiver for no gain. It looked like that might be the ballgame but obviously Ohio State bounced back in a big way to render the red zone failures irrelevant for the night. 
To their credit, the Buckeyes did convert a field goal after a red zone trip just before halftime to take a 3-0 lead. McCord threw a dime to Egbuka in the back of the end zone on 1st-and-10 from the 15 but the usually sure-handed receiver couldn't haul in a pass that he'd tell you he expects to catch nine out of 10 times. 
Oh and hey that last red zone trip was pretty good too as Trayanum provided the game-winner after McCord's heroics to reach the 1-yard line. 
BULLETS BACK
Most of us were thinking the Silver Bullets are back after Ohio State's defense held its first three opponents to a combined 20 points but we needed to see it against an upper-tier offense. 
Knowles' group provided that vision last night holding the Irish to 14 points, limiting Hartman and the passing attack, standing tall against a physical run game and turning in big time plays in key moments. 
Many pundits expected Hartman to carve up Ohio State but the veteran was held in check completing 17-of-25 throws for just 175 yards, a passer rating of 140.0 and one touchdown. 
The 175 yards marked his worst yardage output in 36 games, dating back to October 24, 2020 when No. 19 Virginia Tech held him to 110 yards though Hartman and Wake Forest squeaked out a 23-16 win. 
The Buckeyes shut down Notre Dame's wide receivers with Jaden Greathouse leading that group on a mere two catches for 40 yards. With the corners locking down the outside receivers, Hartman focused on tight end Mitchell Evans (7-for-75) over the middle. 
Buckeye defenders got their hands on at least five Hartman throws and stopped the Irish on both of their fourth down tries. 
Most impressively, the defense bounced back strong after allowing what looked like backbreaking back-to-back touchdown drives overlapping the third and fourth quarters. Notre Dame marched 75 yards for a touchdown on 13 plays, chewing up 7:39 of game clock to cut Ohio State's lead to 10-7 with 3:35 left in the third quarter. Freeman's squad followed that up with a 96-yard touchdown drive on 11 plays, this time taking up 6:38 of game time, to take a 14-10 lead with 8:22 left in regulation. 
It seemed like the OSU defense might be dead in the water after going back out on the field with 4:12 left in regulation, trailing 14-10, and giving up a 12-yard pass and an 11-yard run to start the drive but then it delivered. 
Tuimoloau brought down Hartman for a 5-yard loss on 1st-and-10 before breaking up a 2nd-and-15 throw. On 3rd-and-15, Freeman knew it was smarter to run the ball and chew some clock. Josh Proctor knew that as well, stopping Gi'Bran Payne for three yards to force a punt. You know the insanity that happened after that. It was a clutch stop when Ohio State absolutely had to have it, paving the way for the dramatic come from behind win. 
Through four games, Ohio State slots No. 2 in scoring defense (8.5 ppg), No.6 in total defense (255.5 ypg) and No. 5 in pass defense (149.0 ypg). 
DAY TIME
I know Day has his share of detractors within the fan base, let alone within the national media/dialogue, and I think it's at least understandable considering he entered last night with a 7-5 record against top-10 opponents, with three losses in the last four such matchups.
A reasonable fan shouldn't expect an 12-0 mark in games against top competition but losing three of the last four, with two of those coming against Michigan, and Ohio State indeed getting beat physically a few times? Again, I can appreciate the angst on some level. Hell, I have plenty of my own at times. 
That said, I appreciate Lou Holtz running his gums. I'd argue that it's not as simple as some teams "being more physical" than Ohio State in those losses Holtz spoke of. Mulitple factors are typically at play when a team falls short and physicality is just one of those. Potentially being outschemed on a play or during a game, poor execution by way of mental errors and missed assignments, and tentative or overly aggressive playcalling can also factor in, making a team look like it lost the battle of wills. Other times, hey, maybe it is as simple as a Day player or team getting beat physically. During a game with well over 100 snaps, there will be physical wins and losses. 
Last night, Ohio State was beat on its fair share of plays where it's easy to point at physicality as at least one factor. The Buckeyes were just 2-of-6 on 3rd-and-short (1-4 yards) with four rushes generating three yards. McCord was held to two yards on a 3rd-and-4, Williams ran for no gain on 3rd-and-1 and Henderson was stopped for no gain on another 3rd-and-1. 
But toughness and physicality were also factors in winning plays. Henderson's 61-yard touchdown run was blocked beautifully, Ohio State's defense held Notre Dame to 11 yards on four third down carries and filled holes against powerful backs most of the night and when Ohio State needed a yard to win the game, it converted. 
But for as much as Day called out Holtz specifically, and made repeated comments about loving and defending the toughness of his team, Day's response was seemingly at least equally driven by taking offense to comments about him personally. Day takes personal offense to the narrative. And I think that's just as important as him so vociferously defending his guys on national television. 
His players know now, if there was ever any question, that he's got their back. Equally, they should feel more passion and obligation than ever to back up his words as the season unfolds. Because if we're being real, there have been times when Ohio State hasn't won enough physical 1-on-1 battles and it has cost them. Shit happens. Learn from it and improve. There's no better time than the present. 
Join The 1870 Society for exclusive access to the Ryan Day Podcast to learn more about what goes into building and running the Ohio State football program. Memberships at The 1870 Society start at just $1.99 per month and help keep Ohio State athletics elite.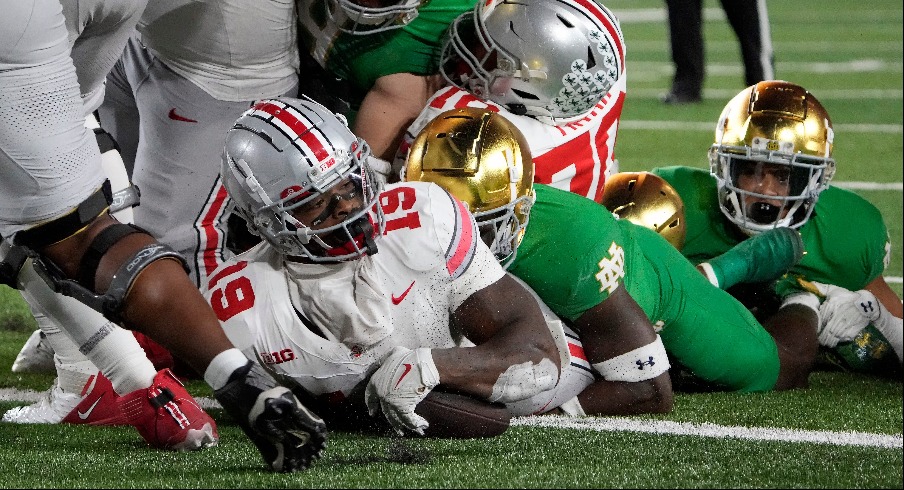 #6 Ohio State 17, #9 Notre Dame 14
Sept. 23, 2023 • Notre Dame Stadium • South Bend, IN